Ultra-Low-Sulfur-Diesel Date Compliance Correction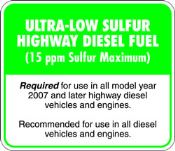 The article titled "Ultra-Low-Sulfur Diesel Fuel" in the April 2008 issue of Family Motor Coaching magazine(page 62) incorrectly stated that all diesel fueling stations in the United States and Canada are now selling ONLY ultra-low-sulfur diesel (ULSD) fuel, and that owners of diesel-powered motorhomes need not concern themselves with the type of fuel they are buying. Although the basic information in the article is correct, the compliance dates are not. In California, retail outlets selling diesel fuel for highway use had to convert to 100 percent ULSD by September 1, 2006. In other states, all highway diesel fuel sold at retail outlets must be ULSD by December 1, 2010. (Canada has aligned its requirements with the U.S. compliance dates; Mexico is expected to begin its transition in 2008.) So, please note that diesel fuel classified as low-sulfur diesel (LSD) may still be sold at retail locations outside of California until December 1, 2010. Therefore, until that date, if your coach requires ULSD, you must check the pump's label, and check it carefully. Also, although ULSD is the dominant fuel currently being sold, the Environmental Protection Agency does not require service stations and truck stops to sell ULSD, so it might not be available at every location.
According to the Flying J Web site (www.flyingj.com/fuel/diesel_CF.cfm), every Flying J site listed carries ULSD, and the Web site provides up-to-date prices. The FMCA North American Road Atlas and Travel Guide flags all the Flying J sites.
Additional information about ULSD is available at www.clean-diesel.org and at the EPA Web site (www.epa.gov/diesel/comphelp.htm).
FMC regrets this error.
---
Towables Correction, Addition
Recently it was brought to our attention that the Dodge Dakota 4×2 truck with rear wheel drive and a manual transmission cannot be towed four wheels down without modification. This is contrary to information we received from the manufacturer when preparing "Towables For 2008″ (January 2008, page 60), the latest version of our annual towing guide. We also have learned that the Dodge Ram 4×2 truck with rear wheel drive and a manual transmission, also included in the article, is not towable four wheels down.
Further, it was found that previous information from the manufacturer regarding the towability of these vehicles also was inaccurate as published in our towing guides from 2003 through 2007. The Web versions of these guides on FMCA.com have been updated.
We also discovered that the new Honda Fit, equipped with either an automatic or a manual transmission, can be towed four wheels down but was not included in the "Towables For 2008" article. This front-wheel-drive vehicle has a total length of 157.4 inches and curb weights of 2,432 pounds (manual transmission) and 2,514 pounds (automatic transmission). The Fit should not be towed at speeds in excess of 65 mph, and there are no distance limitations.
---
Calling All "VIK"s!
Dear Editor:
Who are VIKs? They are "very important kids." We would love to see more VIKs using the Youth Center at FMCA's next convention. We are now in the process of making plans for youth field trips and unending fun at the Minnesota State Fairgrounds in St. Paul, July 14 through 17, 2008.
The Youth Center will be open daily during the convention, and we encourage all FMCA family and commercial members to register their children with us at the Youth Center. Think about it: you can register your kids, sign them in at the center, and be on your way to see seminars and vendors with no kids in tow. When you leave your children with us, you can be assured that they are being supervised by approved, caring volunteers.
We provide age-appropriate activities by separating kids into groups. TOTS, ages 2 to 5 (must be potty trained), and TWEENS, ages 6 to 9, must be signed in and out by a parent or guardian. PRE-TEENS, ages 10 to 12, may sign themselves in and out with a parent's permission, and TATS, ages 13 to 18, can sign themselves in and out anytime during the day.
Some of our games and activities incorporate all age groups so that all the kids can get together and make new friends. Many of the kids come back year after year, and the friendships they make at the Youth Center can last a long time.
Many of the planned activities include family participation. Trips to Nickelodeon Universe; the Water Park of America; a hands-on science museum; Valleyfair amusement park; the Minneapolis Zoo; an underwater shark exhibit; and more are in the planning stages.
If you would like to volunteer in the Youth Center, please contact us, Tom and Carol Januski, Youth Committee Chairmen, at (928) 778-6709, or e-mail us at azdrj@cableone.net.
We hope to see many of you in St. Paul, Minnesota, this July.
Carol Januski, F266041
Prescott, Arizona
---
Spread The Word
Dear Editor:
I just read FMCA president Connie Pool's message about the value of FMCA membership ("President's Message," March 2008, page 8), and I can't agree more. I acquired my first motorhome, a preowned type A diesel pusher, two years ago, and I have been an FMCA member for a little more than one year.
After I bought my coach, some good friends who are full-timers and FMCA members gave me a copy of FMC magazine. Given the very modest cost of a membership, I was amazed at the high quality and content of the magazine, the well-executed Web site, and the multitude of included benefits. It immediately became obvious to me that FMCA membership provided a lot of bang for the buck compared to other RV membership organizations. Since I joined FMCA my opinion has only been reinforced as I have learned more about the organization and what membership has to offer in both tangible and intangible benefits. What a bargain! Folks, this membership would be a good value at twice the price.
I also agree with Connie and FMCA executive director Don Eversmann that WE, the members, are the frontline ambassadors and recruiters for OUR organization. So, let's all extend a hand to that nonmember camped next to us and "git 'er done!"
Michael Bozeman, F392595
Fort Collins, Colorado
---
Clearing Those Wires
Dear Editor:
Your "Internet To Go" article by Chris Guld in the March 2008 issue (page 66) is one of the very best written, understood, and most informative of any article ever placed in the magazine, and I have been reading every issue since 1983. Most persons of my age are certainly not computer experts, and we appreciate help written in carefully chosen words we can understand and put to use. I learned many valuable points about access to the Internet. Thanks to Chris Guld and to FMC for publishing this article.
Gary Vanfossen, F70409
Tulsa, Oklahoma
---
Welded To … ?
Dear Editor:
I just got the March 2008 issue and read the letter titled "Welds Count, Too" (page 136). Everybody missed the point regarding the breakaway unit. The breakaway unit is never to be attached to any part of the towed vehicle hitch assembly or motorhome hitch assembly. The breakaway unit is to be attached to the frame of both vehicles. The breakaway unit is normally attached to the frame of the towed vehicle and the cable attached freely to the motorhome frame. The reason should now be clear, as the Cooneys experienced.
Regardless of how high the hitch assembly rating is, you can still have problems.
Happy travels.
Bob McClurg, F247773
Penryn, California
---
Inventor Noted
Dear Editor:
Peter duPre gave a superb and comprehensive report on motor oils in the March 2008 issue ("Slippery Business," page 56). However, I must point out one significant error. AMSOIL, not Mobil, should be given credit for the introduction of synthetic motor oils. AMSOIL founder Al Amatuzio formulated the first synthetic motor oil in the world to meet API service requirements for automobile engines. AMSOIL appeared on the market in 1972.
It was the first company to develop an API-rated 100 percent synthetic motor oil and the first to introduce the concept of extended drain intervals with a recommended 25,000-mile/one-year drain interval. It was the first U.S. company to utilize the NOACK volatility test as a standard of performance excellence; the first to produce synthetic motor oils for diesel engines, racing engines, and marine engines; the first to introduce synthetic oils that legitimately contribute to improving fuel efficiency; the first to manufacture synthetic gear lube for automotive use; and more. Even though other experts have backed off on 25,000-mile change intervals, AMSOIL started with that recommendation and still maintains it.
Doyle L. Ware, F317924
Waco, Texas
---
Let's Fly A Kite
Dear Editor:
The skies will be alive with color on July 19 and 20, 2008, as the 16th annual Southern Oregon Kite Festival soars at the Port of Brookings Harbor, Oregon. It is the largest invitational kite festival in the United States, attracting world-renowned kite flyers and kite makers to Oregon's southern coast.
The best of the best demonstrate their amazing kite-flying routines choreographed to music. This year more than 30 professional kite flyers and kite-flying teams will exhibit their awe-inspiring aerial skills and create an atmosphere of excitement for attendees of all ages at this free event.
Spectators are invited to set up their chairs along the edge of the flying field and watch the show, which will feature an array of extraordinary kites, including single-line, dual-line, quad-line, and multiple (stacks) kites. Various arts and crafts displays as well as food vendors' booths will be on hand. A kite-building workshop for children ages 3 and above will be offered, as will a workshop on Rokkaku (ROK) Japanese fighter kite-building and battling techniques.
For more information about the Southern Oregon Kite Festival, check out www.sokf.org or call Peggy Freeman at (541) 469-2444.
Roger Thompson
Driftwood RV Park, C7422
Brookings, Oregon
---
Leak Stoppage
Dear Editor:
On Friday, February 29, we were on our way back to Texas from the FMCA convention in Pomona, California. (By the way, we had a great time and I really enjoyed test driving several coaches.) After driving around four hours, I pulled over to use the bathroom and realized that I was walking through an inch or so of clean, cold water. The water pump was on and water was coming from under the toilet. Thank goodness that it was clean water. We have no idea how long the leak had been there.
We turned off the water pump and soaked up the clean water with spare towels and rags. We were on the outskirts of Phoenix, Arizona, so I got on the Internet and found a listing for Bell Road RV Center.
These guys were great. The words friendly, kind, and courteous just don't do them justice. They understood that we were traveling and got busy right away. They correctly diagnosed the problem as a leaking ball valve in the Thetford toilet, but did not have one in stock. They sent an employee to a competitor and bought a valve from them, then came back to the shop and installed it. The whole job was done in 35 minutes (including going to get the part).
Needless to say, we were extremely happy. We found ourselves in a prime position to be ripped off, but I am happy to say that this was not the case at Bell Road RV Center (602-971-2450).
Wayne Scott, F382745
Paris, Texas
---
Baja On Your Mind?
Editor's note: Readers responded to the "Beautiful Baja" article (February 2008, page 90), expressing concern about the safety of travelers in Baja, Mexico, the narrow roads, and military inspection checkpoints. We asked writer Betty Cosley to respond:
We have been going to Baja since 1975 and through the years have learned to love its picturesque towns, its wonderful beaches, its wild and primitive beauty, and the kind and generous people. Once when we were stranded with a broken axle, a Mexican gentleman offered three of his own workmen to repair it. He refused any payment. On another occasion, the blessed Green Angels arrived in the nick of time.
It's true some of the roads are not the best. They don't compare with ours, but this is Baja. I believe I mentioned the advisability of careful driving: never drive at night, watch out for cattle, and be aware there are dangerous and narrow mountain roads. I pointed out that the real Baja adventure began when you left Ensenada for the wide-open spaces. I emphasized the need for companion rigs for safety: don't camp alone, and stay at established campsites.
Also, keep in mind that this tiny peninsula has numerous natural disasters. Flooding occurs during the rainy season, which damages roads; hurricanes hit the coast, taking out power. Everyone does their best to keep up with repairs, but power failures do happen. We discovered hardships encountered sometimes turn out to be real adventures when retold at home.
I hope readers reach the magnificent, although primitive, Bay of L.A. (Bahia de los Angeles). I know electricity and telephone were promised there by 2008, but "manana" is a favorite word down there.
As for the military, we paid only once when, in a good-natured way, a soldier asked for something for his bambino. We regarded it as a donation. Another time, we shared our considerable supply of lemons with them. It was all done in a friendly fashion.
At any rate, I hope readers give Baja a second chance. The campgrounds can't compare with ours, nor can the roads. But it is Baja! It's beautiful and different.
Betty Cosley
Diamond Springs, California
---
Coach-Net Compliment
Dear Editor:
We have been traveling in our Winnebago for several months out of the year now since 2005 (40,000 miles). We have taken two trips to Alaska, a trip up the East Coast, and three trips to Missouri. We have used Coach-Net twice and they gave us more than we expected both times.
The most recent use was in rural southern Missouri. We woke up to see the river rising and decided to move to higher ground. But the rear wheels of our diesel pusher stuck in the saturated ground as we tried to leave the campsite. There was no cell phone service in our location.
My wife drove the towed car to the top of a nearby hill and reached Coach-Net, explaining the urgency of the rising river. It was a 30-mile drive to the nearest big wrecker, but we were "high and dry" in 45 minutes from the time the call was made.
I cannot say enough good things about Coach-Net.
J.W. Hyde, F362289
Bristol, Florida
---
Fan-Tastic Customer Service
Dear Editor:
I found a small problem with our Fan-Tastic Vent in the motorhome bathroom. I checked the Web site for this company, and when I called, I learned you get a real person on the phone to help you "" not a list of numbers to key in. On the first ring a young lady was on the phone. I told the receptionist I was in need of a small part to repair our fan. She had Bob Beretta on the phone in seconds. Bob said he would ship me a kit that would fix the problem. He would not take any money to cover the cost of parts or shipping.
The parts were correct, and now our Fan-Tastic Vent works and looks like new again. We need more people like Bob and Fan-Tastic Vent to help RV people repair items. Great customer service!
Contact them at www.fantasticvent.com or call (800) 521-0298.
John and Sue Blue, F248693
Brandon, Florida
Dear Editor:
The cover on my kitchen Fan-Tastic Vent fan cracked recently, and the crank-up arm broke off as a result. I contacted Fan-Tastic Vent by e-mail asking where I could get a replacement cover. They responded within 24 hours asking me to let them know if it was a manual or electric model, and the color of the cover. I got an immediate response to my reply saying that one was on the way at no charge. They even paid for the shipping. I had my cover in three days.
Anyone interested in purchasing or upgrading to a Fan-Tastic Vent fan should do so. I wish all companies would stand behind their product and give such customer satisfaction. Thanks, Fan-Tastic Vent!
Ronald Seyfried, F381483
Jim Thorpe, Pennsylvania
---
Honest RVer
Dear Editor:
My wife, Sandy, and I were working the Tampa RV Show in mid-January selling our RV books. Occasionally, I'm sorry to say, a book "walks off," i.e. somebody picks one up and walks away without paying. It's not the loss of a $10 or $20 book that is disturbing, but the real disappointment that RVers would do that. On the other hand, some assume the display books are free.
One of our books (a Wal-Mart Locator) disappeared on Wednesday, the first day of the show. There was absolutely nothing we could do except mumble to ourselves.
On Friday afternoon, a man and woman showed up at the booth. "Did you lose a Wal-Mart Locator on Wednesday?" the man asked. Surprised, I replied that, yes, we did. "I picked it up. I thought it was free," he said. "When I got home, I saw the price printed on the first page and realized it was for sale. I apologize and here's the money for the book." With that, he handed me a $20.
I was absolutely flabbergasted and humbled. I told him that I very much appreciated his honesty, but if he really didn't want the book, I would certainly take it back. He told me he left the book at his home in Avon Park, Florida. That's 85 miles and a hard two-hour drive back to Tampa to pay for it.
I am honored to say that I shook the hand of an honest man that day.
Ronald E. Jones
RV Stuff, C10110
Addison, Texas
---
Happy Camper
Dear Editor:
I had to have repairs done on the motorhome and went to Double B RV in Cleburne, Texas (1002 Highland Road; 817-556-2800). What nice people they are. They did a very efficient job of making the repairs, and the price was very reasonable. Less than four hours later I was on the road and a happy camper.
Charlotte Wagers, F182168
Whitney, Texas
{loadpositionEndBlurbReaders}