Waterless Hand Cleaner
Ultra Cherry Pumice Hand Scrub from Permatex Inc. is a professional-strength waterless hand cleaner made to tackle tough cleanup jobs.
The cleaner is formulated with finely ground pumice that provides a deep-scrubbing action to remove heavy grease, oil, adhesives, ink, paint, and more. Ultra Cherry also features a blend of skin conditioners to help restore moisture and prevent dry, chapped hands without leaving them feeling greasy or irritated.
Ultra Cherry Pumice Hand Scrub is available in a 7.5-ounce flip-top bottle with a manufacturer's suggested retail price between $2.49 and $3.99. It also can be purchased in a 102.4-ounce pump bottle with prices ranging from $13.99 to $16.99.
Permatex Inc.
10 Columbus Blvd.
Hartford, CT 06106
(877) 376-2839
(860) 543-7548
www.permatex.com
---
RV Antifreeze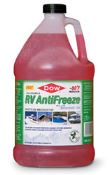 DOWFROST RVR from The Dow Chemical Company is said to be an environmentally friendly seasonal antifreeze that protects RV water systems from freezing after they have been winterized.
The solution is formulated with a blend of plant-derived ingredients, USP propylene glycol, and corrosion inhibitors and is reportedly safe for incidental contact with people, pets, and wildlife. And since the product is biodegradable, risk to the environment is minimized in the event of an accidental spill.
A 1-gallon container of DOWFROST RVR has a manufacturer's suggested retail price of $3.99 and can be purchased exclusively at Walmart stores.
The Dow Chemical Company
Dow Ashman Center
4520 Ashman St.
Midland, MI 48642
(800) 258-2436
www.dowfrost.com
---
Motorhome Stabilizer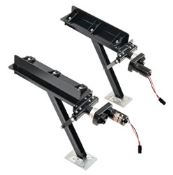 The Stabi-Lite electric stabilizing system from Equalizer Systems is designed specifically for Type B and Type C motorhomes to help eliminate swaying of the coach when parked and the lean that can occur when a slideout room is extended.
The system includes two lightweight jacks that attach to the motorhome's frame rails "" between the front and rear axles "" using basic hand tools. The Stabi-Lite also comes with mounting hardware, wiring harnesses, a system controller, and a switch panel.
The Stabi-Lite system has a manufacturer's suggested retail price of $799.
Equalizer Systems
P.O. Box 668
Elkhart, IN 46515
(800) 846-9659
www.equalizersystems.com
---
Cordless Screwdriver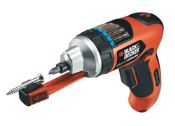 The SmartDriver cordless screwdriver from Black & Decker is said to facilitate light-duty motorhome and house projects.
The screwdriver includes a retractable magnetic screw holder that helps eliminate the hassle of dropping screws and offers straight and accurate one-handed operation. Other features include a six-position SmartClutch that prevents stripped screws; a forward/reverse window that indicates the driving direction; a blue reflector light that provides good visibility when working in dark areas; and a rechargeable lithium-ion battery.
The SmartDriver comes with a charging cradle and 11 accessories in a convenient-to-carry bit bar. It has a manufacturer's suggested retail price of $39.99.
Black & Decker
701 E. Joppa Road
Towson, MD 21286
(800) 544-6986
(410) 716-3900
www.blackanddecker.com
---
Electrical Connector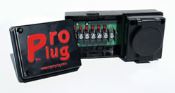 The Pro Plug is a seven-way, 12-volt RV electrical connector system used to relay signals and power from the motorhome to a trailer or towed vehicle when the appropriate harness is plugged in.
The unit is housed in high-impact ABS plastic and can be mounted on any flat, clean surface using 3M VHB (very high bond) double-sided urethane foam tape; with screws; or by using the optional mounting bracket. Wires can be routed into the terminal compartment through a pair of rear knockouts or three sidewall plugs.
The Pro Plug includes terminals for the taillights, left and right turn signals, backup/auxiliary lights, electric brake, battery charge, and ground, with LEDs incorporated to provide visual indication of the electrical signals from the towing vehicle.
The Pro Plug has a manufacturer's suggested retail price of $54.99, while the optional mounting bracket costs $16.59.
Pro Plug
19682 Alexandrite Drive
Bend, OR 97702
(541) 312-2434
www.rvproplug.com
---
Pocket-Sized Flashlight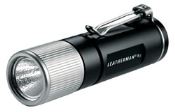 The Serac S3 LED flashlight from Leatherman Tool Group Inc. is said to provide outstanding lighting performance in a compact size.
Although the flashlight measures 3.2 inches long and weighs just 2.6 ounces, it can deliver 7 (low), 43 (medium), or 100 (high) lumens of brightness via its three settings. The 3-watt LED is housed in a hard-anodized aluminum body with a stainless-steel bezel and includes an anti-reflective coated glass lens and a textured aluminum reflector. The water-resistant flashlight operates on a single CR123 lithium battery and includes a pocket clip and lanyard ring.
The Serac S3 LED flashlight has a manufacturer's suggested retail price of $70. The Serac line also includes the less powerful S1 ($25) and S2 ($50) keychain-size flashlights.
Leatherman Tool Group Inc.
12106 N.E. Ainsworth Circle
Portland, OR 97220-9001
(800) 847-8665
(503) 253-7826
www.leatherman.com
---
Emergency Kit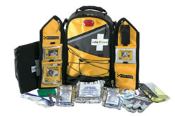 The Life+Gear Wings of Life Backpack from Pacific Pathway LLC is a self-contained emergency kit that includes numerous items that can help users survive adverse situations.
The lightweight backpack features cushioned shoulder straps, a back ventilation system and detachable "wings of life" sleeves that fold out for quick access to items. Inside users will find a first-aid kit, a multifunction tool, a directional compass, an all-weather poncho, a signaling mirror, a writing pad and pen, a waterproof document/cash bag, a signaling whistle, a thermal blanket, leather working gloves, a magnifying glass, and a hygiene kit. The backpack also features a sleeve system for storing food/water, see-through pockets for quick access to items, a drinking water pouch with tube, a cell phone/walkie-talkie carrying case, and more.
The Wings of Life Backpack has a manufacturer's suggested retail price of $99.
Pacific Pathway LLC
742 Genevieve St.
Suite O
Solana Beach, CA 92075
(858) 755-2099, ext. 30
www.lifegearcompany.com
---
Cooler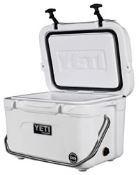 The Yeti Roadie 25-quart cooler is small enough to carry along while camping, picnicking, or on a road trip, but is said to have superior cold retention and other features found only in larger ice chests.
The Yeti Roadie boasts one-piece roto-molded construction for durability and is filled with 2 inches of polyurethane foam to keep the cooler's interior and contents cold in any weather. For maximum ice and cold retention, it features a freezer-style sealing gasket; a full-length, self-stopping hinge; and heavy-duty T latches with molded keepers. It also includes a heavy-duty stainless-steel handle; nonslip, non-marking rubber feet; and a recessed, leakproof drain plug.
The Yeti Roadie 25-quart cooler has a manufacturer's suggested retail price of $195.
Yeti Coolers
P.O. Box 303
Driftwood, TX 78619
(512) 394-9384
www.yeticoolers.com
---
Inflatable Kayak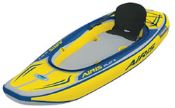 According to product literature, Airis kayaks from Walker Bay Boats Inc. are the lightest, most compact high-pressure inflatable kayaks in the world.
Airis kayaks are made of AirWeb high-pressure construction formed by using seven layers of polymer-coated fabric joined by thousands of drop-stitch fibers. This is said to create a rigid hull that resists tears and abrasions.
Airis kayaks are available in Play (lengths of 8 feet and 9 feet) and Sport (lengths of 10 feet and 11 feet) models and include molded carrying handles, an adjustable padded backrest, a splash guard rail, D-rings for attaching accessories, and two drain valves.
The kayaks come with a portaging backpack, a manual inflation pump, and a repair kit. They have manufacturer's suggested retail prices starting at $749.
Walker Bay Boats Inc.
717 Butterfield Road
Yakima, WA 98901
(888) 449-2553
(604) 682-5699
www.walkerbay.com
{loadpositionEndBlurbProducts}