The largest concentration of Amish in the United States can be found in the Buckeye State.
By Lazelle Jones
June 2009
The cities of Cleveland, Akron, and Canton in northeast Ohio form a line from north to south, and are easy to locate on a map of the state. If you travel south and west of Canton, you'll find that you're no longer in the urban areas "" you're in northeast Ohio's Amish country.
Ohio boasts the greatest concentration of Amish found anywhere in the United States, estimated in 2008 to be 55,000 in the state. Approximately 36,000 members of this Christian sect live in the northeast Ohio region, of which Holmes County is the center. Add to this number the infants, children, and teenagers being raised in Amish homes who are not included in the head count, because they have not yet been baptized, and the total number is even greater.
Baptism is an important milestone for a young Amish adult (most are baptized between 18 and 22 years of age). If the youngster elects to forgo baptism, he or she is considered to be "English," as all non-Amish are called by other Amish. If a follower is baptized and then breaks with the religious principles, it can mean being shunned not only by the Amish community, but by his or her own family as well.
Like other groups, the Amish sought America as a haven against religious and political persecution. This faith originated in what today is southern Germany and Switzerland, and their primary language is a dialect of German. In fact, Amish church services (which are held in individual homes) are often conducted in German. Amish children learn to speak and write English only after they enter school.
The Amish and the Hutterites are religious sects that splintered away from basic Protestant beliefs. They rejected the idea of infant baptism and insisted upon adult baptism or re-baptism (thus the word "anabaptist"). They also believed church and state should be separate. Hearing about their religious and political persecution, in the early 1700s William Penn invited the Amish to settle in the Lancaster County, Pennsylvania, area, where they could practice their religion as they wished.
Over time, the Pennsylvania Amish migrated west, settling across the middle of America. Many stopped in northeast Ohio, living alongside Swiss immigrants. The Amish were exceptional farmers who were very good at raising cows, and the Swiss had the skills necessary for making excellent cheese.
There may be as many as eight different orders of Amish or more, but most believers are affiliated with one of five: Old Order, New Order, Andy Weaver, Beachy, and Swartzentruber. The primary difference between them is the amount of modern conveniences each chooses to incorporate in their personal lives. The Amish recognize they have little control over workplace environments and use technology in their jobs.
The way church members conduct their personal lives is determined by the leader of each church, and there are many. The most liberal of the Amish Orders is the New Order, which permits the greatest use of modern conveniences. For example, because natural gas is found as a natural substance, a New Order Amish follower is permitted to use gas furnaces, gas refrigerators, and gas lighting in their homes. The next order is called the Old Order, which permits fewer conveniences. The most conservative Amish order is Swartzentruber, where no modern conveniences are permitted.
An excellent example of how each order views the implementation of modern conveniences can be seen with the horse-drawn carriages or buggies all Amish families have and use. The New Order permits the use of a rubber surface on the rim of the carriage wheels. They also use battery-powered lights on their carriages. In the Old Order, carriages may not have rubber-covered wheels, but battery-powered lights are allowed. The Swartzentruber order does not permit the use of either on their carriages. Their carriages are just like those you would have seen at the turn of the 20th century.
Horses play a huge role in the lives of the Amish, as they power farm and field machinery, as well as family buggies. You will see a lot of horses during your visit to Amish Country. In the Sugar Creek area, the favorite breed of workhorse or draft horse is the Puncheon. For the outsider visiting, it's a visual contradiction but not at all unusual to see a pair of draft horses pulling a gasoline-powered farm implement such as a hay baler or mower through a field. For many Amish farmers, the use of one or more horses to pull a gas-powered implement to plow, plant, harvest, and haul is the important thing, not the implement itself.
Public roads in Amish country are all regulation-size (they are, after all, state routes), so although they have gentle hills and curves, motorhome travelers should have no trouble. However, please be careful. The horse-drawn carriages and trucks travel slowly, so you should, too. You may encounter lines of traffic backed up behind a buggy on a paved road, while drivers wait for the opportunity to safely pass.
Fun things to do in Amish country
Shop! You'll have fun and pass happy hours just cruising through stores. Craft malls (such as Sol's in Berlin), antique malls (Berlin Craft & Antique Mall and Walnut Creek Antique Mall), flea markets (the Walnut Creek Amish Flea Market has 250 vendors under one roof), and general merchandise stores (Vogt General Store) all can be a source of fascination, if not new acquisitions. Plus, you can find Amish-crafted wood items, from outdoor and indoor furniture to large, backyard-sized gazebos, at places such as Erb's Lawn Furniture, located on State Route 39.
Quilters will be passionate about visiting the area's major quilt shops to see the handiwork of locals and pick up tips and advice. For example, the Helping Hands Quilt Shop and Museum has all sorts of supplies and fabrics. Also, if you like quilts but have no plans to make one, no problem. You'll find all sorts of them for sale.
Stock up the refrigerator, and the cellar. Nearly everyone loves cheese, and with a dozen cheese makers in Holmes, Wayne, and Tuscarawas counties, you must take the opportunity to see how it is made and, more importantly, to sample some. Cheese makers often give tours or, at a minimum, they allow you to view the process through a gallery window. Some produce as much as two tons of Swiss cheese every day, and they do it six days a week. Little Miss Muffet's curds and whey are actually created here, as large vats with huge mixing paddles churn heated milk until it's ready to be poured into large containers, where the curds and whey are then separated. The curd is cut into 200-pound blocks and aged for at least six weeks in a temperature-controlled environment. The length of time the cheese is aged determines how strong or mild it will be. Samples are routinely provided, and after trying some, odds are you won't leave empty-handed.
A few wine makers are in the area as well. Berry and dandelion wines, as well as sophisticated dry reds and whites, can be found at Breitenbach Wine Cellar. Surrounded by rolling hills, fenced pastures, and forests, Breitenbach conducts wine tastings regularly, and with a growing demand for their product, they continue to increase production and capacity. (Phone 800-843-9463; 330-343-3603; www.breitenbachwine.com.) Look, too, for the Silver Moon Winery and Swiss Heritage wines, which are available at the Broad Run Cheese House.
Learn firsthand about the Amish. Located in the town of Berlin (pronounced BER-lin), the Amish and Mennonite Heritage Center explains in colorful detail the journey the Amish and Mennonites have taken over the last 200 years. Most prominent is the 10-foot-high, 265-foot-wide mural that visually leads you along a timeline from their beginning to the present. A 30-minute guided tour is offered and a 15-minute video of the local community is shown continuously. Handicrafts from local Mennonite and Amish are offered in the gift shop. (Phone 877-858-4634; www.behalt.com.)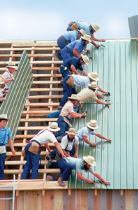 Other ways to learn about the Amish include making a visit to Schrock's Amish Farm and Village, also in Berlin. Here you can tour an Amish home, ride in a buggy, and learn straight from the Amish what life is like for them. Yoder's Amish Home also offers such an experience; it's located in Millersburg.
See hand-carved trains. Right along Interstate 77 is the town of Dover, where the Warther Museum and Knife Factory is located. Born the son of Swiss immigrants, Ernest Warther was one of five children. One day young Ernest found a penknife and began carving. Through the course of his life, he carved one train after another, depicting the history of steam locomotive railroads in America; events such as the driving of the Golden Spike and Casey Jones' engine; Lincoln's Funeral Train; and the Great Locomotive Chase (which took place during the Civil War). Acknowledged by presidents and the Smithsonian Institution and showcased by National Geographic, Warther's intricate and delicately detailed models (64 on display) are shown in a place that should not be missed. (Phone 330-343-7513; www.warthers.com.)
Do you need a reminder to eat? You don't come to Amish Country to lose weight. Good food and munchies lurk around every corner. In addition to the cheese factories, you may encounter shops that offer homemade candy, chocolates, ice cream, and baked goods.
Then there are the regular restaurants, too. You will find excellent eateries throughout this region, from Sugar Creek west to the town of Millersburg. It will be your fault if you leave this region hungry!
In all, visiting Ohio's Amish country is a delight to the tummy and to all the senses. Make a stop for a few nights while you're on the way to or from Bowling Green, Ohio, for FMCA's 82nd International Convention July 20 through 23. You'll be glad you did.
Further Info
Holmes County Chamber of Commerce
35 N. Monroe St.
Millersburg, OH 44654
(877) 643-8824www.visitamishcountry.com
Area Campgrounds
This list may not be complete, so please check your favorite campground directory or the listing of campgrounds in FMCA's Business Directory, published in the June and January issues of FMC.
Amish Country Campsites
P.O. Box 203
1930 U.S. 62 N.E.
Winesburg, OH 44690
(330) 359-5226
www.amishcountrycampsites.com
Baylor Beach Park
8725 Manchester Ave. S.W.
Navarre, OH 44662
(888) 922-9567
(330) 767-3031
www.baylorbeachpark.com
Camp Toodik Family Campground, Cabins & Canoeing
7700 TR 462
Loudonville, OH 44842
(877) 866-7866
(419) 994-3835
www.camptoodik.com
Evergreen Park RV Resort
16359 Dover Road
Dundee, OH 44624
(888) 359-6429
(330) 359-2787
www.evergreenrv.cc
Kandel's Camping & RV Park
5552 State Route 515
Millersburg, OH 44687
330-893-2720
Mohican Adventures Canoe, Camp, Cabins & Fun Center
P.O. Box 292
3058 State Route 3
Loudonville, OH 44842
(888) 909-7400
(419) 994-2267
www.mohicanadventures.com
Mohican Reservation Campgrounds & Canoeing, C6728
23270 Wally Road S.
Loudonville, OH 44842
(800) 766-2267
(740) 599-6631
www.mohicanreservation.com
Scenic Hills RV Park, C5563
4483 TR 367
Millersburg, OH 44654
(330) 893-3607
www.scenichillsrvpark.com
Smith's Pleasant Valley Campground & Cabins
16325 County Road 23
Loudonville, OH 44842
(800) 376-4847
(419) 994-4024
www.3smiths.com
Whispering Hills RV Park, C10735
8248 State Route 514
Big Prairie, OH 44611
(800) 992-2435
(330) 567-2137
www.whisperinghillsrvpark.com