Tiffin Motorhomes puts bunk beds, four slideouts, and pass-through basement storage into this entry-level rear-engine diesel model.
By Jim Brightly, F358406
September 2009
The debut of the Allegro RED 36 QSA in October 2008 caused a stir among fans of Tiffin motorhomes. This floor plan emerged as the first rear-engine diesel pusher (hence the name "RED") in Tiffin's most economically priced model line, Allegro. Following the concept that if something is good, more is better, Tiffin began work to add another two feet to the QSA's 36-foot length. Those extra inches opened up the basic design to even more possibilities, including bunk beds. I call the result, the larger 38 QBA, "Big RED."
According to Fred Thompson, publisher of Book Production Resources and editor of Tiffin Motorhomes' Roughing It Smoothly owners' magazine, "Market research uncovered a demand for an entry-level coach with a rear-engine diesel. Buyers wanted basement pass-through storage, a rear-engine diesel power plant, air-bag suspension, and a lower price. They were willing to accept a lower trim level, but still wanted to have several "˜big-coach' options. The research identified interest groups on opposite ends of the age spectrum: full-timers who were reaching retirement age, and young families with two or more children."
A bunk-bed model really makes sense for younger families. Kids love having their own spaces, and each bunk has a nice window view and a privacy curtain.
When I was growing up, there seemed to always be a home in the neighborhood that was the local kids' favorite spot to gather. It was warmer in the winter; cooler in the summer. The mom made the best (and most!) cookies; the milk was colder, and the lemonade sweeter. It was the house that felt as much like home as our own, and it was where we always congregated to play games and to make plans. The Allegro RED 38 QBA could very well be that favorite spot for your family, letting you turn future sleepovers into sleep-alongs.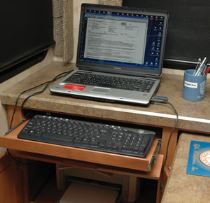 The Allegro RED 38 QBA makes you feel welcome when you step inside, especially when all four slideouts are deployed. Its living room measures 19 feet long by 12 feet 6 inches wide. Two sofas face each other in the forward slideouts, with six feet of space between them. Toss a few thick rugs onto the tile floor (from the cockpit to the bedroom, the tile makes it an easy "cleanup on Aisle 1"), and you'll accommodate kids from wall to wall, ready to watch the latest DVD on the standard midsection Panasonic 42-inch HDMI TV or the optional 26-inch Panasonic front overhead TV while parents recline in rotated captains' chairs. With surround sound (also optional), all of you will feel as though you're part of the action.
How many people is "all of you"? Let's count them up using the seat belt locations for safety. Two of you are reclining in the captains chairs; two curbside on the 62-inch Flexsteel cloth DE sofa; and three street-side on the 74-inch Flexsteel cloth DE sleeper sofa. I found no seat belts on either side of the dinette, but for TV viewing, two could sit there and two or three more could occupy the floor. The number of seat belts means that seven people can be safely carried on the highway. I'd say that's enough room for a sleep-along.
The coach has room for seven sleepers, actually. In the master bedroom is a roomy queen-size bed, the head of which extends with the rear street-side slideout. Then there are the two bunks (72 inches long) in the rear curbside slideout. The top bunk can be folded up against the coach's sidewall to allow the upper portion of the bunk area to serve as a shirt closet. The 74-inch Flexsteel cloth DE sofa in the street-side slideout can be replaced with the optional Flexsteel Air Coil sleeper sofa, which folds out into a queen-size bed for two. The dinette folds down into a bed that can comfortably accommodate one person. (Buyers can select an optional freestanding dinette with a computer workstation or cabinet instead of the traditional booth dinette.) And the 62-inch curbside DE sofa bed might be able to accommodate a child in a pinch.
In the galley, the standard three-burner stovetop and LP-gas oven won't be hard-pressed to feed seven mouths, nor will the 10-cubic-foot double-door refrigerator be outclassed providing cold beverages, or bacon and eggs. A 14-cubic-foot fridge is on the options list, perhaps of interest if there are growing teenagers among you "" we all know how much they can put away.
With all four slideouts retracted, and everyone seat-belted ready for travel, the living room of the Allegro RED 38 QBA becomes more like the passenger compartment of a custom van, with folks able to converse comfortably, see the scenery slide by, and even sing campfire choruses, if the band leader can talk them into it. Or, they might wish to listen to the five-disc CD player while dozing or watching the passing sights.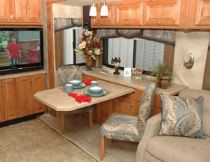 The driver's seat area looks like the command post often found in a higher-priced coach. Actually, many of the components in this area are also available in Tiffin's higher-priced models. Tiffin and Freightliner Custom Chassis designers worked together on the Allegro RED's instrumentation, and the electrical display bar above the instruments makes it easy for the driver to check system lights and warnings. A computer display provides a safety checklist to follow before you depart. Large speedometer and tachometer gauges are surrounded by six smaller gauges for fuel, air pressure (suspension and brakes), amps, oil pressure, and engine operating temperature. A movable steering column can accommodate your view of the dash and add to your driving comfort.
The left dash panel contains outside mirror controls, as well as the wiper/washer switch and the controls for the headlights, interior instruments, and the master switch for the cargo bay lights. On the right dash panel is Tiffin's exclusive Triplevision monitor for the three exterior cameras. Most side camera displays are activated by the turn signal, but here the driver can touch a button to monitor traffic on either side and in the rear before signaling to change lanes. The monitor also can be used to view the exterior of the coach at night.
The right dash panel also holds the generator start switch, two 12-volt outlets, and a satellite radio. A subscription fee is required for satellite service, providing more than 100 channels of music, sports, news, and more, many of them commercial-free.
An ICC flash switch and generator auxiliary start switch are to the driver's left, attached to the sidewall below the window. The ICC flash switch "" a really nice feature, in my opinion "" lets you flash the running lights to thank other drivers for assisting you when passing or changing lanes. Also on the driver's console is the electronic gearshift pad that controls the six-speed Allison 2500 MH transmission. The adjacent air brake can be applied when the transmission is in neutral. Just behind the gearshift pad are 10 toggle switches (clearly labeled and lighted), the first of which are the ICC switch and generator start. The next two switches activate the privacy shade (which doubles as a sun visor) and the solar shade; the next switch is the exhaust brake; and the final four switches control the two fans, the radio, and the map light. At the rear of the console is the control pad for the HWH auto-leveling jack.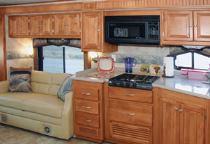 But what does the driver control? An Allison 2500 MH six-speed automatic transmission with lockup torque converter and a Cummins ISB turbocharged, aftercooled 6.7-liter electronic diesel engine (340 horsepower at 2,600 rpm, 660 pound-feet torque at 1,600 rpm). The power plant is set in a Freightliner raised-rail chassis frame with a four-bag air suspension. This chassis offers a 55-degree wheel cut, air brakes with automatic slack adjusters and ABS, an exhaust brake, cruise control, and an emergency start switch. Dual fuel fills; a large, tinted one-piece windshield; and a 6-kilowatt Onan Quiet Diesel generator are standard. An 8-kilowatt gen set is available as an option.
The Onan Quiet Diesel is concealed behind the Allegro RED's front cap, which might come as a surprise, since the obvious front generator slideout bay visible on many diesel pushers is absent. This door, approximately 15 inches tall, is located about 12 inches below the windshield and spans the full width of the front cap. The door flips up to allow access to the generator's secondary start switch, generator oil and coolant fills, hour meter, and breaker.
Basement storage doors conceal nearly 200 cubic feet of lighted bins, including some with pass-through capability.
Big RED's available interior décor packages are called Matisse, Papyrus, and Azure, and cabinet finishes of natural maple, medium alderwood, and cherry bark are available. Eight exterior full-body paint schemes are offered as well.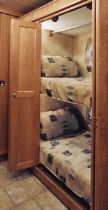 The Allegro RED 38 QBA has a wheelbase of 252 inches. Other measurements: overall length, 38 feet 5 inches; overall height with roof air, 12 feet 7 inches; interior height, 7 feet; overall width, 101 inches; and interior width, 96 inches. With a gross vehicle weight rating (GVWR) of 29,500 pounds and a gross combination weight rating (GCWR) of 33,000 pounds, if the Allegro RED 38 QBA is loaded to its maximum GVWR, that leaves 3,500 pounds for a towed vehicle, even though it has a 5,000-pound-rated receiver. Owners will have to watch the onboard weight to take full advantage of the 5,000-pound receiver.
Tank capacities for "Big RED" are as follows: fuel, 100 gallons; fresh water, 90 gallons; gray water, 70 gallons; black water, 45 gallons; and LP gas, 24 gallons.
The Allegro RED 38 QBA offers many "big coach" options as standard features, plus additional comfort-enhancing options should you wish them, giving you the ability to hold down your cost or to customize as you wish. The base manufacturer's suggested retail price of this 38-foot model is $179,900.
After learning about all of its standard features and its options list, I wouldn't categorize the Allegro RED 38 QBA "" or "Big RED," as I like to call it "" as an entry-level diesel pusher. It's much more than that.
Tiffin Motorhomes Inc., 105 Second St. N.W., Red Bay, AL 35582; (256) 356-8661; www.tiffinmotorhomes.com.