Livability, versatility in a compact package.
By Lazelle Jones
November 2009
It would be justified if a picture of the new Born Free Motorcoach 20′ Built-For-Two Mini would be placed adjacent to the word "value" in the dictionary. This motorhome does represent value, for several reasons.
Perhaps most important, the 20′ Mini is a full-service Type C motorhome with all of the systems and appointments one expects to find in a larger coach. At the time of this writing, the base manufacturer's suggested retail price was $64,995. The only options to be added were a 13,000-Btu roof air conditioner with heat strip; a 3.6-kilowatt gasoline-fueled auxiliary generator; an LCD television with DVD player; and window and patio awnings. The 2010 price for this unit is $69,995 and includes the roof air-conditioning unit, LCD TV, and DVD player.
Second, the numbers Born Free provides indicate the company has achieved a desirable milestone with this Type C. With zero miles on a new 20′ Mini (including its engine), the company conducted a road test and registered almost 13 mpg. This means that with its 40-gallon fuel tank, the 20′ Mini has a potential extended range of approximately 500 miles. That's good news to anyone interested in fuel economy.
Third, the Born Free name is recognizable to many RVers, as this company has produced high-quality motorhomes for more than four decades. The 20′ Built-For-Two 20′ Mini that pedigree.
The Basics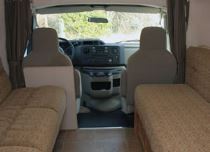 The efficiency of operation of this diminutive motorhome is due in large part to a couple of things. One is its 11,500-pound gross vehicle weight rating (GVWR). The 20′ Mini is built on the Ford E-350 chassis and powered by the fuel-efficient 5.4-liter Ford V-8 gasoline engine. However, despite its small size, the 20′ Built-For-Two I examined was capable of carrying 2,400 pounds of cargo, which makes it a perfect candidate for a long weekend away or an extended motorhome vacation (a generator, roof A/C unit, TV, or other options would lower this figure). This unit is rated to tow a maximum of 1,500 pounds. For coach owners who intend to regularly tow trailers, boats, or other items that are close to that weight limit, or who travel often in mountainous terrain, Born Free officials recommend upgrading the engine to the 6.8-liter V-10, which increases available power and raises the towing capacity to 5,000 pounds.
This motorhome's aerodynamic front lines add to its efficiency. When moving down the road, the 20′ Mini parts the air, sending it up, over, and around the vehicle. This design also means the coach is driver-friendly, exhibiting good road manners and maneuverability, even in windy conditions.
With its eye-pleasing curb appeal, the Built-For-Two Mini blends nicely into upscale campgrounds. However, with the optional auxiliary generator and roof air conditioner, this unit (with prudent water management) also can be enjoyed year-round for extended periods in primitive, stand-alone camp settings.
When it comes to managing outside temperatures on both ends of the spectrum, the 20-foot Mini stands vigilant with an arsenal of standard equipment features, which are, in fact, found in all Born Free units: dual-pane windows, fiberglass insulation, and low-emissivity foam and foil insulation in the sidewalls. Cold temperatures are further kept at bay by the 16,000-Btu LP-fueled forced-air furnace.
Floor Plan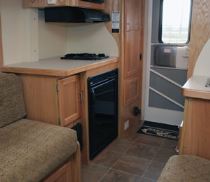 Don't let the size of the 20′ Mini (its total length is actually 20 feet 11 inches) lead you to believe that this Born Free is not a full-service motorhome. Quite the opposite is true. This model currently is offered in two floor plans and, like other Type Cs, is laid out in distinct areas, with each area yielding the functionality that is demanded of it.
To begin with, this is a rear-entrance unit with the entry door positioned in the middle of the rear wall. A folding entry step and a stationary grab rail/handle facilitate access inside and make exiting just as easy. A light next to the door brightens the area at night.
Immediately inside and to the left of the center aisle is a full-service wet bath that includes a marine-style toilet, a full-size stand-up molded fiberglass shower, and a lavatory/counter complex. A solid door and solid walls sequester the bath to provide privacy, while a pull-across shower curtain protects the interior side of the door from shower moisture. A 12-volt-DC roof vent evacuates moisture, and a ceiling light provides illumination.
Across the center-aisle entryway and opposite the bathroom is a shirt-length wardrobe that offers considerable room for clothes storage. Below the wardrobe is a large, roll-out drawer, perfect for stowing shoes or other items.
The center-aisle configuration continues forward, dividing the galley between the curb side and street side of the coach. A large stainless-steel single-basin sink with a pivoting faucet is located on the left, with two roll-out drawers situated below it. Directly across the center aisle is a galley countertop that houses a two-burner LP-gas cooktop. Above this is a microwave oven, a power range hood with light, and a systems monitor panel. Below the cooktop/countertop is the three-way (LP gas, 12-volt DC, 120-volt AC) refrigerator, which is 3.6 or 7 cubic feet, depending on floor plan. Adjacent to the fridge is a counter-deep cabinet.
Immediately forward of the galley is a spacious living area that can be enjoyed with a variety of seating options. The choices include a twin or optional incline (power) bed and a Flexsteel sofa bed opposite it; a twin bed and a twin incline bed; a Flexsteel sofa bed and a dinette; or two Flexsteel sofa beds. The twin/incline bed includes a hand control, which at the touch of a button raises and lowers the head of the bed as desired. For those who enjoy lying in bed and watching television, this is a great feature. The twin/incline bed (which I have not seen previously in a motorhome) also yields a huge amount of functionality for those who like or need assistance getting into and out of bed. The television is mounted on the face of the entertainment center.
A new, second floor plan that has been added for 2010 includes a street-side jackknife sofa, two chairs and a pull-up table on the curb side, and the 7-cubic-foot refrigerator mentioned earlier.
Above the beds, sofas, or dinettes on both sides of the living area, large sliding windows provide an excellent view of the world outside and help tailor ventilation to motorhome occupants. When privacy is wanted, very substantial blackout drapes can be pulled shut.
For those who are downsizing from a larger motorhome, the Born Free 20′ Mini may be just the ticket. Because of its size, it maneuvers though urban settings like a large sedan, van, or full-size pickup truck. For those who may have issues in their neighborhood about parking on the street, the 20′ Mini tucks nicely into most residential driveways. The functionality the all-new 20′ Mini yields can be further underscored by the fact that it can be used to run to the store, do errands, or serve as the family vehicle. And it is always ready to hit the road for the next planned or impromptu RV adventure.
The holding tanks on the 20′ Built-For-Two Mini (fresh, gray, and black) are 26.5 gallons, 18.5 gallons, and 13 gallons, respectively. The LP-gas tank has a 19.5-gallon capacity and is the fuel source for the cooktop, the 6-gallon water heater, and the furnace.
Like all of the other motorhomes in the Born Free family, the 20′ Mini incorporates a steel roll cage system that consists of three tubular roll bars designed into the walls and roof. Residential-style fiberglass insulation and low-emissivity foam and foil insulation with an R-11 factor is sandwiched behind the high-gloss fiberglass exterior (with graphics) and the vinyl interior wall. This unit is wired for 30-amp shore power and has fiberglass running boards, one house and one chassis battery, and a Fan-Tastic Vent fan. It comes with a 36-month/36,000-mile limited warranty on the chassis and the motorhome portion.
At A Glance
MANUFACTURER
Born Free Motorcoach, a division of Dodgen Industries Inc., 1505 N. 13th St., Humboldt, IA 50548; (800) 247-1835; www.bornfreemotorcoach.com
MODEL
20′ Built-For-Two Mini
FLOOR PLANS
(2); both rear-entry
CHASSIS/ENGINE
Ford E-350 chassis; 5.4-liter V-8 engine, standard (6.8-liter V-10 engine, optional)
EXTERIOR LENGTH
20 feet 11 inches
EXTERIOR WIDTH
95 1/2 inches
INTERIOR HEIGHT
6 feet 4 1/2 inches
EXTERIOR HEIGHT
9 feet 10 1/2 inches (with roof A/C)
GROSS VEHICLE WEIGHT RATING (GVWR)
11,500 pounds
GROSS COMBINATION WEIGHT RATING (GCWR)
13,000 pounds on base unit;
18,500 pounds with E-350 6.8-liter V-10 engine option
FRESH WATER CAPACITY
26 1/2 gallons
HOLDING TANK CAPACITIES
gray water – 18 1/2 gallons
black water – 13 gallons
FUEL CAPACITY
40 gallons
PROPANE CAPACITY
19.5 gallons (80 percent filled)
HEATING/AIR-CONDITIONING
16,000-Btu thermostatically controlled furnace;
13,000-Btu roof air conditioner with heat strip (optional)
WARRANTY
36 months/36,000 miles on chassis and manufactured coach;
lifetime fiberglass limited warranty
BASE SUGGESTED RETAIL PRICE
$64,995 as evaluated;
$69,995 — 2010 model year pricing