Once close to abandonment, this former mining town is now known for its history, shops, and restaurants "" and an occasional ghost.
By Richard Bauman
October 2009
My first encounter with Jerome, Arizona, was on a midnight drive through town in June 1959. My sister, Patricia; her husband, Leroy; and I were on the last leg of a road trip from Clarksville, Tennessee, back home to the suburbs of Los Angeles. This was before interstate highways were completed, and it seemed more expedient to swing south at Flagstaff and go through Jerome, Prescott, and Blythe, rather than stay on Route 66 into Needles, Barstow, and San Bernardino.
The moon was nearly full as we drove south on State Route 89 toward Jerome. We could see it on the hillside, and we wondered out loud if it was a ghost town, or just ghostly looking in the lunar light. As Leroy nursed his 1947 Chevy up the narrow, winding road leading into and through Jerome, we concluded it was a ghost town, or nearly so. Its buildings were falling down, many of them obviously having shifted on their foundations; others were boarded up, and not a light or a human was in sight. There were perhaps one or two cars parked along what was the main street (and the only level road) in town. We decided Jerome wouldn't even exist in another 10 years or so.
Well, we were right and we were wrong. We were right that Jerome was pretty much a ghost town. It had few residents, and many of its buildings were sliding down the town's hillside, with others crumbling in the Arizona sunshine. We were wrong, however, that in a decade or so Jerome would be only a roadside historical plaque.
Recently I returned to Jerome for the first time since that creepy midnight tour. This time it was in daylight, but even if it had been night, I would have realized this wasn't the same Jerome I'd passed through 50 years ago. Instead of a dying, blighted community, I found a town that is thriving, a lively piece of Arizona history, a place that attracts thousands of visitors annually.
What happened? What saved the dying town? And what makes it worth visiting today? Let's start with a little Jerome history.
Early Jerome
In 1876, in what is now Jerome, Al Sieber saw the rudimentary copper mines of American Indians. He figured mining there could be profitable using modern techniques, so he filed mining claims on some copper deposits. A few more miners came to the area and filed claims, too. Jerome's birth wasn't far behind.
The United Verde Copper Company, an investment syndicate, was formed in 1883. It bought out Sieber and other claim holders. Canvas and board hovels began popping up on the hillsides, and the community was named Jerome, in honor of one of the principal investors, Eugene Jerome of New York. Jerome, a cousin of Winston Churchill, never visited the town named for him. By the late 1890s and early 1900s, the United Verde had become the largest copper mine in the United States.
Jerome was incorporated in 1889, and as it flourished, it became a real town with brick and mortar and wood buildings. Many of them were and are precariously situated on the 30-degree slope of Cleopatra Hill, high in a town that is already a mile above sea level (give or take). And a number of the town's current buildings were constructed in the 1890s and early 1900s.
In 1912, "Rawhide Jimmy" Douglas came to Jerome and bought the claim to the Little Daisy Mine. He struck it rich when his crews found huge copper ore deposits just as copper prices soared in the threatening shadow of World War I. Jerome's population topped out at 15,000 early in the 20th century. It was, for a time, the state's fourth-largest town.
By 1929 Jerome had two major copper mines "" the United Verde and the Little Daisy, each pumping out tons of copper ore. But by 1930, as elsewhere, Jerome found itself in the throes of the Great Depression. Copper prices fell, and in 1935 United Verde sold its mining interests to Phelps Dodge. By 1938, the Little Daisy closed down. In 1953, all copper mining there ended, when Phelps Dodge closed its Jerome operation.
Businesses and residents soon departed. By 1960 there were between 50 and 100 people "" perhaps "survivors" is a better word "" still hanging on in Jerome. It looked more and more like a ghost town.
Those stubborn folks, however, protected many of Jerome's historic buildings from vandals and squatters, and somehow kept the town going. Then, in the mid-1960s two things happened that helped turn the town into a thriving tourist and artist community. In 1965, the Douglas Mansion, probably the most impressive building in Jerome, became part of Jerome State Historic Park. And in 1967 the federal government declared Jerome a National Historic Landmark. Thus, funds became available to preserve Jerome. It began to attract tourists, history buffs, and those with a hankering for seeing an out-of-the-ordinary place. The permanent population of approximately 450 today includes artists, musicians, writers, craftspeople, merchants, hermits, bed-and-breakfast owners, and others craving serenity.
Ghosts of the past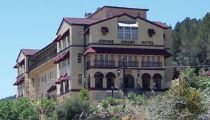 Jerome looks a lot like it did a century ago, and has been described by some as a photographer's paradise. Many of its buildings have been restored. The fact that the town was built on a 30-degree incline helped a number of old buildings fall apart and gracefully slide down the grade. They are still there. It sounds sad, but they make for interesting viewing and photo opportunities.
Almost all mining towns of the 19th and early 20th centuries had a "Crib District," and Jerome was no exception. Jerome's historic prostitution row can be found in a back alley across the street from the English Kitchen restaurant.
In 1916, James "Rawhide Jimmy" Douglas built the Douglas Mansion right above the Little Daisy Mine (which he owned). A sprawling, two-story structure, the mansion is impressive even today. It covers about 19,000 square feet, and up until early this year, it was open as a museum dedicated to the history of Jerome as well as the Douglas family. Unfortunately, the Arizona State Parks Board closed the mansion for repairs, and in February 2009 the board issued a press release stating it would take months for bidding and project completion to take place. No one at the local chamber of commerce could say when it might reopen.
To the south of the mansion, the remains of the Little Daisy Hotel can be seen. Douglas built it in 1918 as a residence for his unmarried miners, and it was used for 20 years. At first glance, it appears to be a complete building, but it isn't. Over the years it was stripped of useable materials. In town, at the east end of Main Street, you can look down on the building. Its roof is gone, and it's plain that what remains is merely a faí§ade of the hotel.
The United Verde Company built its own hospital to care for miners and their families. Constructed in 1926, the Spanish Mission-style building came to be called the most modern and well-equipped hospital in Arizona. It closed in 1950 and stood vacant until 1994, when it was purchased and eventually transformed into the Jerome Grand Hotel. As the highest building on the hill overlooking Jerome, it's easy to spot "" just look for the yellow building with red roofs and awnings. From there you can view the town and the expanse of the Verde Valley.
Many local ghost stories spin around spooky activity at that hotel, or around the local community center, commonly called "Spook Hall." The latter's ghost story involves a young prostitute. Not surprisingly, other stories focus on the old mines.
Jerome today
Although the Douglas Mansion is closed, you can still learn about town history at the local historical society's Mine Museum and Gift Shop. For a small fee ($2 for adults, $1 for seniors, and free for children), you can follow Jerome's history through old saloon interiors, mining equipment, photos, dishes, and even a Colt pistol used to gun down some vigilantes. The museum is at 200 Main St. downtown.
From there, you can cruise Main Street Jerome, with its share of antique stores, galleries, specialty shops, and historic buildings. Main Street is the prime territory for such places, but on Hull Street, Jerome Avenue, and Clark Street you'll also find out-of-the-ordinary establishments.
Many of the historic buildings, such as the Connor Hotel, are adorned with brass plaques that give a brief history of the building and its significance to Jerome. The Connor's plaque reveals that it was built in 1898 from brick and native stone. It was damaged by fire a couple of times, but David Connor always rebuilt it. The building's upper floor is still used as a hotel.
On Main Street, you'll find shops such as Made in Jerome Pottery, which sells handcrafted pottery made from native clay. Nearby is Nellie Bly II, specializing in unusual gemstones and individually designed jewelry. And Victorian Treasures features a diverse collection of antiques and collectibles.
On Clark Street is Life on the Curve, which offers unusual furniture, lamps, home accessories, and gifts. And on Jerome Avenue, you'll find Mooey Christmas and Udder Things, a specialty shop with a distinctly bovine slant. Cow-influenced seasonal decorations include hand-blown ornaments and hand-carved figurines. These are just a few of the many interesting shops in town.
As for eateries, you can choose among a variety of good restaurants: the Flatiron Café, The Asylum, and the Mile High Grill, for example, each offer a different kind of experience. And even live entertainment is available, with music on Saturday and Sunday afternoons at the Spirit Room Bar.
This fall, Jerome offers its own type of Halloween magic. The Jerome Historical Society will present the seventh annual Ghostwalk on Friday and Saturday, October 9 and 10. It consists of an hour-long tour through Jerome's colorful past, following the life and times of Jennie Bauters, once the richest woman in Arizona, and a businesswoman who traded within the underbelly of Jerome's marketplace. (The tour may not be appropriate for children age 13 and younger.) Call the historical society for more information at (928) 634-1066, or visit www.jeromehistoricalsociety.com.
As my recent visit ended, I recalled the first time I was in Jerome. I realized it still feels like a ghost town, but it offers visitors so much more today than it did a half-century ago "" history, shopping, and excellent eateries. And I can say something about it today, which I couldn't say in 1959: It's worth a visit.
Further Info
Jerome Chamber of Commerce
P.O. Box K
Jerome, AZ 86331
(928) 634-2900
www.jeromechamber.com
Camping
Please check your favorite campground directory or FMCA's Business Directory, published online at FMCA.com and in the January and June issues of FMC for more listings.
Camelot RV Park
651 N. Main St.
Cottonwood, AZ 86326
(928) 634-3011
Dead Horse Ranch State Park
675 Dead Horse Ranch Road
Cottonwood, AZ 86326
(928) 634-5283
www.azstateparks.com
Prescott National Forest Campgrounds
Mingus Mountain Campground & Potato Patch Campground
(near Jerome; no reservations taken)
USDA Forest Service
Verde Ranger District
P.O. Box 670
Camp Verde, AZ 86322
(928) 567-4121
www.forestcamping.com/dow/southwst/pres.htm
Turquoise Triangle RV Park
2501 E. State Route 89A
Cottonwood, AZ 86326
(888) 994-7275
(928) 634-5294
www.turquoisetrianglerv.com