These motorhomers from California have perfected the art of flat-towing their treasured classic automobiles.
By Peggy Jordan, F401999, Associate Editor
October 2009
Flat-towing a modern-day car behind a motorhome is a job of its own. You have to learn whether the car has the right type of transmission, know what sort of towing equipment to buy, and be very safety-minded.
Take that one step further to flat-towing a classic car, and the stakes are definitely higher. But FMCA member Merle Shearer, of Salinas, California, figured out how to flat-tow his red 1965 Mustang convertible. He shared his technique with motorhome-owning buddies in the Salinas area who also owned classic cars, and the Disconnect Club was born.
"Disconnect" relates to their towing method. Merle's friend and fellow Mustang owner Carl Hansen explained that they use Remco's transmission disconnect device on cars with automatic transmissions, so they can be flat-towed without damaging any of the driveline components. They also use regular tow bars. Their friend Wayne Earnest's ingenuity revolves around developing a special base plate, the part that attaches to the bottom front of the car. For a precious collector car, these just don't exist, so they have to be made by hand. Once Wayne figured out how to make the base plates, he solved the flat-towing problem.
In addition to belonging to FMCA, these men are members of the Salinas chapter of the Antique Automobile Club of America (AACA). Their association with the group helped spread word of the flat-tow technique to other people who had been pondering how to make their own classic vehicles towable four wheels down. "A guy from Canada called, and he's going to do the same thing "" and another guy from Washington," Carl noted. He said he's enthusiastic about being able to take his spiffy car along with his coach. "The neat part is, you can take it out and don't have to stay in motels," he said.
If you attended FMCA's Western Area Rally in Indio, California, this past January, you already may have seen the small group of motorhomers and their classic cars. Carl said that six FMCA member families attended the event with their vintage vehicles in tow.
This past spring, seven motorhoming couples from the Disconnect Club "" all of whom belong to the Salinas AACA, and most of them FMCA members "" decided to take a major road trip from Salinas to Branson, Missouri, towing (and sometimes driving) their prized autos all the way. The entourage included Carl's Mustang; another 1965 Mustang convertible; a 1967 Mustang convertible; and a 1964 Ford Falcon convertible. Two 1965 Volkswagens and a 1959 Nash Metropolitan Rambler also were part of the fun. Car owners (and motorhomers) in addition to the Hansens were Merle and Cathy Shearer, Wayne and Leslie Earnest, John and Marie Viarengo, Denny and Carolyn Gattis, Don and Lois Cranford, and Dick and Pat Rodgers.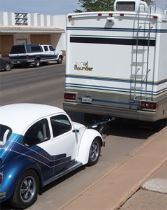 Their road rally began at the 22nd Annual Route 66 Fun Run, a classic car rally that took place in Arizona May 1 through 3, 2009. All sorts of nostalgic vehicles, and their owners, spent three days traveling the 150 miles along the historic Mother Road, from Seligman to Golden Shores, Arizona, Friday through Sunday. A big auto show took place in Kingman, Arizona, on Saturday. "To our great surprise, there were about 700 vintage cars parked for all of us to look at and admire," Carl's wife, Shirley, noted.
"We all entered our cars in the rally, but not to be judged," Carl said. "But after we went home, Wayne and Leslie Earnest received a trophy for Best Nash Rambler. We were all surprised and very happy about that."
After the Route 66 Fun Run, the group made additional stops in Arizona, plus Texas, Oklahoma, Nebraska, and Missouri, among others. In all, the Disconnect Club spent 21 days on the road and traveled 4,400 miles in their motorhomes, all towing their classic automobiles. The base plate technique is most certainly a success.
So, where do they go from here? Carl said a group of Disconnect Club members plan to attend next year's Western Area Rally in Indio, and they are even discussing a return to Seligman for the 2010 Route 66 Fun Run, as well as a trip to Oregon and Washington.
"We would recommend this kind of fun for everyone," Shirley said.