By understanding how your motorhome's slideouts work, and taking the time to maintain them, you can enjoy trouble-free operation for years.
By Lazelle Jones
December 2009
The extent to which the motorhome industry has embraced slideout room technology in the past 15 years is phenomenal. In fact, very few floor plans offered by manufacturers of Type A and Type C motorhomes do not include at least one slideout. Builders today offer floor plans that incorporate as many as five slideouts per motorhome, with some units featuring huge coach-length slideouts that expand the entire side of the vehicle. For the motorhome enthusiast, slideouts provide additional living space, comfort, functionality, and the opportunity to live an even more luxurious RV lifestyle.
When a destination is reached, slideouts are routinely extended and put into service without much thought. They are just as routinely retracted to prepare the motorhome for travel. However, several proactive measures should be taken so that unwanted surprises do not occur when the slideouts are extended or retracted. The equipment and components that need to be attended to include the topper awnings; the seals (bulb and wiper); the electric or hydraulic mechanisms that power the slideouts; surfaces such as the exterior walls, top of the roof, and underbelly of the floor; and the rollers and glide strips that the room rides in and out on inside the motorhome.
To find out what type of slideout operation and maintenance advice the average motorhome owner needs, I spoke with service technicians at several motorhome manufacturers (Winnebago Industries, Born Free Motorcoach, and Thor Industries' Four Winds International and Damon Motor Coach divisions). What I discovered is that in order to continue enjoying trouble-free slideout service, an owner needs to take several often overlooked, but very important, actions.
Safety First
Let's address some important safety issues concerning slideout operation. Slideouts "" both hydraulic and electric "" are immensely powerful mechanisms that can deliver as much as 3,500 psi of force. That amount of pressure can cause great damage to the motorhome and other objects in their path if the operator is not cautious. They also have the potential to harm people and pets, both inside and outside the motorhome.
Before actuating the slideouts, get out of the motorhome and walk around it to ensure that no obstructions are near the slideouts. (Look high for tree limbs and low for any service connections.) It's also a good idea, whenever possible, to have someone else watch as each slideout articulates. An assistant can instantly notify the operator of clearance or safety issues before they result in damage or injury. Having someone else observe the slideouts in motion also provides real-time information about how the topper awnings are extending and retracting and whether a slideout room is moving as it normally should.
If you travel with a pet, make sure it is out of the way and controlled so it doesn't get tangled up in the slideout as the room is moving. If your pet has a favorite toy that could become lodged between the slideout and the walls or floor, find it before operation. Make sure the cockpit seats are positioned forward and not in the path of the slideout's side wall or floor. Also, remove any manual locking devices.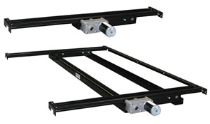 The important thing to remember is that you need to remain vigilant when operating a slideout. Do not become lax when extending or retracting these mechanisms, because they can cause damage and injury if the proper steps are not followed.
Types Of Slideout Mechanisms
The motorhome industry utilizes two types of slideout mechanisms: hydraulic and electric. Within these two groups are different designs. For example, hydraulic systems can employ rams that push the slideout out and pull it in. There are also hydraulic mechanisms that push to retract and pull to extend. Electric mechanisms "" each with their own motor "" can employ worm- or cog-type gears.
Each slideout (even identical slideouts on the same motorhome) will have its own unique operating characteristics. A condition called "walking," when one end of the slideout moves a little ahead or lags behind the other end when the slideout is moving, may occur. Don't be alarmed if you see this, because it is quite normal. But you do need to be aware should these characteristics change over time, as this can be a symptom of potential problems.
Wiper Seals And Compression Bulb Seals
Wiper and bulb seals line the wall opening that the slideout room moves through. Three different designs can be used. One is the individual bulb seal. Another is the individual wiper seal. The third is a design that combines both types into one seal.
Each slideout typically will have two bulb seals "" one that seals the slideout in the extended position and one that seals the slideout in the retracted position. These are used to prevent moisture (rain, condensation, etc.) from entering the enclosure area. Over time, this moisture can cause damage. Remember: if water can find a way into your motorhome, it will. Properly working bulb seals also prevent temperature differences from migrating between the inside and outside of the coach. This helps the coach's heating and air-conditioning systems to operate more efficiently. Check these seals for dry rot, cracking, tears, and any areas that may be pulling away from the surface to which they are attached. Damaged or deteriorating seals need to be replaced immediately.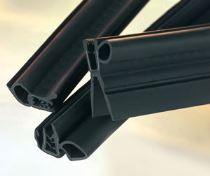 Bulb seals are designed to be uniformly compressed (not crushed) along the entire length of the seal. They need to be inspected for cleanliness and to make sure they are not being crushed. A crushed seal can indicate that the slideout stops are not operating properly, which eventually can cause permanent damage to the seal and compromise its functionality. With the slideout in the extended position, you may be able to visually inspect one set of bulb seals and the wiper seal. However, the bulb seal that is compressed when the slideout is retracted is not as easy to inspect, so you may want a service tech do it for you.
The job of the wiper seal is to squeegee moisture off the exterior surface of the slideout wall. This type of seal needs to be able to flop or toggle back and forth in response to the movement direction (in or out) of the slideout. It should not be allowed to degrade or become positioned in such a way that it does not wipe the exterior wall surfaces but instead scrapes the surface (scraping is bad). Again, check for cracking, dry rot, and tears.
For added protection, some motorhomes are equipped with inflatable or pneumatic seals. Unlike a bulb seal that is compressed against the side of the slideout to keep moisture and air from entering the motorhome, a pneumatic seal fills with air and expands to conform to the contour of the slideout in both the extended and retracted positions. When under pressure, this type of seal reduces the possibility of a gap existing in between the slideout wall and seal.
One thing that can degrade wiper and bulb seals is if the coach is not leveled before the slide is articulated. A coach that is not level can cause the house portion of the motorhome to twist, which means the apertures in the exterior walls through which a slideout passes can be tweaked or twisted. This can affect the operation of the seals. Read the owners manual that comes with the motorhome. If it says that the motorhome needs to be level prior to operating the slideout, then make sure it is level before extending the slideout.
Topper Awnings
Reference the vendor-provided manual for topper awning maintenance and service tips. Some awnings are made of vinyl, while others are made of fabric. Knowing the type of material will help determine what topical dressing can and should be used to clean and rehab these awnings. The tension may need to be adjusted periodically to prevent excess material on the ends of the awning from getting reeled inside the awning housing when it is being retracted. Again, this is where a second set of eyes can come in handy and where having a good service technician who can make the necessary adjustments is helpful. It's important to note that if you retract a slideout while the awning is wet (from rain, dew, etc.), you need to stop, extend the slideout, and allow the awning material to dry at the first opportunity.
Cleanliness Is Next To Godliness
The outboard wall of a slideout is supported either by an arm(s) or a ram(s) assembly. The interior end of a slideout is typically supported on rollers or glide strips. If there is fine debris on the floor, the friction associated with moving the slideout in and out will take its toll on the floor, the rollers, or the glide strips. This area needs to be attended to regularly and kept clean and free of grit and foreign objects.
Another place that often is overlooked is the roof or top of the slideout room. Even with topper awnings that extend and retract with the slideout, moisture and debris can collect in between the awning and the top of the slideout. This must be removed. Furthermore, if you are going to store your coach, you will not want moisture trapped between the awning and roof. While this area may be an awkward and precarious place to get to, it needs to be inspected and routinely cleaned. If you do not feel comfortable doing this yourself, ask a service technician to complete this task for you.
Some motorhome builders use what are called electronic travel latches that are housed in the top area of the slideout and can be exposed to rain (even with a topper awning). Drain holes that prevent moisture from collecting around these travel latches can become plugged with debris (mud daubers and wasps love to build nests in these kinds of areas), which is why a periodic visual inspection and cleaning of these orifices is recommended.
Over time the bulb and wiper seals can become degraded by ultraviolet rays and by extreme temperatures. A visual inspection will tell you if these seals are drying out or cracking. Several consumer products on the market can be used to condition or rehab rubber seals. Just make sure that you choose a "rubber friendly" product. Ask your dealer's service department for recommendations.
The exterior sides of the slideout walls, roof, and floor should be inspected and cleaned periodically. If you need to address light scratches or UV light damage to the surface, ask your service rep for suggestions.
Slideout Adjustments
As noted earlier in this article, both electric and hydraulic slideouts may exhibit some walking. That condition shouldn't indicate a problem unless it begins to vary from what you typically observe. Slideout mechanisms are designed to be self-synchronizing. Remember, the amount of walking can be altered if the motorhome is not level prior to operating.
Another thing that can cause a slideout to deviate from what is considered "normal walking" is the amount of cargo weight and how it is distributed in the storage areas (drawers, wardrobes, cabinets) that are built into the slideout. Don't overload these storage areas, and make sure to distribute the weight equally.
It also is necessary to take into account the charge level of the house batteries prior to extending and retracting a slideout. Make sure adequate voltage exists to power the pump on hydraulic systems and the motors that drive electric mechanisms.
Slideout mechanism adjustments should be made only by a trained service technician. Traditionally, hard stops (full out and full in) have been used to stop the extension or retraction of the slideout. But a new technology called soft stops is now being used, where the slideout mechanism senses a spike in 12-volt-DC power that shuts off the slideout mechanism when the slideout has reached the point where it needs to stop. In either case, adjustments require the special skills and training of a service technician.
Important Info
You may find evidence of a leak in a hydraulic slideout mechanism on the ground under the motorhome. When this occurs, it will be tempting to check the mechanism's fluid levels. Resist this urge. You should avoid removing the cap to the fluid reservoir, because you run the risk of allowing contaminants (dirt, moisture, etc.) into the hydraulic system. Fluid levels on hydraulic slideout mechanisms should be checked by a service tech unless extreme circumstances, such as a large puddle of hydraulic fluid on the ground, prevent you from retracting the slideout and getting the motorhome to a service department. An occasional drip may be within acceptable limits, but ask your service tech. Do not check the fluid level just for the sake of checking it.
The arm or ram assemblies (hydraulic and electric) do not require lubrication. Just keep them clean. The high-density polyethylene plastic seals used in these systems are self-lubricating. These plastic seals provide the slick surface that is required. Adding lubricant to the arm will simply attract dirt, which can then cause accelerated wear. If the arms or rams appear dirty, spray them off with a water nozzle adjusted to medium spray intensity.
Sage Advice
Dealers sometimes don't take enough time with new motorhome owners to explain what occurs during normal slideout operation and what users should look for that would indicate potential problems. So it's up to you to read and understand the operating and maintenance instructions for the slideouts. The manuals that come with the motorhome should provide a list of maintenance tips, troubleshooting suggestions, adjustments that you can make, and contact information (a telephone number and a Web site address) for technical assistance. As you're going through this information, write down questions you may have. You can return to the dealer later and talk with the service technician about things you don't completely understand or may have overlooked. By the time you return to talk with the tech, you probably will have extended and retracted the slideouts several times and will be more prepared to understand detailed operation, service, and maintenance information.
In addition, fee-based services such as FMCA's RV Technical and Roadside Assistance program, powered by Coach-Net, can provide technical assistance should you have an extension or retraction issue that cannot be remedied without the help of a service technician. These services offer 24/7 telephone technical support, 365 days a year, along with a network of service technicians that can be called upon for help.
Routinely inspect the component groups described in this article, especially before putting your coach in storage and when preparing it to return to service. Don't hesitate to talk with a service technician about unusual slideout behavior. You can call the tech support telephone numbers listed in your owners manuals. With this article is a list of telephone numbers and Web site addresses for many of the vendors that provide these components and systems to motorhome manufacturers.
To prevent safety issues from occurring and to avoid damaging your motorhome, make sure you know how to operate the slideout and take care of it! Caution and a little tenderness will go a long way!
Supplier Contact Information
Slideout Mechanism System Manufacturers
AL-KO Kober Corporation "" (909) 591-5359; www.rbwindustries.com
Barker Manufacturing Company "" (888) 367-6978; www.barkermfg.com
Equalizer Systems "" (800) 846-9659; www.equalizersystems.com
HWH Corporation "" (800) 321-3494; www.hwhcorp.com
Kwikee Products Inc. "" (800) 334-4712; www.kwikee.com
Liftco Inc. "" (800) 454-3826; www.liftcoinc.com
Lippert Components Inc. "" (866) 524-7821; www.lci1.com
Power Gear "" (800) 334-4712; www.powergearus.com
Valid Manufacturing Ltd. "" (250) 832-6477; www.validmanufacturing.com
Awning Manufacturers
Awnings By Zip Dee Inc. "" (800) 338-2378; www.zipdeeinc.com
Carefree of Colorado "" (800) 621-2617; www.carefreeofcolorado.com
Dometic "" (800) 544-4881; www.dometicusa.com
Fiamma Inc. "" (407) 672-0091; www.fiamma.com
Girard Systems "" (800) 382-8442; www.girardrvawnings.com
Seal Manufacturers
Sealdesign LLC, a Dicor Corporation Inc. affiliate "" (800) 837-2059; www.dicor.com
Trim-Lok Inc. "" (888) 874-6565; www.trimlok.com
Other Contact
FMCA RV Technical and Roadside Assistance powered by Coach-Net "" (877) 801-0333; www.coach-net.com