One couple devises a harmonious way to enjoy motorhome trips with their grandchildren.
By Tom Oelsner, F375949
July 2010
We had no previous motorhoming experience when we bought our first coach in 2006, a 39-foot Fleetwood Excursion with a full-length slideout. Our objective was to see the USA with our nine grandchildren "" we have eight grandsons and one granddaughter. They are in three families of three and live in Seattle, Washington; Salt Lake City, Utah; and our hometown of New Orleans, Louisiana. At the time of our initial adventure that year, they ranged in age from 6 to 15. We felt comfortable taking up to three grandchildren at a time, each staying with us from one to three weeks.
We also travel with our Portuguese water dog, Cocoa, who is 4 years old, weighs 63 pounds, and is very active.
Initially we made a very important decision: we would take no siblings. That is, we took only cousins "" one child from each family. This policy essentially eliminated fighting, whining, sibling rivalries, and the like. Furthermore, it gave the kids an opportunity to really get to know their cousins. And it gave us the prospect of spending time with each child away from his or her immediate family.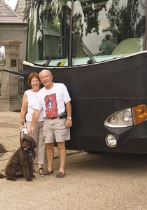 As it turned out, these travels created memories the children will cherish for the rest of their lives, not to mention the joys we experienced as their grandparents.
When we left home on our first trip, we started with only our oldest grandchild, Michael, who also lives in New Orleans. By the time we reached Wisconsin, we had a full complement of three grandchildren. Andrew met us at the Chicago airport after his flight arrived from Salt Lake City, and Sasha, age 9, flew in from Seattle with his father. The logistics of flying these kids from their homes to meet us, and then returning them to their home cities from wherever we were, became quite complicated, particularly since each child had his own schedule, and no two left or arrived at the same time. Except for the oldest, none of them was old enough to change planes or to make connections in remote airports alone. So we had to plan our travels around areas that were accessible to major airports, where direct flights could be made to and from Seattle, Salt Lake City, and New Orleans. For our itinerary, the airports in Chicago; Minneapolis; and Billings, Montana, met these requirements. On one occasion, we greeted an arriving grandchild at the airport one hour before his brother would be leaving us to return home.
Motorhome travel was entirely new to us, as it was to our grandchildren. Sleeping accommodations were easy: two kids on the queen-sized convertible bed in the main salon and one on the table that converts to a bed. A special foam pad on the table made it quite comfortable. Before long, the kids learned to open the convert-a-bed, inflate the air mattress, lower the dinette table, rearrange the cushions, and apply the sheets to both beds in the evenings; they would do the reverse in the mornings. Cocoa slept on the floor near the children. Meals were a little more complicated due to certain likes and dislikes, but Grandma was very flexible and more than willing to please her grandchildren.
On travel days, I like to get an early start. By the time they were fully awake, usually 10:00 a.m. or later, we would be halfway to our destination. We always tried to get in a campsite by early afternoon, thereby not losing a whole day for travel.
The kids were all given lots of responsibilities, and also lots of freedoms. They learned to help with the hookups and to help connect and disconnect the Jeep Cherokee that we towed. Once we were settled in a new campground, they would go exploring with Cocoa and then come back to report to us. Naturally, they preferred the campgrounds that offered many activities. They particularly liked the recreation rooms with pool tables and games. And they liked the swimming pools. When go-carts or other vehicles were available to rent, that was a special treat. And they loved to take Cocoa to an open area where they could throw the ball for him. Of course, Cocoa thrived on that kind of attention.
Cooking the evening meal was always fun. We would grill outdoors, and the grandchildren would be given a very active role. What a treat it was to sit outdoors for dinner with three grandchildren. But all of us knew to watch Cocoa carefully to be sure he didn't steal the meat off the grill.
In the evening, the kids often would go off with friends they had met at the campground. There was always a curfew, which they usually were careful to observe. But we felt it was safe to let them roam about the campground. We frequently played games, including cards or Sequence or Monopoly in the evenings.
The single bathroom on board would become a little crowded at times, but somehow the children would get their showers. Living up to their reputation as kids, they always came in with very dirty feet that had to be washed before bedtime.
On most days that were not travel days, we would go sight-seeing. When we bought the motorhome, we specifically chose the Jeep, because it is very towable and would accommodate three kids in the backseat and a dog in the way back. Also there was room for suitcases for our trips to and from airports. We usually took Cocoa on our day trips. He would go along on hikes and sight-seeing excursions. We usually were able to find outdoor restaurants for lunch, which would allow Cocoa to join us. Otherwise, he could stay in the car so long as it was not hot.
One of the highlights was our visit to the origin of the Mississippi River at its headwaters in northern Minnesota. As the Mississippi is about a mile wide in New Orleans, it was a real treat for all of us to be able to jump across this river at its origin. Visiting small towns and farms was always fun as well. At the Shores of Leech Lake Campground in Walker, Minnesota, we had a beautiful spot overlooking the lake. The kids could swim in the lake, and so could Cocoa. One day we hired a guide with a boat and went fishing in the beautiful water. The boys were thrilled to catch several large northern pike. Back at the campground, they learned to clean the fish, which we grilled and ate for lunch.
Near Bismarck, North Dakota, is Fort Abraham Lincoln State Park, which contains an original Mandan Indian village. It also includes the original home of General George Armstrong Custer. We went on to Little Big Horn, where we saw the battlefield and the cemetery where Custer and his men were buried. Then we drove to Custer, South Dakota. This was an excellent lesson in American history for the children and the grandparents.
During the course of a month, we sent some kids home and brought in others so that at any one time we had one to three grandchildren with us. Altogether we had five of our nine grandchildren on this trip, each spending from one to three weeks with us. School starts later in Seattle, so Zachary from Seattle stayed the longest. He accompanied us to Mount Rushmore, which was another thrill. We were concerned that having just one grandchild for a week would be boring for him, but he loved it. When he finally went home, we were left with only Cocoa as we traveled farther west, eventually going to Seattle and to Salt Lake City to see the kids again at their homes.
Touring this magnificent country by motorhome with our grandchildren is a privilege. The ability to share sights together, study history and geography, play and laugh together, and share close quarters is wonderful. The kids had the chance to get away from their parents, get to know their cousins, and go to places they would not otherwise see. They loved the responsibilities they were given as part of their unique experiences. We were able to get to know our grandchildren better and to view some of these amazing sights through their eyes "" two generations removed from ours.
The grandchildren enjoyed their adventures enough to request return visits in the future. In fact, in the years since this first voyage, we have had all nine grandchildren along at different times, several of them on second trips. For one month we had only the two youngest "" 7 and 8 years old "" from Seattle and Salt Lake City with us. This was an exceptional experience because of their ages.
A motorhome inhabited by two adults, three children, and a dog would normally be considered close quarters. Our "no-siblings" policy made the experience a pleasure. Because of this policy, there has been remarkable harmony among the kids, and it has been much more peaceful for us. We plan to continue to take our grandchildren with us as long as we can and as long as they are willing.