Just north of Sonora, California, is a living example of the California Gold Rush days.
By Gerald C. Hammon, F275831
September 2010
It was a time unlike any other before or since. Today we might describe it as sheer madness "" the wild hope, the driving desire that led farmers, sea captains, politicians, and even clergymen to abandon careers, responsibilities, and even families in the race for instant wealth. What was it like? How did it feel to look at the bottom of your pan and see the glitter of gold?
Our perspective is colored, perhaps even warped, by what has happened since. Gold rush communities situated along the 120-mile California Mother Lode in the Sierra Nevada foothills have matured and changed in order to survive. The last stamp mills "" huge ore crushers "" shut down in 1942, more than a generation ago. A few hardy souls still prospect along streams and gullies, but tourism, antiques, and basic staples fuel the economies of Jackson, Angels Camp, Sonora, and Hangtown (Placerville). But one town has preserved the past perhaps better than any other: Columbia, now designated a state historic park.
Columbia's beginning was like many other Mother Lode communities. A small group of discouraged Argonauts "" gold seekers nicknamed after the adventurers in Greek mythology "" were attempting to make their way back to present-day Jamestown, California, when they were caught in an overnight storm. While waiting for their bedding to dry, one of their company decided to pan a nearby stream. Finding gold in his first pan, he called his friends, and soon they all were finding gold. The date was March 27, 1850. News spread rapidly, and soon miners from nearby communities filled every gulch, ditch, and depression.
Merchants quickly followed, providing basic supplies, food, and liquor from rude tents and hastily erected clapboard buildings. Saloons and gambling houses were inevitably among the first businesses to arrive.
Like other Mother Lode communities, Columbia suffered from the twin curses of fire and lack of water. Without water, placer diggings couldn't be processed. And fire was almost inevitable, given the slapped-together nature of the community. Columbia's water problem was solved within two years, after an aqueduct was built to transport water from nearly 60 miles away in the Sierra Nevada, providing a dependable year-round supply. In 1854, fire paid its first visit. The first "" and only "" brick building in Columbia was the sole survivor. The town was rebuilt, but burned again in 1857.
This time, the citizens took the threat of fire to heart and rebuilt with brick. Iron doors and window coverings furnished additional protection. Primitive fire engines were purchased. But by the 1870s, it was apparent the gold had played out and people began to leave. Some buildings were physically moved to other locations. Others were torn down in order to mine the ground they stood on. Columbia never became a ghost town, but like many other Mother Lode communities, it slowly moldered away.
As the 1949 centennial of the California gold rush approached, individuals interested in preserving the past began to take a serious look at Mother Lode communities, Columbia among them. The town was designated as Columbia State Historic Park in 1945.
Existing buildings in Columbia were restored to their early appearance. Others that had disappeared were reconstructed, based on photos and century-old documents. Now, although it is much smaller than during its heyday, Columbia offers a wonderful chance to see what life was like when gold was on everyone's mind.
Columbia State Historic Park is an active community where people live and work, with businesses open each day from 10:00 a.m. to 5:00 p.m. Many restaurants, stores, and other establishments have longer hours. The City Hotel and the Fallon Hotel and Theater are open for business, as are restaurants such as Bart's Black Skillet for family-style dining. Nelson's Columbia Candy Kitchen provides handmade sweet treats. You can peruse the wares at the Columbia Mercantile, or hoist a cool one at several bars, and even contemplate what it was like to end up in jail.
Artisans in various shops work with wood and metal as they did a century ago. The Wells Fargo office still has the original scales used to weigh gold for shipment. And, you can pan for gold and even explore a hard rock mine.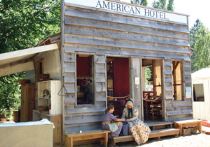 It is technically true that Columbia State Historic Park does not preserve a gold rush town in its very earliest days, because before the town was built, everyone lived in tents. However, each year, a tent town, just as Columbia might have been in 1852, springs to life at Columbia Diggins, adjacent to the park. During this four-day re-enactment, more than 100 costumed volunteers live life as it was at boardinghouses, mercantile businesses, and artisan shops. They even work an early placer "long tom" to separate gold from river bottom gravel. Columbia Diggins is held the weekend after Memorial Day each year from 10:00 a.m. to 5:00 p.m.; cost is $4 for adults and $1 for children.
Every Saturday and Sunday throughout the year, and daily between June 15 and Labor Day, you can take a free guided tour of Columbia at 11:00 a.m. Meet at the town's museum, which, by the way, is open daily from 10:00 a.m. to 4:00 p.m. Other special events at the park include Gold Rush Days, the second Saturday of each month from 1:00 p.m. to 4:00 p.m., with volunteers in period costumes staffing a variety of venues.
We can all dream about what it might have been like to pick gold nuggets out of streambeds, but the truth was that very few men got rich from mining. One of the volunteers at Columbia Diggins challenged us to go through that tent town and observe who was getting rich. Was it the miners, or the people mining the miners? I know enough history to remember that one of the richest men of that era started out by selling shovels to miners. His name was Leland Stanford, and he eventually became president of the Central Pacific Railroad, governor of California, and a U.S. senator. He also founded and endowed Stanford University in honor of his deceased son.
What is preserved at Columbia is the stage beyond that wild and woolly initial rush, where men raced from stream to stream, often abandoning claims that still were profitable because someone over the next ridge had just hit it big. It is said that when the first woman arrived in Columbia, the miners quit work and marched down the road a mile or two to greet her. But the Columbia visitors see today is a town shaped by the moderating influence of women and families.
Although the history of any building in the town is a kaleidoscope of changing uses and owners, a sense of permanence pervades. The people who constructed these buildings weren't going to rush off to the next rumor of a big strike. They intended to stay for the long haul. It is our good fortune they did.
Further Info
Columbia State Historic Park is located 3 miles northeast of Sonora in northern California. It is open year-round, and admission is free. From Sonora, head north on State Route 49. Turn right on Parrotts Ferry Road and follow the signs to the park. Vehicles generally are not permitted in the core of town, but parking is plentiful around the perimeter. For more information, contact the park at (209) 588-9128 or visit www.parks.ca.gov.
Nearby Sonora is the shopping hub for the south-central Sierra where you can find just about anything you need. Be warned, though, that in-town traffic can be heavy.
Area campgrounds include the following. For additional listings, check your favorite campground directory or FMCA's RV Marketplace, available at FMCA.com and in the January and June issues of FMC.
49er RV Ranch
23223 Italian Bar Road
Columbia, CA 95310
(209) 532-4978
www.49rv.com
Marble Quarry RV Park, C7689
(FMCA commercial member)
11551 Yankee Hill Road
Columbia, CA 95310
(866) 677-8464
(209) 532-9539
www.marblequarry.com