Reminders of the war that tore America apart are preserved at Georgia state parks and national monuments.
February 2011
By Peggy Jordan, F401999, Associate Editor
This past September marked the 20th anniversary of the first broadcast of "The Civil War" on America's Public Broadcasting Service television stations. But not even that award-winning program can replace the experience of actually visiting a Civil War site; nor can a book or Web site. Stand on a battlefield where teenagers, adults, and older gents all ate, slept, drank, told stories, cleaned weapons, wrote letters, and followed orders. Walk around a fort where brave Confederate soldiers defended their way of life to the last. You can do all this and more either before or after your visit to FMCA's next convention in Perry, Georgia, March 14 through 17, 2011.
This article focuses only on the larger battlefields and forts in Georgia that have been officially dedicated to public visits. Many more battles and skirmishes occurred, some of which are commemorated by historical markers, and other forts still stand. Serious Civil War buffs will want to dig much deeper. Historic sites and museums also pepper the state, and you may wish to look them up as well. For an overview of these and more, visit www.civilwartraveler.com or www.sherpaguides.com/georgia/civil_war/.
Battlefields
Either by chance or not, most of Georgia's Civil War sites are located where the Confederates claimed victory. But sometimes it's hard to define that word. North and South alike lost thousands of men in America's most perilous war to date.
More than 1,000 monuments make a visit to Chickamauga and Chattanooga National Military Park a lesson in remembrance. The battle of Chickamauga lasted three days in September of 1863 and was a small Confederate victory. It is said it could have been larger if the retreating Union soldiers had been pursued, but Confederate General Braxton Bragg was unable to do so. During the three-day battle in September, losses totaled approximately 18,000 Confederate and 16,200 Union soldiers. Camped just to the north in Chattanooga, Tennessee, after the fighting at Chickamauga, the Union forces eventually strengthened to the point where, by November 1863, they had control of the town.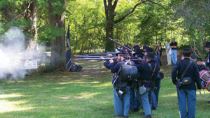 In Chattanooga, you must go to the top of Lookout Mountain to visit the site. It includes monuments, historical markers, trails, and scenic vistas. The visitors center, located across the street from the Point Park entrance gate, displays James Walker's 13-foot-by-30-foot painting titled "Battle of Lookout Mountain," and other exhibits.
Just a few miles south of there in the Chickamauga portion of this National Military Park, a visitors center has a 26-minute multimedia presentation that gives a good overview of the importance of the battle that took place here. A large collection of guns also is on exhibit. This portion of the park has a 7-mile driving tour route past a sampling of the many structures that commemorate military efforts.
Visitors centers in Chattanooga and Chickamauga are open daily from 8:30 a.m. to 5:00 p.m. If you visit in summer, you may encounter a living-history re-enactment or encampment of regiments representing various states at either site. Admission is free at Chickamauga Battlefield, and $3 per person (16 and older) to Point Park at Lookout Mountain.
Pickett's Mill Battlefield State Historic Site is said to be the best-preserved Civil War battlefield in the United States. It is also one of the most endangered, because of a need for upkeep (a flood in late 2009 damaged parts of the terrain) and state budget woes. This state park is located along U.S. 278 northwest of Atlanta near the town of Dallas.

Pickett's Mill has nearly the same layout that existed in late May of 1864 when Confederate troops held back the Federals and slowed General William T. Sherman's advance on Atlanta by a week. The battle lasted only one day, but it is estimated that 1,600 Union troops died.
When you visit, you can retrace the events of the battle on roads used by the troops of both sides. The facility's 765 acres are open Thursday through Saturday from 9:00 a.m. to 5:00 p.m. Admission prices range from $2.75 to $4. See www.gastateparks.org/picketts for details or call (770) 443-7850.
A Confederate victory at a battle during the Atlanta Campaign in the summer of 1864 is commemorated at Kennesaw Mountain National Battlefield Park. Today it is a well-preserved wilderness area surrounded by metropolitan Atlanta, just west of Marietta. Here the Confederates made a valiant stand before retreating to Atlanta.
More than 1 million people visit this park every year because of its proximity to the city and its welcoming 3,000 acres of green space. Kennesaw has been called Atlanta's "Central Park," because city folk flock here to get away from the traffic and cement.
Speaking of traffic, when you visit you will have the opportunity to either hike or drive to the top of the mountain "" with one caveat. Driving to the top is not permitted on weekends, and a shuttle is available instead. There is a small fee to take the shuttle. The view from the top of the hill is impressive.
The battle involved well-entrenched Confederates and bad Union tactics. It was a lopsided contest, with approximately 3,000 Union troops killed, compared to 1,000 or so Confederates. You can see several miles of original earthworks from the fighting here. At the visitors center, an 18-minute movie about the Atlanta Campaign and the Battle of Kennesaw is shown; plus, a relatively new museum there includes weaponry used in the battle and exhibits about civilian, medical, and other aspects of the conflict.
Kennesaw Mountain National Battlefield Park visitors center is open daily from 8:30 a.m. to 5:00 p.m. on weekdays and 8:30 a.m. to 6:00 p.m. on weekends; the grounds are open from 7:30 a.m. to 8:00 p.m. daily. Parking and admission are free. The weekend shuttle costs $2 for adults and $1 for children. For more information, call (770) 427-4686 or visit www.nps.gov/kemo/.
Tour De Forts
Both of the following Civil War forts were built near Savannah to protect the supply city from invaders. The first, Fort Pulaski National Monument, was constructed in the 1840s to protect the United States, and was property of the federal government before the Civil War.
The fort is on Cockspur Island in the Savannah River, 12 miles east of downtown Savannah. It overlooks Tybee Island and is near Cockspur Lighthouse, one of Georgia's five remaining lighthouses.
A band of Confederate soldiers overtook the bastion in November 1861. They added ammunition, troops, and supplies there until the Federals contested their takeover for two days in April 1862. A massive amount of firepower forced the Confederates to surrender the fort, which the North then used throughout the remainder of the conflict.
The site includes a visitors center with a museum, where you can see a short film and peruse exhibits and a bookstore. Musket and soldiering demonstrations, as well as cannon firings, also take place there. Guided fort tours are offered twice a day, seven days a week. Several fine hiking trails, fishing, and bird-watching also are available. A small admission fee is charged. For more information, call (912) 786-5787 or visit www.nps.gov/fopu/.
Once the Confederates lost Fort Pulaski, the Southerners set about building Fort McAllister in July 1861. Unlike Fort Pulaski, which was made before the war with thousands of bricks, Fort McAllister was a hastily formed structure made of packed, mounded earth. Even so, it served its purpose well.
The Federals arrived to assault the fort by gunboat in July 1862 but were beaten back. Another attempt from the river took place later that same month, with the same results. In January 1863, an ironclad was used by the North to attack the fort, but fighting stopped when the ship ran out of ammunition. This was the first sea-to-land use of an ironclad ship in battle; another one occurred in March 1863.
Damage to the fort was repaired afterward, but it saw no more action. It was simply no longer a vital spot, and it certainly did not stop ironclads from heading upriver. It was lightly defended in December 1864 when General Sherman found it to be the last outpost between him and salt water. After about 15 minutes of fighting, the fort was surrendered.
The fort was ignored until the 1930s when automotive pioneer Henry Ford acquired the property and paid to have it restored. Today Fort McAllister Historic Park still has many original artillery pieces outside, and at the visitors center inside you can check out dioramas, weapons, and details about the fort's reconstruction.
Another notable aspect of Fort McAllister Historic Park is its campground, which boasts 65 wooded sites with water and 30-amp electrical hookups, and good fishing nearby. To make reservations, call (800) 864-7275; for more information, call the park at (912) 727-2339, or visit www.gastateparks.org/ftmcallister.
Visit one, or visit all; when you do you will agree that nothing can replace actually being at a Civil War site "" and you will want to see more.