Dog First-Aid Kit
Dr. Bill's Dog First Aid kit is said to include everything necessary to handle most first-aid situations for canine companions.
The kit includes a battery-operated trimmer to properly shave around a wound or "hot spot" on the dog's skin before it is treated; scissors; forceps; a penlight; a digital thermometer; topical antiseptics; wound dressings; medications; a quick-reference manual; and a muzzle, among other items, all packed in a plastic case with a removable tray.
Dr. Bill's Dog First Aid kit has a manufacturer's suggested retail price of $89.95 plus shipping and handling.
Dr. Bill
27 W. Anapamu, #385
Santa Barbara, CA 93101
(805) 687-2612
www.drbillsdogfirstaid.com
---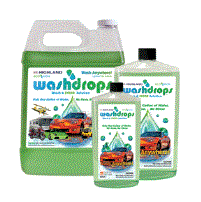 Waterless Vehicle Wash
Highland Washdrops from Cequent Consumer Products Inc. is an environmentally friendly wash and shine solution that also helps to conserve water.
Just 1 ounce of Washdrops mixed into a gallon of water is said to release millions of micro-molecules that grab onto dirt and pull it away. Use a sponge to lift dirt from the vehicle's surface and then wipe it away with a clean towel, eliminating the need to rinse with a hose and dry. The product can be used during winter and in areas where water use is restricted.
Washdrops has manufacturer's suggested retail prices of $7.99 for a 16-ounce bottle, $10.99 for a 32-ounce container, and $29.99 for a 1-gallon jug.
Cequent Consumer Products Inc.
29000-2 Aurora Road
Solon, OH 44139
(800) 234-6992
www.washdrops.com
---
Crossbar Cover
The Nixtopper crossbar cover from Roadmaster Inc. is said to be an easy way to add some pizzazz "" and knee protection "" to the front of a towed vehicle without having to remove the crossbar.
The Nixtopper is made of black, high-impact ABS plastic and comes with a front license plate frame. The cover is attached by removing the crossbar's linchpins; positioning it over the quick-disconnects; and replacing the pins. The cover reportedly can be attached and removed in seconds and will fit any Roadmaster towing system with a quick-connect release.
The Nixtopper has a manufacturer's suggested retail price of $69.49.
Roadmaster Inc.
6110 N.E. 127th Ave.
Vancouver, WA 98682
(800) 669-9690
(503) 288-9898
www.roadmasterinc.com
---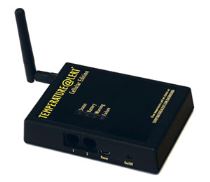 Temperature Alert Device
The Temperature@lert Cellular Edition will help protect your motorhome and pets by monitoring the temperature in your vehicle and alerting you via e-mail, telephone, and text message when the temperature rises or falls outside of the acceptable range.
Once the unit is plugged into a power source, it immediately begins transmitting temperature readings over cellular phone networks to the company's monitoring system and Web site. Should the temperature fall outside the user's preset range, an alert is sent. The device comes with one external temperature sensor on a 6-foot cord, an AC power adapter, a quick-start guide, and an electronic help guide. The internal battery backup will allow it to operate for one week or more if power is lost. A DC power adapter or solar power panel are options. The Temperature@lert Cellular Edition has a manufacturer's suggested retail price of $399.99. Monthly monitoring plans start at $15.
Temperature@lert
101 Federal St., 19th Floor
Boston, MA 02110
(866) 524-3540
www.temperaturealert.com
---
RV Television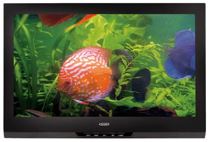 The Jensen LED-backlit LCD series of televisions from ASA Electronics eliminates the size, weight, and power constraints associated with most other digital TVs used in motorhomes.
Jensen's LED-backlit LCD televisions operate on 12-volt-DC power and come with an integrated HDTV tuner, front speakers and controls, and inputs and outputs for other devices. The LED-backlit displays space-saving TV for those wanting to mount the unit on a motorhome wall. The televisions, available in sizes ranging from 15 inches to 32 inches, reportedly have been tested to withstand the rigors of the RV lifestyle, including humidity, vibrations, and temperature variations.
Jensen LED-backlit LCD televisions have manufacturer's suggested retail prices starting at $299.
ASA Electronics
2602 Marina Drive
Elkhart, IN 46514
(877) 305-0445
(574) 264-3135
www.asaelectronics.com
---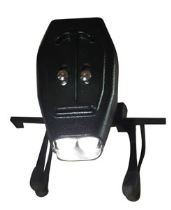 Reading Light
The LED Book Light from TechnoRV is a clip-on reading light that is said to provide hands-free illumination for reading, doing home-improvement jobs, or other tasks.
The light features a pair of bright LEDs and an alligator clip that will attach to virtually any pair of eyeglasses. The unit is fully adjustable and can be rotated 360 degrees to provide illumination wherever it's needed. The device is powered by two CR-2032 3-volt coin-cell batteries (included) and comes with a hard-sided carrying case to keep the light safe in a purse, drawer, cabinet, or nightstand.
The LED Book Light has a manufacturer's suggested retail price of $18.99.
TechnoRV
14525 S.W. Millikan
Suite 56226
Beaverton, OR 97005
(866) 324-7915
(503) 336-1478
www.technorv.com
---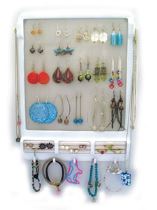 Jewelry Organizer
The GemGini from Innovative Wishes is a jewelry organizer designed to help women keep their jewelry neatly arranged and accessible.
The product features a screen board for hanging wire earrings, knobs for hanging necklaces, hooks for bracelets and watches, and foam rolls that hold rings and post earrings. The GemGini's narrow body allows it to be placed nearly anywhere, such as on the inside of a medicine cabinet, a wardrobe, or the back of a door using either the integrated magnets or the included tape strips.
The GemGini has a manufacturer's suggested retail price of $19.95.
Innovative Wishes
2869 N.W. 24th Way
Boca Raton, FL 33431
(561) 483-8348
www.gemgini.com
---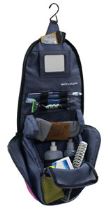 Toiletry Bag
The Body Glove Adventure Shower Bag is said to be the perfect travel essential for keeping toiletries organized in the motorhome or when visiting the shower house.
The bag includes multiple compartments for hair care products, shaving cream, lotions, and more, plus a zippered detachable pocket for toothpaste and toothbrush. It also has a main compartment for brushes, cosmetics, and other items, as well as a detachable mirror. A metal door hanger makes it possible to open and hang the bag on a chair, towel rack, or door, keeping it accessible but out of the way.
The Body Glove Adventure Travel Bag has a manufacturer's suggested retail price of $25.
Body Glove International
201 Herondo St.
Redondo Beach, CA 90277
(310) 374-3441
www.bodyglove.com
---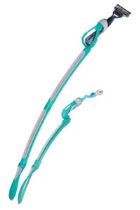 Shaver Extension
For women who have a difficult time shaving their legs in the motorhome shower, the Razor Reach promises to make the task easier.
According to product literature, the Razor Reach will extend the reach of an ordinary razor up to 18 inches, eliminating the need for the user to bend over or lift her legs while showering in tight quarters. The extension arm includes a universal adapter that makes it possible to attach any standard razor. The device also can be helpful for women who are pregnant, have suffered injuries, have arthritis, or are recovering from surgery.
The Razor Reach is available in 12-inch and 18-inch extension sizes and has manufacturer's suggested retail prices of $14.99 and $18.99, respectively, plus shipping and handling. FMCA members can receive a 30 percent discount when ordering online by entering the code fmc30 during checkout.
Razor Reach
2937 N. Clark
Chicago, IL 60657
(312) 423-7839
www.razorreach.com
{loadpositionEndBlurbProducts}