Plenty of fun awaits those who make their way to the Badger State for FMCA's Family Reunion in August.
By Doug Uhlenbrock, Associate Editor
June 2011
Great music and many fun activities will greet those planning to attend FMCA's 86th Family Reunion and Motorhome Showcase, which will take place August 10 through 13, 2011, at the Alliant Energy Center in Madison, Wisconsin.
The good times will start on Tuesday, August 9, during Movie Night beginning at 7:00 pm. in the Arena Building. The main feature that night will be The Social Network, the 2010 film that shows how Harvard student Mark Zuckerberg turned his campus-based blog into Facebook, the largest social networking Web site in the world. The movie follows the personal and professional successes and tribulations that Zuckerberg experienced as the business grew to become the social phenomenon it is today. The movie won three Academy Awards and many other prestigious accolades, including the Golden Globe Award for Best Picture.
Throughout the Family Reunion, FMCA's Al Vormittag will have plenty of fun and games scheduled for attendees. Check your convention program and FMCA.com for the schedule of activities planned for Madison.
On Wednesday, August 10, come out and see the newest stars of the motorhoming world during the "Parade of Lights" motorhome preview, which begins at 5:00 p.m. Enjoy the festive atmosphere in the coach display area as manufacturer and dealer representatives accentuate their exhibits with lights, decorations, music, giveaways, and more. Of course, the main attraction will be the 2011- and 2012-model-year motorhomes on display, so take the opportunity to discover the latest and greatest features available in these homes on wheels.
On Thursday, Friday, and Saturday, August 11, 12, and 13, Morning Coffee Hour will take place from 7:00 a.m. to 9:00 a.m. at the Arena Building. Get a great start to your day with coffee, hot chocolate, and doughnuts, courtesy of Roadmaster Inc., C2952, an FMCA Five Star sponsor. While enjoying your morning treats, make sure to pick up a newspaper (while supplies last) and a copy of the official FMCA "Family A'Fair" newsletter to keep abreast of all the Family Reunion happenings.
During Morning Coffee Hour attendees will be entertained by FMCA's own Frustrated Maestros, who will perform each day from 7:30 a.m. to 9:00 a.m. This eclectic ensemble, composed of members from the various Frustrated Maestros chapters, has been a convention favorite since the original Frustrated Maestros chapter was formed in 1981. The Maestros also will perform on Friday, August 12, from 12:30 p.m. to 1:30 p.m. during the Ice Cream Social, which will begin at 1:00 p.m. Be in the area at this time to pick up a cool treat, courtesy of Miller Insurance Agency, C3045, an FMCA Two Star sponsor.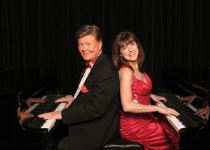 At 8:00 a.m. on Friday, August 12, join friends at the Veterans Memorial Coliseum for an evening of sensational music as Double Grande performs favorite duets from the American pop songbook. Double Grande is the collaboration of Deborah Johnson and Wayland Pickard, both accomplished pianists, who have combined talents to become one of the top piano and vocal duos in America.
Deborah has thrilled audiences worldwide with her innovative arrangements and vocals while infusing each performance with her effervescent personality and teasing humor. She began performing when she was 9 years old and traces her musical heritage to her grandmother, an Italian immigrant who played at Carnegie Hall at age 16 and later graduated from the New York Conservatory of Music.
Wayland Pickard is an award-winning instrumentalist, singer, and humorist whose combination of music, comedy, and celebrity impressions has made him a hit wherever he performs. Aside from his stage work, Wayland has successfully ventured into other parts of the entertainment industry as an actor, author, lecturer, and filmmaker, winning the 2006 Los Angeles Theatre Artistic Director Achievement "Best Actor" award for his portrayal of Liberace in "Liberace – Back From Heaven."
During their "Legendary Duets" performance in Madison, the musicians, playing on a pair of grand pianos, will serenade attendees with a playlist of classic tunes made famous by performers such as Elton John, Billy Joel, Sonny and Cher, Celine Dion, Andrea Boccelli, and even Kermit and Miss Piggy. You won't want to miss this exciting evening of great music and comedy.
On Saturday, August 13, make sure to get to your seats early for a fantastic show performed by Street Corner Symphony, the a cappella group that finished runner-up during the 2010 season of NBC's hit show, "The Sing-Off."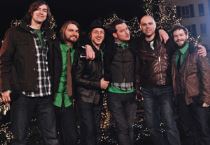 The group, which is based in Nashville, Tennessee, formed in May 2010 specifically to participate in "The Sing-Off" competition. Street Corner Symphony includes two pairs of brothers "" Richie (baritone) and Jeremy (tenor) Lister, and Mark (baritone) and Jon (tenor) McLemore "" along with Adam Chance (bass) and John Martin (high tenor).
The sextet has a rich heritage in gospel music "" five of the six members are the sons of preachers and grew up singing and learning music in church "" which lends a touch of Southern soul to their performances. However, the group has a diverse repertoire of popular songs that is sure to appeal to all ages and musical tastes, with influences from artists ranging from Take 6 (a Christian jazz a cappella group) to Alison Krauss (a bluegrass-country singer). During their appearance on "The Sing-Off," the group performed songs from a variety of genres, including hits from Tears For Fears, Radiohead, the Beatles, and Creedence Clearwater Revival, to name a few.