Breweries, fine art, and motor bikes are among the charms of this southeastern Wisconsin city.
By Anna Lee Braunstein, F351629
July 2011
Milwaukee once was known as "Milliocki," a Potawatomi Indian word meaning "gathering place by the waters." It well deserves its name. Today this Wisconsin city is considered a great place to gather over a beer, tour fantastic museums, visit waterways, and so on. With so many meeting places, it is a fun town to visit. And it's only a 90-minute (or less) drive from Madison, Wisconsin, the site of FMCA's 86th Family Reunion and Motorhome Showcase, August 10-13, 2011.
German immigrants helped to make Milwaukee famous. Several major breweries, including those founded by Frederick Pabst, Joseph Schlitz, and Valentine Blatz, put the town's name on bottles that were shipped throughout the country and beyond. In the 1850s, another German, Frederick John Miller, founded his namesake brewery. A free, one-hour guided tour of the MillerCoors brewery includes a visit deep into the 150-year-old beer caves, where the "ghost" of Miller explains how he brought a special beer yeast to America from his native Germany. The brew house and warehouse are included on the tour. Afterward, visitors enjoy samples of various beers or soft drinks.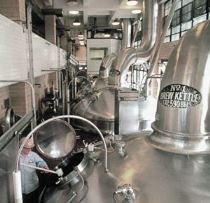 Smaller craft beer-makers also find that business is good in Milwaukee. For a boutique beer sampling experience, take a tour of Lakefront Brewery. It combines an education about the art of brewing with entertainment related to the delight of suds as visitors wend their way around the aromatic vats and barrels. The tour fee includes four 6-ounce tastings of any of their brews or their excellent root beer. Unused beer tokens can be traded in for souvenir glasses.
In 1903 William S. Harley and Arthur Davidson of Milwaukee sold their first motorcycle to the public. An entire culture has sprung up around the "hog," and you can learn about it and more at the Harley-Davidson Museum. There you'll see historical displays and hundreds of examples of Harleys produced through the years. You can sit on several of them, too. Military and police bikes, Elvis Presley's own motorcycle, and bikes ridden in the movie Easy Rider are included in the collection. Even the café is decorated with Harley parts, and the store has merchandise to satisfy any fan.
If you want more Harley, the Pilgrim Road Powertrain Operations Facility in nearby Menomonee Falls offers two types of tours for visitors age 12 and up. On Mondays, a free guided tour provides a general overview of the plant operations and a chance to see some of the specialized equipment used to create these bikes. On Wednesdays and Fridays, the more extensive Steel Toe Tour package (which includes a fee) gives tourists a close-up view of the facility, a ticket to the museum, and personal souvenirs.
Brewers with baseball skills play in Miller Park. From the modern 12-ton, retractable, fan-shaped roof to the old-fashioned brick facade, the stadium is a testament to the long history of baseball in Milwaukee. In addition to seeing a Milwaukee Brewers ball game there, you can take a variety of tours of the stadium.
Beyond baseball, Milwaukee offers other great outdoor activities. Five beaches along Lake Michigan provide swimmers and sunbathers with access to the cool, blue water. If you enjoy fishing, you'll want to check out river locations (Milwaukee is at the confluence of three rivers), as well as lagoon and lake fishing sites, or take a charter boat out onto the lake. Kayaks and canoes also offer water recreation.
Dozens of golf courses can be found within a 25-mile range of Milwaukee. In addition, bicyclists, runners, and walkers enjoy hundreds of miles of trails along the lakeshore and river, through parks, and on city roads.
Indoor recreation is available at the Pettit National Ice Center, on the grounds of the Wisconsin State Fair, which has public skating for children and adults, plus an oval track for those wanting an indoor place to run or walk.
The architecture of Milwaukee buildings is something to behold. While German-born Miller made Milwaukee famous for beer, Finnish architect Eero Saarinen and Spanish architect Santiago Calatrava brought the city international acclaim for the outstanding Milwaukee Art Museum. Built in 1957, the museum and the adjacent War Memorial Center, both designed by Saarinen, were described byTime magazine as "one of the country's finest examples of modern architecture put to work for civic purposes." In the early 2000s, additions to the museum garnered even more praise for Calatrava's Quadracci Pavilion, which is topped by the Burke Brise Soleil "" a magnificent sun screen perched atop the glass-walled Windhover Hall. Spread like the wings of a colossal bird, the sun screen captivates spectators as it gracefully opens and closes several times during the day.
Within the museum's 40 galleries are collections of paintings and sculpture rivaling those of any major city. Contributing artists range from mobilist Alexander Calder to glass artist Dale Chihuly to painters, including Georgia O'Keeffe and Pierre-Auguste Renoir. A variety of self-guided or docent-led tours take visitors to paintings, sculpture, and decorative arts from ancient, impressionist, expressionist, folk, and contemporary artists.
European architects and artists were not the only ones creating art in Milwaukee. Next to the Quadracci Pavilion is Cudahy Gardens, a complex of green lawns and water fountains created by Bostonian Dan Kiley. Wisconsin-born Frank Lloyd Wright, whose style influenced the design of the art museum as well as architecture throughout the world, also designed Milwaukee's Annunciation Greek Orthodox Church, with its stark white exterior and ornately painted interior, as well as many homes in the area.
Said to be the "finest Flemish Renaissance Revival mansion in America," the popular 1892 Captain Frederick Pabst Mansion is near the Marquette University campus, and therefore easy to find and tour. Guides tell you the story of the mansion's first owner, Frederick Pabst and his family, owners of the largest brewery in the world at that time.
The architecture of the Potawatomi Bingo Casino is intended to wow visitors as soon as they arrive with a 62-foot-by-123-foot glass wall at the entrance. In addition to casino gambling, Potawatomi (pronounced Poh-tuh-WAH-toh-mee) presents big-name entertainment at the Northern Lights Theater.
Just for kids. If you have smaller companions in your group, you'll find plenty for them in Milwaukee, too, both entertaining and educational. In addition to the aforementioned baseball stadium and games, kids will be enchanted by the Discovery World Museum at Pier Wisconsin. Drumsticks tempt passersby to beat rhythms on benches outside the museum, and inside, exhibits highlight life underwater and above it. You can even sail on a schooner. In addition to all the water experiences, interactive displays on music, technology, and much more fascinate guests of any age. You can explore on your own, or take any of seven free tours or six special package tours.
Inside the Betty Brinn Children's Museum, children 10 and under find that touching displays about health, economics, and transportation is irresistible and so much fun. The world and its creatures are the focus of the Milwaukee Public Museum, where hundreds of exhibits, an IMAX Theater, and a planetarium fascinate visitors of all ages for hours or days.
Those searching for wild animals enjoy the Milwaukee County Zoo, which specializes in exotic and endangered species from all seven continents. And at "The Domes" at Mitchell Park Conservatory, flora is the focus. Two domes exhibit the distinctive environments of the tropics and the desert; a third dome features displays that vary with the seasons. Nearby at the Wehr Nature Center, self-guided walks lead through five different Wisconsin habitats, while eagles and owls inhabit the Schlitz Audubon Nature Center along Lake Michigan.
Foods you'll love. Kids will want to stop at Quality Candy/Buddy Squirrel for "the most taste-tempting tour you ever take." Those up to the challenge can watch gooey fillings stirred and then coated with chocolate. Samples of the candies are part of a 45-minute tour, for which there is a small fee.
Milwaukee Public Market caters to shoppers seeking a rich variety of local and imported tastes. Located in the historic Third Ward, the market's stalls line the walls and fill the central open space with a variety of edibles. The market is a great place to stock up on exotic spices, fresh produce, fresh lake fish, Wisconsin cheeses, baked goods, and enough chocolate to satisfy any chocoholic. Demonstrations and classes are also offered there throughout the year.
International cuisine has found a home in this Midwestern city. From Creole food and a party atmosphere reminiscent of New Orleans to the homey comfort of burgers in a diner to the elegant sophistication of personal sushi service, almost any culinary desires you have can be met along the river and in the neighborhoods of Milwaukee. Foodies can savor a variety of neighborhood walks that include samples and meals through Tour Milwaukee (www.tourmilwaukee.net).
As you can see, Milwaukee has many reasons to be famous. Get started now planning a trip to this meeting place of family fun, arts, and culinary delights.
Further Info
It is best to take a towed car or public transportation when visiting most of the sites mentioned here. For details about the attractions and more, contact:
Visit Milwaukee
648 N. Plankinton Ave. #425
Milwaukee, WI 53203-2926
(800) 554-1448
(414) 273-7222
E-mail: [email protected]
www.visitmilwaukee.org
Milwaukee Area Campgrounds
The following is not a complete list, so please consult a campground directory or the RV Marketplace, published in the January and June issues of FMC and online at FMCA.com.
Cliffside Park
7320 Michna Road
Racine, WI 53402
(800) 272-2463
(262) 884-6400
www.racine.org
Country View Campground
S110 W26400 Craig Ave.
Mukwonago, WI 53149
(262) 662-3654
www.countryviewcamp.com
Lake Lenwood Beach & Campground
7053 Lenwood Drive
West Bend, WI 53090
(262) 334-1335
www.lakelenwood.com
Lazy Days Campground
1475 Lakeview Road
West Bend, WI 53090
(262) 675-6511
E-mail: [email protected]
www.wisvacations.com/LazyDays/
Timber Trail Campground
7590 Good Luck Lane
West Bend, WI 53090
(262) 338-8561
E-mail: [email protected]
www.timbertrailcampground.com
Wisconsin State Fair Park
640 S. 84th St.
West Allis, WI 53214
(800) 884-3247
(414) 266-7035
www.wistatefair.com
E-mail: [email protected]
Yogi Bear Jellystone Camp-Resort
8425 State Route 38
Caledonia, WI 53108
(262) 835-2565
E-mail: [email protected]
www.jellystone-caledonia.com