Grocery Store Cards
While traveling, we frequent many different grocery store chains. It seems that each one has its own discount card. To help us locate the right card during our shopping excursions, we purchased a coiled key chain that fits on our wrists. This makes it simple to have all the cards handy when needed. We also made a separate key chain for our casino cards. We keep both sets in our towed vehicle glove box; that way, we don't forget them in the motorhome.
Vance & Bonnie Clegg, F51388
Green Cove Springs, Florida
---
Easy Outdoor Lighting
No matter how long or short a stay, to ensure safe footing around your campsite, an outdoor light is helpful. Yet, leaving the light on beside your motorhome's door attracts bugs that enter the vehicle when you do. To solve this problem, I picked up a length of white rope lighting at a garage sale. I unroll it on the ground and plug it in. It's amazing how well it lights up the area to show the uneven ground and trip hazards. It rolls up easily when it's time to move on and stores neatly in a plastic bag. Plus, it's weatherproof.
June Whyte, F297161
Ellenton, Florida
---
Power Gear Hydraulic Tank Support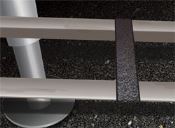 Last summer, the Power Gear leveling system on my 2007 Safari Simba diesel motorhome developed a leak in the neck of the hydraulic tank. The motorhome is built on a Roadmaster chassis from Monaco, and I believe all Power Gear hydraulic tanks on later Roadmaster chassis were designed the same way.
The tank holds approximately six quarts of transmission fluid. It was installed horizontally and is secured to the hydraulic pump by only four small machine screws at the neck. The tank sits between two rails without any support when the levelers are retracted and the coach is bouncing down the road.
I removed the tank and had the hairline crack in the neck welded. But before reinstalling the tank, I took a galvanized strap and wrapped it around the "L" rails. After reinstalling the tank, I attached a piece of hook-and-loop fastening material (the loop side) to the galvanized strap to cushion the tank snugly on the new support, eliminating much of the stress put on the neck of the tank.
Motorhome owners who have Power Gear levelers on a Roadmaster chassis should take the time to check this out and eliminate this potential problem while on the road.
Bob Gagnon, F385256
Crestview, Florida
{loadpositionEndBlurbTips}