Bottle Carrier
Protect wine and other breakable items while traveling with the VinniBag from Ellessco LLC.
The bag can accommodate a 750-milliliter wine bottle or several smaller items and protects the contents by suspending them in a cushion of air, providing a barrier against impact and leakage. The contents are isolated and secured with a reusable liquid dry-seal to keep any leakage from escaping the bag. The bag has been tested for altitude and temperature fluctuations, and the translucent material allows for visual inspection without opening. When not in use, the bag stores flat, rolled, or folded.
The VinniBag has a suggested retail price of $28.
Ellessco LLC
P.O. Box 1644
Ventura, CA 93002
(800) 915-8599
www.vinnibag.com
---
Bug Repellent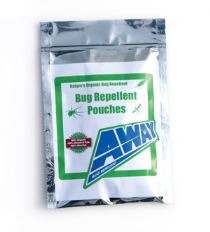 AWAY Bug Repellent from Boxwell Brothers LLC is an environmentally friendly personal insect repellent that comes in a pouch that can be carried or worn.
Each pouch contains a blend of all-natural ingredients such as lemongrass, cinnamon, citronella, rosemary, and castor oil that form a barrier against 99 percent of bugs, including mosquitoes, flies, stinkbugs, and more. AWAY is safe for use around children and pets and each pouch will last for up to 48 hours after it is exposed to air.
A six-pack of AWAY Bug Repellent has a suggested retail price of $4.49.
Boxwell Brothers LLC
675 William Pitt Way, #B1
Pittsburgh, PA 15238
(888) 566-9597
www.scarebugsaway.com
---
Cleaning Product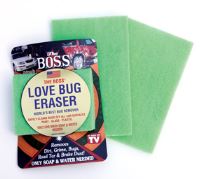 According to product literature, the Love Bug Eraser from Awesome Products Corporation will remove bugs, dirt, grime, minor road tar, and brake dust with only soap and water.
The Love Bug Eraser is made in the United States from a special patent-pending material that is touted as being safe for use on paint, clear-coat, plastic, graphics, decals, glass, metal, and even vinyl and leather without the use of chemicals.
A single Love Bug Eraser has a suggested retail price of $4.99 plus $2 shipping and handling. The company also sells several kits with accessories to make the cleaning job easier.
Awesome Products Corporation
130 Corridor Road, #485
Ponte Vedra Beach, FL 32082
(904) 280-1499
www.lovebugeraser.com
---
Mini Flashlight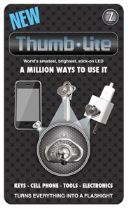 The Thumb-Lite is a miniature light that can be attached to just about anything, instantly turning that object into a flashlight.
According to product literature, the device features a super-bright white LED with a high-strength adhesive backing that can be affixed to a key or any other object to provide extra light whenever needed, such as when unlocking a door or finding something you dropped in the dark. The Thumb-Lite has a one-touch button that turns the light on and off, and is powered by two LR41 button-cell batteries. Once attached, just push the button and point the object in the direction where light is needed.
The Thumb-Lite has a suggested retail price of $3.99 for a single light and $11.99 for a four-pack.
Thumb-Lite LLC
8543 S. C.R. 13
Fort Collins, CO 80525
(970) 980-6501
www.thumb-lite.com
---
Wireless Remote-Control Lights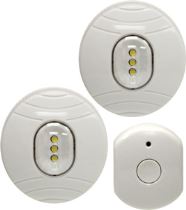 GE Wireless Remote-Control Puck Lights from Jasco Products Company can be placed anywhere extra light is desired without the need for an electric outlet or additional wiring.
0Each battery-operated light includes three LEDs that can illuminate a closet, a cabinet, an outside storage compartment, or any other dimly lit area of the motorhome. The light can be mounted via the magnetic backing, by using the keyhole mount, or with hook-and-loop tape. Each light requires three AA batteries, and the remote control takes three AAA batteries.
A two-pack of Wireless Remote Puck Lights has a suggested retail price of $39.99.
Jasco Products Company
10 E. Memorial Road
Building B
Oklahoma City, OK 73114-2205
(800) 654-8483
(405) 752-0710
www.jascoproducts.com
---
Vehicle Escape Tool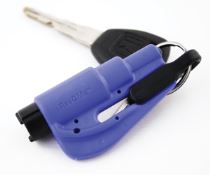 The ResQMe from Nov8[safety] is the original keychain rescue tool that can help motorists escape from a vehicle in an emergency situation.
Made in the United States, the device includes a razor-sharp blade capable of cutting through a seat belt that may be jammed, and a spring-loaded spike that will shatter tempered glass by pushing a button on the back of the tool.
The ResQMe keychain is available in various colors and has a suggested retail price of $9.95 and up.
Nov8[safety]
718 E. Mason St.
Santa Barbara, CA 93103
(866) 473-7763
(805) 568-0227
www.resqme.com
---
Multimedia Stereo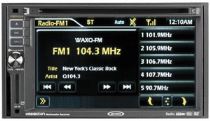 ASA Electronics Corporation recently introduced the JENSEN VM9424 multimedia high-definition radio receiver with built-in GPS navigation and rear camera input to the RV market.
The 6.2-inch touch-screen stereo features an AM-FM tuner with a high-definition radio receiver and a three-band equalizer. The system is XM Satellite Radio-ready (requires subscription), and has iPod/iPhone capabilities, a DVD player, and a USB card. It also includes a GPS navigation system with 11 million points of interest; a trip computer that displays speed, trip timing, elevation, odometer readout, and time; two composite video outputs for additional screens; and a rear camera input. The system comes with a wireless remote control and is Bluetooth-ready.
The VM9424 has a suggested retail price of $779.99.
ASA Electronics Corporation
2602 Marina Drive
Elkhart, IN 46514
(800) 688-3135
www.jensenrvdirect.com
---
Towed Vehicle Fuse Switch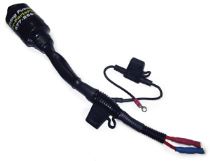 RV-Parts Plus recently introduced the latest version of its RVing FuseSwitch, model FS-HD1, which eliminates the need to remove and reinsert fuses in the 30-amp to 50-amp range when flat towing.
The latest version allows the 50-amp "Batt 1" fuse, typically found under the hood in many GM vehicles (Chevy Traverse, Buick Enclave, GMC Acadia), to be safely switched off to tow rather than needing to be removed. The plug-and-play switch can be installed in approximately 10 minutes and does not affect the towing or vehicle wiring. No additional procedures are required to tow or drive the vehicle after turning the switch to the appropriate position. The capability to switch two fuses off, on the newest of these vehicles, is available.
The RVing FuseSwitch model FS-HD1 has a suggested retail price of $149.95. Switches for 20-amp and lower fuses also are available.
RV-Parts Plus
31-115 Glenwood Drive
Brantford, ON N3S 3G8
(877) 266-5398
www.rv-partsplus.com
---
Wheel Heat Indicator
Hot Wheel wheel heat indictor labels from ESCO are designed to warn drivers and maintenance personnel of possible wheel end, bearing, or brake problems during walk-around inspections.
The Hot Wheel self-adhesive label attaches to the rim/wheel. When the wheel temperature reaches 250 degrees Fahrenheit, the temperature-sensitive white arrow changes and remains a bright orange color, warning of an overheated wheel condition. After the problem is corrected, a new label must be applied.
A four-pack of Hot Wheel labels has a suggested retail price of $8.99.
ESCO
15270 Flight Path Drive
Brooksville, FL 34604
(800) 352-9852
(352) 754-1117
www.esco.net
{loadpositionEndBlurbProducts}