During the months of November and December, this Missouri town celebrates American veterans, an old-fashioned Christmas, and more.
By Diane Sitton
November 2012
Branson, Missouri, brings music to mind. And no wonder! The "Live Music Show Capital of the World" boasts more than 30 state-of-the-art theaters offering more than 100 shows brimming with country, gospel, pop, and rock music.
But, as this southern Missouri family destination celebrates its 100th birthday in 2012 and continues to recover from a February 2012 tornado, travelers this fall are discovering that Branson offers music and then some. Here, amid the beauty of the Ozark Mountains, folks can honor the nation's veterans; enjoy holiday lights and shopping; and experience bygone arts, crafts, and taste treats at an 1880s-style theme park.
Branson's great outdoors beckons visitors, too, even at this time of year. Trails give nature lovers a close-up view of Ozark waterfalls, streams, and bluffs, not to mention native flora and fauna. Adventurers relish flying through a forest canopy on ziplines.
Historic Downtown
With its tree-lined brick sidewalks, restored building facades, and horse-drawn carriages, downtown Branson is a picturesque place to begin your explorations. It is just east of U.S. 65 along the shores of Lake Taneycomo. Shops, eateries, and galleries offer everything from homemade ice cream to local arts and crafts. All attractions are within walking distance, or visitors can ride the free trolley, which runs daily.
The downtown area is always dressed up for seasonal holidays. It will be the hub of what is said to be the largest Veterans Week in the United States in November, then brim with Christmas cheer shortly thereafter. Beautiful lights mark the start of the season.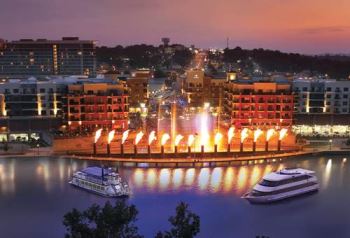 At the newly opened Centennial Museum downtown, exhibits trace Branson's earliest roots to 1888. City fathers incorporated Branson in 1912. At Dick's 5 & 10, a family-owned-and-operated Branson landmark since 1961, shelves overflow with some 50,000 different old-time and hard-to-find items.
The nostalgia continues at Branson Scenic Railway nearby, where visitors can hop aboard a 1940s-era passenger train for an excursion through the Ozark foothills of southwest Missouri and northwest Arkansas. Narrated stories depicting railroad history accompany the "clickity-clack" as the vintage train travels across trestles and through tunnels. Rides are offered through the second weekend in December. Railroad enthusiasts enjoy shopping for memorabilia at the historic Branson Depot (circa 1906).

A short stroll to Lake Taneycomo's waterfront brings sightseers and shoppers to Branson Landing and its galleries, specialty shops, outdoor cafes, and national retail stores. Christmas shopping, anyone?
The landing also is home to the Lake Queen — a replica of the riverboats once common on Missouri's White River — operated by Main Street Lake Cruises. This stretch of the White River became Lake Taneycomo when dams were built on each end. After cruising past Ozark bluffs and cliffs in the shadow of majestic Mount Branson along Lake Taneycomo's banks, the riverboat returns to Branson Landing where passengers get a boat-side view of the Branson Landing Waterfront Fountain Show, a daily program with lights, music, and fire.
The Main Street Lake Cruises boats and the showboat Branson Belle, another renowned boat in these parts, operate through December 31.
Silver Dollar City
West of Branson is a naturally occurring spectacle called Marvel Cave. Designated a National Natural Landmark in 1972, the cavern boasts waterfalls, stunning formations, and one of the largest cave entry rooms in North America. Noted by geologists in the 1860s, Marvel Cave became Branson's first tourist attraction in 1894.
In 1960 the Herschend family, which leased the cave and operated it as a tourist venue, opened an 1880s-themed park to entertain tourists waiting to see the cavern. They called the place Silver Dollar City and gave visitors change in authentic U.S. minted silver dollars to generate word-of-mouth advertising for their growing attraction.
Today Silver Dollar City is a huge park that most folks allow at least one day to sample. In all, the park features more than 50 specialty shops, eight different live shows (each presented several times a day), more than a dozen restaurants, and numerous thrill rides and attractions.
Favorite stops include Hazel's Blown & Cut Glass Factory, where artisans create delicate vases from glowing hot glass. At Hillcreek Pottery, potters annually use 30 tons of clay to turn bowls and other wares.
Brown's Candy Factory offers samples of old-fashioned fudge and other sweet treats. At Hatfield's Tater Patch, cooks concoct their famous Calico Fried Potatoes from fresh peppers, onions, potatoes, and Ozark smoked sausage — in five-foot-wide skillets. Kids love the trick tables that rise and turn at Molly's Mill buffet restaurant, not to mention the fried chicken and pot roast.
Silver Dollar City's live entertainment includes an all-new show called GAC Country Nights in Echo Hollow show, an evening of music performed in Echo Hollow amphitheater. Thrill seekers savor WildFire, a 66-mph, multi-looping thrill ride, along with four other roller coasters and numerous other attractions.
Silver Dollar City is open Thursday through Sunday in November and December. From November 3 through the end of the year, it is all spiffed up for "An Old Time Christmas," which includes beautiful light displays.
Museums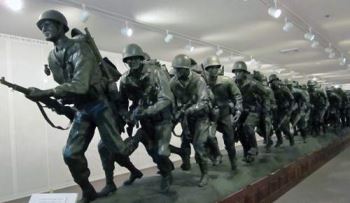 For sightseers, the world-famous "Branson Strip" — Highway 76 — is a museum-hopping haven. There you will find proof that Branson honors veterans year-round. The Veterans Memorial Museum boasts more than 2,000 exhibits covering 20th-century conflicts such as World War I, World War II, Vietnam, and more. After beginning self-guided tours in the World War I Hall, visitors browse nine more exhibit areas containing sculptures, murals, historic artifacts, and authentic memorabilia honoring all branches of the military.
The world's largest bronze memorial sculpture — the museum's hallmark — was created by sculptor Fred Hoppe, who also happens to be the museum founder. The 70-foot-long, 15-ton bronze sculpture depicts 50 life-size soldiers storming a beach. Each figure is modeled after an actual combat veteran, one from each of the 50 states.
If you are visiting Branson the week of November 5 through 11, you are in for a real treat, especially if you are a veteran. The entire town puts on what is said to be the largest Veterans Homecoming Week in the United States. Veterans are saluted with a parade and ceremony; free lunches; a big band dance; banquets; reunions; and a special concert — this year, "Tony Orlando's Yellow Ribbon Salute to the Veterans" — among many other events.
Other museums along Branson's Highway 76 include The Titanic Museum Attraction. Its signature 100-foot-tall building is constructed half-scale to resemble the original ship. It is anchored in water to create the illusion of the Titanic at sea.
A 90-minute, self-guided tour takes you all around the ship. You walk on the Grand Staircase, listen to survivor stories while sitting in a lifeboat, and experience the chill of the icy 28-degree water. A life jacket, deck chair, and pocket watch number among the 400 priceless artifacts on display.
To personalize the experience, each visitor is given a boarding pass with the actual name and biography of one of the Titanic's passengers or crew who were on the ship for its last fateful voyage. At the end of the tour, visitors inspect lists on the walls of the Memorial Gallery to see whether or not "they" survived.
The Hollywood Wax Museum, also on Highway 76, is one place where you'll want to be sure to bring your camera. You can pose for photographs with the likenesses of Lucille Ball, Johnny Depp, Elvis, and other legendary A-listers, not to mention sports and music stars. The museum contains more than 170 lifelike celebrity figures.
Nine miles north of Branson, the Bonniebrook Historical Society and Kewpie Museum commemorates the life and accomplishments of Rose O'Neill, an artist/illustrator best known as the Kewpie doll originator.
After touring Bonniebrook House, a re-creation of O'Neill's 14-room mansion, you can head for the Kewpie Museum. O'Neill invented the Kewpie figure while doing illustrations for Ladies' Home Journal in 1909, and the dolls were first made in 1913. The museum's art gallery showcases examples of O'Neill's original illustrations, among other items. Kewpie dolls and souvenirs are available at the gift shop. Outside, visitors can sit by a creek, stroll over a bridge, and enjoy the beauty of the natural terrain that inspired O'Neill. The museum complex closes for the season on November 30.
Naturally Beautiful
More natural beauty — plus adventure — awaits at Branson Zipline Canopy Tours at Wolfe Creek Preserve, 7 miles north of Branson. Various tours combine ziplines and sky bridges to give eco-adventurers a bird's-eye view of Ozark flora and fauna.
If you prefer a more leisurely look around the area, you can take the Wolfe Creek Photo Safari Walking Tour while you're there. The guided, two-hour excursion starts with a ride to the top of Wolfe Mountain in a Pinzgauer Swiss Army Troop Carrier. Reservations are recommended for zipline and walking tours; they are offered daily through December 31.
Outdoors lovers also relish Dogwood Canyon Nature Park, a privately owned 10,000-acre playground southwest of Branson with rocky bluffs, waterfalls, and verdant valleys. Tours range from Segway jaunts that visit the blue-green, trout-filled Glory Hole pool, to wildlife open-air tram excursions that may provide close viewing of herds of American bison and Texas longhorns. New ATV tours follow logging trails across creek beds and through wooded terrain. The Outdoor Cafe serves locally raised bison burgers and sandwiches. Fees apply to all activities, and reservations are recommended for most of them.
As Branson celebrates its 100th birthday through the end of 2012, the town continues welcoming visitors with music and a wealth of things to do and see, all in its enduring tradition of warm hospitality. Many music shows feature special Christmas themes this time of year, and it's always in season to be patriotic. Branson is sure to make you feel glad you came.
Further Info
Branson/Lakes Convention & Visitors Bureau
269 State Route 248
Branson, MO 65616
(800) 296-0463
www.explorebranson.com
Branson Tourism Center
(provides show tickets and events information)
220 Branson Hills Parkway
Branson, MO 65616
(800) 550-3848
(417) 243-2840
www.bransontourismcenter.com
Area Campgrounds
The following is not a complete list. Please check your favorite campground directory or FMCA's RV Marketplace, published in the January and June issues of FMC and online at FMCA.com, for additional listings.
Acorn Acres RV Park & Villas, C11486 *
159 Acorn Acres Lane
Branson, MO 65615
(800) 338-2504
(417) 338-2500
www.bestbransonrvpark.com
America's Best Campground, C6109 *
499 Buena Vista Road
Branson, MO 65616
(800) 671-4399
(417) 336-4399
www.abc-branson.com
Branson KOA Campground & Convention Center, C11920 *
397 Animal Safari Road
Branson, MO 65616
(800) 562-4177 (reservations)
(417) 334-4414
www.bransonkoa.com
Cooper Creek Resort & Campground, C7366 *
471 Cooper Creek Road
Branson, MO 65616
(800) 261-8398
(417) 334-4871
www.coopercreekresort.com
* FMCA commercial member