A look at the early years of motorhoming and of Family Motor Coach Association through a young girl's eyes.
By Pam Creel Alspaugh, F538D
March 2013
In 1946 my parents, Jack and Dorothy Creel, married after they both graduated from Texas Technological College (now Texas Tech University) in Lubbock. The town is in the center of the Texas panhandle, an area that was growing into the largest contiguous cotton patch in the world.
Dad built a tiny two-room house in the yard of a lumber company and moved it to a 5-acre lot on the edge of town. He raised hogs and called the place The Problem Farm. A radio station hired him as farm director, and he delighted early-morning listeners by interviewing farmers and telling stories about novice farmers. During the day he inspected farms for bank loans; at night, he taught vocational agriculture to returning veterans.
Young folks were encouraged to have large families after the losses of World War II. I arrived in 1949 and was followed every two years thereafter by another sibling until the family was complete: Scotty, Chris, Lucy, Katy, Robin, Cookie, and Candy.
Dad traded the farm for a new house on a large suburban lot in 1954. I was 4 years old and had two little brothers. He moved the little farmhouse he had built and settled it into the backyard for use as his office. He started his own advertising agency, with an agricultural irrigation pipeline company as his primary client.
There also was room in the backyard for the newest member of our family, a turquoise-and-cream, 30-foot 1944 Marmon-Harrington city bus. The local bus company had converted it into a hunting and fishing lodge. It had four bunks, a wood closet, and a long kitchen counter. The transmission was geared for stop-and-go city driving, a fact that caused constant problems. We never took a trip without mechanical trouble. I spent a total of 12 months of my childhood traveling in the "Blue Goose," and breakdowns and time spent in the bus barns of America were part of the adventure.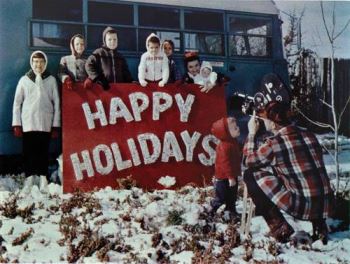 Dad installed an apartment-sized propane stove and refrigerator, as well as an aluminum 5-gallon Igloo water jug for drinking water. He built a phone-booth-sized bathroom, lined with stainless steel and fitted with a marine toilet and a kitchen sprayer shower. He rigged up two pieces of pipe and a canvas sling between each bunk and over a couch-like seat for a total of eight bunks. He built a table that could be set up at the sofa, along with camp stools for eating indoor meals.
The bus had no undercarriage storage, but on the roof, a 24-inch-high walled area hid a large water tank covered in black tar for the gravity-fed, solar-heated water system. We stored tools, a spare tire, and ropes as well. We took along wood blocks, which were used for leveling. This was to accommodate the finicky propane fridge, which operated best when a little on the high side.
Mom cooked thousands of meals on the little stove, which also provided heat. Water was heated in a gallon-size enamel water kettle. There was no air conditioning, no generator, and no lights — only a few fat candles. Our schedule followed farmer-can-see to farmer-can't-see daylight hours.
Dad's business followed the school year, so we took trips on holidays and a four-to six-week excursion each summer. Every night he read National Geographic, LIFE, and many maps. The interstate highway system and the national park system were being constructed. From the perfectly flat South Plains, we traveled to the mountains of New Mexico and the state parks of Texas.
In 1960 we made the first big trip: six weeks to Florida, with six kids under 10, plus my grandparents. They unfolded aluminum cots in the center aisle each night. We saw the Gulf Coast, St. Augustine, Cypress Gardens, Miami, Key West, and Edison's Tampa winter home. A wheel bearing froze somewhere in the Florida panhandle, and we spent a week in a swampy fish camp while Dad fixed it.
There also were trips to Yellowstone and Grand Teton national parks; the Grand Canyon; Bryce and Zion national parks; the South Dakota badlands; Minnesota; and the West Coast. We never had a towed car, which was a limiting factor for a family of 10. Dad would plan trips to a national park and we'd usually stay a week. We'd attend all the ranger programs, go on nature hikes, and visit museums. We rarely stayed in commercial campgrounds.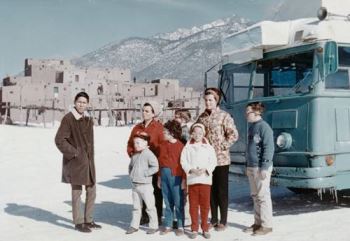 In 1963, Dad read about a group of people in New England who had started a club for families like ours who had camping vehicles. We joined and became F538. FMCA was holding a rally in 1964 in New York, and the New York World's Fair was opening. Dad planned our biggest trip ever: eight weeks to Hot Springs, Arkansas; the Great Smoky Mountains of Tennessee; Kitty Hawk, North Carolina; Williamsburg, Virginia; Washington, D.C.; New York City; Cape Cod; Niagara Falls; and Detroit.
I remember the first FMCA rally at Fort Ticonderoga, New York, as being held in a big clearing in a forest. Wonderful RVs kept arriving, all packed with kids. Dad could not believe there were so many other big families with motorized RVs. A few vehicles were factory-manufactured, such as Dodge motorhomes; some were converted highway buses, both homemade and professionally done. Converted step vans and former school buses also arrived. I was 14 and we were in heaven!
The main activity of the rally was looking at all the rigs and meeting everyone. I remember one converted bus occupied by just two older people. Every metal part was chrome-plated, and it was so shiny. The man who owned the bus followed people around and wiped off any fingerprints they left behind.
At night my dad would build a campfire, and people would bring lawn chairs and sit around telling stories about the places they had been, good camping spots, breakdowns, and their kids' antics. Dad would make peach cobbler in a Dutch oven on the fire. It was so popular that someone offered to bring ice cream if he would continue to cook each night. Folk singing was popular, and there was always someone with a guitar and a few songs. The rally entertainment was campfire fun.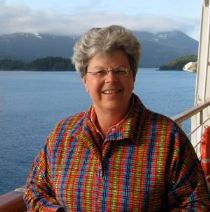 The name, Family Motor Coach Association, came from several factors. Most members were large families, and the RVs were so varied that a generic term was hard to come by. "Motor coach" seemed to cover the array of self-propelled camping vehicles. Flxible buses were such a popular choice for conversions that one landed on the FMCA logo. (So much has changed in 50 years that, in my opinion, maybe it is time for a newer logo and a newer image.)
We left with loads of new friends, lots of ideas, and promises to meet again. We would attend the third rally in Glenwood, Minnesota, in 1966. Eventually one of my sisters would marry a New York City boy she met at a rally.
FMCA was a wonderful part of my childhood. The organization has nurtured a new segment of our economy and our culture. I hope the next 50 years are packed with just as much change and innovation.