Customization and exacting craftsmanship are the hallmarks of this ultra-highline motorhome manufacturer.
By Mark Quasius, F333630
October 2013
Newell motorhomes are legendary in the RV industry. Known for innovative engineering, performance, and durability, and imbued with the highest level of amenities and fit and finish, Newells are highly sought after in the luxury motorhome market.
Each Newell is custom-built from the ground up to the buyer's unique specifications. This begins with the chassis, constructed and designed one by one in the Newell chassis shop. This gives Newell a no-compromises approach, ensuring the best foundation for each specific coach.
It takes 5 1/2 months to build a Newell coach. This involves thousands of hours of labor by skilled technicians, and the use of the highest-quality materials. Newell continually updates designs with new engineering and technology, with the goal of creating the ultimate driving experience. This steadfast commitment to quality and performance does place the company's products at the upper end of the price spectrum; however, that said, Newell coaches are designed to offer a ton of value for the price. Not just a fancy, dressed-up vehicle, each is a blend of cutting-edge technology and engineering. The inventive exterior styling is accomplished in collaboration with Porsche Design.
Because Newell coaches are highly customized, with no two alike, a review of one particular motorhome would not be representative of the entire line. In this article, I'll attempt to explain the common features incorporated into every Newell coach rather than describe the specifics of a particular unit. The coach that was used for this road test, photos, and review — the 2020P — is characteristic of most Newells, so it should serve as an accurate barometer for anyone fortunate enough to be able to consider a purchase from Newell Coach Corporation.
Building A Newell
Every buyer spends several days at Newell's facilities in Miami, Oklahoma, discussing his or her needs and desires for a Newell coach. Once a basic floor plan is settled upon and customized to meet those needs, an extensive equipment list is gone through. Specific optional equipment, appliances, and the buyers' custom requests are chosen and defined, then entered into a 20-plus-page coach order. Cabinetry, interior décor, and exterior paint schemes are then selected from a wide array of exotic woods, solid-surface countertops, fabrics, plumbing and lighting fixtures, and other design elements. As with building a fine custom home, the choices are infinite.
Newell's commitment to quality limits the company to producing 24 coaches per year, so once an order is finalized, buyers typically have an approximate six-month wait until production is completed. As construction progresses, it is possible to alter some of these details and make changes for work not yet completed, which happens more often than not.
The actual construction begins in the chassis welding and assembly department, where skilled welders create a chassis framework that is custom-designed for each coach. Axles, suspension components, engine, transmission, generator, and various brake and air system components are added to create a drivable chassis. The unit then receives a 7-inch-thick floor that is composed of high density structural foam sandwiched between layers of ¾-inch plywood. Slideouts are then set in place and their mechanisms connected.
Traditional motorhome construction typically involves lowering a prefabricated wall assembly onto the floor structure and securing it with screws. Newell employees fabricate a structure similar to residential frame construction by building an aluminum skeleton on the chassis. This creates a continuous monocoque structure capable of distributing stress and forces across the entire chassis and body. Aluminum skin is then applied to the wall exteriors and roof.
Any in-wall wiring is installed in looms and conduit runs in the grommetted wall tubing and ceiling trusses. The interior walls are sprayed with a high-R-value insulating foam, which is shaved off to provide a solid, flat surface. Interior wall plywood is applied and secured to become part of the integrated chassis/body structure. The result is a vehicle with high torsional rigidity, which minimizes body and chassis flex.
Partition walls are built next. Additional wiring and plumbing are also installed at this time. All plumbing is run within the floor to keep everything insulated and protected from freezing. Any pipe runs to the holding tank are placed inside troughs cut into the floor. Once the proper pitch is established and the pipes are properly laid, the floor is refoamed and any missing plywood is replaced. Cabinetry and interior wall coverings are installed. Work progresses as the final flooring, appliances, and wiring are finished up over the next few months.
When the coach is almost complete, it will be driven to the paint shop where Sikens base coat/color coat paint is applied using state-of-the-art equipment and processes to achieve the high-end look common to every Newell. After the color coat of each unique design has been applied, several coats of polyurethane clear coat are added. This process results in a smooth finish with that deep "under glass" look.
Next, the coach proceeds to the final fit-and-finish area, where mirrors, awnings, and other exterior accessories are added. The entertainment system and balance of the electronic components also are installed at this time. During this phase, the coach will undergo a series of road tests to confirm all aspects of performance. Anything that doesn't seem right is noted on a trip report, then corrected and retested. A final water test is performed before the coach is cleaned, given a final polish, and presented for an executive review by management before being signed off as complete.
The extensive quality control that begins in the frame shop is monitored continually throughout the entire production phase. When complete, a nearly flawless product is ready for delivery to the customer.
Common Features
Although each Newell coach is specially made for its intended owner, some features are common to all units produced by the company. Every custom-built frame is equipped with a 600-horsepower Cummins ISX diesel engine that outputs 1,950 pound-feet of torque. The ZF suspension utilizes large outboard air bags to minimize roll. Computer-controlled electronic dampers react within a 10-millisecond response time to vary the dampening as needed. The ride and handling can be adjusted at the instrument panel to vary between "Comfort" and "Sport" to suit each driver's personal taste.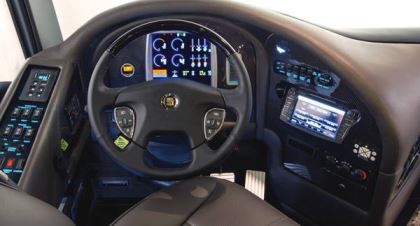 TRW's EasiSteer steering with electronic assist eases the effects of crosswinds, resulting in an effortless ride. The ZF steering tag axle is automatically actuated on tight turns and provides a nice, tight turning radius more in line with much shorter motorhomes.
A virtual dash from SilverLeaf Electronics is installed in lieu of traditional analog gauges and emulates a selection of dash layouts from which the driver may choose. The digital screen can mimic an analog gauge layout or any of a number of digital alternative displays, including an aircraft cockpit emulation mode.
Most diesel pushers feature a generator that slides out on rails, but Newell mounts a 20,000-watt Martin gen set in a soundproof enclosure at the very front of the coach, which is easily accessible from the front cap. The generator's radiator is relocated to a compartment midway on the driver's side of the coach. This allows the generator to be sealed off, thus greatly reducing noise.
The Aqua-Hot 675D hydronic heating system can be powered by its diesel burner as well as a pair of electric heating elements: a 120-volt 1,500-watt heater and a 220-volt 4,500-watt heater. Off-engine heat is provided to the system while the coach is under way. This system provides unlimited on-demand domestic hot water as well as plenty of heating capacity for the coach interior. Both the Aqua-Hot exhaust and the generator exhaust are routed to the rear of the coach and exit through an attractive diffuser that matches the engine's exhaust, producing a dual-exhaust look.
Electric in-floor heating also is employed to ensure that the polished ceramic floors remain warm for bare feet. The 120-volt-AC and 12-volt-DC compressors keep the coach air systems pressurized to power the automatic air leveling system as well as various interior sliding doors. Cool air is distributed throughout the coach via a ducted air-conditioning system, which also is piped to the various electronics compartments to keep those components cool as well.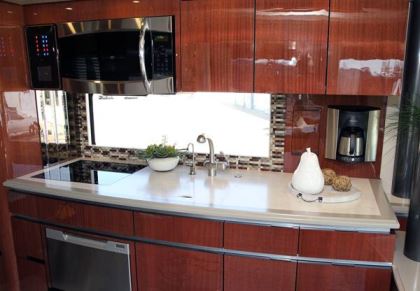 Newell slideouts set the industry standard, in my opinion. The robust slideout mechanisms extend each slideout effortlessly and silently. The slideout floors are flush with the level of the main coach floor, so no raised edges are exposed to create a trip hazard. Once a slideout is extended, a panel raises to fill the gap, and the entire floor appears as one solid piece with tight tolerances — no lips or gaps. When it's time to retract the slide, this panel automatically lowers and the slideout fills that gap. After the slideout is fully retracted, air-inflatable slideout seals close up any possible air gaps, resulting in a whisper-quiet drive.
Newell offers almost any interior décor possible. If you can imagine it, they probably can build it. A wide selection of exotic hardwood laminates adds a unique touch. Fabrics, leathers, solid-surface countertop materials, and bamboo or reconstituted leather flooring materials with granite or marble inlays are among the huge selection of materials. The galley area is fitted with top appliances, including Sub-Zero refrigerator/freezers and other latest stainless-steel residential-grade units.
A host of motorized accessories, such as TV lifts, bed lifts, and recliners, are included. A pair of inverters provide AC power at times when shore power is not available or operating the 20-kw generator is not desired. If the batteries run low, the automatic generator start system can be configured to start the generator to recharge them and manage the current power loads.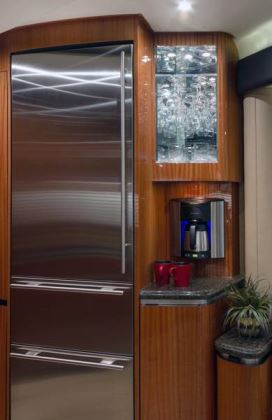 LED TV screens can be placed in most any location the buyer desires. In addition to serving the needs of the extensive entertainment system, they also can be used to view security cameras or to manage other aspects of the coach's environmental systems. In addition, an iPad wireless tablet remotely accesses the multiplex wiring system that controls the lighting system, entertainment systems, heating and air-conditioning, awnings, and other assorted coach functions from any interior location.
Updated styling by Porsche Design for the Newell features refined chrome trim for the headlights and generator door. Chrome-trimmed, cathedral-style taillights were inspired by the iconic 1955-1956 Packards. The integrated patio awnings, overhead mirrors, and custom exhaust diffusers all help to create an eye-popping beauty of an ultra-luxury motor coach.
Road Test And Review
Driving the Newell 2020P was a singular experience, and a real treat. The EasiSteer steering system helped to center the wheel during crosswinds and on crowned road surfaces. Adjustable power assist made it possible to accommodate any driver's preferences simply by accessing a control on the instrument panel. As noted previously, the computer-controlled ZF active suspension also was user-adjustable to vary between a soft and sporty ride with the simple twist of the wrist. Sophisticated electronic dampers minimized the roll and lean of the coach and gave it a sure-footed yet comfortable ride.
This particular test unit had 7,078 pounds of carrying capacity and boasted about the best weight distribution I've ever seen. This Newell exhibited excellent balance, and left-side and right-side weights were remarkably close. The actual front axle weight was also 1,200 pounds beneath the rated axle capacity, leaving plenty of room to safely load the coach with cargo.
The coach accelerated briskly and moved easily down the highway as the 600-horsepower Cummins ISX loped along at low revs. Any grades encountered melted away beneath the 1,950 pound-feet of torque with little or no effort. The combination of the suspension system, steering, and drivetrain makes it easy to drive for hours without feeling worn out at the end of the day.
The expansive windshield and the side and rear cameras provided excellent visibility. The steerable tag axle automatically engaged and reduced the turning radius to that of a much shorter coach when needed to maneuver into a parking area or make a tight turn.
The aerodynamics of the Newell 2020P minimized any extrusions that might create turbulence, so wind noise was virtually nonexistent. The 7-inch-thick insulated floor, flush-mounted slideouts with exacting tolerances, integrated awnings, and slideouts and entry doors with inflatable pneumatic seals all contributed to an enjoyable, quiet ride.
The Newell 2020P truly is a unique luxury coach. Since the vehicle is designed from the ground up, Newell employees have the ability to incorporate cutting-edge technology and engineering into each custom design. The company's commitment to constantly improving and innovating illustrates a desire to continue to produce the ultimate luxury motor coach.
SPECS
(Although Newell coaches are designed individually to customer preferences, the following information is representative of the company's offerings)
MANUFACTURER
Newell Coach Corporation, P.O. Box 511, Miami, OK 74355; (888) 363-9355, (918) 542-3344; www.newellcoach.com
MODEL
2013 Newell 2020P
CHASSIS
custom
ENGINE
Cummins ISX, 600 horsepower @ 1,700 rpm; 1,950 pound-feet torque @ 1,200 rpm
TRANSMISSION
Allison 4000 MH Series 6-speed automatic
AXLE RATIO
3.82 axle ratio X 0.64 6th-gear ratio = 2.45 final drive ratio
TIRES
front — Michelin XZA 365/70R22.5, load range L;
rear — Michelin XZA 80R22.5, load range L
WHEELBASE
45-foot coach — 308 inches
BRAKES
pneumatic discs with 6-channel ABS
SUSPENSION
ZF CDC Active with 8 air springs and 6 computer-c0ntrolled dampers
STEERING
TRW's EasiSteer with electronic assist
ALTERNATOR
320 amps
BATTERIES
coach — (6) 8D series AGM;
chassis — (2) 8D series AGM
INVERTER
(2) 2,800-watt Outback true sine wave
ELECTRICAL SERVICE
50 amps @ 220 volts
AUXILIARY GENERATOR
20-kw Martin silenced diesel
EXTERIOR LENGTH
45 feet
EXTERIOR WIDTH
102 inches
EXTERIOR HEIGHT
13 feet 3 inches to top of A/C units
INTERIOR HEIGHT
7 feet 5 inches
GROSS COMBINATION WEIGHT RATING (GCWR)
88,300 pounds
GROSS VEHICLE WEIGHT RATING (GVWR)
63,300 pounds
GROSS AXLE WEIGHT RATING (GAWR)
front — 20,000 pounds;
rear — 28,600 pounds;
tag — 16,000 pounds
AS-TESTED WEIGHT
(weighed with full fuel and full fresh water)
front axle — 18,800 pounds;
rear axle — 25,420 pounds;
tag axle — 13,440 pounds;
total — 57,660 pounds
FRAME CONSTRUCTION
semi-monocoque structure; welded-steel chassis; aluminum-framed body; aluminum-and-composite skin
INSULATION
walls and ceiling sprayed with polyurethane foam, floor with rigid foam
FRESH WATER CAPACITY
143 gallons, standard; 180 gallons, optional
HOLDING TANK CAPACITIES
143 gallons, standard (gray and black water combined); 180 gallons, optional
FUEL CAPACITY
195 gallons
FUEL REQUIREMENTS
diesel
PROPANE CAPACITY
N/A; all-electric coach
WATER HEATER
Aqua-Hot 675D hydronic heating system
WATER SYSTEM
demand
HEATING SYSTEM
Aqua-Hot 675D hydronic
AIR-CONDITIONING SYSTEM
(4) 15,000-Btu ducted roof units
REFRIGERATOR
Sub-Zero 700, standard; other models, optional
TOILET
Headhunter with built-in macerator
WARRANTY
coach — 2 years, unlimited miles;
structure — 2 years, unlimited miles
SUGGESTED RETAIL BASE PRICE
$1,511,500