This 31-foot triple-slideout floor plan gives entry-level buyers ample amenities.
By Mark Quasius, F333630
March 2014
Jayco Inc. continues to expand its offerings in the Type A motorhome market. After a foray into this segment back at the turn of the century, the company returned to the Type A marketplace in 2008 with the purchase of the assets of Indiana-based manufacturer Travel Supreme. This marked the beginning of Jayco's phenomenally successful Entegra Coach division. The lessons learned in producing those high-end diesel pushers now have been passed along to the Jayco line.
The Precept 31UL is the first in a series of Type A motorhomes built on a gasoline-powered chassis. I had an opportunity to examine one of these units recently.  A 29-foot version has since been introduced, with plans to build longer floor plans in the Precept line.
The effort needed to bring the Precept to production appears to have been well spent. Designed as an entry-level motorhome, this model offers much more than expected while still keeping the price down to a reasonable level.
Chassis
It all begins with the basic Ford F-53 chassis that is common to most gasoline-powered Type As currently being built. The Precept's chassis has a gross vehicle weight rating (GVWR) of 18,000 pounds and utilizes the 6.8-liter 362-horsepower Ford V-10 engine, producing 457 pound-feet of torque. The engine is coupled with a five-speed TorqShift automatic transmission with tow/haul mode, which drives through a 4.88 ratio rear axle.
The Precept is equipped with an 80-gallon fuel tank, front and rear antilock disc brakes, and 19.5-inch 245/70R tires. A Power Gear automatic hydraulic leveling jack system is installed, as is a 5,000-pound towing hitch receiver. Jayco then upgrades the chassis by installing its JRide suspension, which includes dual sway bars, front and rear track bars, and custom-tuned Bilstein shocks.
Exterior
My test coach came with Champagne high-gloss fiberglass walls and the optional red exterior trim package; a blue trim package is also available. The one-piece fiberglass roof and molded front and rear end caps complete the sturdy and attractive design. Frameless deep-tint windows give a sleek appearance and allow the airflow to silently glide by when the coach is in motion. The roof is insulated to R-24 levels, while the sidewalls incorporate R-8 insulation and the floor R-9.
The Precept sports a one-piece panoramic windshield, the same one used in the high-line Entegra coaches. The windshield's deep forward-control design allows the dash to curve down to the lower edge of the windshield; this improves close-up visibility when maneuvering in tight spots. Front and rear clearance lights are flush-mounted for better protection against damage and for smoother airflow. Every exterior light incorporates LED fixtures to minimize power consumption and maximize durability.
The Precept makes outside entertaining easy. A power patio awning affords plenty of shade when extended, and a bank of those LED lights provides extra illumination when outside after dark. An optional 40-inch LED TV is located in an exterior enclosure, which also houses a CD/DVD player and an FM radio with a pair of excellent-sounding speakers. The TV is recessed into the compartment to help shield the screen from sunlight glare. Nonetheless, the compartment is designed to allow comfortable viewing from multiple angles.
Living Area, Cockpit
The Precept test unit was equipped with the French Vanilla interior décor package, with wood-look vinyl flooring in the living area. An 84-inch ceiling height allows for plenty of headroom, while opposing slideouts open up the living area and make it seem much larger than one would expect in a 31-foot motorhome.
In the nicely appointed cockpit, the efficient layout of controls in the simulated burl wood dash facilitates access to whichever control is needed. A small trough molded into the driver's side portion, and outfitted with a power port, holds a cell phone. The center dash portion is equipped with a GPS/entertainment center; its monitor also is used when employing the rearview camera. The monitor automatically switches over to the side-view cameras whenever the turn signal is activated. A USB jack for an MP3 player is also included, as well as places to put these types of devices.
The copilot's position includes a slide-out workstation equipped with 120-volt-AC and 12-volt-DC receptacles to power accessories such as a laptop PC.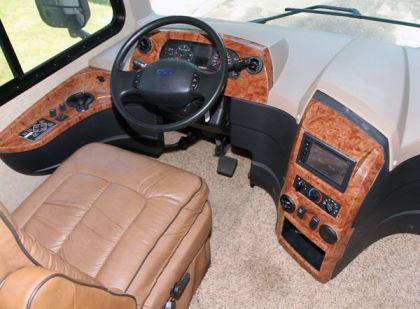 The J-Flex six-way power captain's chairs are comfortable. They rotate easily to face the living area for additional seating when the coach is parked. A sofa bed serves dual duty as both a couch and extra sleeping space when needed.
Directly opposite the sofa is the dinette area. This is Jayco's Dream Dinette design, which allows the user to drop the dinette table down easily using one hand so the area can be made into a bed. A rocker switch in the dinette area brings an optional 40-inch LED TV screen up out of the dinette's rear cabinetry on a power lift mechanism for viewing from the couch or dinette. In addition, every seating position is equipped with seatbelts to secure all occupants when the coach is under way. The living area is outfitted with roller shades for privacy.
The well-thought-out galley includes a decent amount of room for a shorter Type A motorhome. All cabinetry here and throughout the test coach features hardwood construction, including raised-panel doors, and every drawer is equipped with full-extension, ball-bearing slides. The LG solid-surface countertop is fitted with a three-burner gas cooktop equipped with a 9,000-Btu SuperBurner. A pull-out work area, including four drawers, provides additional meal preparation space. Overhead cabinetry houses a convection-microwave oven.
The dual-basin sink, positioned in a second counter, perpendicular to the main counter, is equipped with a pair of Corian sink covers. When the slideout is retracted, it partially covers the sink, but one basin remains available for use. This thoughtful design helps maximize counter space without intruding on living space inside the motorhome.
The test coach was equipped with a two-door 8-cubic-foot refrigerator, but an optional four-door 12-cubic-foot refrigerator is available. The spacious pantry offers plenty of room for food storage.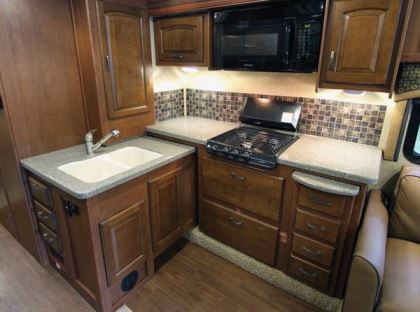 The bath area, located toward the rear, features a split design. On the street side is a room housing the toilet, a laminate-topped vanity with a flush-mounted sink, and an overhead medicine cabinet. Opposite the toilet room stands a fiberglass shower stall, which includes a skylight and LED lighting. The plastic shower enclosure opens via a sliding track that allows it to curve around the shower to maximize space. In the test coach, the entire bath area contained wood-look vinyl flooring for ease of maintenance.
The bedroom contains a queen-size bed that conceals a massive storage area beneath. An overhead exhaust fan helps to pull heat and moisture out of the motorhome on days when air-conditioning isn't needed. In addition to storage cabinetry over the street-side bed, a bank of cabinets is installed opposite it on the curbside wall, including a number of large drawers capable of accommodating bedding or other bulky items. A hinged 22-inch LED TV is also mounted in this complex and swings open to expose a large area suitable for satellite receivers or other entertainment system gear. The large rear window serves as an emergency exit, in addition to letting in light. The bedroom floor in the test coach was equipped with comfortable plush carpeting.
Basement Area And Utilities
The Precept's basement area provides a surprising amount of storage space. Full-height cargo doors allow ready access to the basement storage. A recent change has resulted in side-hinged doors, rather than top-hinged. Two large compartments feature a pass-through area that faciliates storage of long or bulky objects, such as patio furniture. A pair of narrow but useful storage compartments is located immediately aft of the front wheels, further illustrating Jayco's innovative use of seemingly every possible space for storage.
Electrical needs are met by a pair of 12-volt batteries and a 60-amp converter. A 400-watt inverter powers the entertainment system when AC power is not available. This unit was equipped with 30-amp electric service and a 4,000-watt Onan generator, which was adequate to power the single 13,500-Btu air conditioner as well as the rest of the motorhome's electrical needs. An optional second air-conditioner package upgrades the electrical system to 50 amps and includes a 5,500-watt Onan generator.
Heat is provided by a 31,000-Btu propane furnace, while a tankless water heater supplies unlimited domestic hot water. The spacious utility bay includes a water filter, a hand sprayer, dump valves, and water distribution valves. I found the water valves a bit confusing to operate. Instructions are provided regarding where to set them for winterizing, filling the tank, running city water, and so on, but it took a bit of time to decipher them. One nice touch is a separate hatch for the sewer hose storage tube. This space is vented to outside air and keeps the sewer hose out of the fresh water area.
Driving The Precept
Often, a shorter Type A motorhome is nice and maneuverable but isn't as stable as a model with a longer wheelbase. However, Jayco's JRide suspension improvements make a huge difference. The dual sway bars, front and rear track bars, and custom-tuned Bilstein shocks make the Precept a joy to drive. It didn't porpoise over bumps like similar units I've driven, nor did it transmit every bump in the road to the driver. The Bilstein shocks provide the perfect balance of control and a smooth ride. The track and sway bars help to keep the front end pointed in the right direction, and passing 18-wheelers didn't have near the effect on the Precept that I expected. At the end of the day, I was quite comfortable and not worn out from the drive.
When piloting this coach in the rain, I came to appreciate the large mono-blade windshield wipers, which followed the curvature of the windshield and removed the water cleanly without being affected by any wind lift.
When it came time to refuel, and I had to squeeze into a crowded gas station, the Precept's shorter wheelbase made it fairly easy for me to maneuver into a tight spot. I recorded fuel economy of 7 mpg, but I was driving on a hot day at 70 mph with both the dash air and the generator running. Had the weather been cooler, and had I been driving at a slower average speed, that mileage undoubtedly would have improved.
Weight-wise, the Precept was well-balanced. The 18,000-pound GVWR was matched with a 23,000-pound gross combination weight rating (GCWR) and a 5,000-pound-rated hitch. When I ran the Precept across the certified scales, it contained full fuel, full fresh water, me in the driver's seat, and approximately 500 pounds of cargo. The front gross axle weight rating (GAWR) is 7,000 pounds; the actual scale reading came to 5,140 pounds. The rear GAWR is 12,000 pounds, and the actual scale reading was 11,180. So, each axle weight fell well within its rated limits.
The base suggested retail price of the 2014 Precept 31UL is $107,136. The price of the test unit totaled $114,279 with the following options: red exterior trim color; French Vanilla interior décor; 400-watt inverter; touch-screen GPS, CD, DVD, and MP3; fully automatic leveling system; roller shades; tankless water heater; 40-inch LED TV on power lift; power awning with integrated LED lighting; rearview and two side cameras; solid-surface countertops; JRide suspension.
In this reviewer's opinion, Jayco has hit the ball out of the park with the Precept. The 31UL floor plan is functional and livable. Both the interior and exterior are attractively designed, while the motorhome's drivability is excellent. Couple that with a two-year bumper-to-bumper warranty, plus a large amount of features and amenities not typically found in a coach in that price bracket, and I predict that potential RV buyers will place the Precept high on their list.
SPECS
MANUFACTURER
Jayco Inc., P.O. Box 460, Middlebury, IN 46540; (800) 825-5861; www.jayco.com
MODEL
2014 Precept
FLOOR PLAN
31UL
CHASSIS
Ford F-53
ENGINE
Ford 6.8-liter Triton V-10, 362 horsepower at 4,750 rpm; 457 pound-feet torque at 3,250 rpm
TRANSMISSION
TorqShift five-speed automatic with overdrive and tow/haul mode
AXLE RATIO
4.88 to 1
TIRES
245/70R19.5 radials
WHEELBASE
190 inches
BRAKES
antilock disc front and rear
SUSPENSION
Jayco JRide — dual sway bars, front/rear track bars, custom-tuned Bilstein shocks
STEERING
power, TRW TAS40 gear( including cooler)
ALTERNATOR
130 amps
BATTERIES
chassis — (1) 12-volt
house — (1) 12-volt
INVERTER
400 watts
ELECTRICAL SERVICE
30 amps, standard; 50 amps, optional
AUXILIARY GENERATOR
4,000-watt Onan
EXTERIOR LENGTH
32 feet 3 inches
EXTERIOR WIDTH
101 inches
EXTERIOR HEIGHT
12 feet 4 inches
INTERIOR HEIGHT
7 feet
GROSS COMBINATION WEIGHT RATING (GCWR)
23,000 pounds
GROSS VEHICLE WEIGHT RATING (GVWR)
18,000 pounds
GROSS AXLE WEIGHT RATING (GAWR)
front — 7,000 pounds;
rear — 12,000 pounds
AS-TESTED WEIGHT
(weighed with full fuel, full fresh water, driver, and 500 pounds cargo)
front — 5,140 pounds;
rear — 11,180 pounds;
total — 16,320 pounds
OCCUPANT AND CARGO CARRYING CAPACITY (OCCC)
2,779 pounds
FRAME CONSTRUCTION
vacuum-bonded, aluminum framing; welded aluminum floor
INSULATION
bead foam; R-8 walls, R-9 floor, R-24 roof
FRESH WATER CAPACITY
71.5 gallons
HOLDING TANK CAPACITIES
gray water — 41 gallons;
black water — 51.5 gallons
FUEL CAPACITY
80 gallons
FUEL REQUIREMENTS
gasoline
PROPANE TANK
16.5 gallons
WATER HEATER
tankless
WATER SYSTEM
demand
HEATING SYSTEM
31,000 Btu
AIR-CONDITIONING SYSTEM
13,500 Btu
REFRIGERATOR
2-door, 8-cubic-foot, standard; 4-door 12-cubic-foot, optional
WARRANTY
coach — 2 years bumper to bumper;
chassis — 3 years/36,000 miles, limited;
powertrain — 5 years/60,000 miles, limited
BASE SUGGESTED RETAIL PRICE
$107,136
PRICE AS TESTED
$114,279