Attractive and well-appointed, this tag-axle diesel pusher is comfortably road-ready for couples or families.
By Mark Quasius, F333630
April 2014
The Charleston is Forest River's flagship diesel pusher. Redesigned for 2014, this model currently is offered in two floor plans. A third layout, a bath-and-a-half floor plan, is expected to join the lineup soon. All are 43-foot coaches built on tag-axle chassis.
Recently I was given an opportunity to review a 2014 Charleston 430BH. Like the others in this model line, the 430BH incorporates four slideouts, though it is the only floor plan available with bunk beds. The motorhome's attractive exterior and well-appointed interior exuded a high-end yet warm atmosphere that made me feel right at home.
The Charleston is built on a Freightliner XC-R raised-rail tag-axle chassis with a 266-inch wheelbase, a rear radiator, and full air-ride suspension. An I-beam front axle with a 55-degree wheel cut is equipped with front air disc brakes, while the drive and tag axles are outfitted with air drum brakes.
A 100-gallon fuel tank with dual fills and a 13-gallon DEF tank provide plenty of fuel to the 450-horsepower Cummins ISL engine, which is mated to an Allison 3000 MH Series six-speed transmission. Dual-acting hydraulic leveling jacks from Equalizer Systems provide power-up and power-down operation for leveling the coach when parked.
The Charleston features vacuum-bonded laminate sidewalls with aluminum structural tubing and structural block foam insulation; the one-piece seamless fiberglass roof is similarly constructed. The floor consists of structural wood flooring over a 2.5-inch steel subfloor that is welded over the raised chassis rails. Structural foam is utilized in the floor and basement bays to provide adequate insulation.
The fuel fillers are mounted up higher than usual, which should greatly aid in eliminating the fuel spillage common to many diesel pushers while trying to squeeze those last 10 to 20 gallons in without the backsplash "burp" that often happens with lower fuel fill hoses.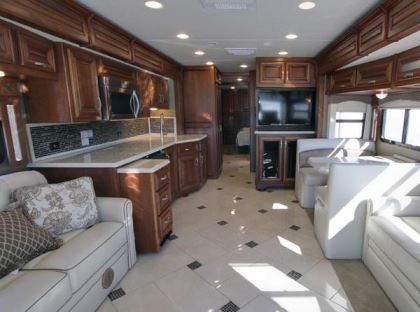 The Charleston is available in five color schemes. My test unit bore the attractive Midnight Flame package. Each coach exterior is coated with four colors of Sikkens full-body automotive paint, then four coats of polyurethane clear coat for optimal gloss and protection.
The automotive-style, one-piece panoramic windshield is bonded in, rather than secured with rubber grommets. Basement compartment doors are side-hinged for ease of access, and one of the large pass-through bays contains a full-width, dual-acting cargo slide tray. Power patio and door awnings are standard and provide a great area for entertaining beside the 32-inch exterior LCD TV and entertainment center.
A keypad is mounted in an exterior grab handle. Flush-mounted frameless windows offer a clean, attractive appearance and plenty of airflow via the large panes. Overhead chrome bus-style mirrors with integral side-view cameras, polished aluminum wheel rims, and LED lighting help to complete the motorhome's attractive exterior.
The interior of the Charleston is just as attractive. My test coach was finished in the Saddle interior décor package, one of three available choices. It included Exotic Cherry solid-wood cabinetry throughout, featuring brushed nickel hardware and hidden hinges.
The 430BH is a well-thought-out floor plan with plenty of storage space. Though this unit is designed with bunk beds, it doesn't have to be used in that fashion. Located on the curb side of the coach, just in front of the rear bedroom and opposite the bathroom, the bunk area can be utilized as a large closet or storage space instead. The top bunk can be folded up to allow full-height closet access. The floor plan is easily adapted to either use.
H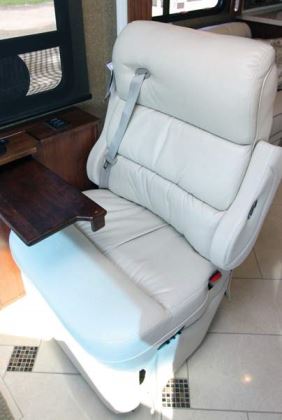 igh-gloss ceramic tile runs throughout the motorhome, with the exception of the carpeted bedroom area. The colors in the floor and wall coverings blend well with the Exotic Cherry millwork and cabinetry to provide an excellent balance between a high-end, luxurious look and a warm, comfortable "at home" look. Corian-brand countertops are used in the galley, on the vanities, and on the dinette. Attractive wooden valances are equipped with patterned panels that are fitted with LED backlighting. The soft, padded ceiling tops an 84-inch interior height, providing plenty of headroom for tall persons.
The cockpit is fitted with comfortable six-way power Flexsteel soft-touch seats with adjustable armrests and three-way integrated seatbelts. These chairs are capable of being rotated to face the rear for additional seating when company is over, and they also recline. The instrument panel is equipped with nine gauges that keep the driver informed. A Jensen AM/FM/CD player is located in the center console above two rows of rocker switches that control the various coach accessories. This unit also serves as monitor for the rearview camera and turn-signal-actuated side cameras.
The entertainment system also is capable of connecting to an iPod or listening to Sirius satellite radio (subscription required). The copilot's seat is equipped with a solid-wood desk console that extends from the side wall. A nearby 120-volt receptacle provides power to operate laptop computers or other devices while traveling. One unique feature: the windshield pillar trim is notched to provide an area for the power windshield privacy shade to travel in and to provide a nice, tight seal against light leaks.
The main living area in the Charleston 430BH is flanked by Villa Soft Touch leather sofa beds. Overhead cabinets provide plenty of storage room above each sofa and atop the booth dinette; the dinette drops down to create additional sleeping space for shorter passengers. A large midship hutch/entertainment center faces the front of the motorhome. A 40-inch Sony LCD TV is installed in the cabinet, with plenty of room remaining for additional storage. The TV is mounted on a slide mechanism that allows it to be moved toward the aisle to allow viewing when the slideout cannot be extended. The hutch also contains room and cabling necessary to mount entertainment system components, such as a DVD player and a satellite receiver.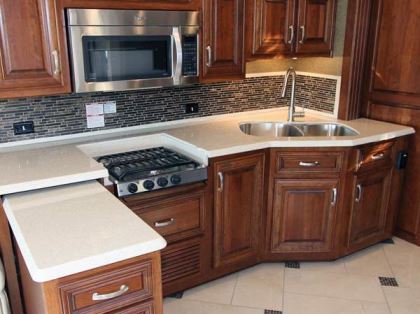 The 430BH's galley area is equipped with plenty of counter space for food preparation. The large countertop can expand further when matching solid-surface panels are inserted over the gas cooktop and the sink. A pull-out workstation creates even more work area if desired. The dual-basin stainless-steel sink is equipped with a high-rise faucet, which is ideal for filling large pots or other tall containers.
The galley backsplash features easy-to-clean ceramic tile. The overhead cabinets also hold a stainless-steel microwave-convection oven. In the area just aft of the dinette stands a large stainless-steel residential refrigerator with an in-door ice and water dispenser. Opposite it, on the curb side, a stackable washer and dryer set is concealed behind a set of louvered doors.
Moving rearward, we come next to the bath and bunk bed areas. The bathroom is equipped with a solid-surface vanity, an overhead mirrored medicine cabinet, and a porcelain hand-flush toilet. The one-piece molded fiberglass shower incorporates a seat and is fitted with a rain glass circular sliding shower door to minimize water dripping on the ceramic tile. This room also has a ceiling-mounted power exhaust vent.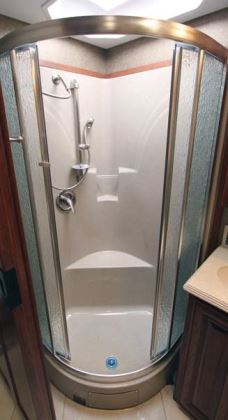 As noted, directly opposite the bath are the bunk beds. Each 30-inch-by-74-inch bed is accompanied by a flip-down TV screen and DVD player with additional jacks for game console connections. Each bunk area also has its own window and drapes. As noted earlier, the bunk area can also be used for storage. The top bunk folds against the wall, and an overhead clothes pole allows use of the entire area as a closet when the bunks are not occupied.
The rear bedroom is carpeted and contains a 72-inch-by-80-inch island king bed with a dual-control Select Comfort mattress with remote. A 32-inch flat-screen LED TV is mounted in the cabinetry opposite the bed for comfortable viewing when relaxing in the evening. Overhead cabinetry is found in both slideouts, and an egress window is located in the curbside slideout for emergencies.
Because the washer and dryer are located midship, rather than at the back of the coach, the entire rear wall can be utilized for storage. The space incorporates a cedar-lined wardrobe closet plus a large four-door storage cabinet. The top portion of the latter cabinet can be used to stow bins, while the lower portion contains shelving ideal for storing bedding or other bulky objects.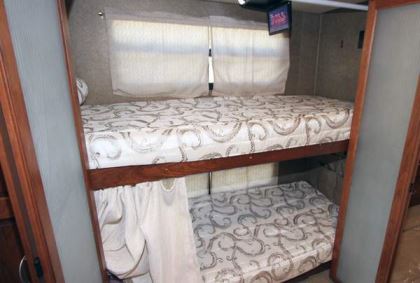 The Charleston's features don't stop there, however. The utilities ensure that living in this coach is a pleasant experience. The 50-amp electrical service is supplemented by an Onan 10-kw Quiet Diesel generator that is mounted on a powered slide rail system. Simply pressing a rocker switch in the front-most storage compartment on the driver's side effortlessly extends the generator and fiberglass cover forward, out of the coach, allowing easy access for any service work.
An automatic generator start system can be initialized to engage the generator should the battery voltage fall below a preset level or if the air conditioners call for cooling. The utility bay contains the usual assortment of valves and controls necessary to operate the motorhome's fresh-water system, as well as the dump valves. A manifold water distribution system allows zoned isolation of water to any plumbing fixture and ensures even pressure to every faucet. A whole-house filter, a black-tank flush sprayer, and an outside shower faucet complete the utility bay.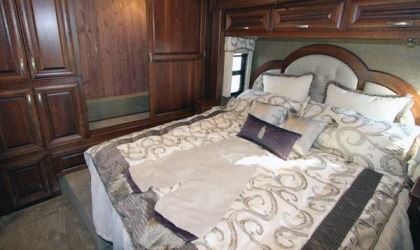 A 24.5-gallon propane tank supplies fuel for the dual 20,000-Btu furnaces, the galley cooktop, and the Girard tankless water heater. To keep the coach cool in warm weather, a pair of 13,500-Btu low-profile air conditioners with heat pumps is mounted front and rear. A third 11,000-Btu low-profile air conditioner is located in the center of the roof. Ceiling ducts distribute the cool air to the coach, and drain lines in the roof route air-conditioner condensate to eliminate water streaks down the sidewalls. The standard 13,500-Btu units can be replaced with optional 15,000-Btu air conditioners with heat pumps.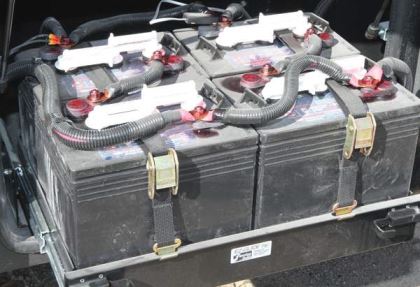 The Charleston's 12-volt-DC power needs are met by a bank of four 6-volt deep-cycle batteries that are mounted on a slide-out tray for ease of access. These batteries also can work in tandem with the 2,000-watt Magnum true sine wave inverter/charger to power the various outlets, residential refrigerator, and entertainment system while driving or parked, with no external power or generator operation. The Magnum also provides 100 amps of DC power or battery recharge capability when AC power is available. A large Dometic basement refrigerator/freezer is mounted on a slide-out tray in the forward-most bay on the patio side of the motorhome to keep refreshments cold when entertaining outside, or as additional storage for those fish you caught last weekend.
When it was time to take to the road, the Charleston handled well, as one would expect from a tag-axle coach. The 450-horsepower Cummins ISL engine effortlessly accelerated away from stoplights and glided down the highway with ease. The coach was quiet when driving down the highway, producing minimal wind noise. In addition, I found it maneuvered into tight quarters easily, especially for a 43-foot-long vehicle.
I didn't have the chance to operate this coach fully loaded. It had a quarter-tank of fuel and no fresh water onboard, but the scale readings did indicate that the Charleston 430BH won't be overloaded once the fresh-water tank is full with 86 gallons of water and another 70 gallons of diesel fuel are added to the tank, plus passengers and gear are aboard. The as-tested weight was 32,480 pounds, as compared to the gross vehicle weight rating (GVWR) of 44,320 pounds. Most owners of a coach this size generally run between 3,500 to 5,000 pounds of cargo and occupants, so overweight concerns should not be an issue.
The base suggested retail price of the Charleston 430BH is $350,000, the same as its as-tested price. According to company officials, many items previously considered options now are included on Forest River motorhomes as standard equipment.
The Charleston is an attractive motorhome inside and out, and it handles nicely on the road. This coach manages to ditch the excess glamour look of some motorhomes, while balancing the look of quality with a feeling of home.
SPECS
MANUFACTURER
Forest River Charleston Division, 1800 W. Hively Ave., Elkhart, IN 46517; (574) 389 4600; www.forestriverinc.com/Charleston
MODEL
Charleston
FLOOR PLAN
430BH
CHASSIS
Freightliner XC-R raised-rail, rear radiator
ENGINE
Cummins ISL, 8.9 liters, 450 horsepower at 2,100 rpm, 1,250 pound-feet torque at 1,400 rpm
TRANSMISSION
Allison 3000 MH Series, 6-speed automatic with electric push-button shift
AXLE RATIO
4.78 to 1
TIRES
Michelin XZA3+ 275/80R22.5 LRG
WHEELS
polished aluminum
WHEELBASE
266 inches
BRAKES
full air with auto slack adjuster; ABS; front — disc; rear and tag — drum
SUSPENSION
full air ride
STEERING
TRW tilt/telescopic steering column
ALTERNATOR
Leece-Neville, 160 amps
BATTERIES
chassis — (2) 1,900-cca, maintenance-free;
house — (4) deep-cycle 6-volt on slide-out tray
INVERTER
2,000-watt pure sine wave inverter/converter
ELECTRICAL SERVICE
50 amps
AUXILIARY GENERATOR
10,000-watt Onan with automatic start
EXTERIOR LENGTH
43 feet
EXTERIOR WIDTH
100 inches
EXTERIOR HEIGHT
12 feet 8 inches
INTERIOR HEIGHT
7 feet
GROSS COMBINATION WEIGHT RATING (GCWR)
54,320 pounds
GROSS VEHICLE WEIGHT RATING (GVWR)
44,320 pounds
GROSS AXLE WEIGHT RATING (GAWR)
front — 14,320 pounds;
rear — 20,000 pounds;
tag — 10,000 pounds
AS-TESTED WEIGHT
(weighed with 1/4-tank fuel, no fresh water, 1 passenger)
left front — 5,632 pounds;
right front — 5,254 pounds;
left rear — 10,284 pounds;
right rear — 11,308 pounds;
total — 32,480 pounds
OCCUPANT AND CARGO CARRYING CAPACITY (OCCC)
12,296 pounds
FRAME CONSTRUCTION
Tubular aluminum roof and sidewalls; tubular steel floor and front bulkhead; vacuum-bond laminated floor, roof, and sidewalls
INSULATION
2-pound-density block-foam polystyrene
FRESH WATER CAPACITY
86 gallons
HOLDING TANK CAPACITIES
gray water — 6o gallons;
black water — 44 gallons
FUEL CAPACITY
100 gallons
FUEL REQUIREMENTS
diesel
PROPANE TANK
24.5 gallons
WATER HEATER
Girard, tankless, continuous flow
WATER SYSTEM
demand
HEATING SYSTEM
(2) 20,000 Btu LP-gas
AIR-CONDITIONING SYSTEM
(2) 13,500-Btu low-profile roof units with heat pumps; (1) 11,000-Btu low-profile center roof unit
REFRIGERATOR
22-cubic foot residential
WARRANTY
coach — 1 year/12,000 miles;
chassis — 3 years/50,000 miles
BASE SUGGESTED RETAIL PRICE
$350,000
PRICE AS TESTED
$350,000