This world-class facility in Tucson, Arizona, allows visitors to explore 100 years of aviation history.
By Gerald C. Hammon
May 2014
Wintering in the Old Pueblo is a great choice. Tucson, Arizona, combines Native American, Hispanic, and Anglo cultures and is the home of a major state university. A renaissance of the downtown has brought about an eclectic mix of restaurants and entertainment. The art scene is vibrant and growing.
But even if you aren't among the many motorhomers who add to the Tucson population each winter, you should be sure to see the Pima Air & Space Museum. This one location boasts the legendary aircraft of World War II, Korea, Vietnam, Iraq, and Afghanistan — plus smaller conflicts that occurred along the way. In addition, it has extensive exhibits of private and commercial aircraft going all the way back to a replica of the Wright Flyer.
More than 300 aircraft are on display, and this facility is rated second only to the Smithsonian Air & Space Museum in its scope. Many of the airplanes on exhibit are in one of five buildings on site, with numerous others parked outdoors.
I quickly realized one could spend a lot of time here. Fortunately, the museum offers ways to organize your visit. For $6 in addition to your admission fee, you can hop aboard a tram for a one-hour tour that covers the extensive outside aircraft exhibits. If you prefer to walk, 50-minute docent-led tours (included in admission) cover the indoor aircraft exhibits. "Highlights of Aviation History" details their Main Hangar and "World War II Aviation" showcases Hangars 3 and 4. And, if you wish, you are free to simply wander about. Even on a weekday visit, I found the museum well-staffed with volunteers ready and willing to help or explain.
At a minimum, I recommend setting aside one to two hours for a visit that would allow seeing the indoor exhibits and a brief look at the outdoor display area. And if you are into books about aviation, be sure to set aside further time for the museum store. If all the walking stimulates your appetite, you might like the museum's Flight Grill, which has windows looking out upon the aircraft outside.
I've studied and read a great deal about World War II, but words on a page are no substitute for looking at an actual B-24 Liberator. This workhorse bomber used in Europe and the Pacific had open gun bays on either side, offering gun operators no protection from frostbite in the chilly air. But spot gunners did their best to ward off Messerschmitt 109s or Focke-Wulf 190s trying to knock their aircraft out of the sky. Liberators were the bomber of choice in the massive 1943 raids on the refineries at Ploesti, Romania, when the Allies tried to eliminate the Nazis' source of fuel. It was one of the costliest raids of the war, with 53 planes lost along with 660 airmen, and did not fulfill its mission. The refineries were able to continue pumping out fuel for Nazi tanks and planes after the raids.
Near the example of the Liberator was another aircraft that affected the war's outcome: a C-47 Skytrain. This twin-engine cargo plane carried every kind of freight imaginable: weapons, ammunition, food, supplies, and even troops. C-47s were the first aircrafts flown over the "Hump," a portion of the Himalayan Mountains, supplying Chinese troops as they fought Japanese invaders who had cut off the only land route that could be used for this purpose. The planes came through day in and day out, yet their crew had no cabin pressurization or oxygen at elevations that exceeded 15,000 feet.
A special memorial within the museum focuses on the 390thBombardment Group, and a World War II workhorse, the B-17 Flying Fortress. While the plane is the centerpiece, the focus is on the men who waged war from the air, with group photo after group photo. The memorial also acknowledges that B-17s were used on missions of mercy to drop crates of food, saving the lives of citizens of countries ruined by conflict.
Veterans of World War II also are showcased near a B-29 Superfortress. B-29s carried the atomic bombs dropped on Hiroshima and Nagasaki, Japan.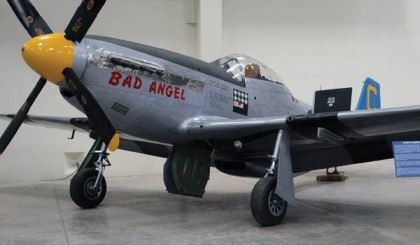 It seemed fitting to me that a P-51 Mustang fighter is displayed in this area. It was developed toward the end of the war and actually had the speed and the range to accompany bomber flights all the way to Germany from British airfields. Up to that time, allied fighter aircraft did not have the operational range to make it to German targets and back. The P-51 greatly enhanced the ability of the Army Air Force to hit targets throughout Axis-occupied countries.
One of the volunteers pointed out to me a B-25 Mitchell twin-engine bomber that he said was very effective against German Panzer tanks in North Africa, as it could be flown at speeds of more than 300 miles per hour just off the desert floor.
I recall newscasts about duels between American F-86s and MiG 15s during the Korean conflict. I was actually surprised to see how small the North Korean MiG 15 on exhibit looked. In contrast, the SR-71 Blackbird, the awesome spy plane capable of speeds above 2,000 miles per hour and of achieving altitudes far beyond the reach of other planes or even air defenses, was simply huge. It wasn't placed close enough to any of the World War II bombers to physically compare, but it seemed as though the Blackbird would dwarf them.
In addition to military aircraft, the museum contains an impressive number of other types of planes, both in hangars and outside. Don't be like me, and get so focused on the planes on the floor that you fail to look up. Many planes hang from the ceiling.
The outdoor aircraft exhibits were impressive in the sheer numbers of planes shown. You could trace the development of various types of craft, from the ponderous B-36 with its six propeller engines augmented by four pure jet engines, through variants of the B-52, which has been in service since 1955. Fighter aircraft exhibits covered everything from early jet combat planes to modern versions, and included several Russian MiGs.
In addition to the military planes, you will see sizeable numbers of trainers, general aviation aircraft, and even commercial airliners from those days when instead of barreling down the runway and off into the wild blue yonder, your airliner sat in special areas at the beginning of the runway while the flight crew made sure those huge radial engines were warmed up enough to allow takeoff. A Douglas DC-7 on display brought back memories of a nine-hour grind on a DC-7 from Oakland, California to Chicago, Illinois. At least the seats were comfortable.
In addition to airplanes, exhibits both inside and outside include a significant number of helicopters, among them military and civilian versions. Some are small enough to resemble toys, while others are huge, such as the impressive Sky Crane. The famed Huey helicopter used in Vietnam is among the exhibits, and I'll guess that anyone who served there can't look at it without remembering the sound they made.
The Pima Air & Space Museum appeals to anyone who has an interest in aircraft and flying. You can make your visit a casual one, simply browsing and focusing on anything that captures your interest, or you can make use of the extensive signage and availability of volunteers who will provide information to almost any depth you could desire. The Pima Air & Space Museum should definitely be on your bucket list when you're near Tucson.
Further Info
Pima Air & Space Museum
6000 E. Valencia
Tucson, AZ 85756
(520) 574-0462
www.pimaair.org
The museum is open daily (except Thanksgiving and Christmas) from 9:00 a.m. to 5:00 p.m.; last admittance at 4:00 p.m. Free parking is available, with ample space for vehicles of all sizes. Admission is $15.50 for adults, $12.75 for seniors, and $9 for children 7 to 12. Children 6 and under are admitted free. Children under 15 must be accompanied by an adult.