Factory-authorized repairs as well as RV renovations are offered at this Indiana facility.
By Mark Quasius, F333630
June 2014
Elkhart, Indiana, considered by many to be the hub of the RV world, is home to a company that performs the entire gamut of motorhome renovations and general service work. Master Tech RV, an FMCA commercial member (C11553), operates in a 20,000-plus-square-foot facility in this RV town.
Master Tech RV handles everything from interior to exterior renovations to general service work on seemingly any area of the motorhome, performed by master certified or certified technicians. Chassis lifts allow service techs easy access to a motorhome's underside so that compartment framing, leveling systems, and suspension components can be properly rebuilt, installed, or serviced. Master Tech is an Aqua-Hot authorized service center, providing service at every major RV rally. Work on Aqua-Hot hydronic heating systems is performed by factory-trained and industry-experienced technicians. Lifeline AGM battery installations; Bigfoot, Power Gear, Lippert, or HWH leveling systems; and generators all are part of the company's factory-authorized service repertoire. Many more brands the company is authorized to service are listed on its Web site, www.mastertechrv.com.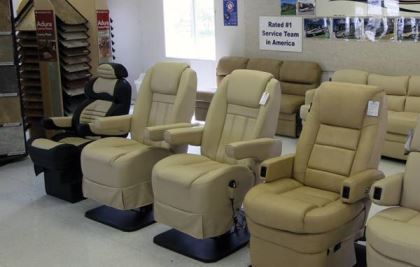 Master Tech RV was established by Timothy Klenk in 1997, although Tim's RV roots go back many years before that. When he was 16, his parents opened an RV dealership in Park Rapids, Minnesota. Tim's parents, Bob and Dodie, still own and operate a dealership in Walker, Minnesota.
Tim's wife, Kathy, was from Elkhart, Indiana. After moving there, Tim managed the service department at a large RV supercenter, and then was offered a position in RV manufacturing, where he oversaw the parts, customer service, and warranty departments as well as quality control. The final step was for Tim to go into business for himself.
Renovate, Upgrade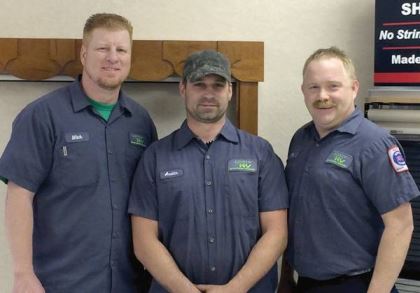 Many motorhome owners like their coach and want to keep it but also wish to update it with the latest accessories. RV furniture can show its age quickly. Master Tech is a dealer for Flexsteel, Villa, Superior, and Lambright furniture, and its showroom displays a wide selection. With the continual improvements in entertainment system technology, LED TV upgrades, Apple TV, and SilverLeaf installations and upgrades are other popular options. Master Tech employees also perform complete interior and exterior renovations, and company technicians have the experience and expertise to add aftermarket slideouts to a coach that does not have them.
A broad array of carpeting, hardwood, luxury polyurethane flooring, and stone and porcelain tile is available to allow customers numerous choices in flooring material. Master Tech operates its own cabinet shop and can manufacture cabinetry and raised-panel doors in any style or size to match a motorhome's existing cabinetry.
Many RV owners are replacing their gas/electric RV refrigerators with larger, residential-style refrigerators; Master Tech has performed a number of those upgrades. Granite or Corian countertops are another popular renovation, as is replacement of the older, day-night shades with MCD shades. In fact, Master Tech is known as one of the top MCD dealers in the United States. Computer desks and LED interior lighting also are popular upgrades.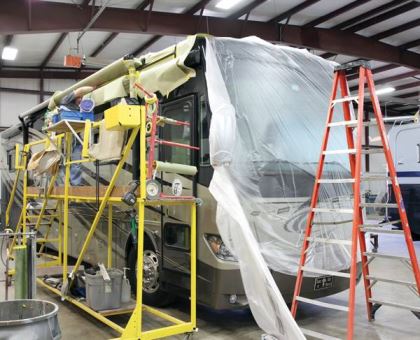 Master Tech's renovation capabilities do not stop with the interior. Satellite TV and Girard power awning installations also are often requested.
Master Tech technicians handle collision repairs, working with all insurance companies to expedite the repairs. They complete windshield replacements as well. Custom paint work also is offered; this applies to any RV, from an older motorhome with faded gel coat to a Prevost bus conversion. All paint work is done in a dedicated 40,000-square-foot facility. Delaminated fiberglass walls, thermochecked walls, fiberglass, and rubber roofs can be repaired, replaced, or upgraded. Stainless-steel rocker panels and trim can be installed. Most any type of exterior upgrade or repair lie within the company's capabilities.
Tim's personal upgrade project has been the complete renovation of a 1974 Winnebago Brave motorhome he named "Nelly." He began with a complete chassis restoration and then renovated and updated the interior. In fact, this likely is the only 1974 Winnebago in existence that has dual slideouts, which were added by Master Tech as part of the total renovation of the Brave's interior and exterior.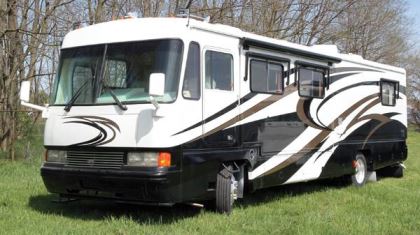 The exterior of this "eyebrow"–style motorhome now sports a shiny and sophisticated paint job, and Tim plans to drive the 40-year-old beauty to FMCA events and other groups' RV rallies.
Master Tech's success lies in its attitude toward complete customer satisfaction. All repairs are undertaken with the goal of finding and correcting the source of the problem, rather than just fixing the symptoms. The company also will guide clients to correctly insuring their renovated vehicles with a stated value policy and/or an extended warranty policy to offset sometimes expensive RV repairs. At the company's facility, paved campsites with water and 50-amp hookups, plus complimentary Wi-Fi are provided to customers.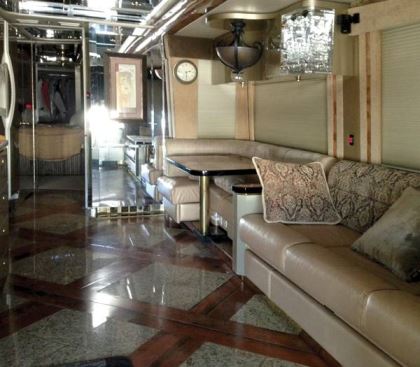 Renovations and upgrades are tackled with an eye to meeting the customer's needs and integrating everything into a complete package. When a Master Tech renovation is completed, it looks as good, if not better, than what the factory could have done, and blends seamlessly into the overall décor rather than appearing as an add-on.
The large number of interested RVers milling around the Master Tech booth at an FMCA Family Reunion bears witness to the many satisfied customers who have passed through the company's doors.
Master Tech RV LLC, 28717 Holiday Place, Elkhart, IN 46517; (866) 895-4556, (574) 522-6224; www.mastertechrv.com.