Visit the famed blue volcanic lake while in Oregon for FMCA's 9oth Family Reunion and Motorhome Showcase.
By Rhonda Ostertag
July 2014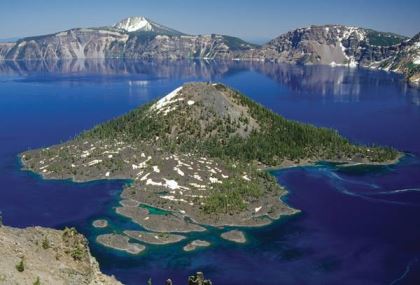 Oregon's Crater Lake, the brilliant blue orb cupped in the remnants of a volcano, has dazzled and mystified observers from its start. The area's Klamath Indian tribes, whose forefathers experienced the collapse of the Mount Mazama volcano 7,700 years ago, dubbed the site gii-waas, meaning "sacred place."
In the 1850s, word of its discovery by John Wesley Hillman, now considered the first European to offer an authenticated sighting, reached distant corners. Yet people dismissed the idea of a lake of such origin and color as lore or tall tale. Even today, the magical quality of the lake is difficult to convey in film or words. It must be felt as much as seen.
For those plotting travel to FMCA's upcoming Family Reunion and Motorhome Showcase in Redmond, Oregon, August 13-16, Crater Lake is definitely a stop to keep in your hip pocket. And between Crater Lake and Redmond, fine recreation lakes welcome skipping-stone travel.
Crater Lake National Park
This lake, located in southwestern Oregon, is a national park thanks to the persistence of William Gladstone Steel. The storied lake captured Steel's imagination as a boy in Ohio. When he finally saw Crater Lake as an adult, he launched a crusade to safeguard it for all time. A tireless campaign of letter-writing and ear-bending consumed 12 typewriters and 17 years of his life. Success came in 1902, when President Theodore Roosevelt designated Crater Lake the nation's fifth national park.
The actual parkland expands beyond the caldera lake to incorporate forest, pumice (porous rock) desert, and fumaroles (openings in the ground through which steam and gases escape). But the lake is the focal point of activity, celebrated by road, boat, and trail. And, why not?
Crater Lake, first known as Deep Blue Lake, exhausts the blue color palette, changing with time of day, angle, and cast of the sky. Aqua, azure, cobalt, cerulean, indigo, midnight, royal, and sapphire all have been variously cited, and all have fallen short. At an official depth of 1,943 feet, it is the deepest lake in the United States. The lake also is one of four cleanest and clearest in the world. Waldo Lake, located to the north, off State Route 58, also makes the list.
In 1886 a U.S. Geological Survey party took the first depth measurement of Crater Lake. Doing so required hauling the half-ton Cleetwood, a survey boat, up the mountain and then laboriously lowering it to the basin. Using piano wire and lead weights, surveyors marked the depth at 1,996 feet, remarkably close to the 1,943 feet recorded in 2000.
The park is minimally developed, in keeping with the honored place. Mazama Village, at the southern entrance, is the primary service center, with a store, fuel, lodging, and a 200-site campground (open May 30-October 5 in 2014). It includes sites (50-foot maximum), some with electricity, that can accommodate RVs. Be watchful, though, of trees and turns. As always, reservations are advised (888-774-2728, www.craterlakelodges.com).
Steel Visitor Center, also south of the lake, provides history info and travel assistance. At the caldera edge are Rim Village Visitor Center and Rim Village Café and Gifts, a modest eatery and gift shop. Nearby Crater Lake Lodge, built in 1915, has a restaurant as well. Other places to see include Sinnot Memorial overlook, a sheltered vantage built into the cliff 900 feet above the lake. Hiking and a few tables for picnicking are also available.
The number-one way to see the lake is via Rim Drive, which is open to motorhomes. This paved, two-lane road follows the lake's caldera rim, curving and climbing for 33 miles. Be careful, because bicyclists share the route, and the road lacks big shoulders. Twenty turnouts along the way allow for stopping and admiring the lake or taking a hike. During peak visitor season, some of these spots may be full.
Stops showcase the lake; the caldera's named features; its mountain neighbors; Wizard Island, the conical peak within the lake; the aptly named Phantom Ship, a rock formation named for its resemblance to a ghostly vessel; and the ice-tortured trunks of mountain hemlocks and whitebark pines. The latter trees favor altitudes above 6,500 feet and were the first trees to colonize the pumice slopes of old Mount Mazama. The pinecones are favorites of Clark's nutcrackers, large gray-and-black birds with sharp bills and piercing vocals. Larcenous gray jays and noisy ravens likewise claim the heights.
An alternative to driving around the lake is to take the private Crater Lake Trolley (www.craterlaketrolley.net; 541-882-1896). For a fee, you board the 25-passenger trolley bus and embark on a narrated two-hour tour. The trolley departs from the Mazama Village store near the campground. The tours are offered four times daily from late June through mid-October, weather permitting. Aboard each trolley is a park ranger who provides a running story and interpretation. Viewing stops vary, depending on the ranger and the unfolding story.
Boat tours leave from the lake's north end at Cleetwood Cove (www.craterlakelodges.com/activities/volcano-boat-cruises). Guests remain on deck during the popular two-hour Volcano Boat Cruise. Or they may opt for a boat ride to Wizard Island, where they can disembark and hike to the island's summit. Cleetwood Cove's parking lot is ample, accommodating all sizes of vehicles. But to reach lake-level boarding, you must hike the one-mile trail from the rim, descending into the dormant volcano. Bring comfortable shoes and some drinking water; the exercise (think 70 flights of stairs) and warm days demand both! This is the only trail leading into the crater; so, go slowly and enjoy it.
The most popular hikes climb for views. Watchman Peak, right on the rim, offers the shortest climb. Garfield Peak, which starts beyond the lodge, holds the best views and scenery. Mount Scott, the highest point in the park, sits back from the rim and is home to a fire lookout. From Mount Scott you can see Crater Lake and the greater neighborhood.
Ranger-guided hikes incorporate different themes and trails, depending on conditions. They are offered in July, August, and September. Check with visitors centers for times and locations.
Cascade Lakes Hopping
Whether you plan to travel to Redmond from Crater Lake or to visit the national park after FMCA's Family Reunion this August, great travel awaits.
Cascade Lakes National Scenic Byway, which follows Forest Route 46, is often on "best byway" lists. It travels 66 miles along the eastern foot of the Cascade Mountains, from Bend to State Route 58 near Crescent Lake Junction. Take this route as an alternate to or side excursion from U.S. 97. The byway passes Mount Bachelor, the Deschutes River, and a bevy of beautiful lakes. Some, such as Sparks Lake and Devils Lake, offer windshield viewing only. The most RV-accessible lakes are Elk Lake (at the day use/beach area only), Lava Lakes, Cultus Lake, Crane Prairie Reservoir, and Davis Lake. Fishing, boating, hiking, and sight-seeing can fill days. To obtain a map of these lakes and of the Cascade Lakes Scenic Byway, see the Travel Oregon listing in the accompanying sidebar.
Other lakes in the area also can be explored. State Route 58, which travels northwest all the way to Interstate 5, boasts several beauties. Crescent Lake sits south of the highway, at the town of Crescent Lake. It offers wet recreation and forest access, as well as two Forest Service campgrounds: Crescent Lake and Spring Creek, with sites up to 50 feet long. Upper terrace sites require more leveling.
Numerous National Forest campgrounds in this area are primitive and do not have hookups, but they do put you among nature. For a complete list of all National Forest sites in this region (Deschutes National Forest and others), including directions and site restrictions and descriptions, visit www.forestcamping.com.
Six-mile-long Odell Lake sits south of State Route 58, a bit farther west. It is prized for its boating, fishing, and swimming. Diamond Peak claims the skyline. The recently redone north shore Princess Creek Campground, sheltered by hemlock, fir, and spruce trees, has 26-foot sites and a boat launch.
North of 58, west of Odell Lake, is Waldo Lake, at the wilderness edge. Without a permanent inlet, the 10-square-mile lake is not great for fishing, but quiet boating is popular. Trails round Waldo and spur off to wilderness and surrounding peaks. Three Forest Service campgrounds occupy the shore. Of these, Shadow Bay has slightly longer sites at 32 feet. The forest camps are accessible by paved road and have gravel parking. Bring mosquito repellent for all but late-season visits.
Finally, not far from Crater Lake is yet another scenic lake — Diamond Lake, on the Rogue–Umpqua Scenic Byway. The U-shaped byway can take travelers to Roseburg or Gold Hill, both on Interstate 5. Diamond Lake is a 3,000-acre body of water known for its abundance of trout. A full-service lakeside resort rents boats and sports equipment, and five boat ramps serve users. A paved pedestrian-and-bicycle trail travels the shore, and nearby hiking trails lead to Teal Lake, Horse Lake, Silent Creek, and Mount Bailey.
And if you arrive or leave the Crater Lake and Diamond Lake area via U.S. 97, you will not want to miss seeing the lakes of Klamath Basin. Shallow, freshwater Upper Klamath Lake and its large north arm, Agency Lake, are linked by a wide channel where trophy catches of redband trout have anglers hooked. Upper Klamath Lake is 8 miles wide in spots and 20 miles long, edged by Upper Klamath National Wildlife Refuge. Sightings of waterfowl, plus beavers, otters, mink, deer, and bald eagles are common.
No matter the chosen travel route, it's not difficult to find a perfect body of water at which to camp, sightsee, hike, fish, boat, and relax. Make time to explore a few on your way to or from Redmond this August.
Further Info
Crater Lake National Park
P.O. Box 7
Crater Lake, OR 97604-0007
(541) 594-3100
www.nps.gov/crla
Travel Oregon
(800) 547-7842
E-mail: info@traveloregon.com
www.traveloregon.com
National Forest Info
Campground Guide:
www.forestcamping.com
Deschutes National Forest
(541) 388-5300
www.fs.usda.gov/recmain/centraloregon/recreation
Umpqua National Forest
(541) 957-3200
www.fs.usda.gov/recmain/umpqua/recreation
Willamette National Forest
(541) 225-6300
www.fs.usda.gov/recmain/willamette/recreation
Nearby Campgrounds
For more listings, please consult your campground directory or the RV Marketplace, published at FMCA.com and in the June and January issues of FMC.
Crater Lake area:
Crater Lake RV Park (Prospect RV Park)
46611 Highway 62
(Crater Lake Highway)
Prospect, OR 97536
(541) 560-3399
www.prospectrvpark.com
Diamond Lake RV Park
3500 Diamond Lake Loop
Diamond Lake, OR 97731
(541) 793-3318
www.diamondlakervpark.com
Mazama Village Campground
At Crater Lake National Park
(888) 774-2728 reservations
www.craterlakelodges.com
Other Areas:
Collier Memorial State Park
46000 Highway 97 N.
Chiloquin, OR 97624
(541) 783-2471
(800) 452-5687 reservations
www.oregonstateparks.org
Hoodoo's Crescent Junction RV Park
20030 Crescent Lake Highway
Crescent Lake, OR 97425
(541) 433-5300
www.crescentjunctionrv.com
La Pine State Park
15800 State Recreation Road
La Pine, OR 97739
(541) 536-2428
(800) 452-5687 reservations
www.oregonstateparks.org