Understanding motorhome weight ratings, reasons to weigh an RV, and how to use the information to ensure safe travels.
By Mark Quasius, F333630
July 2014
Motorhome owners face something that generally doesn't impact owners of lighter passenger vehicles. That issue is weight. No, I'm not talking about stuffing yourself with too much food this past Thanksgiving. I'm talking about stuffing your motorhome with too much stuff, beyond what it is designed to carry. A motorhome is rated to carry a given amount of weight, and exceeding that limit can result in dangerous consequences. Therefore, it's important to weigh your motorhome using proper methods in order to determine whether it complies with these ratings.
RV Weight Ratings
A number of RV-related weight ratings exist, and they can be confusing. In September 1996, Recreation Vehicle Industry Association (RVIA) established a list of ratings that its manufacturer members were required to post inside each RV. The goal was to help RV buyers and owners to understand and comply with weight ratings. In 2000 RVIA added a couple of ratings to that list to further help owners. Then in 2008, the National Highway Traffic Safety Administration (NHTSA) adopted regulations that require separate and specific RV weight labels. This superseded the prior RVIA requirements.
Following is a list of ratings and their definitions. The list posted in your motorhome will be dependent on when the vehicle was manufactured. Let's start with some basic ratings.
Gross vehicle weight rating (GVWR) is one of the most-used terms related to motorhome weights. This number indicates the maximum that the vehicle should ever weigh, including occupants, cargo, fuel, water, and holding tanks, as well as the weight of the vehicle itself. It also includes the tongue weight of any trailer or towed vehicle.
Gross axle weight rating (GAWR) is the maximum allowable weight that an axle assembly is designed to carry. Each individual axle of the motorhome, front and rear, is assigned a GAWR, as is the tag axle, if so equipped. This rating tends to be overlooked by many RV owners but is one of the most important ratings to observe.
The GVWR and GAWR can be found on the Federal Compliance Safety Label on the vehicle.
Gross combination weight rating (GCWR) is the maximum allowable weight of the motorhome plus any towed vehicle or trailer. The GCWR assumes that whatever you are towing will have its own braking system. This is the reason motorhome owners should not tow a vehicle without an auxiliary braking system.
Hitch rating. Trailer hitches also have ratings, which generally are stamped into the hitch receiver or located on a placard attached to the rear of the motorhome. This number includes the maximum trailer or towed vehicle weight as well as the tongue weight placed on the hitch.
Two other ratings adopted by RVIA in 1996 were the unloaded vehicle weight (UVW) and the net carrying capacity (NCC). Those definitions are as follows:
Unloaded vehicle weight (UVW) is the empty weight of the motorhome as it left the factory. Note that this rating includes full fuel, engine oil, and coolant tanks but does not include any cargo, occupants, propane, or fresh-water weight. It also doesn't include the additional weight of any dealer-installed accessories.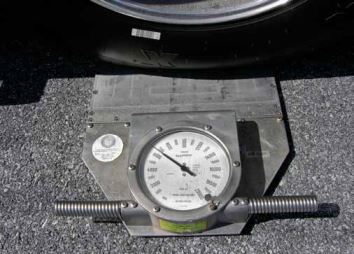 Net carrying capacity (NCC) is the maximum weight that the motorhome can carry, including the driver, passengers, propane, water, cargo, and installed accessories, as well as the tongue weight of any towed vehicle. The NCC can be determined by subtracting the UVW from the GVWR. In 2000 RVIA started using cargo carrying capacity (CCC) instead of NCC. They also added a sleeping capacity weight rating.
Sleeping capacity weight rating (SCWR) is calculated by multiplying the number of sleeping positions by 154 pounds.
Cargo carrying capacity (CCC) is the GVWR minus the UVW; the SCWR; the weight of a full tank of propane; and the weight of all fresh water in the system, including a full fresh-water tank and a full water heater.
Occupant and cargo carrying capacity (OCCC). The CCC was modified in 2008 by NHTSA. CCC still applies to towable RVs, but motorized vehicles now use OCCC. The OCCC states the maximum allowable weight of all occupants (including the driver) plus the weight of all food, tools, full fresh-water tanks, full propane tanks, and all personal belongings. The maximum allowable weight of passengers is based on the number of seat belt positions in the motorhome. The regulation also states that the tongue weight of a towed trailer counts as cargo. The OCCC is calculated by taking the GVWR and subtracting the UVW and propane weight. This weight will be higher than when calculating the CCC.
NHTSA regulations also required dealers to state on an amended or additional label the total amount (in pounds and kilograms) by which dealer-installed options or changes to the RV decreased the OCCC. The amount is limited to the total weight of all additions or changes made by the dealer prior to the first sale that are "the less of 1.5 percent of the GVWR or 100 pounds."
If any of these ratings are exceeded, the motorhome will be operating in a manner that is beyond what the vehicle was designed to do safely. Steering, suspension, transmission, axles, and many other chassis components can be overworked, leading to premature failures. In particular, brakes pushed beyond their limit can result in devastating consequences should they fade and fail to stop the motorhome in time. Keep in mind that any towed vehicle also needs an auxiliary braking system. This was stated earlier but needs to be repeated, because many motorhome owners are not aware of its importance when it comes to weights and towing.
Why Weigh a Motorhome?
You may be wondering why a motorhome needs to be weighed if appropriate ratings are posted in the vehicle. Just because a particular motorhome has what appears to be an acceptable OCCC doesn't mean that single rating can be relied upon to tell the entire story. Like a chain, weight ratings are based on the weakest link. Your motorhome may have 10,000 pounds of excess capacity according to the GVWR, but if the front axle is overloaded, the motorhome is not safe. For that reason, it's important to weigh your motorhome to see exactly what you have and how the actual weights relate to the ratings assigned to your chassis. In addition, the correct tire pressures for safe operation are determined by these scale readings.
RV Tires and RV Weight
Tires are the most important component on a motorhome's chassis. They support the weight of the vehicle, transfer power and braking forces to the pavement, and keep the motorhome pointed in the right direction. Should a tire fail, the driver could lose control of the vehicle, which may result in serious damage, injury, or even death. Tires are designed to support a given weight; this is accomplished by matching the size of the tire, the load rating, and the air pressure. If a tire is operated at a pressure lower than is needed to support a particular load, the tire will overheat, which can lead to failure. Therefore, weighing an RV to determine how much air pressure is needed in each tire is very important.
Tire manufacturers provide tire pressure charts for each tire model and size they produce. By knowing the actual weight at a wheel position, you can determine how much air pressure is required to carry that load safely. If you find that the weight at a particular tire position exceeds what that tire is capable of carrying, the first step is to redistribute the load in an effort to resolve the overload situation. As a last resort, the owner could consult with the chassis manufacturer and ask whether the tires could be replaced with larger tires or with tires that have a higher load rating. Always be sure to match the pressures of tires on the same axle. If one side of the axle weighs more, use that pressure on all tires attached to that axle.
How to Weigh a Motorhome
Motorhomes are not symmetrical as far as weight distribution is concerned. Some longer, single-rear-axle motorhomes may be weight-challenged on the rear axle, where most of the weight is concentrated, and be light on the front axle. A motorhome may have a 32,000-pound GVWR, a rear axle with a 20,000-pound GAWR, and a front axle with a 12,000-pound GAWR. But if the rear axle tips the scales at 22,000 pounds, the motorhome must be considered overweight, even if the total weight is less than the GVWR. In this situation, it may be possible to shift some of the cargo forward to transfer more weight to the front axle, but that isn't always successful and may necessitate that the amount of cargo be reduced. This doesn't seem to be an issue as much on medium-length motorhomes, but many of the larger diesel pushers with hardwood cabinets, solid-surface countertops, and ceramic tile may approach or exceed ratings limits.
Motorhomes with tag axles have a similar situation, but often it's reversed. A tag axle may provide an extra 10,000 pounds of capacity, which eliminates the rear weight issues. The downside to a tag axle is that it tends to transfer more weight to the front of the coach, putting additional load on the steering axle. Some motorhomes may have excessive weight on the front axle, depending on the floor plan and how the coach is loaded. Should this occur, it may be necessary to shift cargo rearward to relieve some of the load from the steering axle.
Motorhomes also vary in weight from side to side. Some coaches are remarkably well balanced from left to right. However, if the floor plan places the galley, a large residential refrigerator, and bathroom fixtures all on one side, or if the owner adds more gear to one side versus the other, this can result in a significant disparity between weights on either side of the same axle. The ideal solution is to weigh each wheel position individually, by placing a scale under each one, rather than weighing strictly on a per-axle basis. Weighing on a wheel-by-wheel basis is a bit harder to do, since most truck stop scales measure only axle weights and not individual wheel positions.
Fortunately, representatives of the Recreation Vehicle Safety & Education Foundation (RVSEF) are on hand at FMCA Family Reunions and many area rallies. Since 1993, RVSEF has provided a true wheel-by-wheel motorhome weighing service that shows exactly how the coach is loaded, and supplies the owner with a computerized analysis.
If you don't have access to wheel-by-wheel weighing but need to have your motorhome weighed, you may be able to find a per-axle scale that allows you to place one tire of the RV on the scale at a time. Truck stops normally won't be the place to do this, because of the posts around the scales. Not only that but the manufacturer of the CAT scales commonly found at truck stops notes that its scales are designed to provide axle weights and a gross weight but not individual wheel weights. So, to avoid damage to their scales or to vehicles, they do not allow weighing of individual wheel positions. A commercial facility such as a sand and gravel pit may have a scale that allows this type of wheel position weighing.
If you do attempt to weigh the motorhome in this manner, be sure that the area alongside the scale is level so that the motorhome isn't tilted, which can throw off the scale readings. Do one side first and then the other. Finally, take a full per-axle reading to see how far off the individual weight position readings are using this method. It's not as accurate as a true wheel-by-wheel rating, but it may serve as a baseline to begin with until a true four-corner reading can be done.
If a scale can't be found that allows for individual wheel position weighing, find a truck stop and obtain a per-axle reading. Use the sidewall pressure specified on the tire itself or on the federal compliance label until a true wheel-by-wheel scale reading can be done.
Also, when the motorhome is weighed, be sure it is fully loaded as you would normally travel. This may include having a full fuel tank, fresh-water, all occupants on board, and food and cargo loaded. It's also a good idea to weigh the motorhome with the towed vehicle connected. This makes it possible to determine the towed vehicle's weight as well as any tongue weight on the motorhome. Tow bars used for flat-towing vehicles don't add a significant amount of weight, but a trailer might.
Interpreting the Results
Once the various weights have been determined and displayed on your scale ticket, it's time to decipher them. The total actual weight should be less than the GVWR. If not, the motorhome is overloaded right from the start.
Also determine whether the motorhome's weight plus the weight of the towed vehicle or trailer exceeds the GCWR. If so, the towed vehicle may be too heavy. If the combination weight is slightly over, it may be possible to reduce some of the motorhome's cargo to bring the GCWR in line; however, if it is substantially over the GCWR, it's not likely that this will be feasible. Often, motorhome manufacturers determine the GCWR by the ability of the motorhome's transmission to pull a certain amount of weight without failing. Check the motorhome's hitch rating to ensure that the hitch's tongue weight and total weight ratings are not being exceeded.
Next, compare the axle weights with the motorhome's GAWR specs. This is most likely where problems will show up as a result of a significant weight imbalance from front to rear, and axles that are not designed to carry that much weight. If you have obtained individual wheel position weights, look for significant side-to-side weight variances also.
The most critical weights to check are the actual per-wheel-position scale readings. These will determine what tire pressures are needed for the motorhome to operate safely. Take the highest reading from either side of a particular axle and compare it to the tire manufacturer's tire pressure charts to determine how much air pressure is needed to run in that tire. When determining tire pressures, always inflate every tire on the same axle to the wheel position that weighs the most. If the motorhome's side-to-side weights vary considerably, investigate whether certain cargo can be moved to even out the difference. If this is possible, make those changes and then have your RV reweighed before determining tire pressures.
As mentioned earlier, ratings are based upon the weakest link in the weight chain. An axle rated at 12,000 pounds may be the same axle as one rated for 14,000 pounds, except the axle rated at 12,000 pounds has smaller tires. In some cases, manufacturers have discovered issues after the fact and recertified their axles after retrofitting larger tires. If you have a tag-axle motorhome with an overloaded front axle, be sure to check with the motorhome manufacturer as to whether this is a possibility, or whether other remedies are available.
Previously, the Federal Bridge Law had a 20,000-pound single-axle limit that applied to motorhomes, while buses had an exemption up to 24,000 pounds. Motorhomes now have that same exemption on federally funded highways and easy access roads, so the limit on those highways has been raised to 24,000 pounds. However, this limit has not been adopted by individual states for state roads and highways. Many newer motorhomes have been equipped with 23,000-pound and 24,000-pound rear axles in anticipation of this change. This will help manufacturers who want to build 40-foot coaches with all the heavy amenities that motorhome buyers want without the expense of a tag axle. However, it is still illegal to exceed the GAWR of the axle, so running 23,000 pounds on an axle that is only rated at 20,000 is not permitted.
Ideally, you would weigh a motorhome before you purchase it. You probably won't be able to have a wheel-by-wheel weighing performed, but by taking it to a truck stop scale, you can obtain a per-axle scale reading. That information can provide a good idea about the motorhome's carrying capacity. By looking carefully at the storage space, tank locations, and floor plan arrangement, you should be able to determine where the majority of the weight is positioned and what the motorhome's carrying capacity is.
My motorhome is typically on the heavy side, with close to 5,000 pounds of cargo, but the average motorhome owner runs around 3,000 pounds, give or take 500 pounds. By carefully looking at each motorhome's weight ratings and comparing them to your needs, you can determine whether a particular unit is a good fit for you or will result in weight issues once you load it.
By following these simple steps and guidelines, you can ensure that you will be safely operating your motorhome. For more information about tire pressures, or schedules of upcoming rallies and FMCA Family Reunions where RVSEF will be conducting seminars and weighing coaches, check out the RVSEF Web site at www.rvsafety.com, or call (321) 453-7673. The Web site also includes links to tire inflation tables for Michelin, Goodyear, Bridgestone/Firestone, and Hankook tires.