Technology is abundant in this sophisticated 2017 home on wheels.
By Mark Quasius, F333630
July 2016
Fifty years is a long time, a milestone on anyone's calendar. The year 2017 marks Foretravel Inc.'s 50th anniversary. To commemorate the occasion, the company has chosen to redesign the legendary ih-45 series luxury motorhome for the 2017 model year. The result: the ih-45 50th Anniversary Model, which I recently inspected during a trip to the company's headquarters in Nacogdoches, Texas.
Foretravel is one of a handful of manufacturers that build custom motor coaches to each buyer's specifications. There are no standard floor plans — only suggestions to use as starting points. The exterior paint is a custom design; the interior décor, finishes, and furnishings are chosen by the buyer. For this reason, I won't delve too far into the usual descriptions of the furnishings in the motorhome I inspected. Instead I will concentrate on what sets a Foretravel motorhome apart.
The 2017 model year brought about a number of significant changes to the ih-45. One of the most obvious is a stylish new front cap. Another is a power entry door that now slides sideways, parallel to the coach. The 2017 ih-45 50th Anniversary Model incorporates many other changes as well, including the chassis itself.
TravelRide II Chassis
Foretravel builds its own TravelRide II chassis at the Nacogdoches plant. A 10-inch structural channel backbone is bridged with internal trussing for outstanding rigidity. The chassis utilizes eight air bags. Two are on the tag axle and two on the steer axle. The drive axle uses four air bags, two on each end of the axle; these smaller bags are mounted outboard to provide greater roll resistance and to improve handling.
The cooling package was redesigned for 2017. The side-mounted radiator is now lower, so that a totally flat floor can be placed on top of the chassis. This eliminates the raised floor in the rear bath area and allows designers complete freedom when creating a floor plan. The redesigned frame also increases underfloor storage space by raising the basement height an additional 4 inches.
In typical fashion, a 600-horsepower Cummins ISX15 engine and an Allison 4000 transmission are used, but the Allison is a model 4000 MH-R. This transmission is equipped with a retarder. The retarder replaces an engine compression brake. I'll explain more about this in the "Driving Impressions" section.
The front axle features independent front suspension and is rated at 20,000 pounds. The 365/70R22.5 LRH tires are fitted to the front axle, while 315/80R22.5 tires are found on the 23,000-pound drive axle and 14,000-pound tag axle. All axles are equipped with Alcoa Dura-Bright-coated rims. The 20,000-pound-rated towing hitch allows for a 2,700-pound maximum tongue weight.
Safety is top of mind at Foretravel, so the steer tires are equipped with Tyron Bead-Lock tire-blowout protection. In addition, every tire is outfitted with a tire pressure monitoring system. A Fogmaker automatic fire-suppression system is located in the engine compartment and connected to a dash-mounted alarm.
The HWH Active Air suspension system reacts within nanoseconds to stabilize the coach when driving, and it provides automatic air leveling when parked. A 200-gallon fuel tank allows plenty of miles between fuel stops, and a 435-amp alternator keeps the batteries charged when driving.
ih-45 Construction
Foretravel is known for producing a strong, durable chassis. Part of this reputation can be attributed to the use of steel framing versus aluminum. When combined with a structural block-foam insulation, the result is a solid, vacuum-laminated sidewall. Trussing in the sidewalls in key locations adds additional strength reminiscent of monocoque construction.
Internal trussing in the basement area further improves torsional stability. The floor is a 6-inch-thick sandwich composed of a one-piece aluminum structural floor beneath a bonded interior floor. A one-piece stain-resistant Cosmolite roof caps off the motorhome.
Slideouts have been incorporated in Foretravel motorhomes since 1999. Today, the company's ForeSlide technology is used to create a composite-molded slideout with round edges that retracts flush with the sidewalls. HWH slideout mechanisms also operate the pneumatic bladder that seals the slides when they are extended or retracted. Once the slideout is fully extended, a floor panel pops up to cover the gap; this panel retracts into the floor when the slideout is brought in. The end result is a true flat floor with matching tile throughout the coach.
Foretravel ih-45 Anniversary Model Exterior
Foretravel craftspeople go to great lengths to achieve an attractive finish on each motorhome. Seven coats of polyurethane clear coat are applied and buffed to achieve a glasslike surface with a deep look. A sprayed ArmorCoat protective paint finish is applied to the front of the vehicle to prevent stone chips. Our test unit was finished in a bold paint scheme designed for show, but each coach is custom-painted according to the customer's specifications, so the sky is the limit when it comes to paint schemes and colors.
The windshield is glued in place, automotive-style, rather than held by a rubber grommet as is often seen in motorhomes.
As mentioned earlier, a new electric-operated Bode entry door slides parallel to the coach rather than swinging open on hinges. A simple push of the button is all it takes to open or close the door. A keyless entry system controls the entry door and the side-hinged basement compartment door locks. The Executive power step assembly operates smoothly and is the sturdiest I've ever seen.
Awnings are built into the roof fascia for a sleek appearance, and flush fixed-pane windows are installed throughout the coach.
The placement of the exterior television is a departure from the traditional location in a hinged compartment on a coach's exterior wall. Foretravel designers mount the TV on a slide rail system that allows the TV to glide out from the end of the slideout rather than be mounted on the face of the slideout. The TV can be tilted and swiveled as desired. It gives the side of the coach a cleaner look and maximizes basement storage space.
The redesigned front cap incorporates Xenon headlamps and LED accent lighting. A stainless-steel badge and a chromed logo are placed right above the forward-facing camera that is part of the Road-iQ system (more about this later). The rear of the coach is equipped with LED clearance lighting and taillights, as well as bright backup lights. The Total Vision rear camera, mounted in a clear dome, is motorized, allowing the driver to control it. Swing-out doors permit easy access to the engine for service.
Cockpit
Switches and controls in the motorhome's cockpit are arranged with driver convenience in mind, and the power tilt-telescopic steering wheel column adds to driver comfort. The ih-45 50th Anniversary Model is equipped with an Eaton VORAD Collision Avoidance System, which can direct the cruise control to back off the throttle and warn the driver if he or she fails to pay sufficient attention behind the wheel.
A SilverLeaf Glass Dash is user-customizable and gives the driver complete flexibility in choosing which gauges to display and how to arrange them. Controls for the Total Vision rear camera are located next to its monitor.
On the passenger side is a Villa six-way seat with power footrest, while the driver sits on a Knoedler air-ride seat.
An infotainment system is mounted in the center dash. In addition to the usual radio, DVD, and iPad-type sources, this system includes a Rand McNally Tripmaker GPS designed for large RVs; it reports route restrictions, weight limits, and overhead clearance information. A secondary monitor to the right of the copilot seat allows the passenger to view the GPS or watch a DVD without affecting the driver's main display. The Smart Wheel is fitted with switches to allow the driver to effortlessly control the infotainment center from the steering wheel.
The ih-45 50th Anniversary Model is also equipped with a Road-iQ camera system, which consists of five cameras connected to a DVR. The front camera acts as a dash cam, while exterior cams monitor the sides and rear of the coach, and another camera monitors the coach interior. All cameras automatically record to the 500-gigabyte hard drive on the DVR and loop so that they never run out of disc space. This system also can be accessed remotely if you have a Wi-Fi connection or use an air card. It can monitor the cameras via a smartphone app and even record the video to the phone or tablet, which serves as a great security monitor when the coach is in storage.
Interior
The process of developing a new floor plan begins with a blank sheet of paper and takes about a week to complete; the plan takes final shape when the customer's ideas mesh with those of Foretravel's experienced team. At that time, interior finishes and furnishings are selected, and the build process can begin.
The coach I reviewed featured a bold interior design. It included red cushioned stools on polished stainless-steel pedestals, surrounded by white wall covering and glossy white marine paneling. High-gloss pewter-finished cabinet and drawer faces complement the stainless-steel appliances.
This particular unit was equipped with a drawer-style dishwasher, a four-burner induction cooktop, an upgraded residential 25.8-cubic-foot multidoor refrigerator with freezer drawer, a ceiling-mounted TV lift, a TV lift in the bedroom, a fireplace with a TV lift, a stacked washer and dryer, a bar with the aforementioned stools, and a power lift for the head of the king-size bed.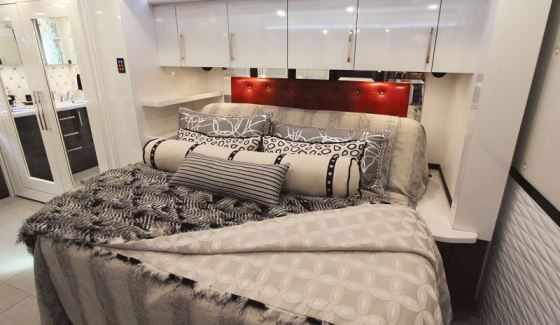 A number of features are common across all Foretravel custom motorhomes. All have heated tile floors and power shades. The various lighting, shades, and systems are connected via a multiplex wiring system. A 12-inch touch-screen controller provides access to various menus to operate these items as well as the heating and air-conditioning, the plumbing system, and the entertainment system. An iPad can also be used to access the systems wirelessly.
The entertainment system consists of high-end components, including an Integra three-zone amp, Integra Blu-ray player, HDMI switcher, HD DirectTV DVR, and HD DirectTV receiver; they are located in a cabinet and mounted in a slide-out rack for ease of access. The components are fan-cooled, and a power conditioning system provides clean power to each device.
Residential-grade appliances and quartz countertops are used throughout the coach. Solid wood or high-end laminate cabinetry is available, according to the customer's choice; my review unit featured the laminate alternative.
Utilities
With a coach this sophisticated, a good electrical system is necessary. The 50-amp shore power is augmented by an Onan 12,500-watt diesel generator, along with a pair of Outback 2,800-watt inverters. Rooftop solar panels provide additional power to help keep the bank of six large Group 4D deep-cycle AGM batteries topped off. A Precision Circuits energy management system monitors AC power usage and prevents pedestal breakers from tripping. An automatic generator-start feature ensures that the batteries don't run down.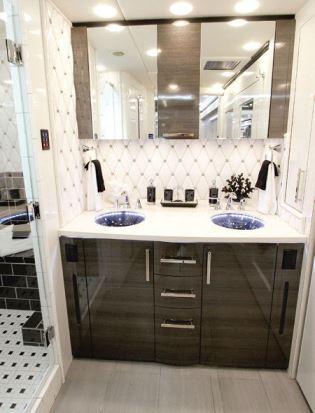 The fresh-water tank holds 135 gallons. The combined gray-water and black-water tank can hold 145 gallons. The latter is equipped with a bypass to allow gray water to flow directly to the sewer if desired while retaining the black water in the tank. The coach is equipped with a power hose reel. A cam-lock Waste Master drain hose facilitates the waste discharge process.
Heating needs are met by an Aqua-Hot 600D hydronic heating system, which utilizes a diesel burner or dual electric heating elements to warm the boiler. The Aqua-Hot boiler also produces domestic hot water on demand. Cooling needs are met by four 15,000-Btu air conditioners, which also are equipped with heat pumps.
Driving Impressions
I expected the review unit to handle quite well in all driving situations, as most luxury motorhomes do. I was not disappointed. The 600-horsepower engine got up to speed quickly and smoothly. The surprise was the aforementioned Allison 4000 MH-R transmission, which is used to slow the coach down, instead of the typical engine compression brake. The 4000 MH-R redirects transmission fluid to perform braking internally within the transmission. It does this so quietly that there is no need to worry when you enter a town where "No Engine Braking Allowed" signs are posted.
The 4000 MH-R transmission has six levels of progressive braking action, so when descending a grade, you easily can control your speed using the joystick on the driver's left-side console. The system can be operated in three distinct modes, including manual and an instant-on mode tied to the brake pedal for emergency stops.
The coach exhibited minimal roll, especially for its size. The outer air bags on the rear axle provide maximum leverage to minimize roll when cornering. The HWH Active Air suspension system produces a rapid response and keeps these air bags at the proper height, which also contributes to a stable ride. During a test with an abrupt lane change, the coach remained nice and vertical, and the steering stayed crisp.
Foretravel motorhomes are built to be solid. The steel structure and structural foam make for a tight shell that provides a quiet ride. The insulation and quiet ducted air-conditioning kept us nice and cool in the Texas heat, both when parked and driving.
The base price of the ih-45 50th Anniversary Model I reviewed was $1,368.770. The total price came to $1,432,040 with options: the laminate cabinetry, whole-house home control system, ceiling-mounted TV lift, TV lift in dresser, dishwasher drawer, fireplace, four-burner cooktop, and TV lift by the fireplace. Again, each Foretravel coach reflects many individual choices by the customer.
Overall, the ih-45 is an appealing coach for full-time use, featuring attractive amenities, quality construction, and plenty of room for cargo and those necessities of life. The ability to choose your own floor plan, décor, and furnishings just makes it even better if you are in the market for a luxury motorhome.
SPECS
MANUFACTURER
Foretravel Motorcoach, 1221 N.W. Stallings Drive, Nacogdoches, TX 75964; (800) 955-6226; www.foretravel.com
MODEL
2017 ih-45 50th Anniversary Model
FLOOR PLAN
varies
CHASSIS
Foretravel TravelRide II
ENGINE
Cummins ISX15; 600 horsepower at 1,800 rpm; 1,950 pound-feet torque at 1,200 rpm
TRANSMISSION
Allison 6-speed 4000 MH-R with retarder
AXLE RATIO
4.30 to 1
TIRES
front axle — Michelin 365/70R22.5;
drive and tag axles — Michelin 315/80R22.5
WHEELBASE
304 inches
BRAKES
Air disc; ABS with automatic slack adjusters
SUSPENSION
independent front suspension; HWH Active Air
ALTERNATOR
435 amps
BATTERIES
chassis — (3) Group 31
house — (6) Group 4D deep-cycle AGM
INVERTER
(2) Outback 2,800-watt
ELECTRICAL SERVICE
50 amps
AUXILIARY GENERATOR
Onan 12.5-kw diesel with automatic start
EXTERIOR LENGTH
45 feet
EXTERIOR WIDTH
102 inches
EXTERIOR HEIGHT
13 feet 2 inches
INTERIOR HEIGHT
7 feet
GROSS COMBINATION WEIGHT RATING (GCWR)
74,000 pounds
GROSS VEHICLE WEIGHT RATING (GVWR)
54,000 pounds
GROSS AXLE WEIGHT RATING (GAWR)
front — 20,000 pounds;
rear — 23,000 pounds
tag — 14,000 pounds
AS-TESTED WEIGHT
front axle — 17,880 pounds;
rear axle — 19,680 pounds;
tag axle — 13,500 pounds;
total — 51,060 pounds
OCCUPANT & CARGO CARRYING CAPACITY (OCCC)
2,898 pounds
FRESH WATER CAPACITY
135 gallons
HOLDING TANK CAPACITIES
black water/gray water — 145 gallons, combined, with gray-water bypass
FUEL CAPACITY
200 gallons
FUEL REQUIREMENTS
diesel
WATER HEATER
Aqua-Hot 600D hydronic heating
HEATING SYSTEM
Aqua-Hot 600D hydronic heating
AIR-CONDITIONING
(4) 15,000-Btu with heat pumps
REFRIGERATOR
residential 25.8-cubic-foot with freezer drawer
TOILET
china
WARRANTY
coach — 2 years/24,000 miles limited;
chassis — 5 years/100,000 miles limited
BASE SUGGESTED PRICE
$1,368,770
PRICE AS TESTED
$1,432,040
---
Fifty Years Of Foretravel
C.M. Fore and his bride, Marie, traveled on numerous family vacations, but as their family grew, the need for a more suitable vehicle became apparent. Thus building a motorhome became a high school distributive education project for the Fores' son, Ray.
T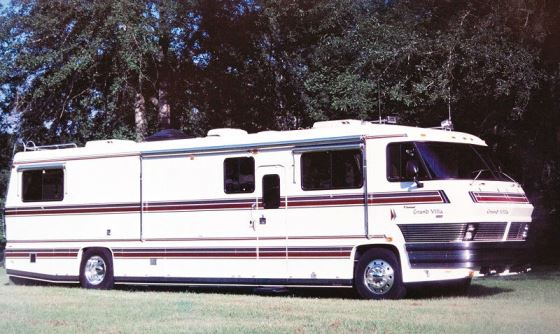 he first motorhome they produced, a 21-foot Type A, was built from lightweight aluminum, weighed less than 4,000 pounds, and incorporated a Dodge chassis. Upon completion, the family drove their new creation to Washington state to visit the Fores' eldest son, Roy, who was stationed there in the military. The coach generated so much interest along the way that in 1967 the Fores decided to go into the business of building Foretravel motorhomes.
Those first commercial motorhomes were produced in a small building in the family's backyard in Nacogdoches, Texas. In 1972 a new production facility was built. In 1973 the first major design change resulted in the Super Luxura, which boasted a fiberglass front cap, rear cap, and side panels.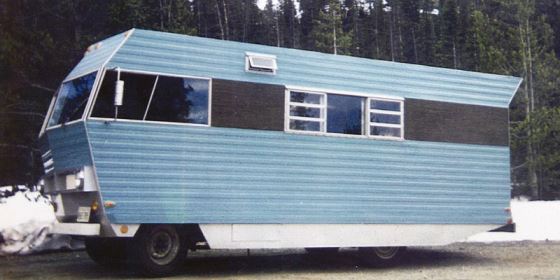 1974 saw the introduction of the industry's first diesel-powered motorhome. Foretravel was the first to use fiberglass, real hardwood, and air-ride suspension.
In 1977 Foretravel celebrated 10 years in business and introduced the FTX (Foretravel Ten), which offered features not common in the RV industry at that time, such as TVs, VCRs, dual roof air conditioners, central vacuums, and more. By October 1978, the FTX became the first conventional motorhome to be powered by a rear diesel engine.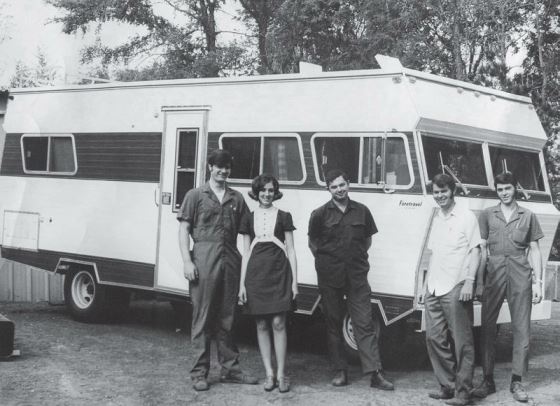 1987 marked the introduction of the aerodynamic-styled Grand Villa Unihome, the first motorhome to use a monocoque chassis design, an eight-bag outboard suspension system, and an air-leveling system.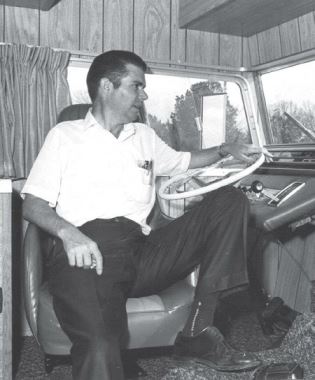 In 1992 the 102-inch wide-body Unihome debuted. Foretravel's 25th year in business was celebrated with the silver anniversary edition Unihome U300.
The Unicoach was launched in 1995, featuring a bus-style front end and greater interior space.
In 2005 a new ownership team began to add more new designs and standards to the Foretravel legacy. This continuing dedication to excellence resulted in the introduction of the Iron Horse (ih) series upscale coach in 2012. This represented a complete redesign of the Foretravel coach, which retained the company's focus on fit and finish, ride and handling, and customer service.
Today as Foretravel unveils the ih-45 50th Anniversary Model, it's plain to see that the tradition lives on.