An orphaned GMC motorhome stars in a rags-to-riches story.
By Janet McKenzie Prince, F305683
September 2016
The motorhome was parked next to a dumpster, which seemed fitting for the tired old relic of the past. It wasn't the weathered, rotted awning silhouetted against the dark sky that caught our imagination. It wasn't the flat tire, or the greasy odor, or the critters that made their home in the wheel wells. It wasn't the faded, peeling paint or the rusted, dented hubcaps that captivated us. Instead, we saw a vision reflected in the vintage 1977 GMC motorhome.
Our vision was reflected in the beauty of the stately body style, the classic, iconic lines of the GMC of yesteryear. Too long neglected, this worn but noble coach deserved to be returned to the vibrant 40-year-old GMC fleet that continues to roll across America today. But we weren't interested in simply restoring the motorhome to its classic 1977 form. We wanted to bring it up to modern standards, and even push it into the future through design and function.
For the past 15 years, my husband, Bob, and I traveled in luxury motorhomes. They carried us in high style around the country for business inside corporate America. But when Bob retired, our travel needs changed. National parks, state parks, birding trails, rails-to-trails, and wildlife centers were now on our agenda. We needed a small, efficient vehicle to carry us in a new direction.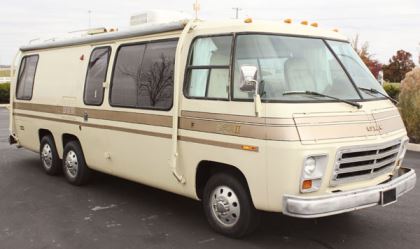 Could we put the elegance, luxury, quality, and comfort of our 45-foot Prevost bus into this 26-foot antique motorhome? We consulted with experts to find out. We brought on board Steve Rourke of Cinnabar Engineering Inc. in Sandusky, Michigan, to renew the mechanicals, and Josh Gifford of Creative Mobile Interiors in Grove City, Ohio, to transform the body and interior. There was no doubt in their minds that they could give us what we dreamed of: a small coach with big, easy-living luxury.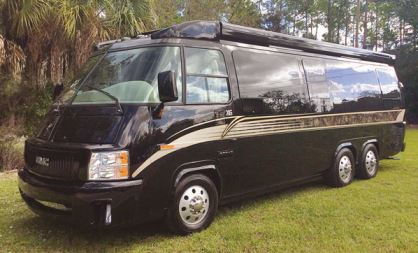 Before we purchased the GMC, Bob and I searched for a small motorhome with the high-end creature comforts we were accustomed to. We wanted to downsize in size, not quality. Not finding on the open market exactly what we were looking for in a Type A motorhome under 30 feet, we decided to create our own unique, custom-made RV of the future — our future.
Since we were building from the ground up, our motorhome would be filled with the latest gee-whiz technology. It would contain all the comforts of home to accommodate us on long journeys. My working concept for our design team was to think of this as a spacecraft with no wasted space, where every inch counts, where only the best navigation and communication gear is allowed. "It is a star fighter," I said, "or a moon-base rover."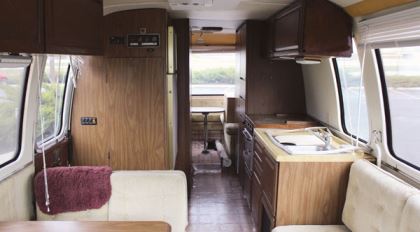 I envisioned the interior of a private jet to serve as our personal escape pod. It would be a wonderfully logical, extremely functional, self-contained, off-the-grid vessel — an environment in which Luke Skywalker and Mr. Spock would be equally at home. We would give this humble GMC a space-age look through sleek design, along with the best of modern technology to carry it (and us) into the future of RV travel. The motorhome would be independent, intrepid, bold, and fearless, with a touch of whimsy.
So, with a wink to the past and a nod to the future, we let our imaginations guide us on this journey as we designed our RV. Because of its unique components, the year in which it was completed, and my concept design references to spacecraft, we named our coach the XF-15: Expeditionary Force 2015.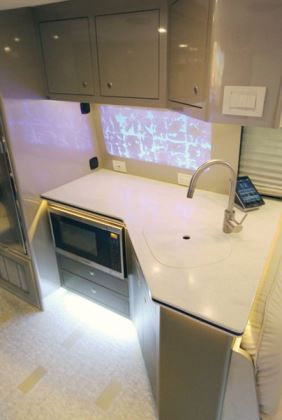 The GMC now is crowned with luxuries fit for a much larger coach. It sports a roof-mounted solar panel system and two ducted low-profile air conditioner units. Special features in the galley include a stainless-steel Vitrifrigo 8.1-cubic-foot refrigerator with an ample freezer; a microwave-convection oven; a dehumidifier; custom cabinets; a six-bottle wine cooler; and a wine-glass storage cabinet.
The rear bath, as compact as it is, features a vessel sink and a small bathtub, affectionately known as "the puddle." Additional features include a mounted 29-inch flat-screen HDTV, an Apple TV, a Blu-ray player, and a TiVo system, all tied to a Boston Acoustics speaker system with a Polk Audio subwoofer. It has separate Bosch washer and dryer units, heated floors, ambient lighting, and a modern pilot-navigator compartment that resembles the flight deck of a small private jet. All systems are controlled by an iPad Mini.
Outside is a 7-kilowatt Onan gasoline-powered generator. Remote-control Girard awnings span both sides of the coach, creating shade no matter the direction of the sun.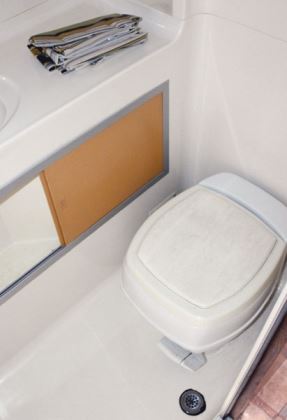 Design and function work together in this little big rig. The interior surfaces repeat exterior surfaces with smooth, clean, uncomplicated lines. The light-hued interior adds to the illusion of spaciousness so that even the inside feels aerodynamic.
Insulation and soundproofing of our little escape pod are as important as the visual design. Spock would understand my concern for our moon-base habitat. This module is insulated to protect against variant temperatures of the lunar surface, and is soundproofed against raging lunar storms. It is logical.
The motorhome is equipped with a fuel-injected Oldsmobile 403 engine, front-wheel disc brakes, front-wheel drive, and GMC's signature six-wheel independent suspension. Cinnabar rebuilt the engine, put in a new transmission, retooled the brake system, and replaced every single hose and belt. Mechanically, it's a new 2015 vehicle housed in a vintage shell.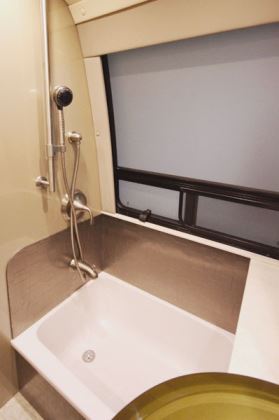 Downsizing from a large to a small coach has worked well for us. We travel in comfort, we are self-contained, and we can park anywhere we please. Our small rig living large is equally at ease in a Type A resort as in a backcountry campground.
When we first found this motorhome, it was well past its glory days and given up for dead. Today, this rags-to-riches coach is once again rolling across America, entering areas that were inaccessible in our larger RVs. We're taking this little star fighter worlds beyond where the mother ships can go. Spock would be proud.