With family in tow, singer Cale Moon pursues stardom in a 40-foot Monaco motorhome.
By Peter Kunasz, F141994
December 2016
Cale Moon sat sideways in the driver's seat of his 2004 Monaco Diplomat motorhome, strumming his guitar and singing softly before a paid gig later that night at a dance hall. The 22-year-old country singer was taking advantage of his time in Coburg, Oregon, where repairs were made to the family coach before the next cross-country trip to Nashville, Tennessee.
Cale's father, Nathan Moon, sat on the couch behind Cale and listened carefully to the music. Nathan always pays attention, because the Moon family, F434148, depends financially on Cale's success as a musician, both now and in the future.
Nathan is a retired professional truck driver. He delivered new cars coast to coast until 2008 when he fell from the top of his car carrier, sustaining a serious injury that ended his big rig driving career. Now he is Cale's manager, promoter, and trip planner.
Nathan's accident and long recovery were a dark time for the Moon family. It was at that depressing juncture that young Cale decided to become a professional country music singer. He had always sung with his family in church. At age 12, though, his voice began to change to a lower pitch. For the first time in his life, he felt like he had an edge, and it fueled his passion for music. He and his family marveled at the range he was developing in his singing voice. It led to much experimentation and work to hone this new sound.
In 2009 Cale sang competitively at the World Championships of Performing Arts, which his family considers the starting point of his music career. His first professional efforts were met with enough positive feedback and applause that family members made a momentous decision. They would go all out in supporting Cale. He would become the family breadwinner, with his father as his manager and his mother, Heidi, doing the bookwork as well as other behind-the-scenes chores. They then faced the challenge of reaching that goal without going broke.
For the Moons, the literal road to success seemed simple: Nathan was an experienced driver who had recovered from his accident and could again take the wheel, and the family had an interest in motorhomes. It was a logical decision to sell the family home and buy a used 40-foot Monaco coach, outfit it with bunk beds, and create as much storage space as possible. They would tow their family's Chevy Suburban, which could be used to transport guitars, amps, microphones, signs, etc.
It was a gutsy move. The odds of becoming a country music star — or even being able to make ends meet — are long and hard, as is the lifestyle.
Cale's plan for success: "Work hard, make the right friends, make the music you love (because if the artist doesn't love it, neither will the fans), and most of all, keep the fan base happy and growing."
Simple enough, but it takes energy and total dedication. Fortunately, Cale has both. He is on tour for most of the year and plays approximately 300 shows coast to coast, including county and state fairs, festivals, rodeo arenas, race tracks, cowboy churches, and beer gardens. Every event is an opportunity to make a good impression. Cale never knows who might be in the audience, such as a record company talent scout, so he always gives 100 percent.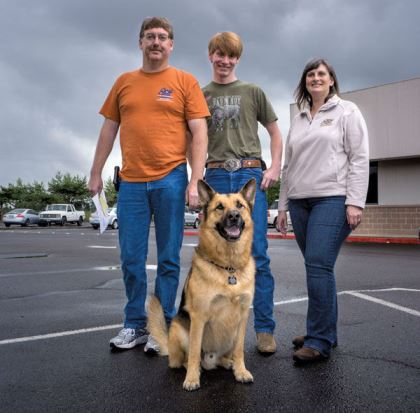 "He surprises everyone with long performances, usually with no breaks," Nathan said. "He plays for up to four hours at a session. When the crowd is into it, he just keeps playing until he is out of time. Every show is a new opportunity to impress or fall short. That's what makes it exciting."
As any experienced motorhome owner knows, sometimes the adventure lies in getting to the destination. Nathan, who does most of the driving and trip planning, said a Sunday drive from Tulsa, Oklahoma, to Nashville in February 2014 tops the list of white-knuckle moments.
The night before they left, they spent three hours removing ice from the slide awnings. They headed out in heavy snowfall, expecting that the farther south they traveled, the less snow they would encounter. Instead, snow continued to pile up. By the time they turned east onto Interstate 40, they were driving in about 5 inches of snow. And the farther east they went, the deeper it was. They didn't want to exit the freeway for fear of getting stuck, so they just kept driving.
"You know those people you see driving down the road in a big diesel RV during a blizzard? Yeah, that was us!" Nathan said.
Cale recently married his sweetheart, Maggie, who now travels with the family. Spending quality time with his wife is a priority, but so, too, is practicing, writing, performing, and doing promotions.
"Full-time motorhoming is the only way we can do what we do," Cale said. "Since we're on the road all the time, having a traditional house would be completely pointless. Our coach provides a way to enjoy many adventures as well as get a ton of work done. I would say 'with ease,' but traveling with two married couples in a 40-foot box has many challenges. We do our best to make the best of every situation. We act a little crazy and laugh a lot! Our saying is, it could be a whole lot worse, so why complain? We're just one big cozy family."
Nathan and Heidi are proud of their son, who is mature beyond his years. Cale is charming and polite, yet laser-focused on what he wants to accomplish.
Is there a typical day for the Moon family on the road?
"Every day, every place, every venue, presents an entirely different set of tasks and obstacles that are rarely the same," Nathan said. "Cale calls us a professional problem-solving crew, because that's basically what we do most of the time. He's always finding new ways to make shows better, not only for him but for the venue as well. It makes for a very unpredictable daily routine."
Cale avoids off-color jokes and profanity, and audiences seem to find that refreshing. With his fresh face, warm personality, and vocal range, Cale seems to be hitting the right notes, as reflected in the increasing number of venues where he performs and his growing name recognition.
His varied repertoire ranges from tunes made famous by Johnny Cash to Josh Turner, and from George Jones to George Strait, along with many original songs. "Whatever the people want to hear, he'll do his best to play it," Nathan said. Cale can read a crowd during a performance and change up the playlist, depending on what people like.
Cale's first full-length album, "The Beginning," was released in 2011, followed by "True Love Waits" in 2013. On each album, he wrote eight of the 10 songs. Another project is in the works. "He is constantly writing," his father said.
Given that the Moon family travels 40,000 to 50,000 miles a year, you might see them in an RV park somewhere between Oregon and Nashville. Just look for Cale's coach with his name on the side. Ask him to perform a short demo and he'll likely oblige, if time permits. You will make a new friend, and he will gain new fans.
Meanwhile, Cale and his family continue their exciting journey toward what they hope is a long and successful musical career.
To see Cale Moon's performance schedule and to hear him sing, visit www.calemoon.com.