In Mobile, Alabama, a home museum and a stadium complex honor baseball great Hank Aaron.
By Bill Vossler
December 2016
Any time a famous figure's childhood home is relocated to serve as a museum, you know that person is important. It's even more compelling to learn that Henry Louis Aaron's home is the only one ever relocated to honor a professional athlete.
The house, originally 25 feet by 25 feet, was built by Aaron's father, Herbert, in Toulminville, just outside Mobile, Alabama. Later additions enlarged the white-sided house before it was moved seven miles into Mobile, where in 2010 it became the centerpiece attraction next to the minor league Mobile BayBears' baseball stadium. The ballpark, by the way, is called "Henry Aaron Stadium" or "The Hank."
Early Life
Inside the Hank Aaron Childhood Home and Museum, visitors are greeted by a TV playing an interview with Aaron talking about his childhood and his early days in baseball. To the right is a display of black-and-white photos, posters, and newspaper articles, as well as a faded white-and-blue jersey and hat from the Mobile Bears, an earlier team. Mobile has a long history of baseball, dating  back to the 1900s, because of its favorable climate.
"Hank" Aaron was born on February 5, 1934, in Mobile and spent most of his youth in nearby Toulminville. He was the third of eight children. His family could not afford baseball equipment, so he used materials found on the streets — mostly bottle caps and sticks. His boyhood idol was Jackie Robinson, who in 1947 became the first African-American to play baseball in the major leagues.
Aaron's high school had no organized baseball team, so as a teen, he played outfield and third base for the semi-pro Pritchett Athletics, and then for the Mobile Black Bears. As a junior in high school, he earned $3 a game, the equivalent of about $30 today.
Aaron quit school, and by 1952, when he was 18, he was playing for the Negro League's Indianapolis Clowns, earning $200 a month. He also received harsh lessons as a black man in a white society.
Breakfasting with the Clowns one morning in Washington, D.C., in a restaurant behind Griffith Stadium, he was more than startled "hearing them break all the plates in the kitchen after we finished eating," he later wrote. "What a horrible sound. Even as a kid, the irony of it hit me: Here we were in the capital in the land of freedom and equality, and they had to destroy the plates that had touched the forks that had been in the mouths of black men. If dogs had eaten off those plates, they'd have washed them."
To endure that kind of prejudice, he needed great mental strength, a quality he believed came from his parents. They instilled into their children "Faith in God, personal integrity, dignity, and a humble spirit," according to a plaque in the museum.
Breaking Into The Majors
In 1953 Aaron was playing for the Jacksonville (Florida) Tars in the South Atlantic League. The team's new owner, Samuel W. Wolfson, replaced the Tars with a minor league club named the Jacksonville Braves, which was affiliated with the Boston (soon to be Milwaukee) Braves. Wolfson brought in Aaron and two other black players, thus integrating the team for the first time.
It was a stellar year for Aaron. At the end of the season, the 19-year-old was named the league's Most Valuable Player, after which one pundit wrote, "Henry Aaron led the league in everything except hotel accommodations." Aaron and the other black players were not allowed to use the same hotels, cafes, bathrooms, or almost anything else whites used.
And then came the call from the majors. During a spring training game in March 1954, Milwaukee Braves left fielder Bobby Thomson fractured his ankle. The next day, Aaron was making his first spring training start for the Braves. The new left fielder even hit a home run that day. Aaron signed a major league contract on the final day of spring training and was given a Braves uniform with the number 5.
On April 13, 1954, Aaron made his major league debut. He went hitless in five at-bats against Cincinnati Reds left-hander Joe Nuxhall. But he was in the majors to stay.
The museum showcases Aaron's lifetime baseball exploits. And why not? "Hammerin' Hank" had an astonishing 23-year career. (See the accompanying sidebar that includes some of his statistics.) He remains on many top-10, best-ever batting lists. Not to mention the fact that he hit 755 home runs.
Displays at the museum contain uniforms, pictures, posters, paintings, and more. Also included is an enlargement of a baseball card blunder. The negative of Aaron's photo was accidentally reversed on his 1957 Topps card, making it appear as though the right-handed Aaron was batting left-handed.
Trivia for the true baseball aficionado awaits here. Did you know that in 1957, Aaron was moved from second in the batting order to the clean-up spot, and he began using a larger, 36-ounce bat? That year, he won the National League home run crown and was named NL Most Valuable Player.
The museum also contains a room dedicated to the Aaron family. It is filled with objects from the original home, including kitchen items used by the family; a photo of young Henry with his parents; and inspirational signs with family mottoes, such as "Rely on God, and act out the things you can change."
Setting A New Record
By the start of the 1974 baseball season, Aaron was 40 years old and needed only one home run to tie Babe Ruth's revered record of 714.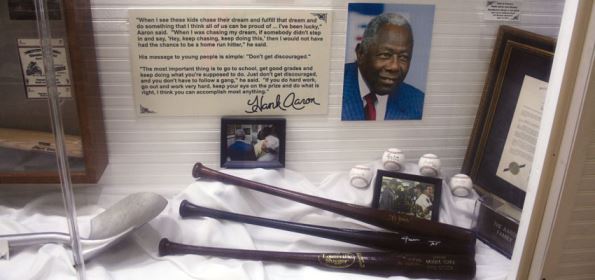 The previous season had been polarizing. Many people were angry that Babe Ruth might be bested by someone of color. Multiple, serious threats were made against Aaron's life as he got closer to that 715th home run. The sports editor of the Atlanta Journal prepared for the massive coverage of the home run record, but also secretly wrote an obituary for Aaron just in case he was murdered.
Aaron also received an outpouring of public support in response to the bigotry. Babe Ruth's widow denounced the racism and said Babe would have enthusiastically cheered Aaron's attempt. Cartoonist Charles Schulz created a series of "Peanuts" strips that supported Aaron. The U.S. Postal Service gave Aaron a plaque for receiving more mail (930,000 pieces) than any other person (excluding politicians).
On April 4, 1974, Aaron tied Babe Ruth's record while playing in the season opener in Cincinnati. And on April 8, he appeared in front of the Atlanta Braves' largest home crowd ever: 53,775 fans.
The video recording of Aaron's record-breaking at-bat is one of the most exciting aspects of the museum. Aaron faced Los Angeles Dodgers pitcher Al Downing, who wound up and fired the ball. Dodgers radio announcer Vin Scully described the scene: "What a marvelous moment for baseball; what a marvelous moment for Atlanta and the state of Georgia; what a marvelous moment for the country and the world. A black man is getting a standing ovation in the Deep South for breaking a record of an all-time baseball idol. And it is a great moment for all of us, and particularly for Henry Aaron."
Hank Aaron stopped playing at the end of the 1976 season. Afterward, he was feted by some of his peers. Pitcher Curt Simmons said, "Trying to throw a fastball by Hank Aaron is like trying to sneak a sunrise past a rooster." Mickey Mantle noted, "As far as I am concerned, Aaron is the best baseball player of my era. He's never received the credit he's due."
At this writing, active Hank Aaron is 82 and lives in the Atlanta, Georgia, area.
Visit The Museum And Watch A Game
If you time your trip during the baseball season, after visiting the museum you can drift a hundred feet away to Hank Aaron Stadium and watch the Mobile BayBears AA team play, and perhaps catch the early career of another player who could be beginning a grand march to the major leagues.
The Mobile BayBears are a minor league farm team for the Arizona Diamondbacks; they play from April through September.
The museum is open year-round, Monday through Friday, from 9:00 a.m. to 5:00 p.m., and during BayBears home games. Admission is $5 for adults and $4 for children 12 and under. The museum parking lot easily accommodates large vehicles such as motorhomes.
For more information about the Hank Aaron Childhood Home and Museum, contact:
BayBears Baseball
Hank Aaron Stadium
755 Bolling Brothers Blvd.
Mobile, AL 36606
(251) 479-2327
Email: [email protected]
www.mobilebaybears.com
Area Campgrounds
The following may not be a complete list, so also check your campground directory and the RV Marketplace, found online at FMCA.com and in the January issue of FMC.
All About Relaxing RV Park, C13085*
8950 Three Notch Road
Theodore, AL 36582
(251) 375-0661
www.allaboutrelaxingrv.com
Browns Mobile Home & RV Park
1619 Jasper Road
Mobile, AL 36618
(251) 342-3383
Pala Verde Mobile Home & RV Park
3525 Demetropolis Road #06
Mobile, AL 36693
(251) 660-7148
www.palaverderv.com
Paynes RV Park, C9406*
7970 Bellingrath Road
Theodore, AL 36582
(251) 653-1034
www.paynesrvpark.com
Shady Acres Campground
2500 Old Military Road
Mobile, AL 36605
(251) 478-0013
www.shadyacresmobile.com
*FMCA Commercial Member
Amazing Hank Aaron
Batted .300 or better for 14 seasons
One of only two players to hit 30 or more home runs in a season — 15 times
Drove in at least 90 runs during 16 seasons
Ended career with 2,297 RBIs, the most in history
First player to reach 500 home runs and 3,000 hits
Selected for 25 All-Star games; played in 24
Ended career with 755 home runs
Received the Gold Glove Award three times
Was given the Lou Gehrig Memorial Award in 1970
Was awarded the Presidential Medal of Freedom in 2002
Was inducted into the National Baseball Hall of Fame in 1982