Just shy of 34 feet long, this luxury diesel pusher offers nearly everything the "big boys" do.
By Mark Quasius, F333630
August 2017
Over the past several years, demand for smaller Type A diesel motorhomes has grown. Some RVers who own large, tag-axle diesel pushers wish to downsize within the same motorhome category, yet they don't want an entry-level coach that lacks the features to which they are accustomed. On the other end of the spectrum are millennials seeking a high-end motorhome that is 40 feet or less.
Introducing The New Aire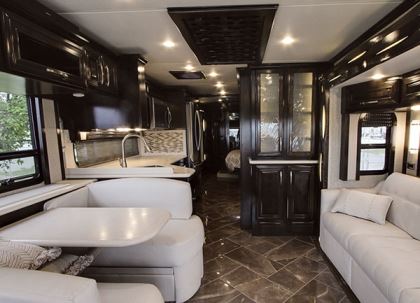 Designers at Newmar Corporation set about creating an original model to meet these criteria. The 21/2-year project resulted in the New Aire, a Type A diesel pusher that measures just under 34 feet long and is 12 feet 3 inches high. High-end features pack this motorhome, inside and out.
At this writing, two floor plans were available. I recently examined the 3343, which contains a full-wall curbside slideout and two street-side slideouts.
Freightliner designed a chassis specifically for the New Aire, in coordination with Newmar. This marks the first time Freightliner has built a short, side-radiator chassis with a 360-horsepower Cummins ISB engine and independent front suspension.
The coach has Newmar's Comfort Drive self-straightening steering wheel technology; a glass dash; and push-button ignition. The first of the automatic entry steps sits just 4 inches above the ground when the air-ride suspension is lowered.
Construction
The New Aire incorporates hung-sidewall construction, which Newmar uses in all of its motorhomes. Similar to residential home construction, this method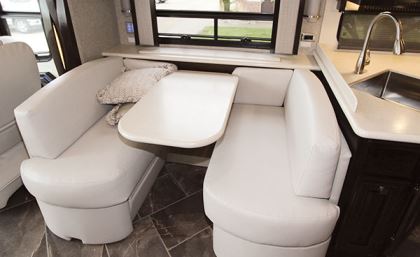 provides a strong foundation and excellent insulation properties versus vacuum-laminated foam. The walls and ceiling have high R-value insulation: an R-16 floor, an R-19 roof, and R-11 walls, with additional R-4 in the basement floor.
Newmar's STAR foundation strengthens the existing chassis frame and provides a solid base upon which to build — particularly important with this full-wall-slideout floor plan. HWH hydraulic leveling jacks are standard.
The chassis offers a 38,600-pound gross vehicle weight rating (GVWR), a 48,600-pound gross combination weight rating (GCWR), and a 10,000-pound-rated trailer hitch. The ZF IFS front axle, rated at 14,600 pounds, is matched by a 24,000-pound-rated rear axle, the latter a feature of  Freightliner's V-Ride rear suspension.
Both axles come equipped with Michelin 305/70R22.5 XRV series tires mounted on Accuride polished-aluminum wheels. The 6.7-liter Cummins ISB engine produces 360 horsepower and 800 pound-feet torque, and utilizes VGT engine braking. A 75-gallon diesel fuel tank and a 15-gallon driver-side DEF tank supply the engine, which is coupled with an Allison 3000MH six-speed automatic transmission.
Exterior
The New Aire features Newmar's Masterpiece full-paint finish. The Moonbeam exterior design, one of three available choices, graced the test coach. A pair of roof-mounted Girard awnings are placed into the molded roof fascia for a clean appearance. Stainless-steel trim on the bottom sides of the coach protects the lower edge of the baggage compartment doors and contributes to the vehicle's upscale look.
A keyless entry system controls the entry door (which has a doorbell) as well as the power baggage compartment locks. The test coach included a flag holder and a compact collapsible hammock as optional features; the latter attaches to the coach on one end. The New Aire's large, one-piece windshield offers a panoramic view, and Diamond Shield protective film covers the front cap.
Newmar has incorporated an emergency egress door in the street-side bath. This provides a second exit in the event the main door is blocked by fire or another emergency. Unlike other emergency doors I've seen in RVs, it is not designed for just one-time use. A ladder, new for 2018, makes stepping down from the coach easier.
Cockpit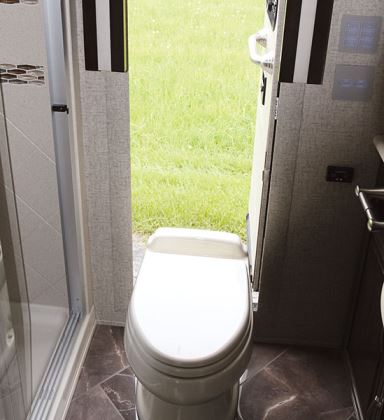 The newly designed cockpit is a driver's dream. The glass dash instrument panel seems to show every bit of information one might want, and it can be customized. Push-button ignition places this dash firmly in the 21st century. The New Aire is equipped with electronic stability control, antilock brakes, and a VIP Smart Wheel. Data from the optional OnGuard Collision Mitigation Adaptive Cruise system, plus trip and travel information, are displayed on the rearview monitor.
The dash and the passenger's side console have wireless charging mats for cell phones, tablets, etc. built in. USB outlets are plentiful in the cockpit area. Six-way driver and passenger seats with lumbar support and power footrests ensure that those up front will be relaxed after a day's drive. Heated seats are optional.
The New Aire's monitor system is another high point. Typical of such systems, the side cameras temporarily interrupt the rear camera view whenever the turn signals are used. But this monitor has a large, 9-inch screen located immediately right of the optional 9-inch Xite in-dash radio screen. The primary screen can display the entertainment features, such as the radio or auxiliary audio inputs, as well as the Rand McNally Trip Maker GPS software.
The audio output passes through a Harman/JB Lansing 180-watt sound system with subwoofer — definitely not your 1980s dash radio.
Another really cool feature is the Xite HD 360 camera system. A total of four cameras are mounted on the front, rear, and sides of the coach, near the top. These video feeds merge into one common feed, displaying a drone-like view from above. Selecting this 360 mode eliminates any blind spots when driving or maneuvering into a tight area.
Interior
The New Aire's interior is every bit as high-end as the rest of the vehicle. The Moonbeam décor package in the test coach, one of three choices, has Sable Maple cabinetry and woodwork. This and three other selections — Carmel Glazed Cherry, Wicker Glazed Maple, and Bermuda Glazed Maple — are offered in either a high-gloss or satin finish, for a total of eight wood finish choices. The test unit included the darkest wood and lightest furniture selections.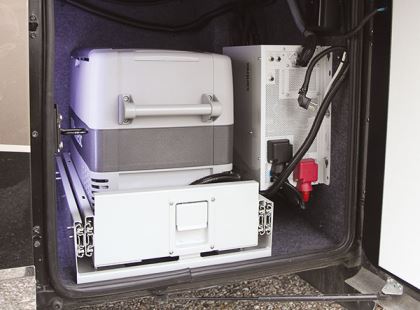 Porcelain tile flooring is used throughout the coach. Newmar's More Floor design enables tile to be placed in the slideouts; this provides one continuous flush floor when the slideouts are extended. The test unit contained optional underfloor heating.
Power day-night shades are located throughout, and a cathedral ceiling provides additional headroom in the bedroom. Six-panel interior doors contribute to the residential feel of this coach.
A jackknife sofa is standard, although an optional side-opening sofa bed is available. The standard booth-style dinette has a collapsible table that lowers into place to provide additional sleeping space. An optional Flexsteel-brand Euro booth dinette is also available. Ultraleather covers all furniture.
Entertainment Features
Immediately behind the dinette is a 48-inch Sony LED TV mounted on a power lift. The New Aire's entertainment system is top quality, with an additional 40-inch Sony LED TV in the bedroom and a Sony 40-inch LED TV in the outside entertainment center. All locations include Bose sound bars; the bedroom TV is paired with a Blu-ray player. (Another Blu-ray player is in the living area.) A roof-mounted Winegard Rayzar Automatic TV antenna takes the hassle out of finding off-air broadcast stations and locks onto them with a strong signal. A wide choice of satellite dishes is available; this coach featured an in-motion dome.
The coach also has Winegard's optional Cellular In Motion Wi-Fi, which requires a subscription through Winegard to provide a wireless hotspot and router wherever you travel. The standard system is the Wi-Fi Ranger SkyPro Pack router, which grabs an available Wi-Fi signal and rebroadcasts it securely through the coach for all wireless computer devices. The New Aire also features internet connectivity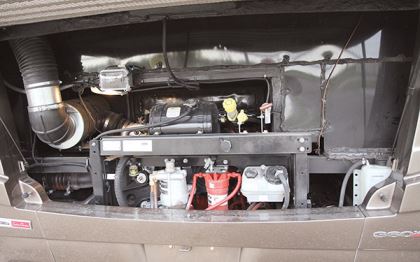 to allow remote access to your motorhome for monitoring and adjusting system settings, locking and unlocking the entry door, accessing the cameras, etc.
Kitchen Details
The galley has a solid-surface countertop, a base cabinet unit, and overhead cabinets. A 30-inch microwave-convection oven resides overhead. A single-basin stainless-steel sink is recessed into the countertop, as is an induction cooktop; removable covers come with both. A large, stainless-steel residential refrigerator with French doors and a pull-out freezer drawer stands next to the galley workspace and has an in-door dispenser for ice and cold water. On the other side of the fridge is a sizable pantry with pull-out drawers. An optional dishwasher drawer can be ordered. The galley area contains a Fan-Tastic Vent fan with rain sensor and a wooden louvered cover.
Immediately opposite the galley, on the wall facing the sofa, is an attractive dry bar for entertaining or serving.
Bath and Bedrooms
The bath contains a vanity with a flush-mounted sink basin and a solid-surface top, accompanied by a mirrored medicine cabinet. The bath also has a linen cabinet. A glass enclosure surrounds the shower stall; a fold-down seat is mounted to the solid-surface walls inside. Directly behind the Dometic porcelain toilet is the aforementioned emergency-egress door and retractable ladder; a window in the door can be opened for ventilation. Finally, the bathroom has a second Fan-Tastic Vent fan with rain sensor.
The rear bedroom has a queen-size bed with an optional radius-corner Sleep Number air mattress nestled into the curbside slideout (a queen bed with a pillow-top mattress is standard). The slideout has three windows, one on each side and a large window across the back of the bed. The latter is concealed by sliding wooden doors that open easily when additional light or ventilation is desired.
The Sony LED TV and Blu-ray player are located in the rear portion of the full-wall slideout on the opposite side of the coach. This area has cabinetry and a multilayered solid-surface vanity.
The rear bedroom wall has a large wardrobe with a wall safe and an adjacent laundry center with space for an optional stackable washer and dryer or for use as an additional wardrobe.
Basement And Utilities
Basement storage is impressive in this almost-34-foot-long motorhome. The front curbside compartment holds an optional Dometic 1.6-cubic-foot freezer on a slide-out tray. Immediately aft is a coach-wide storage compartment that contains dual power cargo trays. A pair of doors flank this opening on the curb side of the coach to provide easy access, a design I found preferable to excessively long doors that can get in the way when parked in cramped quarters. Next comes another large storage area that is accessible from the patio side of the coach. A smaller compartment, just aft of the rear axle, offers even more storage space.
The hinged rear engine hatch cover has gas struts for easy lifting. With it open, all of the service points for the engine are exposed for maintenance. Continuing around the coach to the driver's side, we find the side radiator, flanked by the DEF tank, which makes it easy to refill from the pump at a truck stop.
Just forward of the rear axle is the utility bay, which houses the New Aire's fresh water and sanitation needs: a power hose reel, a dump port for the 3-inch slinky sewer hose, a whole-house water filter, an outside shower fixture, and a Sani-Con Turbo macerator system. A molded tray in the compartment floor catches spills and has drain plugs to facilitate cleaning.
Moving forward, the next compartment contains an Oasis hydronic heating system, which also provides continuous domestic hot water, and a 50-amp power cord reel. An optional Dirt Devil central-vacuum system is also located there, as is a second hose port that allows use of the vacuum outside for cleaning the coach basement or a towed vehicle. One of the other compartments contains eight 6-volt AGM house batteries mounted on a slide-out tray.
Quiet Diesel Generator
The New Aire sports an Onan 8-kw Quiet Diesel generator mounted on a power slide-out tray in the front cap. An automatic-start module will fire up the generator in the event of low battery voltage or in response to an air-conditioning request from the thermostat. Both the generator and shore power pass through a TRC 40350-RVC automatic transfer switch, which also includes surge protection and low- or high-voltage protection.
A 3,000-watt Xantrex true sine wave inverter/charger powers many of the motorhome's electrical circuits so that it isn't necessary to run the generator when shore power is not available. Two 13,500-Btu low-profile air conditioners with heat pumps are fed through Newmar's Total Comfort ducting system, which distributes air quietly and efficiently to every area of the coach.
Impressions
Driving the New Aire exceeded my expectations; it was effortless and comfortable. Any concern I may have had about whether the 6.7-liter, 360-horsepower Cummins ISB engine would provide sufficient power quickly was dispelled. I found zero-to-60-mph acceleration times to be in the 38-second range — slightly faster than a 43-foot, 450-horsepower unit I've driven, as well as a similar 500-horsepower model.
Often, axle weights can creep very close to rated capacities, but my test coach came out quite favorably in that area as well. When weighed on certified CAT scales with full fuel and water as well as the driver, the New Aire registered at 32,260 pounds. The actual weight of the 14,600-pound-rated front axle was only 12,300 pounds, and the 24,000-pound-rated rear axle came in at 19,960 pounds, yielding a realistic cargo carrying capacity of 6,340 pounds. So, any worries about packing too much cargo in this motorhome can be put to rest.
With excellent handling; a smooth, comfortable ride; ample power and cargo capacity; and a competitive price tag in the diesel pusher category, Newmar's New Aire should serve RVers in search of a smaller package. It goes to show that bigger is not necessarily better.
SPECS
MANUFACTURER
Newmar Corporation, 355 Delaware St., Nappanee, IN 46550; (800) 731-8300; www.newmarcorp.com
MODEL
2018 New Aire
FLOOR PLAN
3343
CHASSIS
Freightliner XCS, side radiator
ENGINE
Cummins ISB 6.7-liter; 360 horsepower at 2,600 rpm; 800 pound-feet torque at 1,800 rpm
TRANSMISSION
Allison 3000MH Series 6-speed automatic
AXLE RATIO
4.78 to 1
TIRES
Michelin 305/70R22.5 XRV
WHEELS
polished aluminum
WHEELBASE
206 inches
BRAKES
front — air disc;
rear — air drum
SUSPENSION
front — independent front suspension;
rear — Freightliner V-Ride
ALTERNATOR
240 amps
BATTERIES
chassis — (2) 12-volt 1,900 CCA;
house — (8) 6-volt AGM
INVERTER
3,000-watt Xantrex true sine wave inverter/charger
ELECTRICAL SERVICE
50 amps
AUXILIARY GENERATOR
Onan 8-kw Quiet Diesel with automatic start
EXTERIOR LENGTH
33 feet 10 inches
EXTERIOR WIDTH
101.5 inches
EXTERIOR HEIGHT
12 feet 3 inches
INTERIOR HEIGHT
6 feet 9.5 inches
GROSS COMBINATION WEIGHT RATING (GCWR)
48,600 pounds
GROSS VEHICLE WEIGHT RATING (GVWR)
38,600 pounds
GROSS AXLE WEIGHT RATING (GAWR)
front — 14,600 pounds;
rear — 24,000 pounds
AS-TESTED WEIGHT
(weighed with full fuel, full water, and driver)
front axle — 12,300 pounds;
rear axle — 19,960 pounds;
total — 32,260 pounds
OCCUPANT & CARGO CARRYING CAPACITY (OCCC)
7,300 pounds
FRESH WATER CAPACITY
75 gallons
HOLDING TANK CAPACITIES
gray water — 60 gallons;
black water — 40 gallons
FUEL CAPACITY
75 gallons;
15 gallons DEF
FUEL REQUIREMENTS
diesel
PROPANE CAPACITY
N/A
WATER HEATER
Oasis hydronic heating system
HEATING SYSTEM
Oasis hydronic heating system
AIR-CONDITIONING
(2) 13,500-Btu low-profile with heat pumps
REFRIGERATOR
Samsung 19.7-cubic-foot 3-door stainless-steel residential with ice maker
TOILET
Dometic porcelain
WARRANTY
coach — 1 year/unlimited miles;
structural — 5 years
BASE SUGGESTED RETAIL PRICE
$357,918
PRICE AS TESTED
$402,737