Take a tour of the Tiffin Wayfarer, the first Type C motorhome produced by this highly regarded manufacturer of Type A coaches.
By Mark Quasius, F333630
October 2017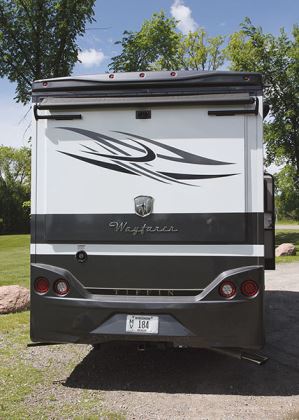 In early 2017, Tiffin Motorhomes made news by announcing its re-entry into the Type C arena after many years, with the debut of the Wayfarer. The family-owned manufacturer has been busy building motorhomes since the 1970s, beginning with the Allegro, its first model. With the recent surge of consumer interest in smaller motorhomes, it was the perfect time to introduce a Type C with the quality and livability for which Tiffin's popular Type As are known.
To accomplish this, a new 200,000-square-foot production facility was built in Winfield, Alabama, about an hour's drive from Tiffin's Red Bay, Alabama, facilities. This was done to take advantage of an increased labor pool and to have a location dedicated to Type C production.
The Wayfarer was introduced with one floor plan, the 24QW, which I was invited to review. Kings Camper in Wausau, Wisconsin, provided the test unit. It is equipped with a front street-side slideout and a second slideout that expands out the rear wall. At this writing, a second floor plan, the 24TW, had been unveiled, with plans for additional floor plans and larger models already in progress.
The coach is built on a Mercedes-Benz Sprinter 3500 Series diesel chassis. The attractive 25-foot Type C incorporates many of the upscale features found in the company's Type A motorhomes.
Construction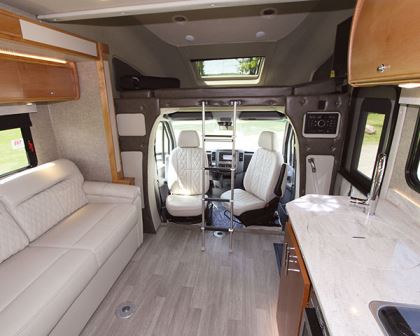 The Wayfarer utilizes the same vacuum-laminated construction found in Tiffin's Type A motorhomes. A one-piece fiberglass roof caps the coach. The unit is finished in full-body paint, which is applied at a new dedicated 30,000-square-foot, state-of-the-art paint facility in Winfield. The premium paint process involves seven layers of paint, culminating with a super-clear coat with UV protection. Scratch-resistant coatings protect the front of the motorhome as well as the stairwell and the entry door lock.
The Mercedes-Benz chassis is outfitted with a SumoSprings suspension and driver-assistance package, which includes lane-keeping assistance, collision prevention assistance, high beam assistance, heated mirrors, and a headlamp washing system. No, the coach won't drive itself, but handling it will be a bit easier. The Wayfarer is powered by a 3.0-liter, 6-cylinder Mercedes-Benz Blue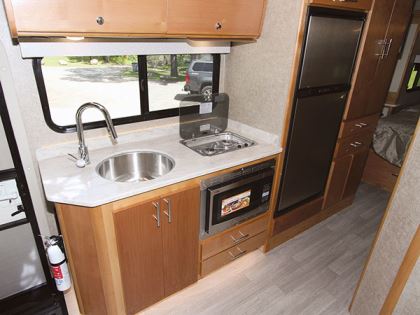 Tec turbo-diesel engine, which produces 188 horsepower. This fuel-efficient engine is fed by a 26.4-gallon diesel fuel tank and a 2.5-gallon DEF tank; the latter tank is stated to hold enough DEF for 5,000 to 10,000 miles of driving. A five-speed automatic tip-shift transmission delivers power to the rear axle, and LT215/85R16 tires with stainless-steel wheel liners are mounted all around. The coach is also outfitted with power rear stabilizers.
The Wayfarer has a gross vehicle weight rating (GVWR) of 11,030 pounds, a 15,250-pound gross combination weight rating (GCWR), and a stated net cargo carrying capacity of 1,150 pounds. A 5,000-pound trailer hitch is standard. The test coach was weighed with full fuel and water, a driver, and optional accessories. The scale showed a 3,580-pound front axle weight, a 6,620-pound rear axle weight, and a 10,200-pound total weight, leaving 830 pounds for additional cargo. With a front gross vehicle axle weight rating (GAWR) of 4,410 pounds and a rear GAWR of 7,720 pounds, that shows the weight is evenly distributed across the Wayfarer.
Exterior
This particular coach boasted the Obsidian full-body paint scheme, one of three available colors. Frameless windows lend a clean, streamlined look to the exterior. The stylish front overhead cap and rear cap are emblazoned with attractive chrome logos for a high-end look. A power awning with LED lighting is standard, and an optional exterior LCD TV creates a great area for patio-side entertaining.
The Wayfarer has 54 cubic feet of exterior storage that is distributed throughout numerous basement compartments. Its 11-foot-4-inch overall height and 25-foot-3-inch overall length let you fit into tight campsites. Another great feature is that the Wayfarer is equipped with Tiffin's patented SmartSlides slideouts — the same as used on the company's largest diesel Type A motorhomes. These slideouts feature molded one-piece composite construction and are seamless to eliminate any potential for water intrusion or leaks.
Interior
The floor plan of the compact 24QW, in typical Tiffin fashion, is designed for ease of access and functionality. With an interior height of 6 feet 8 inches, most taller persons won't have any headroom issues in the Wayfarer.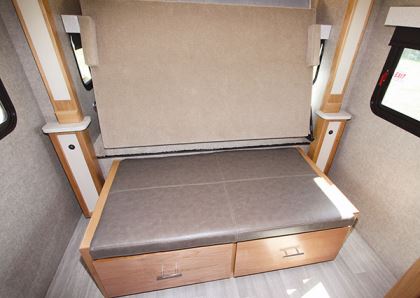 This particular coach was done with the Windsong interior décor, one of two available choices. Honey Amber Glazed Alder cabinetry and woodwork provides a bright and cheery environment, while Ultraleather fabrics and curved woodwork add to its high-end look. Vinyl flooring with a wood plank appearance and a soft-touch vinyl ceiling finish off the bottom and top of the interior, respectively.
An optional power shade blocks incoming light from the overhead window in the front cap, while roller shades provide privacy throughout the coach. All lighting is LED, controlled by a Spyder multiplex system. The device also controls the slideouts and displays holding tank and 120-volt-AC and battery voltage information. The coach comes prewired for satellite TV (2018 models will be prewired for solar panels). The test coach included two LED smart TVs: one in the main living area, and an optional second unit in the bedroom.
The comfortable cockpit chairs swivel to face the rear for additional seating when the motorhome is parked. The floor height of the main living area is a bit higher t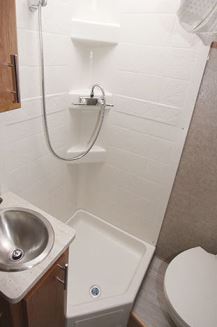 han that of the cockpit, so strapped cushions, which come with the coach, can be added to raise the seat bottoms as needed.
Instead of the standard booth dinette, the test coach contained an optional Ultraleather trifold sleeper sofa in a driver's-side slideout, offering additional sleeping space. A pair of tables are provided for use near the reversed cockpit seats and the sofa. Pedestal posts slip into recessed sockets in the floor, and the tables are set on top. When they are no longer needed, the tables are removed and stored.
The cockpit has power door locks, power windows, and heated power mirrors. A Kenwood DNX571TR in-dash entertainment center features Garmin GPS navigation software and doubles as the backup camera monitor.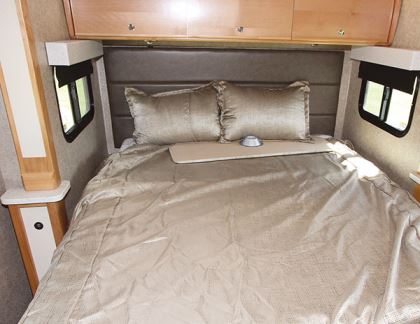 The galley has a two-burner gas cooktop with a tempered glass cover. The 6.3-cubic-foot propane-electric refrigerator is trimmed in stainless steel to match the stainless-steel single-bowl sink, which is flush-mounted beneath the countertop. A stainless-steel convection-microwave oven is mounted beneath the galley counter for easy access.
The bathroom has a shower stall and a vanity with a stainless-steel sink. Dual doors offer easy access to the bath and also can be used as privacy doors to separate this area from the front of the coach or the rear bedroom. The toilet is a porcelain pedal-flush model.
The bedroom holds a 60-inch-by-74-inch queen-size bed topped with a memory-foam mattress; the head of the bed is set in a slideout that extends out the rear of the coach. (In the 24TW floor plan, the bedroom incorporates 32-inch-by-76-inch twin beds that can be converted to an 86-inch-by-76-inch king-size bed.) The bed in the 24QW folds back to reveal a cushioned area beneath that can serve as seating. The optional bedroom TV can be viewed while in bed or from this seating position.
Utilities
The Wayfarer's AC power needs are met by a 30-amp power cord, an automatic transfer switch, and an Onan 3.2-kw diesel-powered generator. A 1,000-watt pure sine Magnum inverter provides 120-volt-AC power for selected receptacles, such as the entertainment system. The inverter and all of the 12-volt-DC devices are powered by a pair of Group 27 12-volt batteries. A 20-gallon propane tank is mounted in the forward-most driver-side basement compartment; it powers the cooktop, refrigerator, 6-gallon gas/electric water heater, and 30,000-Btu ducted propane furnace.
This coach was equipped with an optional 15,000-Btu air conditioner with heat pump to provide additional cooling and heating capabilities; a 13,500-Btu unit comes as standard equipment. The holding tanks retain 32 gallons of fresh water, 33 gallons of gray water, and 27 gallons of black water. All plumbing functions are controlled from a panel in the basement utility bay. Tank levels are also displayed on the multiplex control panel inside the coach.
Final Impressions
To launch this new venture, the designers at Tiffin Motorhomes relied on their experience in producing larger Type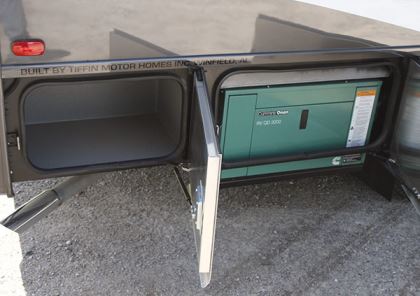 A motorhomes to develop a product that addresses the burgeoning interest in smaller coaches. Rather than just build a "me too" product, they did a great job of providing upscale features and amenities at a competitive price point, in my opinion.
This thoughtfulness of design also extends to the chassis. The SumoSprings and large dampeners yielded a great ride; the Wayfarer didn't exhibit the lean and rocking that I've experienced in many similar models. Nice, crisp handling and a smooth ride suggested that the Wayfarer was a vehicle you wouldn't mind spending some seat time in while covering miles. Plus, the maneuverability of a coach of this length lets it be taken places that may not be accessible in a larger motorhome.
The coach was quiet and comfortable. The floor plan was well thought out and surprisingly roomy for a 25-foot coach. An attractive exterior, plenty of options to choose from, plus a design with livability in mind make the Wayfarer a good choice for many potential buyers.
SPECS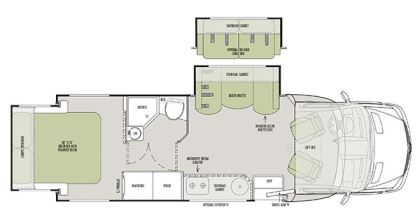 MANUFACTURER
Wayfarer by Tiffin Motorhomes,
625 Fawn Grove Road,
Winfield, AL 35594;
(205) 487-4710;
www.tiffinmotorhomes.com
MODEL
2017 Wayfarer
FLOOR PLAN
24QW
CHASSIS
Mercedes-Benz Sprinter 3500 Series
ENGINE
Mercedes-Benz Blue Tec 6-cylinder turbo-diesel; 188 horsepower at 3,800 rpm; 265 pound-feet torque at 1,400-2,400 rpm
TRANSMISSION
5-speed automatic
AXLE RATIO
3.92 to 1
TIRES
LT215/85R16
WHEELBASE
170 inches
BRAKES
antilock disc air brakes
SUSPENSION
front — heavy-duty springs and shocks;
rear — firmer rear springs (high center of gravity);
SumoSprings system
ALTERNATOR
220 amps
BATTERIES
house — (2) Group 27 12-volt, 180 amp-hours;
chassis — (1) 12-volt
INVERTER
1,000-watt Magnum
ELECTRICAL SERVICE
30 amps
AUXILIARY GENERATOR
3.2-kw Onan diesel
EXTERIOR LENGTH
25 feet 3 inches (24TW is 25 feet 7 inches)
EXTERIOR WIDTH
90 inches
EXTERIOR HEIGHT
11 feet 4 inches
INTERIOR HEIGHT
6 feet 8 inches
GROSS COMBINATION WEIGHT RATING (GCWR)
15,250 pounds
GROSS VEHICLE WEIGHT RATING (GVWR)
11,030 pounds
GROSS AXLE WEIGHT RATING (GAWR)
front — 4,410 pounds;
rear — 7,720 pounds
AS-TESTED WEIGHT
(weighed with full fuel and water, driver, and optional accessories)
front axle — 3,580 pounds;
rear axle — 6,620 pounds;
total — 10,200 pounds
OCCUPANT & CARGO CARRYING CAPACITY (OCCC)
approx. 850 pounds
FRESH WATER CAPACITY
32 gallons
HOLDING TANK CAPACITIES
gray water — 33 gallons;
black water — 27 gallons
FUEL CAPACITY
26.4 gallons;
2.5 gallons DEF
FUEL REQUIREMENTS
diesel
PROPANE CAPACITY
20 gallons; 16 gallons usable
WATER HEATER
propane/electric, 6 gallons
HEATING SYSTEM
30,000-Btu propane furnace
AIR-CONDITIONING
15,000-Btu Coleman with heat pump, optional; 13,500-Btu Coleman roof-mounted, standard
REFRIGERATOR
6.3-cubic-foot propane-electric
TOILET
porcelain with pedal flush
WARRANTY
coach — 1 year/12,000 miles, comprehensive; 3 years paint, lamination, structure;
chassis — 3 years/36,000 miles;
engine — 5 years/100,000 miles
BASE SUGGESTED RETAIL PRICE
$134,460
PRICE AS TESTED
$141,412