Meticulous planning and construction, as well as ongoing innovations, are evident in each Newell P50 motorhome produced by Newell Coach Corporation.
By Mark Quasius, F333630
Every now and then, a standard-bearer rises up, achieves greatness, and raises the bar for others. In the motorhome world, Newell Coach Corporation is highly respected as a leader when it comes to innovative engineering; cutting-edge style; and vehicles that exude luxury performance, durability, and quality.
You won't find any two Newells exactly alike. That's because each coach is built to a customer's specifications. Each client spends several days with the Newell design team. First, a draft floor plan is designed, and then refined as the process continues. Furniture, appliances, and fixtures are selected. The customer also addresses more than 20 pages of listed production options; custom requests are considered. The exterior paint design is laid out, and the interior décor is selected from an extensive array of exotic wood patterns, fabrics, fixtures, natural stones, and solid-surface materials. Once every aspect has been covered, construction can begin on the scheduled date.
Newells do not use a commercial bus shell or a purchased motorhome chassis. Instead, each chassis is custom-built from the ground up to suit the particular specifications and features chosen.
This article will detail one particular coach. Bear in mind that because each Newell is unique, it does not describe a "typical" Newell unit. However, the core values built into the company's vehicles extend across the entire line, so this review should serve as an accurate barometer for anyone considering a Newell.
Beginning The Build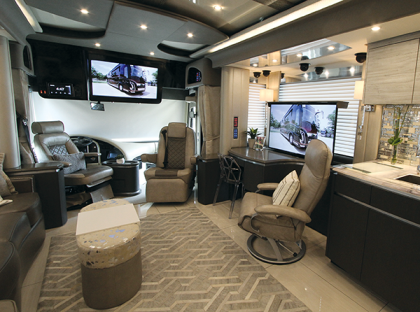 Rome wasn't built in a day, and neither is a Newell. To achieve the quality customers expect, skilled technicians spend thousands of labor-hours over 5 1/2 months to build a Newell motor coach.
Construction begins in the frame shop, where skilled welders and fabricators custom-build each chassis, allowing for different size fuel tanks, under-floor bay dimensions, and holding tank sizes and locations. Chassis components such as the axles, suspension, and drivetrain are installed and connected.
The unit then receives a 7-inch-thick floor composed of high-density structural foam sandwiched between layers of ¾-inch plywood. Slideouts incorporating low-friction ball bearings, drop-down "flat floor" mechanisms, and small but powerful electric drive motors are installed and tested.
Traditional motorhome construction utilizes prefabricated wall assemblies set on top of the floor. Newell employees build the coach walls and roof structure by creating a welded-aluminum skeleton, similar to aircraft fuselage framing. This creates a semimonocoque structure that distributes stress evenly across the entire chassis. This unified body and chassis structure greatly reduces flex, resulting in a smooth and stable ride.
Aluminum skin is applied over the skeleton, and every seam is sealed. The first of two high-pressure water tests is performed.
Electrical wiring is installed within the walls and ceiling. Next, high-R-value foam insulation is sprayed on the inside surfaces of the body and shaved off to create a smooth, flat surface before these areas are fully lined with exterior-grade plywood. Mat-reinforced fiberglass front and rear end caps — designed to be stronger than fiberglass created with blown fiber — are installed.
Following these steps, the coach receives its interior partition walls and any additional wiring and plumbing. All plumbing is run within the thick floor rather than hung in the basement area. The exact pitch for proper drainage is set, and the floor is reinsulated around the drain lines.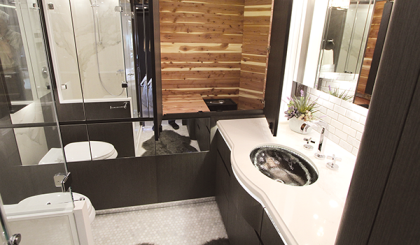 Over the next few months, wall coverings are added and the finished floor, appliances, and other furnishings are installed. Final wiring and connecting of the coach's advanced systems is then performed. Two 2,800-watt Outback inverters are installed, and an advanced-technology multiplex wiring system is connected and programmed.
Once the basic construction is complete, the coach heads to the paint shop, where Sikkens base coat/clear coat urethane paint is applied to the exterior to achieve the particular scheme desired by the customer. Several layers of clear urethane are applied over the color coat, with careful hand sanding between coats to achieve that deep under-glass look for which Newells are known.
After more than 100 hours of work in the paint shop, the coach moves to final fit and finish for mirrors, awnings, and other external accessories to be added. At this time, the interior also receives its final touches, including the installation of towel bars and other accessories as specified by the client, along with a detailed cleaning.
A series of five road tests gauges the performance of the engine, transmission, suspension, and steering. Inspections are performed, and any deviations are documented and addressed. A smoke test is completed to identify any air leaks for correction. At this time, the second water test is completed.
Once the coach is ready, it is presented for a final executive review by the management team before being signed off as complete. The review by engineering and management is the final step in a long series of quality-control inspections that take place during the 5 1/2-month build time.
Common Features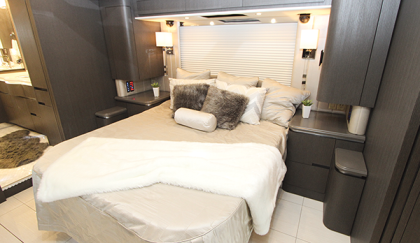 While every Newell is one of a kind, numerous features are common to most coaches the company produces. Each custom-built chassis is equipped with a 605-horsepower Cummins X15 Performance Series diesel engine that produces 1,950 pound-feet of torque. Newell's StabilRide active air suspension, developed in partnership with and produced in Germany by ZF Friedrichshafen, features twin A-frame independent front suspension and large outboard air bags on the drive axle to minimize roll. The suspension is fitted with computer-controlled dampers that react within a 10-millisecond response time to vary the damping as needed for maximum riding comfort and minimum roll or brake dive. The suspension can be adjusted at the instrument panel to vary the ride and handling between "Comfort" and "Sport" to suit each driver's personal taste.
Newells also are equipped with EasiSteer electronically assisted steering, manufactured for the company by the TRW division of ZF. EasiSteer minimizes the effects of crosswinds and road camber; the amount of power assist is driver-adjustable. The tag axle features ZF active steering, allowing the tag axle tires to rotate up to 21 degrees, thereby reducing the turning radius. Active tag axle steering produces tighter turning than a liftable tag axle and is a Newell exclusive among North American motorhomes and bus conversions.
Newell's exclusive Intrepid coach management system incorporates a digital glass instrument panel that can be customized to emulate a number of analog or digital gauge layouts. Intrepid also features extensive diagnostic functions.
Newell places a 20-kw diesel-powered generator in the front cap, ahead of the front wheels. A large fiberglass access door swings up to reveal a soundproof enclosure with a second sound barrier, a pair of swing-out insulated steel doors.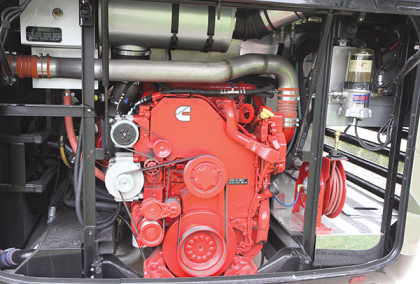 Most RV generators provide intake air and exhaust air through their radiator. This requires a large hole in the enclosure, allowing engine noise to escape. Newell seals the generator enclosure and remotely relocates the generator radiator in a midship basement compartment. A large squirrel-cage blower pushes air from the radiator to the ground below. The result is whisper-quiet operation available in no other coach I've seen.
Newells are exceptionally suited for cold-weather use. Coach interior heating and domestic hot water needs are handled by a large Aqua-Hot 675D hydronic heating system, producing up to 65,600 Btu. The diesel burner is augmented by a pair of electric heating elements and can provide continuous domestic hot water. Both the generator exhaust and the hydronic system's diesel burner exhaust exit out the rear of the motorhome. Electric in-floor heating keeps the polished ceramic tile floors throughout the coach toasty in cool weather.
A pair of compressors supply the coach's air system to provide automatic leveling at all times, as well as air to power pneumatic pocket doors. Four ducted 15,000-Btu air conditioners (with heat pumps, on request) keep the coach comfortable on hot days.
Newell slideout mechanisms are like none other and resemble something out of the Space Shuttle more than an RV. Flush-floor slideouts move quietly and smoothly. When they reach full extension, a panel raises up to fill the gap in the floor where the slideout floor was. You have to look closely to find the joints, because the fit is perfect and looks just like the grout joints in the rest of the floor. When the slideout is retracted, this panel drops down into the floor, and the slideout takes its place. Again, the joint is indistinguishable. Pneumatic seals inflate when the slides are extended and also when retracted for travel, providing an airtight seal and a quiet drive.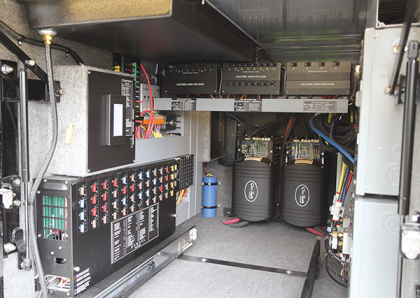 Naturally, a coach of this caliber is filled with tons of accessories and electronics that require power. In addition to the 20-kw generator, a 50-amp shore power supply, a 90-amp surge-protected transfer switch, and two 2,800-watt Outback true sine wave inverters are integrated into a system that monitors power usage and can automatically control the loads or start the generator as needed. In addition, 4K LED TV screens are located throughout the coach and integrated into a multiplexed central entertainment center system with audiophile-grade components.
Security cameras are also linked to this system. Three touch-screen panels throughout the coach interface with the Intrepid coach management system to allow access to environmental control, the entertainment system, shades, lighting, and other systems. An iPad wireless tablet also provides access to these systems, as do switch control panels in various locations.
Newell has partnered with Porsche Design for 15 years to create cutting-edge style with timely updates. The front cap sports LED headlamp accent lighting. The latest style features an attractive black glass front cap, backlit to display the Newell logo. The glass front also makes for easy cleanup of bug splatter and eliminates paint chips. The redesigned rear cap features attractive new sculptured styling. Integrated patio awnings, overhead-mounted exterior mirrors, and twin exhaust diffusers all contribute to the eye-popping beauty of this ultra-luxury motor coach.
Road Test And Review
When behind the wheel of the Newell P50, you'll quickly realize this isn't like any other coach. The digital glass dash brings up plenty of useful information without crowding the display. The EasiSteer steering assist made for effortless handling and mitigated crosswinds. An adjustable control on the instrument panel allows the driver to select the amount of assist desired. The StabilRide active suspension reacts instantaneously to any changes; it provided excellent control without sacrificing a smooth ride.
Based on the 57,530-pound wet weight with driver and a 63,300-pound gross vehicle weight rating (GVWR), our particular coach had 5,770 pounds of cargo carrying capacity. Weight distribution between the left and right sides was excellent, showing Newell designers' attention to this important factor. Towing capacity is also a nonissue, with a 25,000-pound Class V hitch and an 88,300-pound gross combination weight rating (GCWR).
With the unit's 605-horsepower engine, I had no problem getting the coach up to speed. The 1,950 pound-feet of torque in the big 15-liter Cummins X15 let the coach purr along at low rpm without my having to downshift on most grades. When I was maneuvering in tight spots, the active tag axle made coach turns nice and sharp. I felt as though I were piloting a motorhome less than 40 feet long rather than a 45-foot model.
The P50 was very aerodynamic, and wind noise was virtually nonexistent. The 7-inch-thick insulated floor, flush-mounted slideouts with exacting tolerances, integrated awnings, and slideouts and entry doors with inflatable pneumatic seals all contributed to an extremely quiet ride.
The P50 celebrates Newell's 50th anniversary and raises the bar even higher when defining a true luxury motor coach. At a typical price of $2.1 million, Newells obviously appeal to a select group of customers. At this price point, the value is tremendous. In addition to their glamorous looks, these coaches embody Newell's commitment to innovation, exacting detail, and creative styling to deliver an incomparable RV experience.
SPECS
(Although Newell coaches are designed individually to customer preferences, the following information is representative of the company's offerings.)
MANUFACTURER
Newell Coach Corporation,
3900 N. Main St., Miami, OK 74354;
(888) 363-9355;
(918) 542-3344;
www.newellcoach.com
MODEL
Newell P50
CHASSIS
custom
ENGINE
Cummins X15; 605 horsepower @ 1,600 rpm;
1,950 pound-feet torque @ 1,150 rpm
TRANSMISSION
Allison 4000 MH 6-speed automatic
AXLE RATIO
3.82 to 1
TIRES
front and tag axles — Michelin XZA 365/70R22.5, load range L;
drive axle — Michelin XZA-2 315/80R22.5, load range L
WHEELBASE
client's choice from 242 inches (40-foot) to 302 inches (45-foot)
BRAKES
pneumatic disc with 6-channel ABS
SUSPENSION
StabilRide active suspension by ZF
STEERING
ZF variable-ratio power steering with ZF/TRW EasiSteer variable electronic steering assist
ALTERNATOR
500 amps
BATTERIES
house — (6) 8D series AGM;
chassis — (2) 8D AGM;
PulseTech automatic equalization
INVERTER
(2) 2,800-watt Outback true sine wave
ELECTRICAL SERVICE
50-amp shore power;
90-amp SurgeGuard automatic protection
AUXILIARY GENERATOR
20-kw Martin turbo-diesel
EXTERIOR LENGTH
45 feet
EXTERIOR WIDTH
102 inches
EXTERIOR HEIGHT
13 feet 3 inches
INTERIOR HEIGHT
7 feet 5 inches
GROSS COMBINATION WEIGHT RATING (GCWR)
88,300 pounds
GROSS VEHICLE WEIGHT RATING (GVWR)
63,300 pounds
GROSS AXLE WEIGHT RATING (GAWR)
front — 20,000 pounds;
rear — 28,600 pounds;
tag — 16,000 pounds
AS-TESTED WEIGHT
(weighed with driver and full water and fuel tanks)
57,530 pounds
OCCUPANT AND CARGO CARRYING CAPACITY (OCCC)
7,770 pounds
FRESH WATER CAPACITY
143 gallons, standard; 184 gallons, optional
HOLDING TANK CAPACITIES
143 gallons, standard; 184 gallons, optional; single tank with gray and black water combined
FUEL CAPACITY
200 gallons
FUEL REQUIREMENTS
diesel
PROPANE CAPACITY
N/A; all-electric coach
WATER HEATER
Aqua-Hot 675D hydronic, continuous; diesel and electric
WATER SYSTEM
Headhunter Mach 5 — main pump;
Seaflo 51-Series — auxiliary
HEATING SYSTEM
Aqua-Hot 675D hydronic, diesel and electric
AIR-CONDITIONING SYSTEM
(4) ducted 15,000-Btu units; with heat pumps, on request
REFRIGERATOR
GE Monitor built-in side-by-side; 21.2 cubic feet
TOILET
Headhunter Bravo
WARRANTY
2 years/unlimited miles
SUGGESTED RETAIL PRICE
approximately $2.1 million fully equipped; varies by customer specification