Explore the Northwest volcanic region. Idaho's Craters of the Moon and Washington's Mount St. Helens each reveal the dramatic results of geologic activity.
By Rhonda Ostertag
"Wonderland" may not mean "postcard pretty" when it comes to volcanic lands. But the western United States has a rich volcanic legacy, and a couple of spots in the Pacific Northwest encapsulate a geologic story and a peculiar splendor.
Both of these volcanic spots have been active relatively recently. Craters Of The Moon enfolds a collection of volcano flows, some only 2,000 years old, which is young by geologic time. And Mount St. Helens erupted in 1980, a clear memory for many people still RVing. Both sites welcome discovery.
Craters Of The Moon National Monument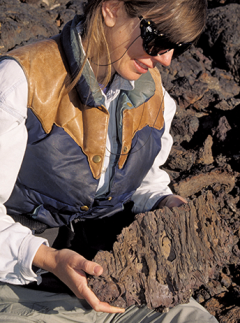 At the northern extent of the Snake River Plain in Idaho, southwest of the town of Arco, this area at first appears forbidding. A minimalist palette of black, gray, and dusky shades greets the eye. But blue skies and bluebirds and bright, fragile blooms stand in shocking contrast. And mule deer and red foxes strain belief. How could anything live here? Surprisingly, 750 kinds of plants and nearly 300 animal species find niches at Craters of the Moon.
The lava resulted from fissure eruptions along the Great Rift, serial deep cracks that stretch through the parkland and trend southeast for more than 50 miles. It was called "A mass of black vomit" by Oregon Trail pioneer Julius Caesar Merrill. When President Calvin Coolidge signed the order to preserve the area in 1924, he described it as a "weird and scenic landscape peculiar to itself." The large, hardened expanse leaves a footprint visible from space, and it clears the way to perfect stargazing. In 1969, Craters of the Moon helped Apollo astronauts prepare for the barren moonscape they would find.
Snaking ropes of "pahoehoe" lava, which has a smooth surface, and "a'a" lava, with a jagged surface, vary the terrain, as do spatter cones and vegetated islands. Craters of the Moon has no single huge volcano, but rather more than 25 cinder cones (small volcanoes) and 60 lava flows that are between 2,000 and 15,000 years old. The landscape also has lava tubes, sinks, and pit craters. Apt names for areas include Devils Orchard, Inferno Cone, Blue Dragon Flow, and Green Dragon Flow.
Stopping for a closer look dispels the first impression of sameness. Guided walks can help focus attention, sort through the geology, and reinforce the gee-whiz factor of the shapes.
The surface portion of the park is explored via the 7-mile loop road, as well as at viewpoints; short, accessible trails; and longer hiking trails. Going underground and poking into the caves (lava tubes) requires a flashlight for each explorer. Uneven ceilings and floors are unforgiving, and depth perception departs in the dark. Boots (no open-toe or canvas shoes) and hats should be worn.
Lava tubes form when the outer lava cools rapidly and the hot interior continues to flow, leaving behind hollowed-out shells. They lack the ornamentation of limestone caves, but lava tubes do have "lava-cicles," a kind of boxwork and waterdrop bejeweling. Some tubes are simply gape-mouthed openings, while others have short, dark passages. Some have breaks admitting brief, blinding light. Boy Scout Cave is a longer, classic tube that seasonally holds ice and water. Swallows and pigeons favor the openings.
The 2-mile hike to the Tree Molds is worthwhile. It traverses flow-edge habitats to the natural lava castings of trees, including logs, branches, and bark imprints from a forest that stood when the flow ran hot.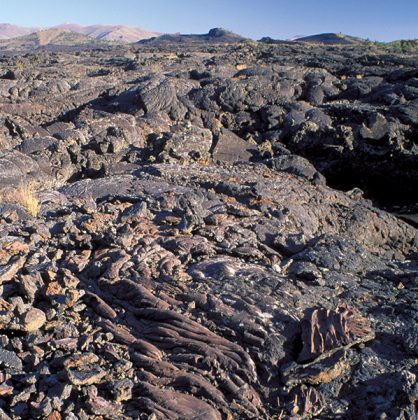 Human history here can be traced back to the northern Shoshone Indians, who left evidence of temporary shelters and hunting blinds. During pioneer migration on the Oregon Trail, Tim Goodale popularized a cutoff that skirted the edge of the flow and passed through what is now the park. The bypass roughly followed an old Shoshone trace. Modern U.S. 20 traverses sections of each.
The in-park campground is primitive, but it does permit pets. Search online or check your campground directory for other options. Note that the park website urges visitors not to rely on digital navigation systems to reach it. See the website instead for GPS coordinates and/or maps.
Mount St. Helens National Volcanic Monument, Washington
In southwest Washington (approximately two hours northeast of Portland, Oregon), this blunt-topped mountain and its riveting tale continue to cast a spell. On May 18, 1980, Mount St. Helens stunned a nation as it became the first U.S. mainland eruption since California's Mount Lassen blew in 1915. The eruption was televised, giving the nation a front-row seat to the geologic chaos and repercussions of a mountain come alive.
The blast removed 1,300 feet from the mountain's cap in a 570-degree heat cloud of rock, pumice, and ash, rerouting rivers and streams and unleashing a scouring force of mud and debris. The eruption killed 57 people and an untold number of wildlife, and transformed 230 square miles. Today what's left is a living laboratory and a testament to nature's resilience.
Overnight backcountry camping is restricted to certain areas. Day visitors head for visitors centers, which have exhibits that aid in understanding the volcano. Major roads have been upgraded to two-lane paved routes, and parking is suitable for motorhomes. But some roads, like Forest Service Road 99 to Windy Ridge Interpretive Site, are narrow and best taken with a towed vehicle.
Spirit Lake Memorial Highway (State Route 504), a scenic byway, is the celebrated "yellow brick road" to the volcano. It travels east along the Toutle River drainage, so called because the eruption caused a massive landslide. The road ends at Johnston Ridge Observatory, 5.5 miles from the active crater.
Mount St. Helens' eruption and aftermath are the focus at the state-run Mount St. Helens Visitor Center on State Route 504 (just minutes east of Interstate 5). It is an excellent stop with films, exhibits, talks, and volcano views.
Continuing eastward on State Route 504 leads to Castle Lake Viewpoint, which offers first views of Mount St. Helens, Castle Lake, and the landslide terrain. Farther east is Coldwater Ridge Visitor Center, where you can examine changes to Coldwater Valley, including the lake's creation by a debris avalanche dam.
Kayaking and fishing now take place on Coldwater Lake, and beavers have staked a claim. Birth of the Lake Interpretive Trail offers an up-close look.
At Milepost 33 is the Forest Learning Center, a cooperative venture supported in part by the Weyerhaeuser paper company, which runs timber farms here. The educational center is open from Memorial Day to the weekend after Labor Day, and the store, trails, and play area are open through October. Admission is free.
A separate yet similarly named spot is the Science and Learning Center, at Milepost 43.3, run in cooperation with the U.S. Forest Service. There, the Winds of Change Trail examines an area of stumps, logs, and snags from the blast. Elk Bench Trail, which links to the Lakes Trail, provides Coldwater Lake views and chance elk sightings.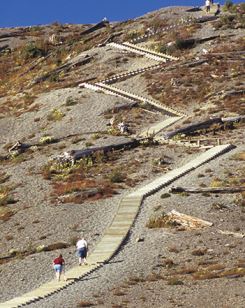 The Johnston Ridge Observatory is at the end of State Route 504, and the closest you can drive to the volcano. This place is named to honor U.S. Geological Survey volcanologist David Johnston, who was killed at an observation post 6 miles from the mountain when it erupted. Views from the center that bears his name reveal the lava dome, crater, pumice plain, and landslide deposit. The paved Eruption Trail switchbacks to the ridgetop for additional volcano views.
Another way to see the volcanic landscape is to arrive via State Route 503, a road that loops around off of Interstate 5. Exit I-5 near Woodland and take 503 to Forest Road 83's trails and attractions, including Ape Cave. Ape Cave is the third-longest lava tube in North America (almost 2.5 miles long), created by an eruption 1,900 years ago. The lower route's smooth-surfaced floor offers fairly easy walking; the upper route challenges with rubble underfoot and squeezing, ducking, and scrambling. The cave temperature is 42 degrees. Carry two light sources per person. Under lantern light (rentals seasonally available), the flicker, shadows, and sense of the unknown add to the wonder.
The cave's name likely can be traced to the St. Helens Apes, a group of foresters who sponsored a scout troop that first explored the cave in the 1950s. Their name, in turn, comes from the mythological "brush ape" — or Bigfoot — spoken of by old-timers.
Aside from the Johnston Ridge Observatory, one other location puts you closer to the volcano. Windy Ridge Interpretive Site is accessible from Forest Road 25 and Forest Road 99, which are to the east/northeast of Mount St. Helens. The route travels a remote area, passing between remnants of the blast and untouched forest, and leads to spots such as Miners Car Interpretive Site, Meta Lake, Norway Pass (a popular trailhead), Spirit Lake, and finally to Windy Ridge. The remains of a car at Miners Car Interpretive Site recall the power of the blast. Its owners died in a nearby cabin, adding to the mountain's death toll.
At Windy Ridge, young and old alike brave the wind, making the many-staired ascent to a world-class vantage of four Cascade Range volcanoes; the devastation; the log-filled Spirit Lake; and Mount Margaret.
Backcountry camping is available (permit required) in restricted areas of Mount St. Helens National Volcanic Monument. Private campgrounds are situated in outlying towns, state parks, and Gifford Pinchot National Forest; the closest communities are Castle Rock, Cougar, and Randle, with more services in Woodland and Kelso-Longview.
No matter where you meet the mountain, St. Helens has a story to confide. And, like Craters of the Moon, it's one that is amazing.
Further Info
Craters Of The Moon National Monument And Preserve
P.O. Box 29
Arco, ID 83213
www.nps.gov/crmo
(208) 527-1300
Mount St. Helens National Volcanic Monument
42218 N.E. Yale Bridge Road
Amboy, WA 98601
(360) 449-7800
www.fs.usda.gov/mountsthelens
State-run visitors center: www.parks.state.wa.us/245/Mount-St-Helens
General info: www.mountsthelens.com