Gain insight into the lives of America's third, fourth, and fifth presidents as you tour their Virginia homes.
By Anna Lee Braunstein, F351629
March 2018
Many Americans know that more U.S. presidents were born in Virginia than any other state. Three of the eight commanders in chief made their permanent homes near Charlottesville, within a day's journey of each other. That distance takes less than an hour to traverse today. The third, fourth, and fifth presidents impacted the early development of the United States. Each was an intellectual, a family man, and a slave owner.
To visit the homes of Thomas Jefferson, James Madison, and James Monroe is to learn how these leaders shaped the country. All three sites are open year-round, and all can be seen in one day if you are pressed for time. But don't be. Take all the time you can afford.

Jefferson's Monticello
Thomas Jefferson held many titles: author of the Declaration of Independence; governor of Virginia; minister to France; secretary of state; vice president; and, from 1801 to 1809, president. The Louisiana Purchase and the Lewis and Clark expedition occurred with his oversight. But it was the home and the plantation he inherited, Monticello, that showcases his many skills and talents.
Jefferson spent more than 40 years at Monticello, and while there he expanded it from 14 rooms to 33, accommodating family and friends who lived there. Martha Jefferson, his wife, died at the age of 33, so their daughter, also named Martha, took over the duties of running the spacious house. One section was set aside to accommodate visits from his close friend, James Madison, who lived a daylong ride north.
Along with the house and its furnishings, visitors see many of the devices Jefferson invented, such as a revolving book stand. An avid reader, he once possessed a 6,700-volume library. After the British destroyed much of the library at the U.S. Capitol in 1814, Jefferson sold his collection, and the volumes became the foundation of the Library of Congress. Yet he couldn't stop acquiring books. When he died in 1826 at age 83, his home library held about 1,600 volumes.
Alongside the house are vegetable gardens filled with bounty. Jefferson used the gardens to experiment with a variety of plants. Farther on stand groves of trees he planted more than two centuries ago. And out beyond are the acres of land where tobacco and grains were grown and where the farm slaves lived.
Virginia was a slave state, and although Jefferson considered slavery the greatest threat to America and advocated for its abolition, he owned slaves his entire life. Beneath the main house are rooms where some of them worked, and near the house is Mulberry Row, where the slaves lived. A path leading from the house passes the cemetery for family and friends. In a separate, bare area is the burial site of unknown and unnamed slaves who toiled at Monticello.
Monticello offers a broad range of day and evening tours of the house, gardens, and slave quarters. The new Hemings Family Tour provides an in-depth narrative of slavery at Monticello and the story of John Hemings, a talented carpenter and woodworker, and half-brother to Sally Hemings, with whom it is believed Jefferson had a relationship. Because of the range and number of tours, Monticello is worth a two-day visit. For details, visit www.monticello.org.

James Madison's Montpelier
Thirty miles northeast of Monticello is the home of the fourth U.S. president (1809 to 1817), James Madison. Madison was a member of the Continental Congress and is considered the father of the Constitution. He was the prime leader in appending the Bill of Rights to the Constitution. As secretary of state, he supervised the Louisiana Purchase.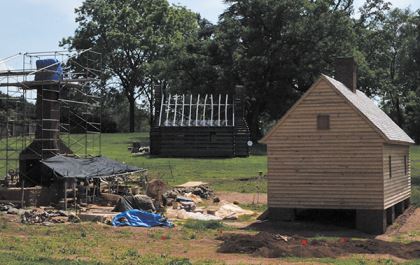 His home, Montpelier, completed in 1765 in the Georgian style, was remodeled when he and his famous wife, Dolley, returned to live there in 1817 after his presidency. Madison's ancestor obtained the property via "patent," or what we would consider homesteading. James and his 11 siblings were the third generation on the land. The remodeled house was a duplex, with James' parents living on one side and James, Dolley, her son, and her sister on the other.
More than most wives of the time, Dolley Madison has her own place in history. She is considered the social power behind her husband's political success. Described as "the Queen of Hearts" for her charm and vitality, she decorated the dining room to impress important visitors and held fine parties where guests could discuss the issues facing the new nation. She is credited with saving the Gilbert Stuart portrait of George Washington during the British attack on the White House in the War of 1812. Today, she is perhaps as well known as her husband, as over the years her image has been placed on cigar boxes, baked goods, and household products. Examples of many of these are displayed at the Montpelier visitors center.
Paul Jennings, a slave owned by Madison, wrote A Colored Man's Reminiscences of James Madison, a story considered an essential documentation of American history. His great-great-great-granddaughter now serves on the Montpelier board of directors. During Montpelier's Enslaved Community tour, guides tell of the "odious" dichotomy between Madison's attitude toward slavery and his ownership and dependence upon slaves. They also discuss his membership in the American Colonization Society, which sought to establish the African country of Liberia for freed blacks.
A visit to Montpelier begins with a movie about the three generations of Madisons. Tours of their home and plantation start in the visitors center. The Signature Tour tells the general story of James Madison and his home. On weekends, more extensive tours are offered, including one focusing on Madison and the Constitution, and another on the landscape of the area. Eight miles of hiking trails are open for exploration. Details for your visit and videos about Montpelier are available at www.montpelier.org.

James Monroe's Highland
The property where James Monroe, the fifth U.S. president (1817 to 1825), lived is now a part of the campus of his alma mater, William and Mary College. Like Monticello, it is near Charlottesville (and only a few miles south of Monticello), so you may want to consider visiting these two sites one right after the other.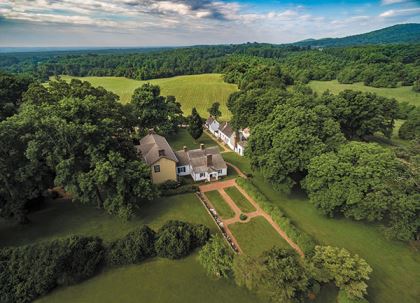 The foundation for Monroe's original dwelling was uncovered in 2016 by archaeologists; it was built in 1799. Monroe sold most of his land in 1826. This large home probably burned in the mid-1800s. Today, ongoing excavations reveal glass, ceramic, and other artifacts from the original site.
The home that is still standing, which people identified for years as Monroe's, is now recognized as a later-built dwelling, probably used as a guest house. Described as a "cabin-castle," the home may be small in size but is rich in content, with furniture crafted by such American artists as Duncan Phyfe and collections from the Monroes' travels in France. A copy of the painting "Washington Crossing the Delaware" shows 18-year-old Lt. James Monroe clasping the American flag.
Monroe was a U.S. senator; minister to France, England, and Spain; and president for two terms, until 1825. The Monroe Doctrine declared a new United States policy against foreign expansion in South America and North America. The Missouri Compromise, which established a balance between the number of slave states and free states, was passed during his presidency. A slave-holder himself, he feared the consequences of abolition, yet he saw evil in the institution. As a result, he joined Madison in backing the American Colonization Society.
A guided tour of Highland is available year-round. The Slavery at Highland tour is offered on weekends, April through October. The grounds and the newly excavated site can be seen on a self-guided tour. For more information about Highland, see www.highland.org.

More Area Sites
The University of Virginia, founded in 1819, is proof of Jefferson's reverence for higher education. He wanted an academic institution that emphasized science and did not require religious observance or religious education. Supporting the idea, James Madison donated the land.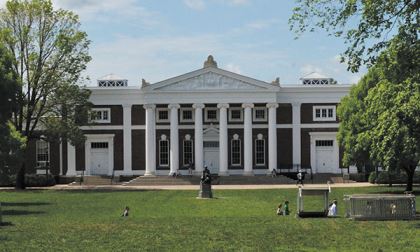 As suggested by a docent at the visitors center, we joined a student-led tour of the campus. Our guide expanded on the standard tour by giving us a firsthand perspective of living and studying on the campus designed by Jefferson. She told of the folly of the original students who were from wealthy families and spent much of their time carousing and brawling. Jefferson expressed his displeasure, but it took the shooting of a professor in 1840 to bring a climate of studied scholarship to the student body. Today, the university is a highly acclaimed institute of higher education and research.
At the center of the university, designed by Jefferson, is an open area called The Lawn, which is surrounded by the Academical Village. This is where professors and students merged learning and living. Among the renowned students at UVA was Edgar Allen Poe, whose room is preserved by the Raven Society. Beyond this central area, the university has expanded, sometimes maintaining Jeffersonian architectural ideas and, at other times, adding more modern ones.
The school's library has the Albert H. Small Declaration of Independence Collection, containing rare early printings of the Declaration as well as documents about its preparation and production. The library also contains copies of Shakespeare's Folios. On the edge of campus stands the University Chapel, which is used for special events.
Michie Tavern is an original, historic building that was moved near Monticello. In 1777 Cpl. William Michie established an "ordinary" along a road in Albemarle County. This ordinary, also known as a public house or tavern, was a central meeting place offering food and drink as well as entertainment. Among the many activities it hosted were dances, medical and dental treatments, and church services. During the Civil War, it became the Michie residence.
In 1927 the two-story building was moved near Monticello, where it is now a popular tourist attraction. On a self-guided tour, visitors find period items ranging from weapons to toys. After the tour, if they wish, they can enjoy Southern dining at the Tavern or simply sip a beverage in the shade outside. Shops inside offer souvenirs.
Downtown Charlottesville has a pedestrian-only outdoor mall lined with shops and restaurants. The town's visitors center is located on the east end of the mall. Shaded tables beckon you to relax with a cool refreshment. Charming statues add a touch of whimsy. On Saturday mornings from April through December, the Charlottesville City Market overflows with vendors offering locally grown meats and produce as well as craft items. Day and night, the mall is an entertainment destination. A free trolley is the easiest way to get around downtown and to the university.

Further Info
Charlottesville offers much to learn and enjoy, in addition to the sites listed here. Lakes, trails, and pleasant surrounding farmlands enable visitors to savor the area's visual beauty and tasty produce. Plus, even more presidential history can be found here. For details, see www.visitcharlottesville.org or call (434) 293-6789.