REV Group Acquires Lance Camper
REV Group entered the towable RV market in January 2018 when it acquired Lance Camper Manufacturing Corporation. REV Group is the parent of REV Recreation Group, a manufacturer of Type A, B, and C motorhomes.
Lance Camper, founded in 1965, designs, engineers, and manufactures truck campers, travel trailers, and toy haulers at facilities in Lancaster, California. The company has won the National RV Dealer Association's Quality Circle Award for 16 years.
Lance Camper employs about 550 workers and generates approximately $100 million in annual revenue. REV Group posted $2.27 billion in revenues in 2017. It markets motorhomes under the American Coach, Fleetwood, Monaco, Holiday Rambler, Renegade RV, and Midwest Automotive Designs brand names.
Lance Camper will continue to be led by its founders, Jack Cole and Jeff Souleles, according to a release from REV Group.
For more information, visit www.revgroup.com.

Survey Finds Teens Spend Little Time Outdoors
On a typical school day, teenagers spend just one hour outdoors, according to a survey from the National Environmental Education Foundation. The survey also found that although 80 percent of teens say they prefer to spend time indoors, 92 percent recognize that time outdoors makes them healthier, and 88 percent say it makes them happier.
Against that backdrop, the American Recreation Coalition (ARC), in conjunction with other members of the Outdoor Recreation Industry Roundtable, is working with federal agencies to help connect today's tech-savvy youth to public lands and waters. Efforts include pilot programs such as Wi-Fi access through AccessParks (accessparks.com) and educational apps such as Agents of Discovery (https://agentsofdiscovery.com).

Volta's Lithium-Ion System Available As A Retrofit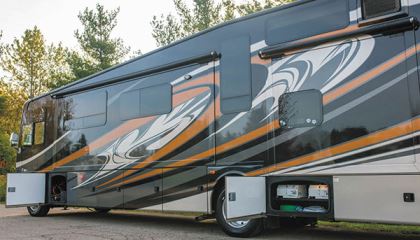 Volta Power Systems has partnered with Holland Motor Homes to enable RV owners to upgrade their vehicles with Volta's lithium-ion power systems. Previously, Volta's automotive-grade lithium-ion technology was available only to RV original-equipment manufacturers.
According to Volta's website, the company's lithium-ion technology delivers double the power in one-third of the space and one-sixth of the weight as compared with traditional methods, while producing less noise and requiring less charging time. A Volta system can charge directly from the engine, eliminating the need for a generator and the risk of carbon monoxide poisoning.
For more information, visit www.voltapowersystems.com.

RV/MH Hall Of Fame Announces 2018 Inductees
The board of directors of the RV/MH Heritage Foundation announced the names of 11 people who will be inducted into the RV/MH Hall of Fame as the Class of 2018.
The inductees from the RV industry are Derald Bontrager, president and CEO of Jayco Corporation; Roger Faulkner, president of General Coach Canada; Gregg Fore, president of Dicor Corporation; Rebecca Lenington, executive vice president of Pennsylvania RV and Camping Association; and Daniel R. Pearson, president and CEO of PleasureLand RV.
They will be joined by inductees from the manufactured housing industry, which this year includes six people instead of the usual five, because twin brothers are being inducted as one.
The annual induction dinner is set for August 6, 2018, in Elkhart, Indiana.

Tax Reform Law's Impact On RVers
The U.S. tax reform bill that was signed into law in December 2017 contains a provision that lowers the allowable deduction for mortgage interest, a revision that can affect RVers. The new law allows for the deduction of interest on mortgages up to $750,000 for purchases of first and second homes, which can include RVs. Previously, it was possible to deduct interest on the first $1 million of a mortgage for first and second homes.
According to a release from Recreation Vehicle Industry Association (RVIA), the final bill was a compromise. The House version would have capped the amount at $500,000; the Senate version would have maintained the $1 million figure. As House and Senate members conferred on the bill, RVIA officials helped educate them about provisions that affect the RV industry.
Lottery Winner Takes Home A Minnie Winnie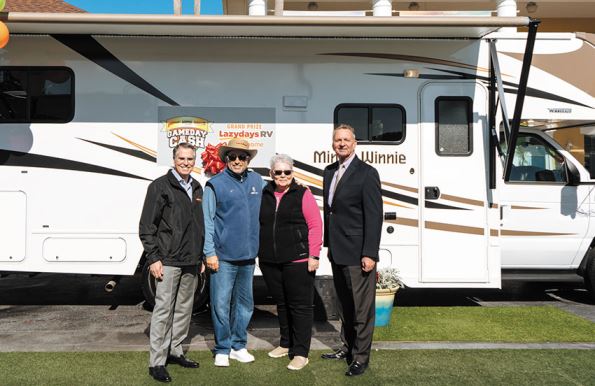 A Miramar Beach, Florida, resident won the grand prize in Florida Lottery's GameDay Cash promotion, which concluded this past November. The prize, provided by Lazydays RV, was a 2018 Winnebago Minnie Winnie motorhome.
The promotion gave players a chance to win cash and prizes while supporting their favorite Florida college teams. Grand prize winner James Bocchini is a Florida State Seminoles fan and a frequent Florida Lottery player. He said he and his wife would use the motorhome this spring to visit their daughter in Canada.
Erwin Hymer Opens Facility, Showcases Type B Motorhomes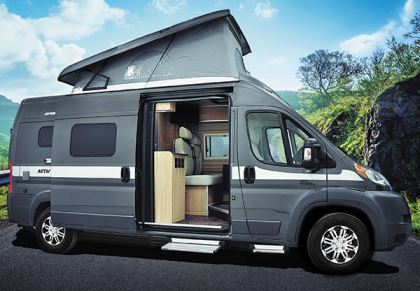 Erwin Hymer Group North America in October 2017 celebrated the grand opening of its second manufacturing facility. The plant in Cambridge, Ontario, which also includes the company's new head office, produces Touring travel trailers and Type B Hymer Aktiv motorhomes. Plans call for the addition of several service bays, an in-house photography/video studio, and a showroom.
Also this past fall, several new Type B motorhomes from Erwin Hymer Group North America made appearances at RV shows. The models include:
*The Hymer Loft Edition on the Aktiv 2.0 is built on the extended Ram ProMaster 3500 chassis and can sleep up to six people. Features include a king-size bed and optional leather power sofa. A pop-top loft provides for the extra sleeping space.
*The Axion and Banff are models in Erwin Hymer's new Carado brand. The Axion, designed for one or two people, offers the shortest chassis — 17 feet 9 inches. Amenities include a kitchen with a two-burner propane stove, refrigerator, microwave oven, sink, expandable countertop, and pantry.
The Banff is built on Ram ProMaster's 19-foot-6-inch chassis. Like the Axion, it has a fully equipped kitchen. The bathroom has an ergonomic toilet, stand-up shower, sink, and adjacent full-length closet. The sofa converts into two twin beds or a king-size bed.
Information: www.erwinhymergroupna.com or (888) 825-2772.

Updates From Peer-To-Peer RV Rental Companies
Outdoorsy, a company that connects owners of RVs with people who wish to rent them, has teamed up with KOA. And another peer-to-peer RV rental company, Campanda.com, has entered the U.S. market.
*Outdoorsy's partnership with KOA allows campers to reserve RVs and campgrounds through a single online entry point. Jen Young, who cofounded Outdoorsy in 2014, said RV owners can earn tens of thousands of dollars a year when they list their vehicles for rent on the site. In the United States, each RV owner who lists a vehicle on the site is protected by a $1 million liability insurance policy.
In December 2017, Outdoorsy expanded to include Canada. There, RV owners are covered by a $2 million liability insurance policy.
To list an RV, rent an RV, or learn more, call (877) 723-7232, or visit www.outdoorsy.com or www.outdoorsy.com/partner/koa. In Canada, visit https://ca.outdoorsy.com.
*Campanda.com's entry into the U.S. market provides a way for RV owners to earn income by renting their vehicles through the company's website. Campanda now operates in more than 40 countries.
Campanda is an FMCA commercial member with U.S. operations based in Cambridge, Massachusetts. RV owners who rent their vehicles through Campanda are protected by comprehensive and collision insurance with liability up to $1 million. Renters have access to a 24/7 roadside assistance program.
For more information, visit www.campanda.com or call (800) 207-6361.

Jayco And Spartan Produce Type A Diesel Pusher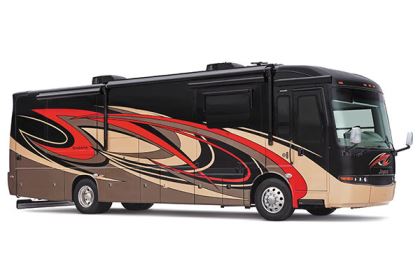 A new Type A diesel pusher, the Jayco Embark, debuted at the Florida RV SuperShow in January 2018. The motorhome is the result of a partnership between Jayco Inc. and Spartan Specialty Vehicles. Jayco is a subsidiary of Thor Industries Inc., and Spartan Specialty Vehicles is a business unit of Spartan Motors. Jayco and Spartan are FMCA commercial members.
The Embark is built on the new Spartan K1 chassis equipped with a Cummins 360-horsepower engine. Among the "firsts" for the Embark: It marks Spartan Motors' entry into the Cummins B-series diesel market segment. And it is the first Type A diesel pusher in Jayco's motorized lineup.
The Embark offers a choice of three exterior paint schemes and two interior décor choices; a kitchen with a residential refrigerator, induction cooktop, microwave oven, solid-surface countertops, and stainless-steel sink; and an entertainment system that includes a 50-inch LED HDTV in the living room, a 32-inch LED HDTV in the bedroom, and an exterior 39-inch LED HDTV.
The Embark's Spartan K1 chassis features a raised-rail design, independent front suspension, and a 10,000-pound towing capacity.
For more information, visit www.jayco.com or call (574) 825-5861.