FMCA's "Wanted In Wyoming" convention exhibitors.
A Wyoming adventure awaits FMCA members and others who journey to Gillette, in the state's northeast corner, for FMCA's 98th International Convention. CAM-PLEX Multi-Event Facilities will host the association's signature summer event from from July 18 through 21.
One of the many reasons to attend the "Wanted In Wyoming" convention is the multiday shopping bonanza. Company representatives will welcome attendees to tour their newest RV models, supplier and component booths, and outdoor demonstration displays. It's a great time to stock up on merchandise and other items, and to learn about campgrounds, resorts, and various service providers — all designed to enhance your RV experience.
At press time, the following companies were registered to exhibit in Gillette. Visit FMCA.com for any subsequent additions or changes to this list. Updates also will be distributed on-site and will appear on FMCA's Gillette convention app.
Exhibit Hours
All Exhibitors
(RV Displays; Booth/Supplier and Outdoor Demonstration Area Displays)
Wednesday, July 18
1:00 p.m. to 5:00 p.m.
Thursday, Friday, & Saturday, July 19, 20, & 21
9:00 a.m. to 5:00 p.m.
Exhibitors
2 Sweet Bearries — Huckleberry and other berry jams, candies, syrups, barbecue, scooters.
Advantage Pressure Pro — Monitoring systems.
Adventure Caravans — Guided RV tours and rallies.
All Pro Water Flow Ltd. — RV tank cleaning services available on-site; DoTERRA essential oils; jewelry; Poo-Pourri toilet spray; screen savers; scrubbies; Zipper purses.
All Seasons Marketing — HepvO self-sealing waste valve.
Almost Heaven Micro Fiber — Microfiber RV mops; microfiber bath sheets, washcloths, drying towels, and kitchen towels; American-made extension poles, squeegees, wax, etc.
Americas Mailbox Inc. — Mail forwarding, home base, vehicle registration, and insurance services; full-hookup, year-round campground and guest rooms in South Dakota.
An RVers Friend — RV Spa showerheads, Road Mate DashCam, battery watering system, waterless wash and wax, microfiber mop head and lightweight pole, Strike-Hold, microbial tank treatment; LED, Velcro and RV plumbing products.
Aqua-Hot Heating Systems Inc. — Aqua-Hot products for RVs.
Baja Amigos RV Caravans Tours — Specializes in small groups of RVers touring Baja, Mexico.
Beauty Inspired Concepts — Wash-and-wear wigs.
Belle Sante' — Healing jewelry (magnet, aromatherapy, gemstone); polarized sunglasses, CBD oil; essential oils.
Bentsen Palm/Rhodes Enterprises — Retama Village 55-plus gated adult community and Bentsen Palm Village RV resort in South Texas.
BHT Marketing — Touch Me Glove.
Bilstein Shock Absorbers — Mono-tube gas-pressure shock absorbers for RVs with the patented Comfitrac piston to optimize suspension performance, reduce ride harshness, and eliminate excessive sway and bouncing.
Blue Ox — Blue Ox tow bars, baseplates, braking systems, accessories.
Bobee Tech Corp. — RV security camera, wireless rearview backup camera and front camera.
Cabin Bright— 12-volt LED lighting solutions for RVs.
Camco Manufacturing Inc. — Genturi exhaust system; electrical, sanitation, leveling, towing, awning, camping and outdoor, cleaning, and fresh-water products; grills; hardware; housewares.
Carefree Of Colorado — RV awnings and accessories.
Carol's Creations — Big Skinny wallets with RFID protection.
Carrie Lynn Sinclair — Gourmet nut and cheese grater.
Cat Cosmetics — Cat Cosmetics.
Catalina Spa & RV Resort — RV resort with odorless mineral hot springs, pools, and spas along with full amenities in California's Coachella Valley.
Chandler Specialities — TankTech RX, an all-natural solution for gray-water and black-water tanks; helps fix odor and sensor problems.
Coastal Reflections — Fashion jewelry and purses.
Cummins Inc. — RV generators that feature gasoline, propane, and diesel options; quiet operation, compact configuration, and easy servicing; motorized and towable RV applications.
Custom Glass Solutions By Guardian — FMCA member benefit; windshield replacement services; original-equipment, U.S.–manufactured windshields.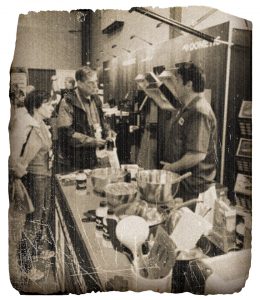 Dalton's RV — Forest River Type A Pursuit and Type C Prism, Leprechaun, and Orion RVs.
Davis Cabinets Inc. — Custom RV cabinets, computer desks, TV retrofits, dinette cabinets, refrigerator retrofits, MCD shades, etc.
Dometic Corporation — Climate, hygiene, sanitation, and food and beverage products, including toilets, coolers, mirrors, and fans.
DuraFlap Mud Flaps — Custom-made mud flaps for RVs, pickup trucks, SUVs, and vans; mud flaps for back of coach and inside wheel wheel; no-drill installation for trucks.
Entegra Coach Inc. — Insignia, Aspire, Anthem, and Cornerstone RVs.
Euroshine USA Inc. — Home and personal health products.
Fantasy RV Tours — RV rallies and caravans.
Fit, Smart & Happy! — Fun, compact fitness equipment that won't crowd one's RV, including Me-Mover, a three-wheeled stand-up bike for outdoor excursions, errands, and stationary use.
Flagpole Buddy/Imtyris — Flagpole systems and accessories.
Flitz International Ltd. — Flitz premium polishes, waxes, sealant, buffers, cleaners, kits, and microfiber cloths.
FMCA — Membership and member benefits, dues renewals, FMCA merchandise, FMCA Road Atlas, area rally information.
FMCA RV Insurance — FMCA club-discounted insurance with multiple carriers.
Frans Enterprise — Gripstic sliding bag sealer for pantry, fridge, and freezer.
Freightliner Custom Chassis Corporation — Freightliner Custom Chassis.
Garnet Technologies — SeeLevel Tank Monitoring System for management of holding tanks.
GetStorganized — Organizing products for RVs, boats, cabins, or homes.
Girard Systems — Awnings, shade products, tankless water heaters.
Gold Heat — Gold Heat and Black Gold electric radiant floor heat solutions for motorized and towable RVs.
Good Sam Enterprises — Seeking couples to rate RV parks and sell print and digital advertising.
Great RV Products — TST Tire Pressure Monitoring System, tire safety products.
Griot's Garage Inc. — Griot's Garage liquid car care products.
HWH Corporation — HWH Hydraulic Leveling Systems, HWH Slide-Out Systems, HWH Active Air Suspension System, HWH hydraulic entry steps, HWH specialty oil.
Hale Expo Services — Convention decorating services.
Henderson's Line-Up, Brake & RV — SupeSteer Bell Cranks, motion controls, Trac Bars, sway bars, and shocks for improved driving control and a more comfortable ride.
Howes Lubricator — Diesel fuel additives; complete line of products for year-round protection of fuel system.
International Thermal Research — Oasis CH50, Oasis NE-S, Oasis NE, Oasis COMBI, and Oasis Zephyr hydronic heating systems.
Isagenix — Healthful aging and longevity strategies.
Jirah Company — Premium high-efficiency LED upgrades; wireless LED towed vehicle lighting systems.
KING — Satellite and over-the-air TV antennas.
Leisure Innovations Company — Patent-pending device to secure goods and appliances on countertops and tables, and in cabinets in RVs while in motion.
LiquidSpring LLC — LiquidSpring suspension for RVs; Compressible Liquid Adaptive Suspension System rear suspension for Ford, Ram, GM, International, and Freightliner chassis.
Lloyd De Gerald Services – Aqua-Hot Services — Aqua-Hot service repairs, replacement, and education.
M&B Enterprises — Quadra Bigfoot levelers, Cricket mini golf carts, Steer Safe stabilizers, United roller shades.
M&E Sales — VBX wellness, patio umbrellas, electric scooters.
Magne Shade By Hunckler Fabrication — Custom magnetic windshield shades and tire covers.
Microwave Connection — Recipes, information, and cookware for microwave-convection cooking.
Miller Insurance Agency — Insurance services for RV, auto, home, and rental.
Mito Corporation & WiFi Ranger — WiFiRanger, a WiFi booster, grabs open Wi-Fi sources from up to 2 miles away and rebroadcasts at your RV with a firewall; also supports LTE and multiple sources.
Mobileye Inc. — Mobileye Advanced Driver Assistance System, which performs advanced driver scene interpretations.
Newcoast Financial Services — Recreational direct lender.
NSA RV Products — Tow bars and supplemental braking systems.
Oregon Motorcoach Center — RV service, remodel, and renovation.
Origins Unveiled — Portable scanner for digitalizing photos.
Passport America — 50 percent discount camping card, international camping directory.
Paul Evert's RV Country — Diesel pushers.
Precise Satellite/RV Electronics — RF Mogul and Winegard HD satellite TV systems; SMI and Demco tow-braking systems.
RF Mogul — RV satellite TV system manufacturer.
Roadmaster Inc. — Tow bars, brakes, sway bars, hitches.
RV Cable Grip/J Wright Concepts — RV Cable Grips, Hose-Grips, all-aluminum RV drawers, watertight water hoses.
RV Fog Dr. — Custom painting; RV window repair and replacement.
RV Glass Solutions — On-site windshield repair and replacement with nationwide warranty.
RV Innovations — Auxiliary braking systems for towed vehicles; accessories.
RV Insurance Benefits — Medicare plans, under-age-65 health insurance, long-term care coverage.
RV Interiors By Donna — RV interior remodeling, which includes flooring, window treatments, wall coverings, countertops, upholstery, and TV upgrades.
RV LED Lites — EMI-free LED lighting, motion lights, and porch lights, often mountable without drilling new holes; LED replacement bulbs.
RV Safety & Education Foundation — RV weighing and education.
RV Safety Accessories Inc. — TireTraker tire-pressure monitoring system; Progressive Industries surge and voltage protection system.
RV Satellite & Entertainment Solutions — Winegard HD satellites for DirecTV and Dish Network; DirecTV receivers; over-the-air antennas; Sensar Pro signal boosters; connect 2.0 WiFi extenders; LED replacement bulbs and strips.
RV Space Savers — Accessories, clothes, hats, jewelry, books.
RV Whisper — RV monitoring systems for pet safety.
RVTrader.com — Information Center sponsor.
Satellite Electronics/RV Connections — DirecTV dealer; TV and custom sound systems, Winegard automation, Weboost, WiFi Ranger, satellite and TV connections and accessories; Store Safe RV Protector, Nebo lights; satellite service, etc.
ShadePro Inc. — Carefree awnings; Demco towing products; Winegard and Vista Shade products, dash covers.
SilverLeaf Electronics — SilverLeaf instrumentation systems.
Softcell Recreational Water System — Softcell portable water/filtration softeners for RV, marine, and other applications; reduces spotting and staining, decreases scaling and buildup from hard water.
Spartan Motors USA Inc. — RV maintenance parts, air filters, oil filters, hydraulic coolant, engine oil, chassis wheel covers, various Spartan parts.
Stone Vos LLC — Stone Vos RV awning replacement manufacturer.
Summit Products — RV stainless accessories, chrome latches, jack pads.
Sunrise Bedding — Thermoshield pillowtop mattress pad.
Superior Sleep Experience — Gel-top RV beds.
Tailgater Tire Table — Durable steel travel table that uses a vehicle tire for its main support, with no tools required for installation.
Take Shape For Life/Optavia — TakeShape for Life products; Optavia health and well-being products; CBD oil.
Thetford & Norcold Corporation — RV toilets, refrigerators, chemical care and evacuation products.
Tiffin Motorhomes Inc. — Tiffin Motorhomes luxury coaches.
TireMinder The Minder Research — TireMinder tire-pressure monitoring system, TempMinder wireless temperature monitor.
Transwest Truck Trailer RV — Newmar King Aire, Essex, London Aire, Mountain Aire, New Aire, Dutch Star, Ventana, Ventana LE, Canyon Star, Bay Star, Bay Star Sport; Winnebago Revel; Renegade Valencia, Verona, Verona LE, Ikon.
U Can Be A Happy Camper — Happy Camper tank treatment, solar flashlights, HD TV antennas.
United Safety Apparatus Inc. — Safe-T-Plus steering control.
United Specialty Products — Lifetime cookware for waterless, greaseless cooking.
United States Warranty Corporation — Service contracts for new and used (up to 23 years old) RVs.
Wash Wax All — Waterless wash, wax, and bug removal from the ground with no ladder needed.
Webster Enterprises — Eurobike, ceramic pans, Perfect wine opener, EZ View TV streaming box, flat-stack containers, ABL pillow, Triad air purifier.
West Baton Rouge Convention & Visitors Bureau — Tourism information for southeast Louisiana; cookbooks, brochures, promotional giveaways.
YTM Enterprises — Vine Vera skin care.
ZIAATV.com — Mini jeeps.