September 2018
Fuel Bib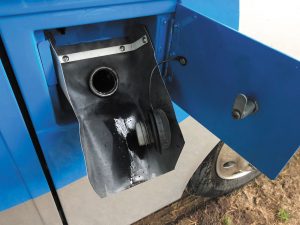 To prevent fuel stains down the side of my motorhome, I made a bib from Dicor rubber roof material (other material also could be used). I cut the material to the required size and then snipped a round hole in it, slightly smaller than the filler neck to ensure a good seal. Against a strip of scrap aluminum, I screwed the bib in place. The bib folds up around the cap so the fuel door can close.
Bruce Chong, F31175
Lake Havasu City, Arizona
---
Send us your Tech Tips!
Do you have ideas for saving time, money, or effort? If your tip is chosen for publication, you will receive $35. Send to "Tech Tips," Family RVing magazine, 8291 Clough Pike, Cincinnati, OH 45244; [email protected] Please include photos or sketches.