The RV Doctor leaves a legacy of lessons, love, and laughter.
By John Johnston, Associate Editor
July 2020
Everybody knew him as the RV Doctor. The nickname fit Gary Bunzer perfectly, for in many ways, his work paralleled that of a physician, except that his specialty was motorhomes, travel trailers, fifth-wheels, and campers.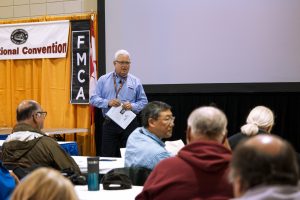 When something wasn't right, he looked for symptoms. He performed tests. He diagnosed problems. He counseled worried RV owners. He patiently answered questions. He provided referrals when necessary. And he advocated strongly for preventive care.
He was an educator and entrepreneur extraordinaire. His "RV Doctor" technical question-and-answer column appeared in RV consumer publications for more than 40 years. He taught countless people at FMCA international conventions, at conferences, at RV shows, and via online courses. He devoted untold hours to develop and fine-tune RV technician training programs.
He managed to do what few people could: Earn equal respect from both the RV trade and consumer ranks.
"I would say he probably had more impact on the RV industry than anybody in the nearly 30 years I've been in this business," said Walter Cannon, a close friend who retired in 2019 as executive director of the RV Safety & Education Foundation.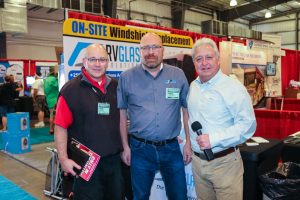 But there was much more to Gary John Bunzer, who died at age 70 on April 17, 2020, after battling COVID-19. He was a husband, a father, a brother, a father-in-law, an uncle, a grandfather, and a great-grandfather. He was a mentor, a musician, a sports fan, and a dear friend to many people. "There was no one like him," his obituary said. "Gary was one of a kind."
---
Gary and his wife, Debbie, were high school sweethearts in Bradenton, Florida. They would have celebrated 50 years of marriage on July 3, 2020. Their two children are Gretchen Bunzer Champoux and Heather Nocon.
"We had a Bunzer family mission statement when we were kids," Gretchen said. "I'm not sure if it was collaborative, but we had to sign it. It was based on Scripture, and it was the rules of the house and how we treat each other: with love and kindness."
Gretchen and Heather blessed Gary and Debbie with six grandchildren. The family eventually grew to include two great-grandchildren.
"The pictures that penetrate our hearts the most are of all the babies on his lap," Gretchen said, quickly adding with a laugh, "babies or guitars."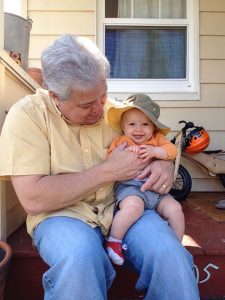 "He always had a guitar, and was always playing," Heather said. "That is how I think of him when he was home. Always a guitar nearby, or a mandolin. That is what his grandchildren will remember him by as well."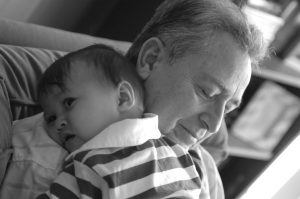 A self-taught musician — and an excellent one, at that — Gary played old-time country, folk, and bluegrass music with two groups near his home in the Seattle, Washington, area. Playing music made him happy. So, too, did watching his grandchildren play sports, and following his favorite professional football and baseball teams, the Seahawks and Mariners.
As much as anything, though, Gary enjoyed spending weekends at home with Debbie. Their daughters say that without her, he would not have achieved the success that he did. Debbie cooked meals that he enjoyed immensely. She accompanied him on leisurely drives. She provided simple but essential aspects of life that allowed Gary to stay grounded.
"Weekends were special times," Heather said, "because he worked a lot."
Gary's "office" often was a small table at a Seattle coffee shop. "He was friends with everyone there," Gretchen said. "He would know every barista's name, and what's going on, and the owner. He enjoyed that."
---
Gary's introduction to FMCA came as a result of him servicing the motorhome of Charles Cheneweth, who served as the association's national president from 1983 to 1986. Gary's technical articles began appearing in FMCA's magazine in 1987, and his "RV Doctor" column followed in 2005. He also became a mainstay at FMCA international conventions, leading technical seminars and teaching FMCA's RV Basics course.
"He was an RV rock star at conventions," said Robbin Gould, editor of Family RVing magazine.
When he concluded a seminar, people wanted more. They gathered around him to ask questions. He stayed until everyone had their answer, which meant his post-seminar sessions sometimes lasted as long as the seminars themselves.
During his downtime, he often hung out at the FMCA commercial office. He wasn't expected to actually work there, but if he saw the staff scrambling to keep up with lines of people, he'd step in to help make exhibitor badges, pull registration packets, hand out material, or talk about the event.
"We owe a debt of gratitude to Gary for the many ways he assisted FMCA members over the years," said Jon Walker, FMCA national president. "He educated us via his articles in the magazine and his seminars at conventions. He helped us to troubleshoot even the most perplexing issues with our RVs. He gave new RVers a good start in FMCA's RV Basics workshops. He also was so excited about helping FMCA to develop our online university. He thought FMCA's goal to be the greatest source of RV knowledge was simply awesome. It's not going to be easy to move forward without him, but it's what he would want us to do."
One way FMCA showed its appreciation was by nominating Gary for the RV/MH Hall of Fame. He was inducted with the Class of 2016.
Robbin Gould prepared and submitted the nominating material. "When I asked people to write letters of recommendation, I was struck by their absolute lack of hesitancy, across the board," she said. "They were more than happy to share praise for their friend and industry colleague."
Bruce Hopkins is vice president of standards for the RV Industry Association (RVIA). He wrote in his nominating letter that Gary was "a pioneer in helping the industry establish requirements and content for RV service technician training and certification."
Indeed, if you take your RV to a service facility and the work is done by a capable, certified RV technician, you can silently thank Gary. For many years he produced service technician instructional materials, wrote test questions, and reviewed most of the RVIA service technician textbooks. And he was heavily involved in developing curriculum for the RV Technical Institute, which officially opened in Elkhart, Indiana, in 2019.
Gary also created the curriculum — and for several years was the instructor — for the RV Technician Distance Learning Program of the Pennsylvania RV and Camping Association (PRVCA). He led seminars at PRVCA's annual RV show in Hershey, Pennsylvania, and was its official spokesman. He appeared on billboards and in commercials promoting the event. And every year, he brought red roses to the show office to brighten the days of the PRVCA staff.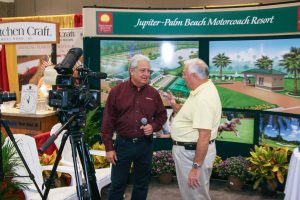 He always invited his students from the distance learning program to the Hershey show. "Even after he was no longer the instructor, his former students still came to the show to catch up," said Heather Leach, executive director of PRVCA. "That was just a testament to what a great person Gary was."
Among the many people Gary mentored was FMCA member Steve Froese, an engineer and RVer who 20 years ago enrolled in Northampton Community College's online RV technician program. His teacher was the RV Doctor.
"Gary and I hit it off immediately," Steve said, "and the day I finished my last exam, Gary asked me if I would like to work with him. I had transitioned from student to colleague."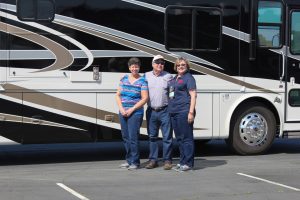 They lived close enough — Gary in Seattle and Steve in Vancouver, British Columbia — that they could frequently meet to collaborate on projects. "For the next 20 years, Gary tried to teach me everything he knew. Of course, learning everything Gary knew would take a lifetime," Steve said.
---
Gary's technical education started in junior and senior high school. He spent his summers working for Bunzer Industries, the mobile-home construction business owned by his father, George Bunzer.
"Little did I know," Gary wrote last year, "that my dad was exposing me to some of the best craftsmanship in the building trades as well as instilling in me a true, hard-nosed work ethic."
Gary attended college, married Debbie, and served as an instructor in the U.S. Navy's Construction Battalion, better known as the Seabees. After another year at his father's business, he gained more experience working for RV repair shops. By 1976, he had decided to forge a career as an educator and technical consultant focused solely on RVs. Bunzer Consulting Inc. was born.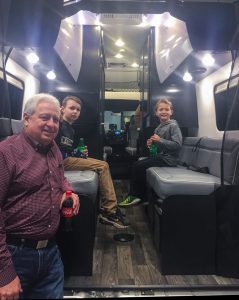 "He was a hands-on guy," Walter Cannon said. "He understood how to troubleshoot RVs, and he could communicate that. He put it into words that people could understand. It's a skill, but for him, it was a gift, really.
"It didn't matter whether it was a new RV or an older RV, he understood how it was put together. He kept up on all the new technology, which was not an easy task."
---
Gary didn't just make friends. He nurtured friendships.
Several years ago, Walter underwent knee surgery shortly before the Hershey RV show and was unable to drive. "Gary met me at the airport, and he toted me around Hershey for everything I needed to do. He took me to the hotel. He was there in the morning to take me to the show. Brought me back from the show. Took me to dinner. During my class, he came down to see if I needed anything — something to drink, my lunch, anything."
When Chris Lay worked in FMCA's IT department, he became friends with Gary. Chris sometimes brought a guitar to FMCA conventions so that at day's end, when FMCA staff and others were relaxing at their hotel, people could take turns strumming it. "A few of us could play a little, but Gary was by far the most talented of the group," Chris said.
One such evening, Chris told Gary about the FMCA pingpong team — a group of staffers who play daily at lunchtime in the national office's mail room in Cincinnati. A few weeks later, Chris was surprised to get a call from a local sporting goods store. A new pingpong table was ready to be picked up. Gary had ordered it — to replace a table being held together with duct tape and zip ties — and paid for it in full.
The staff thanked him with guitar picks featuring Gary's likeness on one side and "TheRVDoctor.com" on the other. Gary was known to hand them out to friends.
"I keep one wedged in the strings of my guitar, and every t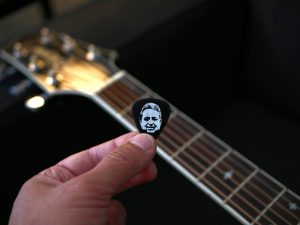 ime I pick it up to play a tune, I think of Gary," Chris said.
Perhaps Gary's most endearing quality was his sense of humor. "Even when everything was going wrong, he could laugh at it," Walter Cannon said.
The pair once spent two days shooting an instructional video about motorhome air brakes. At one point during the shoot, a helicopter landed behind them, ruining everything. Gary was unfazed. Eventually, they got to the last scene, which called for Walter to speak 10 words.
"And I could not remember them," he said. "I would get the first half, and miss the back half, or the middle. (Gary) would tell me the line and I'd start speaking and couldn't remember it." The cameras kept rolling. They decided Gary should say the line. "And he knew it, because he'd been feeding me the line. But every time he tried, he messed it up. So finally, we ended up doing a voice-over."
When the two friends viewed the footage, "there was a part where we were almost out of control laughing," Walter said.
FMCA staff members who dined with him during FMCA conventions remember him telling uproariously funny stories. Sales manager Ranita Jones, who knew him for many years, said: "Many times I would have tears from laughing so hard at his tales, and would beg, 'Gary, please stop. I can't take it anymore!'"
She also recalled him talking about how much he loved his family.
Gary's wife and daughters attended his RV/MH Hall of Fame induction ceremony in 2016. The event was overwhelming, his daughters say, because their father was such a humble man. Until that day, "We had no idea what a rock star he was," Gretchen said.
His friends know that if there were a hall of fame for nice guys, he'd have been a shoo-in for that, too.
"He would look for the good in everybody," said Tina Henry, FMCA event sales rep and coordinator.
"He just had a way of making friends," Ranita said. "He never judged and I never heard an unkind word from him about anyone. He had a great love and respect for humanity."
That will be part of the enduring legacy of Gary Bunzer, who for decades educated us about RVs. Turns out, he taught us even more about how to live.
---
Memorials can be made to Samaritan's Purse, P.O. Box 3000, Boone, NC 28607, www.samaritanspurse.org; or RV/MH Hall of Fame, 21565 Executive Parkway, Elkhart, IN 45614, www.rvmhhalloffame.org.