Campground Spotlight
Sparks Marina RV Park, Sparks, Nevada
As guests pull into Sparks Marina RV Park, just a mile off Interstate 80 in Sparks, Nevada, they make a sweeping right-hand turn, then drive past the pool and under a large portico. It's an entrance designed to make an impression, said Scott Foos, CEO of Horizon Outdoor Hospitality, which manages the park.
"We want our guests to know that they have arrived and that their stay here will be unlike most parks," Mr. Foos said.
Making a strong first impression requires a lot of effort. The park is part of the Greater Reno metropolitan area and sits in a valley surrounded on all sides by the Sierra Nevada.
"We're an ideal home base for a longer stay or convenient stopover," Mr. Foos said.
While Las Vegas typically garners much of the attention when people think of Nevada, Reno certainly doesn't get lost in the shadows cast by the bright lights of its sister city. Reno bills itself as the "Biggest Little City in the World," and for good reason. It has a little bit of everything, whether you like to live life unplugged or fully charged.
Reno is just 15 minutes from Sparks Marina RV Park and boasts a whopping 22 casinos to choose from. Each September the city hosts The Great Reno Balloon Race, billed as the world's largest free hot-air ballooning event, with up to 100 hot-air balloons filling the skies, as well as the National Championship Air Races, with some planes zipping around at 500 mph.
For those who prefer the great outdoors, the Sierra Nevada offers plenty of hiking and camping options, and the awe-inspiring beauty of Lake Tahoe is just a 45-minute drive away. Winter in Tahoe offers a wide variety of skiing options, as well as snowmobiling and dog-sledding trips for the adventurous.
Those who like cars as much as RVs will be interested in noting that Tesla builds batteries for its electric cars just east of Reno in its Gigafactory 1, which is being built in stages and is expected to be the largest building in the world. It will be powered by renewable energy. Reno also is home to the National Automobile Museum, which has more than 200 classic cars on display, including a wide range of autos once owned by celebrities. Check out John Wayne's 1953 Corvette, Elvis Presley's 1973 Cadillac Eldorado, or Frank Sinatra's 1961 Ghia.
Sparks Marina makes it easy to stay long enough to see it all, too. The campground is one of the newest in the area and designed with today's RVers in mind. More than half of its 204 level, landscaped, full-hookup sites are concrete pull-throughs 65 feet long. Add to that free cable TV with expanded channels and free premium Wi-Fi, and it may be hard to get out of your camp chair.
A putting green, a community fire pit, a hot tub and pool, a barbecue patio, and a rec room are available for socializing. Laundry and showers keep campers clean. And a retail store and propane sales keep everyone well-stocked.
"We pride ourselves on providing convenience to our guests," Mr. Foos said. "This includes complimentary coffee in our welcome center, a wide variety of travel and gift essentials, and world-class customer service."
Note: Visit the facility's website for up-to-date information regarding amenities that may be closed temporarily because of the COVID-19 outbreak.
Details
Sparks Marina RV Park, C10400
1200 E. Lincoln Way
Sparks, NV 89434
(866) 772-7574
www.sparksmarinarvpark.com
Bookshelf
 Reluctant? Who, Me?
Readers: Did you approach your first RV trip with excitement, or feel like a snail being pried off a rock? Were you raring to go, or unsure whether you even wanted to hit the road?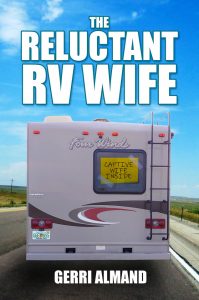 Gerri Almand, F491170, shares her own anxious moments, and her husband's enthusiasm, in The Reluctant RV Wife (Brown Posey Press, $19.95).
For 5 years, Gerri enjoyed retirement. She pursued a longtime interest in gardening, turning their Tampa, Florida, property into an outdoor oasis. She put down roots, both figurative and literal.
But then her husband, Michael, retired and proposed an idea that seemed preposterous: Buy an RV and travel.
He dangled carrot after carrot: They could visit all the national parks, develop new interests and hobbies, avoid Florida's humid summers.
Finally, she relented. They purchased a 26-foot Type C motorhome and a towed vehicle; had various bells and whistles added; and hit the road.
As neophytes, the couple learned from the wheels up about packing and provisioning, the ins and outs of holding tanks, and the many things that can go wrong in a new RV. They wrestled with a slideout that wouldn't retract, learned when they could run their generator, and encountered both dreadful and beautiful campsites.
Though often lighthearted, Gerri's look at their RV journey is sometimes serious. She discusses RVing in a larger context: leaving behind one's life and stationary home; marriage ups and downs; and aging. She describes places they visited and the freedom they felt on the road.
Recuperating from two knee operations, she discovered that hiking and other exercise outdoors actually helped her work through the pain. She shared their RV caravan to Alaska — the sights, the fellow travelers, even the helpful tail gunner who fixed a variety of their RV catastrophes.
After a while, she reached a conclusion: "I realized maybe, just maybe, at some remote point down the road, I might consider spending the next few years traveling around in an RV. I wasn't yet ready to share this idea with my husband, though. Reluctance was my schtick, and I wasn't ready to give it up yet."
An author's description notes that Gerri continues to feel "quasi-reluctant" on the road, and her husband feels "acutely reluctant" during their periods at home.
RVers who attend FMCA's upcoming international convention in Perry, Georgia, can meet Gerri at the Supersized Book Club discussion (www.fmca.com/fmca-entertainment-schedule).