Eight budget-friendly tips for adding a touch of home — without breaking a sweat.
By Abigail Epperson, F488212
February 2022
Our first full-time home on wheels was a 2002 Thomas school bus that we gutted and rebuilt to suit the needs of our family of five. From the kitchen colors to the open shelving and to the wallpaper in the bedroom, this was truly our space, and it reflected us as a family and the adventures we hoped to have. But, like all good things, our time with "Bussie" had to come to an end. After three years of travel, her motor gave out, and we moved into a conventional travel trailer — a Heartland Pioneer QB300. It was quite the transition going from something we'd had total design control over to something that was made in a factory and looked like a lot of other trailers.
Having done an exhaustive renovation only a few years back, and being full-timers, we didn't have the time or energy to gut an RV and start from the ground up. A renovation can be thrilling, but it's also taxing, and I was not ready mentally to tackle a several-month-long project again. Just ask anybody who has painted their RV cabinets whether it was as easy as they thought it would be.
The challenge for us became how to make the space our own and work with what we had without picking up a single paintbrush or power tool. Thankfully, RV interiors are starting to reflect the more modern and clean design aesthetic we've grown to love as a result of the popularity of renovation TV shows such as "Fixer Upper" and "Property Brothers."
So, what do you do if you don't have time to gut your RV? How do you go about creating a home on wheels that reflects your style without gobbling up time and money? Having been on both ends of the renovation spectrum, I've come up with a few easy and cost-effective tips for projects that require no sanding, no painting, no ripping up of flooring, and no removal of furniture, and that won't add a ton of weight and eat away at your carrying capacity. My hope is these ideas will serve as a jumping-off point to help you turn your stock RV space into an oasis — without the need for assistance from an HGTV host.
1. Wallpaper. Wallpaper is a gift to RVers. It's the perfect way to add a splash of color and design to any area without the often frustrating and time-consuming task of painting. When we were designing Bussie, I fell in love with the idea of a tin ceiling in our bedroom, but have you priced tin squares lately? Once we ran the numbers, it just didn't make sense to stretch our already stretched budget by purchasing fancy squares. We found a beautifully textured wallpaper that mimicked the tin pattern but was dramatically lighter and cheaper.
We also used wallpaper to bring a splash of personality to our entryway, the only place that still looked like the interior of a school bus. Using prints from an oversized National Parks calendar, we employed Mod Podge (a glue, sealer, and finish used by crafters) to add a design to the ceiling that helped make our "mudroom" look a little less like the front of a bus and more like a celebration of the National Park Service.
2. Rugs. Rugs are great, because they serve multiple purposes. They keep your feet warm on cold camping days; they provide some cushion as you walk around in your RV; and they add a splash of design and color to your floors. If you don't already have carpet in your bedroom, adding a runner along each side of the bed can help to brighten the space. A soft rug in the kids' room can serve as a place to play games, empty out all the toys, or hide overlooked Legos just waiting for your unsuspecting foot. (Note: To help prevent trips and falls, purchase rugs with nonskid backer on the underside, or add it yourself. Double-sided carpet tape can also keep the edges from curling.)
3. Photo magnets. If you're like me and love being surrounded by pictures of your travels and your loved ones, then you probably are lamenting the lack of wall space in your RV. However, lament no more. Photo magnets of varying sizes are the perfect way to display those special moments and can be purchased from online stores such as Shutterfly or Snapfish. I particularly like the 2-inch-by-2-inch magnets from Shutterfly and have used them in our bus conversion and now in our trailer to decorate our refrigerator and preserve special moments. Don't have a magnetic fridge? Consider purchasing a magnetic bulletin board that you can mount on a wall or on your fridge. Photo magnets are a lightweight and easy way to display your favorite memories all in one place, and if your kids are like mine, then the magnets will never stay in one place, and the design will change constantly.
4. Decorative Pillows And Throw Blankets. Like rugs, decorative pillows and blankets serve a dual purpose — comfort and style. Even the addition of one pillow with an eye-catching pattern and a soft throw blanket can lighten up your living room space. This could also be the moment you channel your inner Joanna Gaines — her Hearth & Hand collection at Target has the lock on throw pillows under $20.
5. Bedding. A duvet is a great way to bring a large amount of color and pattern into any RV bedroom. Consider having a couple on hand so you can change it up from time to time, and look for patterns that aren't too overwhelming but can still serve as the focal point in your bedroom. Contrasting throw pillows make a big difference here, too.
6. Window Coverings. If your RV came with boring curtains or shades, or if they're showing their age, replace them! A fresh set of curtains adds pop without adding additional weight, and I'm a big fan of using fabric valances. Their smaller size keeps a stylish look without the need to tie them back or push them open to raise the shade and enjoy all that glorious morning sunlight.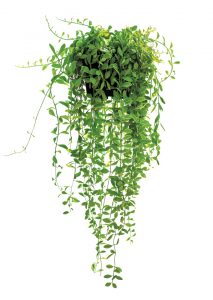 7. Plants. A houseplant is a great way to bring a little nature into your space. From tiny succulents to large ferns, it's amazing the plants people bring with them in their RV. I love the small potted succulents from Trader Joe's, because they are almost impossible to kill, and keeping plants alive has never been my specialty. Plus, they take up just the right amount of counter space, and their unique appearance is adorable.
8. Hand Towels. You might consider this to be a silly addition, but think about it. You need towels in the kitchen and bathroom, right? Why not get away from the bland gray or maroon and go with something that's got some style, a little pattern, or maybe a fun saying? I think you'll be surprised by just how changed a room can feel thanks to a good hand towel.
Owning an RV and making it your home on wheels by changing up the décor can be a really exciting endeavor, but don't feel like you have to do it. If you like the way your RV looks the day you drive it off the lot, that's great. Leave it alone and make for the nearest campground. However, if putting your own spin on your traveling home is important to you, then I hope these simple tips have offered you a little inspiration without breaking the bank. Either way, enjoy the journey. RVing is so much more than the interior of your vehicle. It's about discovery, and finding the next adventure just down the road . . . an adventure that could possibly lead to an amazing picture just begging to be turned into a photo magnet for your fridge.