FMCA's 104th International Convention & RV Expo kept attendees busy and entertained in a popular desert paradise.
By Robbin Gould, Editor
Photos By Lindsay Prince, Graphic Designer
June 2022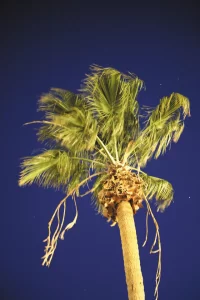 For additional images, visit
Flickr: https://flic.kr/s/aHBqjzPqr5
Facebook: https://www.facebook.com/media/set/?set=a.10160224157402509&type=3
Tucson, Arizona, is commonly called the "Old Pueblo," a nickname suggesting its mix of Native American, Spanish, Mexican, and Anglo cultures. Today it also is known as a vibrant metropolis and an ideal snowbird destination for RVers. Tucson is home to the Pima County Fairgrounds, the site of FMCA's 104th International Convention & RV Expo, which took place there March 24 through 27, 2022.
This springtime event, with its own nickname, "Sunsets + Saguaros," was the first FMCA convention held in Tucson since 1985. It originally was scheduled for March 2020 but was canceled because of issues caused by the COVID-19 pandemic.
"It was a long two years between the time we canceled the 2020 event at the last minute and our second attempt at 'Sunsets + Saguaros,' but it was well worth the wait," said Doug Uhlenbrock, FMCA director of events. "The Pima County Fairgrounds was a terrific location for the convention, and attendees seemed to have a great time. We're already looking into a return to Tucson, which I promise will be even better."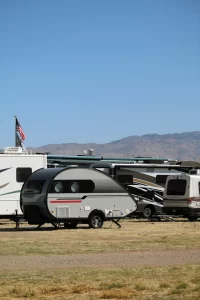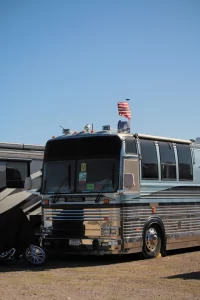 The official convention RV count was 1,603; this number included 1,373 family RVs and 230 commercial RVs. In addition, 126 family Passport attendees were on hand (folks who drove in for the day's activities but didn't stay overnight on-site).
Welcome, First-Timers!
Approximately 36 percent of "Sunsets + Saguaros" attendees were trying out their first FMCA convention. They joined other members to learn, shop, socialize, be entertained, and participate in special events. Judging from the packed house at an orientation for first-time attendees, presented by FMCA national senior vice president Gary Milner, folks were eager for tips on what to see and do. Additional help was provided via a guided "walkabout" tour of the Pima County Fairgrounds, designed to help newcomers and others get their bearings. Armed with the convention program, event app, social media, cellphone text notifications, and a daily newsletter, attendees could stay informed.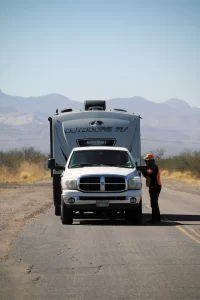 George and Pam Tooth gave the Tucson convention a thumbs-up. "Wearing our badges with our 'first-timers' ribbons, we received more than our share of 'glad you're here' greetings! From our very nice camping neighbors, the exhibits, and seminars, along with almost continuous entertainment, we loved our experience," they noted.
Tom Burick was a different sort of first-timer; the convention was his first encounter with FMCA as well. He estimated that he spoke to more than 1,000 people who stopped by to inspect his 170-pound home-built teardrop trailer and matching Vespa scooter, which he brought to the grounds for an informal show and tell. Tom said he felt a connection to the attendees. "So many beautifully nostalgic stories about happy times, camping, riding, and cooking," he said. "After just one event, I was so sold on the organization that I became a member."
Exhibits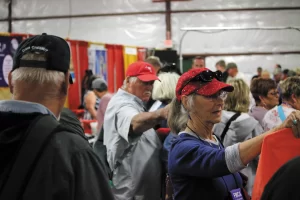 Approximately 140 FMCA commercial member companies came to Tucson to display and sell their wares. On opening day, crowds gathered near the entrance to the Old Pueblo Conference and Event Center, where the indoor exhibits were housed. Rett Porter, FMCA national president, stood by, greeting attendees. Once the doors opened, the exhibit hall immediately hummed with activity. RVers strolled down aisle after aisle, inspecting everything from cleaners and cookware to steering controls and satellite systems. They also spoke with representatives about resorts and campgrounds, RV-related services, and more.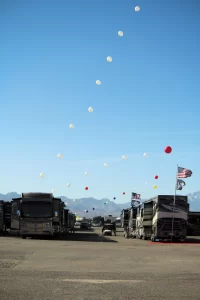 The "FMCA Connections" area was the go-to spot to purchase FMCA logo merchandise, take care of membership business with national office staff, meet national officers, and visit with providers of FMCA benefits.
Outdoors, additional displays spotlighted a wide assortment of Type A, B, and C motorhomes; travel trailers; fifth-wheels; and RV chassis. Folks checked out the homes on wheels and visited several supplier-demonstration displays.
Back To School
More than 100 seminars took place during the week. Presentations covered the technical side of RV operation and maintenance — suspensions, tires, and towing, for instance — along with lifestyle topics such as RV caravans, finances, full-time RVing, microwave-convection cooking, and many more.
Some attendees started their education early by registering for the RV Basics and RV Driving School courses, which took place just prior to the convention. (An article describing these courses begins on page 45 of this issue.)
Experiencing Local Flavor
Representatives from Pima County Natural Resources, Parks, and Recreation provided insight into the area's desert world during several "Lunch + Learn" presentations. The discussions focused on flora and fauna; one spotlighted the iconic saguaro cactus, including its importance to native wildlife and peoples of the Sonoran Desert.
Attendees were treated to traditional Mexican folk music from Mariachi Nuevo Azteca de Tucson. The ensemble blended guitars, violins, trumpets, a harp, and various vocals to create their distinctive sound. Dressed in mariachi attire, including black embroidered jackets and pants or skirts, the gents and ladies took a musical stroll of the grounds before performing on the daytime entertainment stage.
Entertainment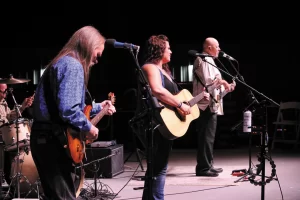 Other performers who call the Southwest home included the CS&M Trio, a folk-rock acoustic group, and Arizona's own R.A.W. Band, featuring danceable classics from the late '50s through early '70s. Tucson magician Rod Robison involved volunteers in his interactive mentalist show, Mentallusions, which left audience members wondering, "How did he do that?"
The Rock Bottom Boys appeared to have fun right along with the audience as they put a bluegrass spin on songs from other genres — even rock. Their three-part harmony and down-home humor completed the mix.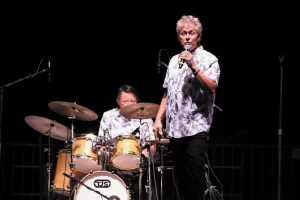 Another crowd favorite, The Southwest Surfers, brought the party to the evening entertainment stage. Their Beach Boys tribute show, laced with other oldies hits, inspired audience members to get up and dance.
Cale Moon also performed on the main stage, as did The Big Zephyr band. (Following the band's performance, group members made a surprise appearance at "Karaoke With A Keck," hosted by FMCA member Lamar Keck.)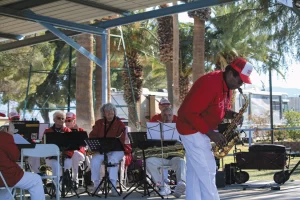 The Frustrated Maestros, conducted by Teresa Dlouhy, entertained attendees during coffee hour on three mornings. At each convention, members of FMCA's various Frustrated Maestros chapters gather, rehearse, and perform — no small feat, considering the participating musicians and vocalists, and thus the makeup of the group, vary from event to event. A shout-out to new Maestro Don Black, a performer at Orlando, Florida, theme parks and other venues, who brought down the house with his saxophone solos in Tucson.
Special Events
Trivia, karaoke, morning exercise, youth activities, and a bean bag toss tournament were just a few of the other activities on the convention schedule.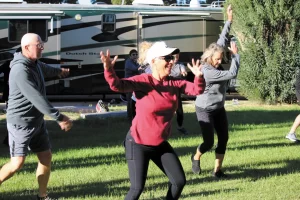 Another was the Chapter Fair, where members from 37 participating chapters chatted with convention-goers about their groups: interests; activities; and, no doubt, the fun they have. Information about FMCA's 10 areas was provided also. Representatives from Blue Ox, sponsor of the Chapter Fair, strolled through the gathering, tasked with selecting the three best-decorated tables. First place went to SMART FMCA, with the Tucson Drifters and the Puget Sounders receiving second and third place, respectively.
Chapters also welcomed attendees to their "neighborhood" during the Chapter Block Party one evening. Folks mingled and enjoyed food and drink in the family RV parking areas. The result? New acquaintances, new friends, and new chapter members, in some cases.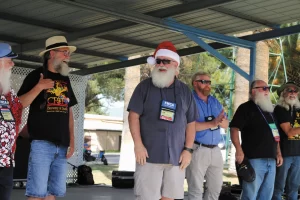 The Ice Cream Social came at a great time: the hottest afternoon of the week. Attendees enjoyed their frozen treats and took in the FMCA Whisker Games nearby. For this bristly competition, a panel of judges scrutinized contestants' facial hair and selected winners in three categories: mustache, Kenneth Morgel; goatee, Patrick Mayfield; beard, "Santa" Jim Poland. The audience determined the overall winner by popular vote: their applause. The Mr. Whiskers title was awarded to Jim Poland.
Bestselling author Isabella Maldonado intrigued audience members as she discussed her distinguished career in law enforcement and her fictional crime thrillers — including The Cipher and A Different Dawn — during FMCA's Supersized Book Club gathering. The Cipher is being produced as a feature film for Netflix, starring Jennifer Lopez.
Good Works
Several events were organized as part of FMCA's "Driven To Care" initiative, which was created to assist a charitable organization in each city that hosts an FMCA convention. In Tucson, Casa de los Niños was selected in recognition of its work to create healthy environments for at-risk children and families.
The Driven To Care Silent Auction showcased 19 items that had been donated by individuals, families, and groups, including a collection of Cincinnati products contributed by FMCA's national office staff. After the perusing of the baskets, boxes, and other items, and the seesawing of bids, each item went to the highest bidder.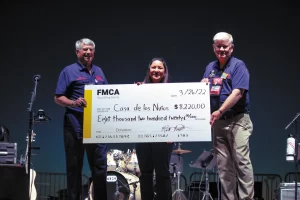 The Magic Mile Fun Run/Walk took participants on a morning cruise around the Pima County Fairgrounds. A total of 170 walkers registered for the event; some brought their leashed canines along for the fun.
Members of the On-Road Quilters group and FMCA's On-Road Stitchers chapter donated a colorful assortment of handcrafted quilts and blankets for the "Quilts For Kids" display. Attendees could peruse these items during the convention.
Proceeds from the silent auction and registration fees for the Magic Mile were matched by FMCA. Prior to the entertainment program on the final evening, a check for $8,220 was presented to Casa de los Niños representative Lizbeth Canez-Pompa. It was reported that 88 quilts and blankets also were donated to the group.
Volunteers Make It Happen
The hundreds of Tucson volunteers who parked incoming attendees, assisted with security, and staffed numerous activity areas deserve a round of applause. Volunteers are essential to the success of every FMCA convention.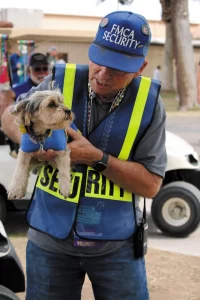 George and Pam Tooth praised the "incredible organization" shown by FMCA staff and volunteers: "Everyone we came into contact with was helpful and courteous. Everyone moved fast and efficiently, even down to our own 'personal escort' to our camping spot."
"We don't get paid in money to volunteer but we do get paid in friendships and fun. And in seeing a lot of smiling, happy people enjoying the convention, including ourselves," wrote Tucson attendee Lois Savage in an FMCA Facebook post. "You might want to consider volunteering at future conventions and rallies."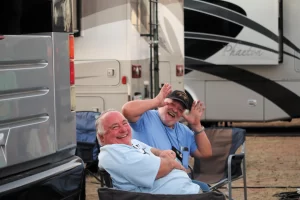 The next convention opportunity will be FMCA's "Golden Getaway," August 24 through 27, 2022, in Lincoln, Nebraska. Registration is open. Come join the fun!