A new midsized luxury fifth-wheel has hit the road, boasting innovative construction and contemporary features.
By Mark Quasius, F333630
September 2023
Goshen, Indiana-based Brinkley RV made its debut in 2022. Although the company is new, its ownership team consists of five veterans with decades of collective experience building well-known recreational vehicles. Their goal is to create high-quality RVs capable of withstanding full-time use.
Brinkley strives for a fresh design, leaning heavily on automotive concepts rather than traditional RV methods The typical swoops and swirls that often adorn RV exteriors have been replaced by automotive-style décor with sleek design elements. Interiors have a residential look.
Initially, the company is offering two model lines — the Model Z fifth-wheel and the Model G toy hauler. I recently toured Brinkley's brand-new, state-of-the-art manufacturing facility and reviewed its Model Z fifth-wheel. For this review, we chose the 2900, one of two available floor plans, with more to come in the near future.
CONSTRUCTION
Model Z construction begins with a robust frame. Each axle is rated at 7,000 pounds, but Brinkley uses 8,000-pound-rated springs with reinforced spring hangers and the Road Armor equalizer system. LT215/75R 17.5 tires rated at load range H (16 ply) are mounted on custom aluminum wheels. To increase reliability, the wireless-remote tire pressure monitoring system utilizes band-type sensors mounted to the rims rather than valve-stem sensors. Electric leveling jacks are installed on a wide stance via custom mounts, which are said to provide more stability and easier serviceability than typical jacks mounted on the inside of the frame rails.
The vehicle has a 14,495-pound gross vehicle weight rating (GVWR) and an unloaded vehicle weight (UVW) of 11,674 pounds, which yields a net cargo carrying capacity (CCC) of 2,821 pounds. The hitch weight is 2,081 pounds, and a 2-inch towing receiver at the rear of the RV is rated at 3,000 pounds towing and 300 pounds carrying capacity.
The floor is built on an aluminum frame and uses marine-grade, 5/8-inch-thick, one-piece DynaSpan subflooring, said to eliminate warpage. The floor and roof are insulated to an R-40 value, while the tubular aluminum-framed walls are rated at R-11. The holding tanks are located in a heated underbelly with Thermofoil insulation and are equipped with 12-volt-DC tank heaters. Dual attic vents help purge heat and moisture.
The curved roof, covered with a 35-mil thermoplastic polyolefin (TPO) membrane, provides aerodynamic styling and function. Both the roof and slideouts are walkable. Automotive-grade sealants are used throughout the unit, including at the installation point of every roof accessory or penetration. That is why you won't see the typical silicone bead at every joint or trim molding. The wheel skirts are secured with rivets rather than screws to avoid the potential of loose screws falling out or sharp points protruding into the wheel well.
EXTERIOR
The Model Z's exterior leans heavily on automotive styling. The frameless windows, custom-made for Brinkley to allow for a more residential interior and exterior look, are large and rectangular without the rounded corners characteristic of typical RV windows. They also open a full 6 inches, delivering twice the airflow of traditional frameless windows. An LED scare light and a rear-vision camera with a wireless monitor are standard, as is a power awning with LED lighting.
At the entry are MORryde Flip Tread steps. When the aluminum step treads become caked with mud or dirt, you simply grab a step and turn the whole set over so the dirt falls off, saving some cleanup work. A 54-inch telescoping grab handle provides a full railing rather than just a loop handle on the sidewall. A pet tie-down link is available in the patio area to prevent Rover from straying or to provide an anchor point for securing gear like bicycles or grills.
The 76-inch-by-30-inch entry door is fitted with an integrated shade. The screen door incorporates several enhancement products from Lippert: the Spring Shot spring-assisted automatic closer; the Screen Defender, which protects it from damage; and the Screen Assist, to open the door with the touch of an elbow. The keyless entry system is accessible via a mobile app so you can lock or unlock your vehicle from a smartphone. (According to the company, door locks in future models will incorporate a key fob.)
The rear of the unit looks more like a high-end sports car than an RV, albeit a really big sports car. The heavy-duty welded roof ladder is offset by a rear storage trunk and high-tech LED lighting and graphics.
INTERIOR
The modern windows that impress from the outside view are just as impressive from the inside. Their squared corners are matched by residential-look hardwood trim. Window valances are not used in Brinkley RVs. Instead, the screens and blackout shades are integrated into the window design, similar to the entry door, with the addition of reflective insulated shades.
The Model Z 2900's contemporary residential interior features Brinkley's own CraftSense wood trim construction, which eliminates the need for staples and puttied fastener holes. All heat ducts in the main living area are located in toe-space spots to keep the floor free of vents. Unique in the fifth-wheel segment, this floor plan incorporates two flush-floor slideouts in the living room and kitchen and a slim rack system in the bedroom. The steps that lead to the upper level have deep storage space for shoes and are equipped with indirect lighting. The wardrobe closets in the entry area store jackets, hats, etc., and have preparations for the addition of a cordless vacuum, including an outlet.
The main living area is equipped with a 72-inch tri-fold sleeper sofa on the RV's rear wall. The sofa is flanked by end tables with storage and flip-up panels that reveal 120-volt-AC receptacles and USB charging jacks. On the door side, the heated 60-inch theater seating incorporates a wireless cellphone charger pad. Opposite these seats, an entertainment center has space for various electronic components. A 50-inch smart TV is mounted on a Televator (powered TV elevator); the cabinetry below houses a 5,000-Btu fireplace. The premium audio system connects to the living room TV via Bluetooth technology, so you can stream audio from any Bluetooth device.
The legless dinette table includes a silverware drawer for convenient access to utensils. The table seats four — two in chairs and two on the bench that rests against the wall. The bench has a storage area underneath and can be moved over to the theater seats if desired. There, the cushion can be removed and the tabletop extended for use as a coffee table while watching a movie on the big-screen TV.
The galley has solid-surface countertops that hold a residential-grade three-burner cooktop and oven, along with a hutch that features a residential tile backsplash. A 30-inch microwave oven resides in the overhead cabinetry. All drawers are dovetailed; cabinet doors are equipped with soft-close hardware. A separate drawer contains an integrated spice rack. A 16-cubic-foot, high-efficiency 12-volt refrigerator keeps food cold, and a Maxxair vent fan exhausts cooking moisture or heat. The galley island holds a larger farmhouse-style sink with a roll-up cover. One nice feature in the island is a cabinet that pulls out to provide access to two removable trash bins; a drawer on one end secures a pair of pet bowls. An 84-inch-tall pantry completes the galley; it comes equipped with adjustable shelves and a 120-volt outlet for a coffee maker or other appliance.
Ascending the steps to the front upper deck, you'll find the bathroom to your left and the bedroom directly ahead. The walk-through bath can be accessed from either the hall or the bedroom. Space-saver pocket doors maximize room in this area. The 30-inch-by-42-inch fiberglass shower stall is equipped with sliding glass doors. A recessed medicine cabinet over the vanity is equipped with soft backlighting. Premium fixtures are used throughout the bath. A portable toilet paper holder is held in place by a magnetic travel keeper when the RV is in transit.
A 60-inch-by-80-inch queen bed with a residential memory-foam mattress rests on a hinged base that lifts for access to the large storage area underneath. A 32-inch smart LED TV hangs on the opposite wall for easy viewing while relaxing in bed. A wardrobe, in a streetside slideout, is equipped with LED lighting and incorporates a dresser. Nightstands flank the bed; each contains a 120-volt outlet with USB charge ports.
UTILITIES
Exterior storage in the Model Z 2900 exceeds 100 cubic feet; the majority of it is found in the front pass-through storage area, which is equipped with Tuff-Ply flooring and carpeted walls. This area is heated and outfitted with electrical outlets and LED lighting. Sprayer connections with hot and cold water are located on both ends of the compartment. The rear storage compartment is heated and illuminated in the same manner and also has a power outlet. Additional compartments, one on each side, secure a 30-pound propane tank, although they can accommodate 40-pound tanks. The very front compartment holds the recessed vented battery box, which is lithium capable. This area also contains the 50-amp MPPT solar controller, preparations for an inverter, and wiring for a generator. A 370-watt solar panel comes standard in the 2900, but a second panel can be added, bringing it to 740 watts. A roof-to-basement conduit provides a clean path for any electronics the user might add to the roof.
HVAC needs are met by a 35,000-Btu propane furnace with Thermaflex no-kink, no-tear ductwork. A 15,000-Btu ducted air conditioner and a 13,500-Btu bedroom air conditioner are standard, although you can delete the second A/C if you choose. A 50-amp electrical service is standard. An exterior propane connection for a portable grill along with AC outlets and coax connections are located on the patio side of the pass-through storage area.
Hot-water needs are met by a Furrion on-demand propane-fired tankless water heater, capable of producing 144 gallons per hour. Water shutoff valves are located at every fixture. The utility connection panel has the usual valves for the fresh-water system, along with a 65-foot integrated water hose on a reel. It also incorporates controls for the electric waste tank dump valves, as well as an underbelly hatch to access the valve pulls manually. The fresh-water tank holds 75 gallons, the black water tank holds 45 gallons, and the gray holds 90 gallons. Brinkley tees a pair of 45-gallon gray tanks together to equalize the tanks, allowing for a true 90-gallon capacity and a single dump valve.
FINAL IMPRESSIONS
The Model Z illustrates the Brinkley philosophy of merging automotive technology — both aesthetics and construction — with residential-grade amenities and décor. In my opinion, the company has excelled in its goal to create an original unit with attributes not found in other RVs. The design features are in response to customer input and actual use by the company's owners, who travel in these units. It's warrantied for full-time living and boasts a ton of features that make it an attractive unit for any potential RV owner.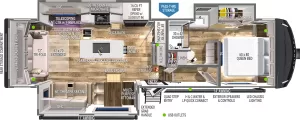 SPECIFICATIONS | BRINKLEY MODEL Z
MANUFACTURER
Brinkley RV, 1655 Brinkley Way E., Goshen, IN 46528, (888) 502-3460; www.BrinkleyRV.com
MODEL
Model Z
FLOOR PLAN
2900
EXTERIOR LENGTH
32 feet 11 inches
EXTERIOR WIDTH
96 inches
EXTERIOR HEIGHT
13 feet 2 inches with second A/C
INTERIOR HEIGHT
79.5 inches; 76 inches in slideouts
GROSS VEHICLE WEIGHT RATING (GVWR)
14,495 pounds
UNLOADED VEHICLE WEIGHT (UVW)
11,674 pounds
HITCH WEIGHT
2,081 pounds
CARGO CARRYING CAPACITY (CCC)
2,821 pounds
TIRES
LT215/75R 17.5; load range H (16-ply)
BRAKES
12-inch electric drum brakes
HOLDING TANKS
fresh water — 75 gallons;
black water — 45 gallons;
gray water — 90 gallons
PROPANE CAPACITY
(2) 30-pound tanks
WATER HEATER
on-demand Furrion Gen 2
ELECTRICAL SERVICE
50 amps
HEATING SYSTEM
35,000-Btu furnace
AIR CONDITIONING
(1) 15,000-Btu, (1) 13,500-Btu
REFRIGERATOR
16-cubic-foot, high-efficiency 12-volt
WARRANTY
1 year limited;
3 years limited structural
MSRP
$102,246 (includes second A/C and 50-amp service)