Hey, That's Our RV!
Wow! Much to our surprise, we saw a picture of our boondocking 20-foot Outdoors RV Creekside featured on page 58 of the June issue in the pictorial collage of the "Lucky 13" article with highlights from FMCA's 106th International Convention and RV Expo. This made us smile. New to FMCA, it was our first rally, and we had a blast the whole week.
― Terry & Mark Mackaman, F534884
Woodinville, Washington
---
Help For Michigan RVers
Regarding the "Legislative Update" in the July issue, I hope you have more luck than I did a few years ago in your pleadings to the state of Michigan about the exorbitant RV registration/licensing fees. We relocated from Illinois to Michigan 13 years ago and were shocked to find the cost of licensing shoot up from about $130 per year in Illinois to nearly $800 per year initially in Michigan for our modest 6-year-old used motorhome. I paid roughly 50 percent of the MSRP, but in this state, MSRP rules.
I sent a letter to the secretary of state and my representative a few years ago with no response other than a standard form letter. A follow-up email received no response. As you are aware, motorhomes sit in storage or RV parks most of their lives. Any wear and tear on the roads is minimal to nonexistent. They are used only a limited amount, and frequently that is outside the state. Any help you can provide would be appreciated by the many Michigan RVers who vote.
― Jim Baird, F416671
Howell, Michigan
---
And Happy Trails
Thank you, Rett, for your August "FMCA Update." That Mechanical Failure benefit is a tremendous addition to the FMCAssist program that many FMCA members should be able to take advantage of. I am definitely spreading the word among our Ramblin' Pushers chapter members.
Happy trails to you and Claire as you transition out of the presidency. Thanks for your great leadership during these last two years.
― Paul Miller, F403550
Annandale, Virginia
---
Window Question
I was wondering why crank-out jalousie windows aren't offered on RVs? We had them on our first one, a 13-foot Scamp, and they were wonderful when it was raining. The closest are frameless windows, but they still don't open as much as the crank-outs on our first RV. Sliders just don't work when it's storming. We had a really big storm come through one night in southern Louisiana and nary a drop came inside the crank-out windows.
― Clarence Day, F534081
Plainview, Minnesota
---
Farewell To A Friend
On July 1, 2023, we lost our friend Walter "Fred" Gneisig Jr., F424094. Born February 22, 1946, Fred passed away at age 77.
Fred and his wife, Judy, joined the Sun Wheelers chapter in 2012. In addition to Judy, Fred leaves behind a son, Thomas Fred Gneisig; a daughter, Kimberly Lynn Long; and several grandchildren.
Fred served his country in the United States Navy (Seabees). He was motivated by his patriotism, pride, principles, and the love of family. This is how he lived his life.
Fred embarked on countless adventures. He loved traveling in his RV with family and friends. We will miss sitting around the campfire listening to Fred and his stories. He will be missed by his Sun Wheelers family and many others.
― Debbie Davis, F436861
Sun Wheelers Chapter Secretary
---
We want to hear from you! Family RVing welcomes comments about articles published in the magazine or topics of interest to RV owners. Email [email protected]; mail to Readers Write, FMCA, 8291 Clough Pike, Cincinnati, OH 45244. Please include your name, city, and state/province. Letters may be edited for space and clarity.
---
Hit Us With Your Best Shot!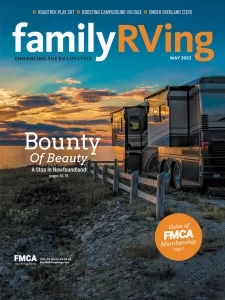 We're seeking photos for the cover of Family RVing, and you will earn a free year of FMCA membership if your photo is chosen. Suggested subjects: campground scenes, nature/wildlife backdrops, interesting attractions/activities discovered while RVing, people (with written permission), and/or pets. Be sure to include an RV somewhere in the photo.
Minimum requirements: a resolution of 300 dpi; 1800 pixels by 2700 pixels; photo size 6 inches by 9 inches; vertical format. Generally, photo file size of 14MB or larger.
Email your photo(s): [email protected]; each in a separate email. For files larger than 25MB, please call. Provide the photographer's name, basic information about the photo, and your contact information. Original images only.
Questions? (800) 543-3622; [email protected].