By Sheila CollettiI, F255442; Karen Meredith, F279457D; And Charlie Schrenkel, F140050
June 2009
The Hernando County Airport in Brooksville, Florida, came alive with pirates and pirate ships as the Southeast Area (SEA) Motor Coach Association's "Treasure Hunt At SEA" rally took place February 4 through 8, 2009. The event attracted more than 1,250 family members who had the opportunity to peruse the offerings of 200 indoor vendors and inspect 100 display coaches during their stay.
Much to everyone's surprise, our pirates navigated their rolling ships into unusually frigid conditions for sunny Florida, with rain and very cold temperatures. One morning the thermometer read 18 degrees Fahrenheit. Still, the chilly weather didn't stop folks from having a swashbuckling good time.
The first night of evening entertainment featured 42Five, an a cappella group from Orlando. This group was supposed to perform during the 2008 SEA rally, but because of an emergency, that show had to be cancelled. However, this year they held everyone in their cold metal chairs throughout the entire performance! No small feat, considering how cold it was inside the entertainment tent that first night. Fortunately, after several phone calls and some quick maneuvering, the entertainment tent was outfitted with portable heaters the following day. The second night of entertainment, when the temperature outside hovered around the freezing mark, it was a "balmy" 55 degrees inside the tent. For future rallies, we plan to have heaters available should we run into similar weather conditions.
The "Treasure Hunt At SEA" was won by Brenda Cassada. She and her husband, Wayne, took home a $1,000 fuel card from Flying J after deciphering the clues that were presented on the rally application, in the goodie bags, and in the daily newsletter. Way to go, Brenda!
Handicapped and courtesy golf cart service was expanded this year, and drivers operating the Southeast Area golf carts were instructed to offer rides to anyone going anywhere on the grounds. This was a very successful change, according to the 200-plus comments received after the rally. Golf cart service also was available from the courtesy booth in the vendor tent again this year. Shoppers could leave their purchases at the courtesy booth; continue to shop or eat at the food court; and then return, collect their purchases, and receive a ride back to their motorhomes on one of the golf carts. This service was especially beneficial for those who had purchased items that would be difficult to carry onto one of the SEA buses.
The buses were nice and warm inside, which was much appreciated on the frosty mornings as attendees rode from their parking areas to the coffee and doughnut area for a steaming cup of coffee or hot chocolate and some delicious doughnuts.
There were many great food vendors, and the indoor vendors offered a great variety of merchandise that you "just couldn't do without." Among them were De Wafelbakkers, whose representatives handed out complimentary bags of pancakes and waffles to attendees.
The opening of the holding area allowed members to arrive early and wait for their friends on the grounds at no extra charge. Some groups decided to stay in the holding area for the duration of the rally, as it was close to the activities.
Thirty-amp electric service was available to members who wanted to purchase it, much the same as at FMCA international conventions. Nearly 200 attendees availed themselves of this service.
The annual parade on Thursday afternoon brought out the ingenuity and talent of our members. Among the featured entries were pirate ships, a variety of pirates, a 12-foot-high parrot, and many other hysterical floats and costumes. Congratulations to all who participated "" a job well done.
During the daytime hours, folks spent much of their time attending seminars and crafts classes. When the sun went down, attendees were treated to four great nights of evening entertainment, including 42Five; The Funny Dummy Show; Bill Haley's Comets; and Ken Whitener, a spellbinding comedy hypnotist. (Sadly, Mr. Whitener passed away 11 days later while playing golf in the Tampa, Florida, area.)
Our theme for next year's rally, to be held February 3 through 7, 2010, will be "Clown Around At SEA." Yep, you guessed it; the rally will revolve around a circus theme. We're sure this will bring out a little bit of the clown in all of us! We hope to see you there.
---
Colonial Virginians Hold "Senior" Prom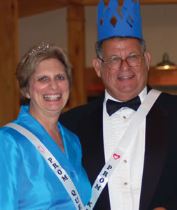 By Ed and Barb Cattaneo, F363818
June 2009
On October 5, 2008, the Colonial Virginians chapter gathered for a special "Senior" Prom rally at Bethpage Camp-Resort in Urbanna, Virginia. Fifteen couples arrived either Thursday or Friday in anticipation of the gala event set for Saturday night.
Several prizes were awarded. One went to Tom and Sally Hope for being the couple who has been together the longest (50-plus years; they were high school sweethearts). The best-dressed award went to Mike and Barbara Moseler. The most outrageous female outfit award was given to Jeannette McCully for her miniskirt and silver boots, while the most outrageous male award went to Andy Deal, who was decked out in a white satin suit handmade by his wife, Lee.
As is the norm for a senior prom, we selected a prom king and queen: class (chapter) president Jerry Cohen and his lovely date, and wife, Millie.
After these festivities, we danced the evening away with music played by the Colonial Virginians' own disc jockey, Andy Deal. The setup included an arbor for formal pictures; a traditional 1970s mirrored ball; a fogged dance floor; strobe lighting; prom keys; and lots of great food provided by the Bethpage caterer.
Comments from the attendees indicated this was one of the best rallies we've ever had. Thanks to Andy and Lee Deal for the pictures and music, and also to Jerry and Judy Candrilli and Vince and Bette Marroletti, who joined us as co-hosts to put together this great event.
---
North Alabama RV'ers Promote FMCA
By Jim Duncan, F253901
June 2009
On January 9, 10, and 11, 2009, nine FMCA members from the North Alabama RV'ers chapter, along with four other FMCA members, volunteered to work a booth at the Alabama RV Super Show held at the Von Braun Center in Huntsville, Alabama. This RV show was produced by BK Productions, whose director, Keith Parker, is an FMCA member.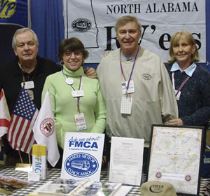 I told Keith that I was the newly elected president of the North Alabama RV'ers chapter and was interested in getting a booth to help attract new members to FMCA and to our local chapter. Unfortunately, we did not have the $500 to pay for the cost of the booth space. He then offered to provide booth spaces not only in Huntsville, but also for shows in Birmingham and Montgomery.
The Huntsville show was very successful, and with the help of our chapter's national director, Billy Pruitt, we were able to find volunteers for the show in Birmingham, February 27 through March 1. We were unable to man a booth at the Montgomery event, however, since that show was held at the same time as the Southeast Area Rally in Brooksville, Florida.
FMCA Southeast Area vice president Charlie Schrenkel and Tom Eller, West Region vice president of the Southeast Area Motor Coach Association, were instrumental in getting magazines and family and commercial membership applications sent to us from FMCA's national headquarters to distribute at the booths in Huntsville and Birmingham. I would like to thank them both for their efforts in making this project a statewide success. We handed out more than 300 magazines in Huntsville and ran out before the show was over. We also distributed more than 150 applications and gained a new member for the North Alabama RV'ers.