Myrtle Beach, South Carolina, offers traditional treasures and fresh diversions for everyone, including a new music theme park.
By Kristy Tolley
July 2009
While the kids and grandkids are out of school, summer is perfect for some quality time with them "" motorhome-style, of course. Load up the motorhome and head to Myrtle Beach, South Carolina. More popularly known as the Grand Strand, the area of tourist interest stretches from Little River to Pawleys Island and consists of 15 or so cities along the coast.
While the beach may be the area's main attraction, surf and sand isn't the only way to spend your day. The Grand Strand area is a beautiful blend of things to do for the young at heart. Here are a few to consider.
With 50 or so miniature golf courses in this area, it may be tempting to spend all your time putting. The courses' themes vary from a pirate high-seas adventure to a chance to come face-to-face with spitting dinosaurs, or even a mini golf version of a NASCAR challenge. You can plan your strategy in advance by checking out several of the area's courses at www.myrtlebeachfamilygolf.com.
Another outdoor diversion to consider is Brookgreen Gardens. Opened in 1931 as America's first public sculpture garden, Brookgreen reveals something new each time you visit. The changing seasons paint fresh faces on the more than 50 acres of flora. With a collection of 1,200-plus pieces of sculpture art, Brookgreen makes an ideal place for an impromptu scavenger hunt. Kids also will dig the trails, creek excursions, and especially the zoo, with its wildlife encounters. For ticket prices and schedules, call (800) 849-1931 or visit www.brookgreen.org.
After you spend time there, head over to Huntington Beach State Park and explore the remains of the "castle" Atalaya. Built between 1931 and 1933, it was the winter home of Archer and Anna Hyatt Huntington, founders and designers of Brookgreen Gardens.
Also outside is the wild side! T.I.G.E.R.S. Preservation Station may be Myrtle Beach's best-kept secret. This 50-acre preserve is home to more than 60 big cats, as well as other animals. Your hands-on wildlife encounter includes petting tiger cubs; holding an orangutan; posing for a picture with a 900 pound liger (a lion-tiger "hybrid"); and perhaps meeting Bubbles, the African elephant. You'll come away with a heightened sense of awe for these animals, and a better knowledge of how to help protect endangered species and conserve Earth's natural resources. Call for hours of operation at (843) 361-4552 or visit www.tigerfriends.com.
A wild adventure of a different sort can be found at Family Kingdom. It's located seaside on Ocean Boulevard and has been a family favorite for more than 40 years. For high-octane excitement, opt for heart-pounding thrill rides such as the Hurricane and the Swamp Fox, or test your speed on the go-cart tracks. A laid-back time can be spent riding the antique cars, South Carolina's largest Ferris wheel, or the FK Locomotive. The youngest guests will enjoy kid-sized rides on mini 4×4 trucks, canoes, and cycles. For more info, call (843) 626-3447 or visit www.family-kingdom.com.
Evening entertainment in the Grand Strand area has long been a highlight for tourists. An abundance of theaters there include the Alabama Theatre, Medieval Times Dinner & Tournament, Dolly Parton's Dixie Stampede Dinner & Show, Carolina Opry, and Palace Theatre. In addition, a show full of superstar look-alikes called Legends in Concert is popular, as are the national acts that play at the House of Blues. Some programs are tried-and-true, while others change regularly to keep audiences coming back for more. The Palace Theatre, located at Broadway at the Beach, features "Le Grande Cirque," where 50 world-class acrobats dazzle the senses. Grown-ups and kids alike will be enthralled with the death-defying routines, and entertained by the animal acrobatics (sometimes dancing poodles).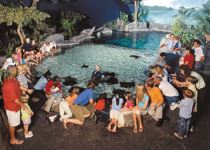 While it may be fun, the theater isn't the only way to spend time at Broadway at the Beach. Amble along the boardwalk long enough and you'll be led through the Caribbean, historic Charleston, and even a New England fishing village. Along the way, you'll find more ways to spend your souvenir money than you can guess. Specialty shops such as Build-A-Bear/Build-A-Dino; Harley-Davidson; the Disney Store; and myriad other window-shopping (or purchasing) opportunities exist.
Broadway at the Beach has attractions as varied as the shopping:
MagiQuest, an exciting interactive game for everyone. Armed with a wand (that you get to keep), you complete various quests throughout a magical land. Best of all, when you return, the wand "remembers" where you left off, and you can resume your game. See www.magiquest.com for more information.
Pavilion Nostalgia Park, which pays homage to the original Pavilion Amusement Park that entertained the Myrtle Beach masses for more than 50 years. Nostalgia Park features classics such as the famous Herschell-Spillman Carousel, and teacup, pirate, and dune buggy rides, to name a few. You can play midway games, scarf down carnival food, and visit the Pavilion Museum while you're here.
Restaurants include Caribbean-inspired Jimmy Buffet's Margaritaville; a new Señor Frog's; Yamato Steakhouse of Japan; Blarney Stone's Pub and Cigar Bar; Hard Rock Café; and many more. Kids will delight in the ice cream shops, too.
Broadway at the Beach also has an IMAX movie theater, a water park, an aquarium, a NASCAR ride, mini golf, kiddie rides, and much more. Call (800) 386-4662 or visit www.broadwayatthebeach.com for details.
If this trip to the Grand Strand area is not your first, you may be surprised to find new, or like-new, things to see and do.
A spankin' new Myrtle Beach theme park takes you through different genres of music. Reopened in May 2009 as Freestyle Music Park, it began life in 2008 as the world's first and only rock-and-roll theme park "" and cost $400 million to build. This latest rendition is a 140-acre park with a variety of rides. The Time Machine roller coaster features a soundtrack of popular songs from the 1960s through the 2000s. Its onboard audio system plays five separate audio tracks, so guests can enjoy a ride experience tailored to their liking.
This spring the park also unveiled a new section called "Kids in America," a children's area, along with four new family-friendly rides. Visit www.freestylemusicpark.com or call (843) 236-ROCK (7625) for details about park hours and other information.
While things to do in the Grand Strand area seem limitless, a side trip to either of these spots just south of Myrtle Beach is worth the effort:
Murrells Inlet: This quaint fishing village is a favorite local hangout. Visitors will feel at home, too, wandering through antiques shops and savoring the local seafood. A 2,000-foot walkway provides a serene look at inlet inhabitants such as egrets, herons, and crabs. You also can try your hand at parasailing, jet skiing, kayaking, or canoeing with rentals offered at the marinas and shops.
Pawleys Island: Here you can meander through more than 20 specialty shops and restaurants amid a pastoral village setting of Low Country cottages. Founded in 1938, Pawleys Island Hammock Shops Village is the birthplace of the rope hammock. You can pick up a souvenir (or take a nap) at The Hammock Shop General Store.
There is much more to see and do on the Grand Strand. But wherever you (or the youngsters) choose to go while you are at Myrtle Beach, you're sure to have a grand time.
Camping And Further Info
Ocean Lakes Family Campground, C4970
(FMCA commercial member)
6001 S. Kings Highway
Myrtle Beach, SC 29575
(800) 876-9445
(843) 238-5636
www.oceanlakes.com
Check with the Myrtle Beach Chamber of Commerce for additional campground listings, either online or in its free vacation guide. Or, consult your favorite campground directory or FMCA's Business Directory, published in FMC magazine's January and June issues.
Myrtle Beach Area Chamber of Commerce Information
1200 N. Oak St.
Myrtle Beach, SC 29577
(800) 356-3016
(843) 626-7444
www.visitmyrtlebeach.com
Also helpful: www.discovermyrtlebeach.com