The RV/MH Hall of Fame, Museum, and Library in Elkhart, Indiana, preserves the heritage of the recreation vehicle and manufactured housing industries.
By Pamela Selbert
June 2009
A great deal of the story of how the RV lifestyle began is displayed at the Recreation Vehicle/Manufactured Housing Hall of Fame, Museum, and Library in Elkhart, Indiana. Situated along Interstate 80/90 (the Indiana Toll Road), this fine facility is easy to reach on your way to or from Bowling Green, Ohio, for FMCA's 82nd International Convention this July. It's approximately 2½ hours west of Bowling Green.
My husband and I had seen some of the exhibit items there several years ago when the museum still occupied its original 18,000-square-foot site in downtown Elkhart. The museum has since been relocated to an elegant 80,000-square-foot, two-story structure on a wide-open site with fields to the east, west, and south. The spacious north lobby overlooks a lovely pond and fountain. The parking lot has ample room, including eight 65-foot-long pull-through spots for RVs.
The new home of the RV/MH Hall of Fame, Museum, and Library opened in March 2007 and has been a popular attraction since. Al Hesselbart, the facility's historian and archivist, took us on a tour of this facility and said that approximately 150 visitors arrive each day during the summertime. He also summed up the place quite well: "The Hall of Fame and museum provide today's RVers with a look back through the rich history of the industry, and illustrate the development of all the features that make the RVing lifestyle so comfortable today."
Mr. Hesselbart suggests that visitors plan on taking at least 90 minutes to tour this shrine to RV and manufactured housing's hallowed past.
On the ground floor is the museum's own collection of antique trailers and motorhomes, as well as a convention center and many other displays. On the second floor, accessed by a grand central staircase, are the library, the RV/MH Heritage Foundation corporate central offices, and the Hall of Fame.
The Hall of Fame has honored more than 300 individuals since its inception in 1972. Each inductee is recognized with a photo and plaque, starting with the first class of 13 men and one woman. That first group included Wally Byam, founder of Airstream; Marshfield Homes founder Elmer Frey; Betty Orr of Orr and Orr, an RV interior design firm; and Hal MacPherson, who devised the first RV toilet for use with a holding tank.
The library boasts more than 20,000 RV-related books and magazines (including every issue of Family Motor Coaching), and 5,000 historical images. You're free to peruse this area, as well as the Hall of Fame.
Plans are to keep expanding. Eventually, the facility will fill 125,000 square feet of space, but all that will be completed "only when it's paid for," Mr. Hesselbart said. In the future, money raised will support displays of the historic manufactured housing units and be used to increase convention and conference space.
According to Mr. Hesselbart, the RV/MH Hall of Fame was formed in 1972 by a group of 10 industry trade magazine publishers to honor the industry's early leaders. However, the hall of fame foundation was, from 1972 until 1990, just a "paper entity in a file cabinet that traveled around the country, living for a year at a time in the home or office of the board chairman." It existed, but it had no home.
Elkhart, the "RV capital of the world," was deemed the appropriate site to build the Hall of Fame, and thanks to the support of city fathers, who donated six acres on the south side of downtown and $100,000 startup money, and to the efforts of then-foundation chairman Vern Sailor of Elkhart, the first site was dedicated in 1990.
Since 1994 Carl Ehry, formerly a captain in the local Salvation Army and executive of the Elkhart County United Way, has served as the president and chief fund-raiser for the RV/MH Hall of Fame. That same year he hired Al Hesselbart, a local car salesman who for 17 years also had run Boy Scouts of America summer camps, to serve as the foundation's historian. Together they began the work of acquiring material for the library, as well as historic recreation vehicles.
As the years went by, a larger home for the foundation was needed. A campaign to raise money for a new headquarters kicked off at the 1999 National RV Trade Show, an annual event sponsored by the Recreation Vehicle Industry Association, in Louisville, Kentucky. By 2004 nearly $10 million had been pledged by industry companies and individuals, and construction began. The foundation moved into the new building in 2007. Only 26 vehicles were displayed at the original site, but now 60 can be seen at this new location.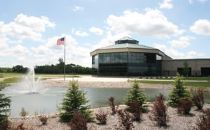 The Go RVing Hall is sponsored by the Go RVing Coalition, a group of RV manufacturers, suppliers, dealers, campgrounds, etc. that are committed to promoting the industry. A small theater in the hall shows "Go RVing" TV ads and a promotional DVD continuously. Large placards festive with wildlife art and catchy slogans are located along one wall. Among them: "Boredom can't ruin a vacation if it doesn't know where to find you!"; "Birds of a feather flock together, be it the chickadees from Chattanooga or the Hendersons from Hattiesburg!"; and (my favorite, featuring an array of turtles) "At the end of the day they retreat to the comfort and confines of a hard, protective shell. Sound inviting?" Yes, indeed.
The Go RVing Hall also displays a couple examples of the latest RVs; currently, Winnebago Industries and Dutchmen models are featured. The plan is to have five current-year models on display.
Next is the RV Founders Hall, sponsored by gifts from Thor Industries and Winnebago Industries. Among the units exhibited there is the oldest known RV, dating from 1913. A 1931 Model A Housecar is featured as well; it was found in an old barn after being stored for more than 40 years. Other vehicles include a 1964 22-foot Clark Cortez, America's first front-wheel-drive motorhome, which was built by Clark Equipment Company, a firm that previously focused on heavy construction equipment.
The manufactured housing industry began with large trailers, as a 1954 42-foot Spartan Imperial Mansion mobile home exemplifies. The one on display was designed to resemble a railroad passenger car.
Mr. Hesselbart explained that exhibits here illustrate the beginning of the division between the recreation vehicle and manufactured housing industries. "In the 1930s, there was only one style of trailer. They were all travel-trailer sized," he said. That changed in the 1950s, when 10-foot-wide units (too big to be pulled by private cars) were permitted on public roads, and house-sized trailers came on the scene. A 1958 10-foot-by-45-foot Platt mobile home demonstrates the difference.
Ingram Hall holds the next exhibit, the impressive David Woodworth collection of antique RVs and camping equipment. The hall was named for "Boots" Ingram, founder of Teton Homes in Casper, Wyoming, who provided more than $1 million to purchase the collection Mr. Woodworth spent nearly 30 years amassing.
Among the treasures on display in this area is a 1929 Weidman Housecar built near Buffalo, New York. The luxury vehicle (the body alone cost $990) included five transom windows on each side, a sink with a pump, a two-burner gas-fueled stove, and an icebox. The driver's seat was nothing more than an easy chair. Mr. Hesselbart pointed out jokingly, "With a tailwind the coach could travel downhill at 25 mph, and if you hit the brake, you'd go out the window!"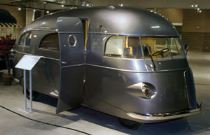 Other vehicles include a 1937 Hunt Housecar built by Hollywood cinematographer Roy Hunt; a 1928 Pierce Arrow Privateer Housecar; a 1915 Model T Ford with a 1916 telescoping apartment camper body that holds two slideouts; and film star Mae West's 1931 Chevrolet Housecar. The latter, an elegant, chauffeur-driven, turquoise-hued RV, featured a back porch and an unusual arched, ribbed ceiling of shellacked spruce, plus a stove and an icebox. The vehicle transported the star from her hotel or home to the movie set. Of the six motorized units in this part of the museum, a couple of them are still drivable.
Thanks to the donations of many individuals, companies, and organizations (including FMCA), the RV/MH Hall of Fame, Museum, and Library pays a fitting tribute to those forward-thinking individuals who provided a start to the RV and manufactured housing industries, as well as many others who have continued to promote them over the years. Motorhomers and others with a passion for RVing are sure to enjoy exploring this facility.
Further Info
RV/MH Hall of Fame, Museum and Library
21565 Executive Parkway
Elkhart, IN 46514
(800) 378-8694
(574) 293-2344
www.rvmhhalloffame.org
Admission is $8 for adults, $6 for seniors, and $3 for children ages 6 to 16. The museum is open Monday through Saturday, 9:00 a.m. to 5:00 p.m.; closed Sunday.