Warm weather and amazing views attract RVers to peaceful Death Valley National Park each winter.
By Brian Kamsoke
November 2009
The most striking thing about Death Valley is the absence of sound. Think about it for a moment. Where are you right now, and what do you hear? Perhaps you detect the murmur of voices. The hum and click of electronic gadgets. The noise of traffic. A dog barking. Raindrops. Chirping birds. The rustle of leaves in a gentle breeze. The ambience of life creates a sound, no matter how delicate or distant.
But in Death Valley National Park, located in southern California near the Nevada border, such sounds are nonexistent. The air is still, so still that you don't even hear it pass by your ear. No jet or propeller plane high in the sky. No insects buzzing about. No traffic. No voices. No birds. In fact, no movement of any kind for as far as the eye can see "" a vast, open stretch of sun-baked desert surrounded by mountains of stratified rock with ridges so sharply contrasted against a big, blue sky that they appear cut from the world itself and pasted on a still-life canvas.
You can't help but wonder what it was like, long ago, to have only a horse, a mule, or your own feet do the work of crossing the valley floor. Indeed, to this day, you can still see wagon wheel tracks encrusted in the hard desert dirt. (They're visible from the pull-off on Scotty's Castle Road between Titus Canyon and Mud Canyon roads.)
Fortunately, for today's modern RVers, Death Valley doesn't present the hardship and danger it did for the early settlers or the gold and silver prospectors, although you still have to give the valley its due respect.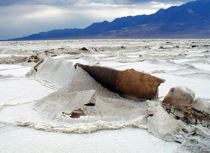 Death Valley National Park is open year-round, but the best time to visit is from November through March, when daytime temperatures range between 64 and 80 degrees, with nighttime lows in the upper 30s to lower 50s. Death Valley boasts the highest temperature ever recorded in the United States: 134 degrees, in 1913. It's common for daily highs to be above 100 degrees from June through September. But, of course, it's dry heat. (You're correct to detect sarcasm there.)
The lowest elevation in the United States (282 feet below sea level) is found at Badwater Basin in Death Valley. When you visit the park, you'll descend and eventually ascend to elevations that could reach 5,000 feet, depending upon your access point. It goes without saying, then, that your motorhome transmission, coolant system, and brakes should be thoroughly inspected and in good working order prior to entering this beautiful park.
When traveling the roads in Death Valley, use common sense. Downshift on hills to keep your brakes from heating up. The main roads in the park are well-paved and in good condition but have little or no shoulder. If you need to pull off the road for any reason, be very careful not to pull off too far, because the shoulders are soft and rollovers are a real possibility. Keep your eyes on the road and don't get distracted by the scenery. Even in wintertime, the horizon shimmers in waves of heat and becomes almost hypnotizing.
You can camp on the perimeter at commercial RV parks, or stay in the national park's campgrounds. The 190-site park at Stovepipe Wells Village is flat, open, and exposed. It has hookups, showers, a pool, an ATM, a fuel station, and a convenience store. The campground is open from October through April (760-786-2387; www.stovepipewells.com). Check in at the store, which has just about anything you could possibly need. Across the road is a restaurant serving breakfast, lunch, and dinner with reasonable prices and good food. But the best part of camping here is the sunrise cast against the Cottonwood Mountains. It's unlike any sunrise you can imagine "" like a curtain being raised on the stage of the world.
If you want to stay off the valley floor and still get hookups, Panamint Springs (elevation 2,000 feet) makes a good base camp on the western edge of Death Valley. It, too, has showers, a fuel station, and a restaurant (775-482-7680, www.deathvalley.com/psr/). Other campgrounds are more primitive, offering fewer facilities.
Please keep in mind that almost none of these campgrounds takes reservations "" it's first come, first served. The exception is Furnace Creek Ranch Resort, which accepts reservations for the winter season only (760-786-2345; www.furnacecreekresort.com). It provides hookups, water, a dump station, a pool, tennis courts, and a golf course nearby, among other amenities.
There is much to see and do in Death Valley "" especially if you appreciate natural beauty, hiking, and history. Check out the Mesquite Flat Sand Dunes, just outside Stovepipe Wells, which fan out across the desert in waves. Morning and late afternoon are the best times to visit, when the dunes appear to change shape and shift as the sun rises and sets. For a completely different experience, check out the dunes during a full moon.
For an all-encompassing view of Death Valley, take in the sunrise at Dante's View (elevation 5,475 feet and restricted to vehicles less than 25 feet). Zabriskie Point, where the landscape appears folded together in layers, is another vantage point for a day's end or beginning. Artist's Drive (also restricted to vehicles less than 25 feet) winds through mountains painted in glorious colors of red, white, green, and blue. At Ubehebe Crater, you can walk around the rim of a volcano that exploded hundreds of years ago, spewing rock and ash over a six-mile radius.
Several hiking trails, in all sorts of lengths and difficulty ranges, encourage exploration. You can pick an easy one, such as the one to Natural Bridge Canyon, or try a strenuous route such as the Death Valley Buttes. The canyons in Death Valley are awe-inspiring, with rock ledges polished smooth by ancient floodwaters, and narrow passages leading to vast expanses. Mosaic Canyon also is a popular hike.
Several SUV roads and trails also beckon those who tow these types of vehicles. Be sure to have proper equipment before you attempt to drive on the park's many back roads.
Death Valley is rich in history. Go back in time by visiting an abandoned mine. Eureka Mine and Charcoal Kilns provide a glimpse of what it took to survive in this sometimes unforgiving terrain. Or, visit a ghost town. Rhyolite, just outside the park on Nevada State Route 374, is what remains of a silver rush town of the early 1900s. Leadfield and Panamint City are two other ghost town choices inside the park.
Once you look at the park visitor guide, you will fully appreciate that this article provides only a quick overview of things to do. Sites such as Scotty's Castle (a mansion that is open for tours), the Furnace Creek Visitor Center Museum, and many more places will make you want to stay at the park for several days to take it all in.
If the canyon walls of Death Valley could speak, what stories they could tell. Stand on the Badwater salt flats and the valley is (do I dare say) deathly quiet. But venture into the canyons and you'll begin to feel and hear the air move; hot air rising from the desert floor cools and tumbles down the mountain canyons, blowing past you like a welcome burst of air-conditioning, or a ghostly whisper from long ago.
Further Info
Death Valley National Park
Furnace Creek Visitor Center
P.O. Box 579
Death Valley, CA 92328
(760) 786-3200
www.nps.gov/deva