Four of the eight U.S. presidents with roots in the Buckeye State have northern Ohio visitor sites worthy of exploration before or after FMCA's Bowling Green convention.
By Peggy Jordan, F401999, Associate Editor
June 2009
Although the 2008 United States presidential election is now over, many of us still have the presidency on our minds. And it just so happens that the state hosting FMCA's upcoming summer convention has sent more men to the Oval Office than any other.
The eight presidents claimed by Ohio include one man, William Henry Harrison, who was born in Virginia; however, he called Ohio his home for the majority of his life and is buried there. All eight men "" James A. Garfield, Ulysses S. Grant, Warren G. Harding, Benjamin Harrison, William Henry Harrison, Rutherford B. Hayes, William McKinley, and William Howard Taft "" have homes, sites, or memorials dedicated to them in the Buckeye State.
The following four presidents are honored in the northern half of Ohio, which makes them good candidates for study either before or after a trip to Bowling Green, the site of FMCA's 82nd International Convention, July 20 through 23.
The Rutherford B. Hayes Presidential Center in Fremont is the closest presidential site to Bowling Green, only 25 miles east of town.
Hayes was a Civil War hero who, in spite of being wounded, rose to the rank of brevet major general. He won a bid for Congress in 1864, but refused to take his seat until the war had ended. Hayes was re-elected to Congress in 1866, but left that seat to become Ohio governor. He served in that role from 1867 to 1876.
The controversy over Hayes' election as the 19th United States president in 1876 was unprecedented. The final vote was not decided until January 1877 by a special electoral commission, and even then, the outcome gave Hayes the win by a single vote. True to his pre-election promise, he served only one term.
Hayes' wife, Lucinda, gets attention when his story is told, for Lucy was a supporter of the women's temperance movement. She banned all alcoholic beverages from the White House during her husband's time there "" with his assent, of course. If you go to the Hayes Presidential Center this summer, be sure to check out the special exhibit (running now through August 2) that honors all American first ladies, with 33 original or reproduction gowns designed for them.
The presidential center complex is located on the grounds of Spiegel Grove, which includes an expansive, friendly home where Hayes retired in 1881. He died there in 1893. Your guided tour will take you through the 31-room mansion with a pretty veranda that Hayes loved. Also on site is the Hayes Museum, which you can peruse at your leisure. Admission to both the home and museum is $10.50 for adults, $9.50 for seniors, and $4 for children ages 6 to 12. Separate admission fees for just one building also are available. Call (419) 332-2081 or visit http://www.rbayes.org/ for more information.
The Harding Home State Memorial in Marion is our next stop. This restored 1891 Victorian home contains almost all original furnishings and is a National Historic Landmark.
Warren G. Harding's presidency seems to be forever associated with the corrupt behavior of some of his cabinet appointees. Born in 1865 to parents who both were medical doctors, Harding started college at age 15 and helped to edit the campus newspaper. He went on to co-own and publish the Marion Star newspaper, which became a popular daily. He entered Republican politics and was elected to the Ohio state senate, and later served as Ohio's lieutenant governor. He became a United States senator in 1914.
Harding had a powerful, expressive voice and was renowned as an orator. When he ran for president in 1920, he often spoke from the front porch of his house in Marion. So many people gathered to hear him that the family replaced the front lawn with gravel.
When he became the 29th president in March 1921, Harding already had signs of heart trouble. In the summer of 1923 he and his wife, Florence, left on a trip to Alaska and the West Coast. On the return trip from Alaska, he died of a stroke or heart attack. Not long afterward, the extent of the corruption in his administration became fully known.
Visitors tour the home and library, as well as a small house built for the reporters who covered Harding's presidential campaign, which now serves as a museum. Until June 30, the site is open Thursday through Sunday, with $6 admission for adults and $3 for children ages 6 to 12. Senior discounts are given. After June 30, please call (740) 387-9630 or visit www.ohiohistory.org/harding for more information prior to your visit. The home is approximately 36 miles north of Columbus and 76 miles southeast of Bowling Green.
The William McKinley Presidential Library & Museum in Canton is one of two sites that honor America's 25th president.
Born in 1843, McKinley, like Hayes, served in the Civil War; in fact, he served under Hayes and earned several promotions, including one for bravery. McKinley's relationship with Hayes continued after the war, as the younger statesman campaigned for his fellow Republican. Hayes returned the favor by helping McKinley get elected to the House of Representatives. Like Hayes, McKinley served as governor of Ohio for several years.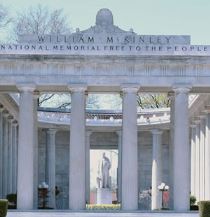 As president, McKinley made gold the standard of the U.S. money system, increased the protective tariff, and presided over the United States' war with Spain in 1898. He handily won re-election in 1900. In September 1901 he was in a receiving line at the Pan-American Exposition in Buffalo, New York, when he was shot twice by an anarchist. He died eight days later.
The McKinley National Memorial includes a beautiful granite tomb on the grounds, but it's the museum and library that make it a bit unusual. It is full of photos, letters, and memorabilia relating to his accomplishments, but that is just the beginning. It also includes an 1890s life-size town, a planetarium, and an interactive science area. Planetarium shows are free with admission.
Museum admission is $7 for adults, $6 for seniors (60 and above), and $5 for children ages 3 to 18. For more information, call (330) 455-7043 or see http://www.mckinleymuseum.org/.
While you are in Canton, be sure to visit the National First Ladies' Library, part of which is located in a house where the McKinley family once lived. This first-rate museum is the only one of its kind.
The other McKinley site is the National McKinley Birthplace Memorial in Niles, a beautiful marble structure with a library in one wing and a museum in the other. A marble statue of the president presides in the center court.
The museum contains extensive exhibits about McKinley's early life in Niles; Civil War and Spanish-American War artifacts; and much more. The library and museum are open daily, and admission is free.
Visit http://www.mckinley.lib.oh.us/ for more information, or call (330) 652-1774. Niles is approximately 55 miles east of Canton (between Warren and Youngstown).
Yet another tragic ending to a presidency befell James A. Garfield, born in Moreland Hills, Ohio (near Cleveland) in 1831. Like McKinley, Garfield knew Rutherford Hayes "" in fact, Garfield was a member of the Electoral Commission that decided the 1876 election of President Hayes, and he succeeded him as president.
Garfield is remembered at his estate northeast of Cleveland: the James A. Garfield National Historic Site in Mentor.
Garfield was an extremely intelligent man and the only sitting member of the U.S. House of Representatives ever elected to the presidency. Born in 1831, Garfield's various occupations included being a minister, a professor of ancient languages and literature, a college president, and an attorney. During the Civil War he joined the Ohio Volunteer Infantry and eventually rose to the rank of major general.
Garfield was sworn in as the 20th U.S. president in March 1881, but served his country in that role for only a few months. In July of that year, he was shot twice by a man who was frustrated that he didn't get a federal job appointment. In September 1881 Garfield died from the wounds. He was only 49.
Lawnfield, the home at the national historic site, is a large, comfortable-looking place where the president lived with his wife Lucretia ("Crete"), with whom he had seven children, five of whom survived to adulthood. Most of the furnishings inside belonged to the family in the 1880s. Visitors today are given a tour of the home and can watch a short film about the president.
By the way, the home was given its name by news reporters covering the 1880 election. They camped out on the "lawn" by the house, which was actually just a field.
Admission prices include a film about James Garfield and a guided tour of Lawnfield. The last house tour of the day leaves at 4:15 p.m. The site is open daily between May 1 and October 31. Admission is $8 for adults, $7 for seniors, and $6 for children ages 6 to 12 ($5 for National Park Service pass holders). Free parking is available at the site. For more information, visit www.nps.gov/jaga or call (440) 255-8722.
Further Info
Be sure to call prior to arriving at these sites if you are visiting in your motorhome, as some locations cannot accommodate larger vehicles in their parking lots.
To learn more about the attractions and historic sites in Ohio, and to obtain an Ohio Travel Planner and calendar of events, visit http://www.discoverohio.com/ or call (800) BUCKEYE (282-5393).