The game includes four color-coded pads of paper, each with 24 pictures of common things one might see when on the road (there's a "free" square in the middle). As players spot items listed on their bingo pad, they mark those things off. The first player to make a row vertically, horizontally, or diagonally yells "Bingo" and is the winner.
The game, which also comes with four pencils, has a manufacturer's suggested retail price of $10.
eeboo
170 W. 74th St.
New York, NY 10023
(212) 222-0823
www.eeboo.com
---
Seat cushion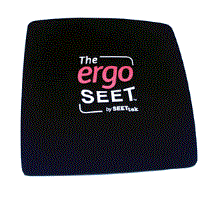 According to product literature, the ergoSEET from SEETtek will provide seating comfort while traveling, watching sporting events, working at a computer, and various other situations.
The ergoSEET's unique "port and pillar" design is said to increase air circulation for cooler seating in warm conditions and warmer seating in cool conditions; to promote blood flow; and to provide a supportive yet cushioned seating surface. The ergoSEET is waterproof and is fully washable.
The ergoSEET measures 15 inches square and comes in a plastic carry bag. It has a manufacturer's suggested retail price of $49.99.
SEETtek
12821 E. New Market St.
Suite 310
Carmel, IN 46032
(888) 733-8835
www.seettek.com
---
Spray can attachment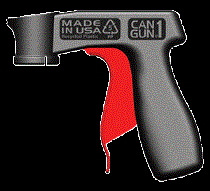 The CANGUN1 from SafeWorld International Inc. attaches to any standard spray can to make application of the spray easier.
The device features the company's FullGrip trigger with double leverage action that is said to provide virtually effortless spray control, and also includes a contoured ComfortTouch handle to reduce hand and forearm strain. The CANGUN1's design reportedly reduces squeeze fatigue, and the universal locking system capture ring makes attaching and removing the tool a snap.
The CANGUN1 has a manufacturer's suggested retail price of $3.99 and will be available at ACE Hardware stores nationwide.
SafeWorld International Inc.
P.O. Box 1030
Ashland, OR 97520-0049
(541) 512-2500
www.cangun1.com
---
Laundry sheets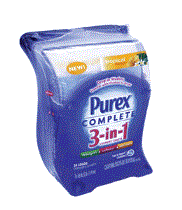 Eliminate the need to carry three different laundry products when traveling with Purex Complete 3-in-1 laundry sheets from The Dial Corporation.
According to product literature, the sheets are formulated with the right amount of detergent, softening, and antistatic ingredients for a single load of wash. Simply toss a sheet in the washing machine and the detergent is released during the wash cycle. When the wash cycle is complete, transfer the sheet with the wash load to the dryer, where the heat of the dryer activates the softening and antistatic ingredients.
Purex Complete 3-in-1 laundry sheets work in both standard and high-efficiency washing machines and are available in three scents: Spring Oasis, Tropical Escape, and Pure & Clean. The manufacturer's suggested retail price for a 20-sheet starter kit, which includes a dispenser, is $6.49.
The Dial Corporation
19001 N. Scottsdale Road
Scottsdale, AZ 85255
(800) 457-8739
(480) 754-3425
www.purex.com
---
Portable cooker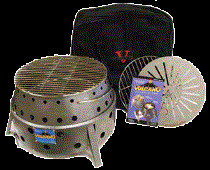 The Volcano II from Volcano 2 Corporation is a portable cookstove that uses charcoal, wood, or propane as a fuel source to cook all types of meals.
The stove sets up quickly with a pull of the handle and collapses to 5 inches high for convenient storage. The unit features double-wall construction and a patented heat chamber to keep the heat inside and efficiently use the fuel for faster cooking times. The Volcano II is designed to be used with 12-inch Dutch ovens, as well as any size wok, skillet, or pot, and also comes with top and bottom grilling grates.
The Volcano II cookstove also includes a deflector plate, a storage bag, and a user's guide and has a manufacturer's suggested retail price of $99.95. The unit with the propane attachment kit is priced at $149.95.
Volcano 2 Corporation
1844 N. Technology Drive
Springville, UT 84663
(888) 320-2005
www.volcano2.com
---
Step covers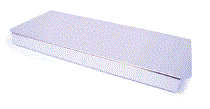 Brighten the entrance of your motorhome with chrome stainless-steel exterior step covers from Summit Products Inc.
According to product literature, the polished steps are laser cut for a perfect fit and can be installed in minutes using the preapplied adhesive tape. Each set of step covers also includes nonslip rubber pads that attach to the steps for safety.
Summit Products chrome stainless-steel exterior steps have manufacturer's suggested retail prices starting at $59.
Summit Products Inc.
6220 N.W. Beaver Drive
Johnston, IA 50131-1116
(800) 329-2958
(515) 252-0435
www.summit-products.com
---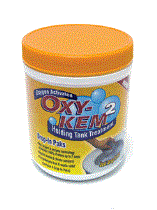 Holding tank treatment
Oxy-Kem holding tank treatment from the Winston Company is said to use the power of oxygen to eliminate odors, break down waste, and clean sensors for up to seven days.
The holding tank treatment is nontoxic, formaldehyde-free, biodegradable, and septic safe and can be used in both the black water and gray water holding tanks.
A 12-pack container of 1.5-ounce Oxy-Kem drop-ins is available from Walmart, while an 8-pack container of 2-ounce Oxy-Kem2 drop-ins can be purchased at various RV stores. Each package has a manufacturer's suggested retail price range of $8 to $14.
Winston Company Inc.
7704 E. 38th St.
Tulsa, OK 74145
(800) 331-9099
(918) 610-1006
www.winstoncompany.com
---
RV dump system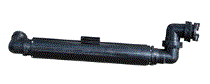 According to product literature from Barker Manufacturing Company, the Deluxe RV Telescoping Dump System reduces the amount of time and unpleasantness associated with emptying the motorhome's black and gray holding tanks.
The telescoping tube system swings free in almost any direction, making it possible to extend to a dump station riser or connect to a campsite fitting. And since it is made of rigid pipe with a constant drain slant, users don't have to worry about a sagging sewer hose. Once the dumping procedure is completed, users rinse the system and swing it back to the holding bracket under the motorhome.
The system can be permanently installed to the motorhome or can be connected when needed; disconnected; and stored.
The Deluxe RV Telescoping Dump System has a manufacturer's suggested retail price of $199.
Barker Manufacturing Company
730 E. Michigan Ave.
Battle Creek, MI 49014
(800) 537-9940
www.barkermfg.com
---
Carbon monoxide alarm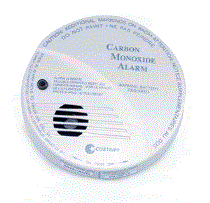 The COSTAR 9RV carbon monoxide alarm from Quantum Group Inc. is said to provide reliable early warning of carbon monoxide (CO) buildup in the motorhome.
The alarm utilizes a solid-state infrared CO sensor to detect the gas before it can cause health problems to occupants. The unit has specific alarm responses for CO levels ranging from 30 parts per million (ppm) to 400 ppm over a specific time period. When the CO threshold is reached, the unit activates a flashing red LED light and a pulsating horn to warn occupants of the presence of CO.
The COSTAR 9RV carbon monoxide alarm is powered by a single 9-volt battery (included) and has a manufacturer's suggested retail price of $56. Also available are the 12RV-D (hardwired to the vehicle's 12-volt system) and the 12RV-DB (hardwired to the vehicle's 12-volt system with a 9-volt battery backup).
Quantum Group Inc.
7737 Kenamar Court
San Diego, CA 92121-2425
(800) 432-5599
www.qginc.com
{loadpositionEndBlurbProducts}