Seat Covers
If your RV seats are showing signs of age or you want to protect new seats against damaging UV rays, GripFit Seat Covers from RV Designer may fit the bill.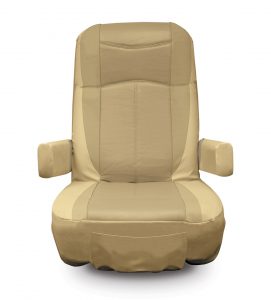 The beige fabric expands and contracts to fit most seats (specifically, a backrest width from 19 inches to 22.5 inches; backrest height from 30 inches to 33 inches; seat width from 21 inches to 23 inches; seat depth from 19 inches to 20 inches). Features include a padded seat and back; front and side storage pockets; and tapered arms for a better fit. The vinyl fabric wipes clean with a damp cloth. GripFit Seat Covers are sold by RV dealers, Camping World, and other retailers. The price of the double pack (C795) ranges from about $60 to $100.
RV Designer
(800) 938-5883
www.rvdesigner.com
---
Zipperless Quilt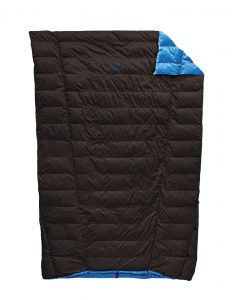 The Zenbivy Light Quilt is designed for backpackers who want to lighten their load during the day and stay warm at night. It's zipperless, which reduces its weight. The quilt also may appeal to RVers, who can snuggle inside it at bedtime or wrap it around themselves outdoors on chilly nights.
Each quilt's foot box is secured with hooks and loops and has a cinch closure and snap to tighten or loosen the bottom. Quilt weights range from 1 pound 7 ounces to 2 pounds 6 ounces. Quilts are available in various colors and three temperature ratings. Prices range from $129 to $299.
Zenbivy LLC
www.zenbivy.com
---
Shoe Dryer/Warmer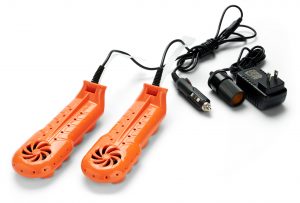 Nobody likes to put on a pair of soggy shoes or boots. What's more, odors and bacteria may build up when wetness remains in shoes after you take them off. To remove moisture, the DryGuy Travel Dry DX Portable Boot and Shoe Dryer combines convection drying with forced air. An integrated fan helps draw air over the heating elements, pushing warm air throughout the toe area.
The DX, which heats to 99 degrees Fahrenheit, is said to dry footwear in two to five hours. According to the product description, it will not damage fragile materials. Its adapter allows it to run on AC or DC power. The device is 2.5 inches wide, 6.5 inches long, and 2.25 inches high. It weighs 1.3 pounds. The suggested retail price is $39.95.
DryGuy
(888) 330-9452
www.dryguy.com
---
Skylight Shade
If you want to block the heat and light that comes through a skylight, the Thermo Shield RV Skylight Shade from Duo Form Plastics, is an option. The shade incorporates the company's heat-shield technology and provides edge-to-edge coverage, without a perforated curtain.
The shade is made in the United States with mold-resistant materials, and it comes with the hardware needed for installation. It fits these skylight sizes: 14 inches by 22 inches; 13 inches by 19 inches; 15 inches by 18 inches; and 14 inches by 14 inches. The manufacturer's suggested retail price is $97.
Duo Form Plastics
(269) 663-8525
www.duoformplastics.com
---
Spinning Top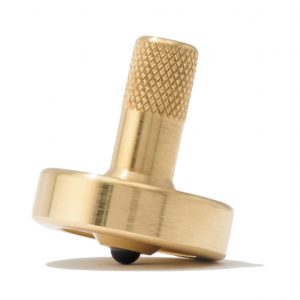 We'd need a Ph.D. in physics to explain how a spinning top works, so we won't try. But as gizmos go, it's one that has long fascinated young and old alike. The Schulte spinning top, from Bruce Charles Designs, is "the pinnacle of art meets functional magnificence," according to the company website.
Schulte spinning tops are available in brass; stainless steel; bronze; and fused aluminum and brass. Each has been machined from a single piece of metal. The top spins on a silicon nitride ceramic bearing. The Schulte spinning top weighs 1.2 ounces and is small enough to fit into a pocket or purse. With some practice, you may be able to achieve a spin time of 10 minutes or more. Prices range from $29.99 to $39.95.
Bruce Charles Designs LLC
www.brucecharlesdesigns.com
---
Bike Rack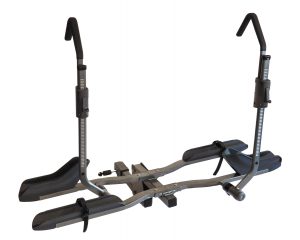 "Every time you miss your childhood, ride on a bicycle!" That's good advice from Turkish writer Mehmet Murat Ildan, and if you follow it, you may need a bike rack. The Escapee, from Swagman, can accommodate most bike frame sizes, shapes, and styles. It transports one or two bikes, up to 60 pounds each, which means it can handle many electric bikes as well.
The rack weighs 65 pounds and fits a 2-inch receiver. It accommodates wheel sizes from 20 inches to 29 inches. The rack makes no contact with the bike's frame. Rear-wheel ratchet straps hold the bikes and secure the wheels. Locking ratcheting arms with replaceable keys help to prevent bike theft. A threaded locking hitch pin is included. The manufacturer's suggested retail price is $399 (U.S.); $560 (Canada).
Swagman
(800) 469-7924
www.swagman.net
---
Airstream Toiletry Bag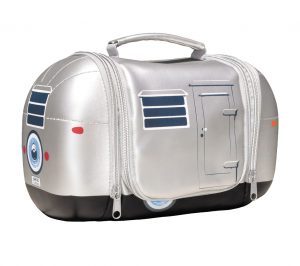 You've no doubt seen Airstream travel trailers on highways and in campgrounds, but what about in a rest room? It's possible (well, sort of) thanks to the "Silver Bullet" Airstream Toiletry Bag, from Teardrop Shop.
The polyester bag is made by VanGo Collections and is part of that company's Starry Nights Collection. The bag measures approximately 12 inches by 7 inches by 5.5 inches. The price is $29.99. A 10 percent discount is available for military members and anyone who signs up for Teardrop Shop's newsletter.
Teardrop Shop
(833) 873-7747
www.teardropshop.com
---
Base Pins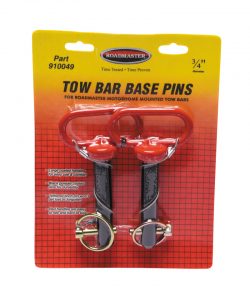 Roadmaster has added deluxe base pins to its lineup of recreational towing products. Base pins secure a tow bar to a base plate, and therefore are an important safety component.
The new pins (part #910049), which are designed to be easier to insert and to remove, can be purchased as an upgrade to the pins that are included with any Roadmaster tow bar that uses ¾-inch base pins. They feature large, ergonomically shaped red handles with a plastic coating. The pins are black-powder-coated, and the linchpins — which keep the base pins in place — are tethered so they won't be forgotten or lost. Roadmaster's deluxe base pins come two to a pack. The manufacturer's suggested retail price is $34.86.
Roadmaster Inc.
(800) 669-9690
www.roadmasterinc.com
---
Fire Log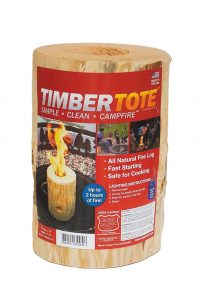 Gotta love this excerpt from a Boy Scouts campfire ceremony: As glow the hearts of the logs upon this fire / So may our hearts glow, and our thoughts be kind . . . . And when you want to get your glow going, there may be no quicker, easier way than TimberTote, a portable, self-contained campfire.
TimberTote is made in the United States. It has been heat-treated, kiln dried, and certified by the U.S. Department of Agriculture, which allows it to be transported across state lines and burned anywhere. Just light the provided fire-starter stick, drop it into TimberTote's top hole, and you've got a fire that will burn two hours or more. TimberTote is 12 inches tall and 8 inches in diameter. Check the TimberTote website for a list of retailers. The suggested price is $12.98.
TimberTote
(844) 842-8267
www.timbertote.com